How to Fix Overflow Menu Missing in Firefox Version 67.
Author

Publication date

25.05.2019

Ilość komentarzy
Learn how to fix the missing Firefox Overflow Menu after updating to the latest version of Firefox. A strange issue with Firefox 67 that removes the Overflow menu from the browser, thus preventing you from accessing any extensions or icons you have placed in it.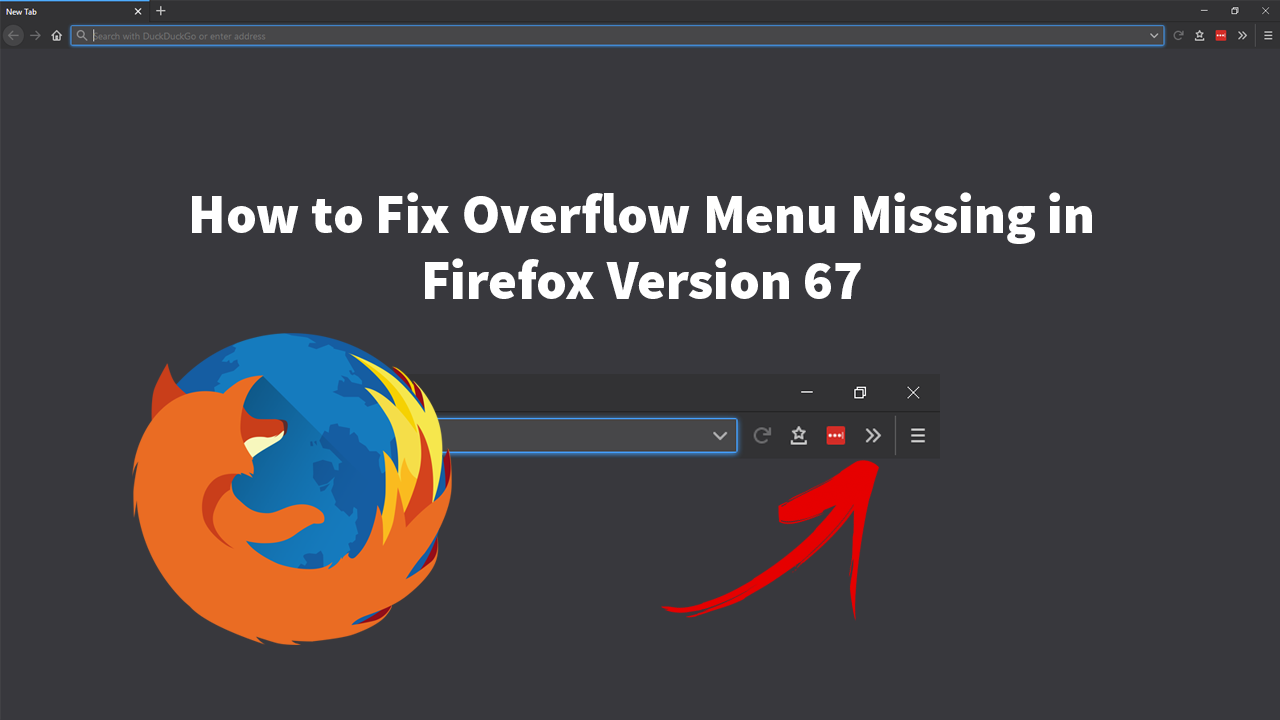 How to Fix NZXT Kraken X61, X62, X72, X52, X42, M22 Water Pump Stopped/Not Working.
Although Mozilla Firefox is the second most used Internet browser on the market after Google Chrome, it doesn't get the attention it rightfully deserves for putting user privacy first. With the release of Firefox version 67, the biggest feature release since Firefox Quantum (57) Firefox has seen a ton of extra features added.
Some of the most useful bringing extra support for sync and pinned tabs which can now be accessed from Page Actions (address bar) or the new Profile Icon. Apart from these two great features, it's now also possible to run different Firefox installations side by side by default. For example, you can now run Firefox Beta and Release versions simultaneously without any conflict.
As great as all these new features are, there is one annoying little bug/glitch that has found its way into Firefox version 67 which hides/removes the Overflow Menu. Essentially blocking all access to extensions. If you are using LastPass, for example, you won't be able to sign in or make any changes. Thankfully, this little bug can be easily fixed without resorting to a clean installation or browser reset. (Which I sadly done in haste when I originally encountered this issue) So follow along as we show you how to restore the Overflow Menu icon to Firefox version 67.
Related: How to Fix 'This browser does not support video playback' on Windows 10.
How Do You Restore the Overflow Menu Icon in Firefox?
Thankfully if you have updated to Firefox version 67 and lost your Overflow Menu icon it is possible to get it back with a little trick. To begin open Firefox into the main window, then click the Hamburger icon and select Customise. After you have done this, you will see the little instruction showing you how to add and remove items from the Overflow Menu. (it may look a little different to mine as I have restored the icon)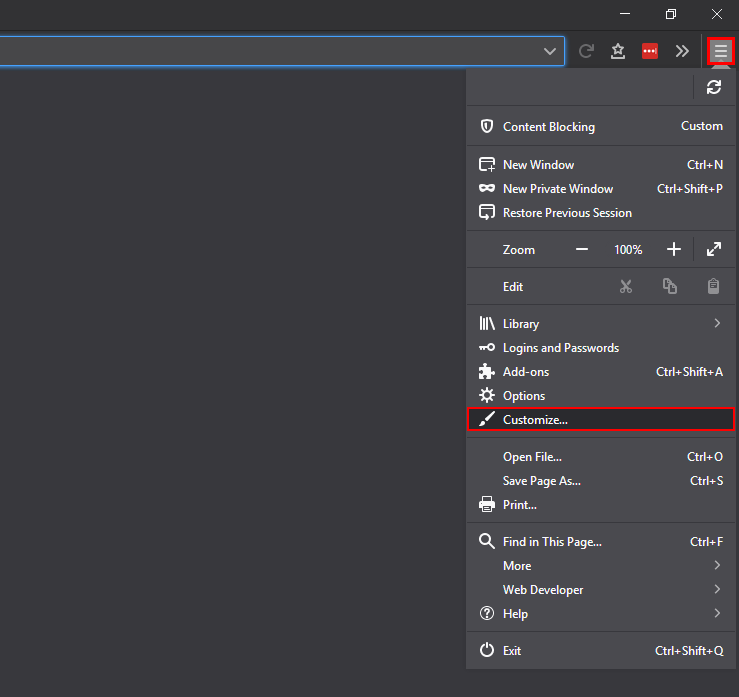 Now that you are on the correct page drag some random items from the left-hand side into the Overflow Menu. It doesn't matter what you add just add something. After you have done this, click Done in the bottom right-hand corner of the screen. Now that the change has been saved the Overflow Menu icon should have returned to its usual position and have all your extensions and other items listed.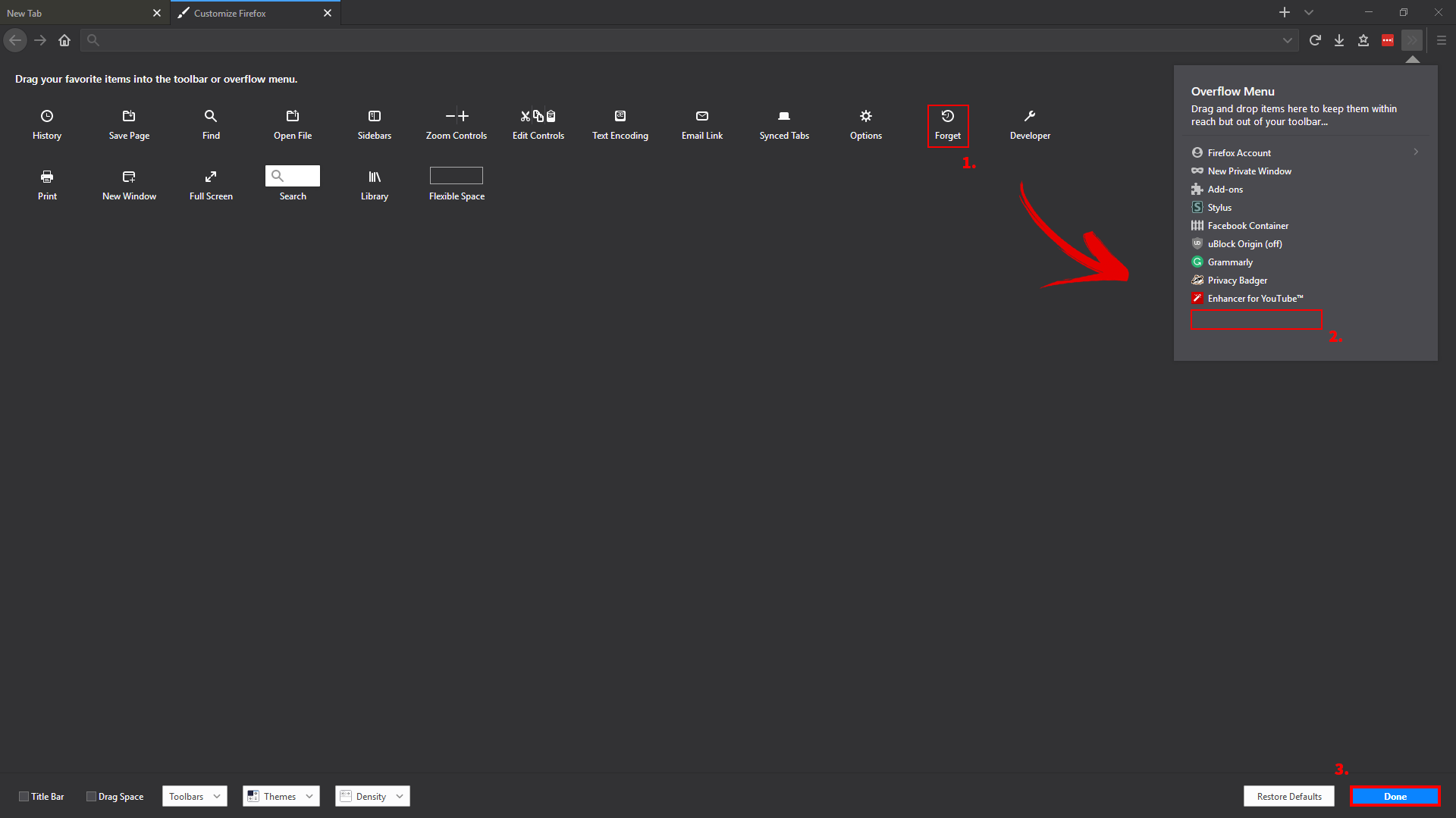 For the final step simply open the customise menu again and remove any of the junk icons you added to reset the Overflow Menu. 
On a Side Note…
If you're only just getting started with Firefox version 67, make sure you take the time to check out the following article which will show you how to enable cryptominer protection. A new and highly useful feature of Firefox that will block malicious websites from using your system's resources to mine cryptocurrencies.