Even if you despise selfies, you have to admit you've probably taken one at some stage. I bet you even realized it's harder than it looks. As winter draws to an end and you're looking forward to perfecting your selfie-taking skills this summer, here are a few great Android Apps you may not have heard of that are worth trying.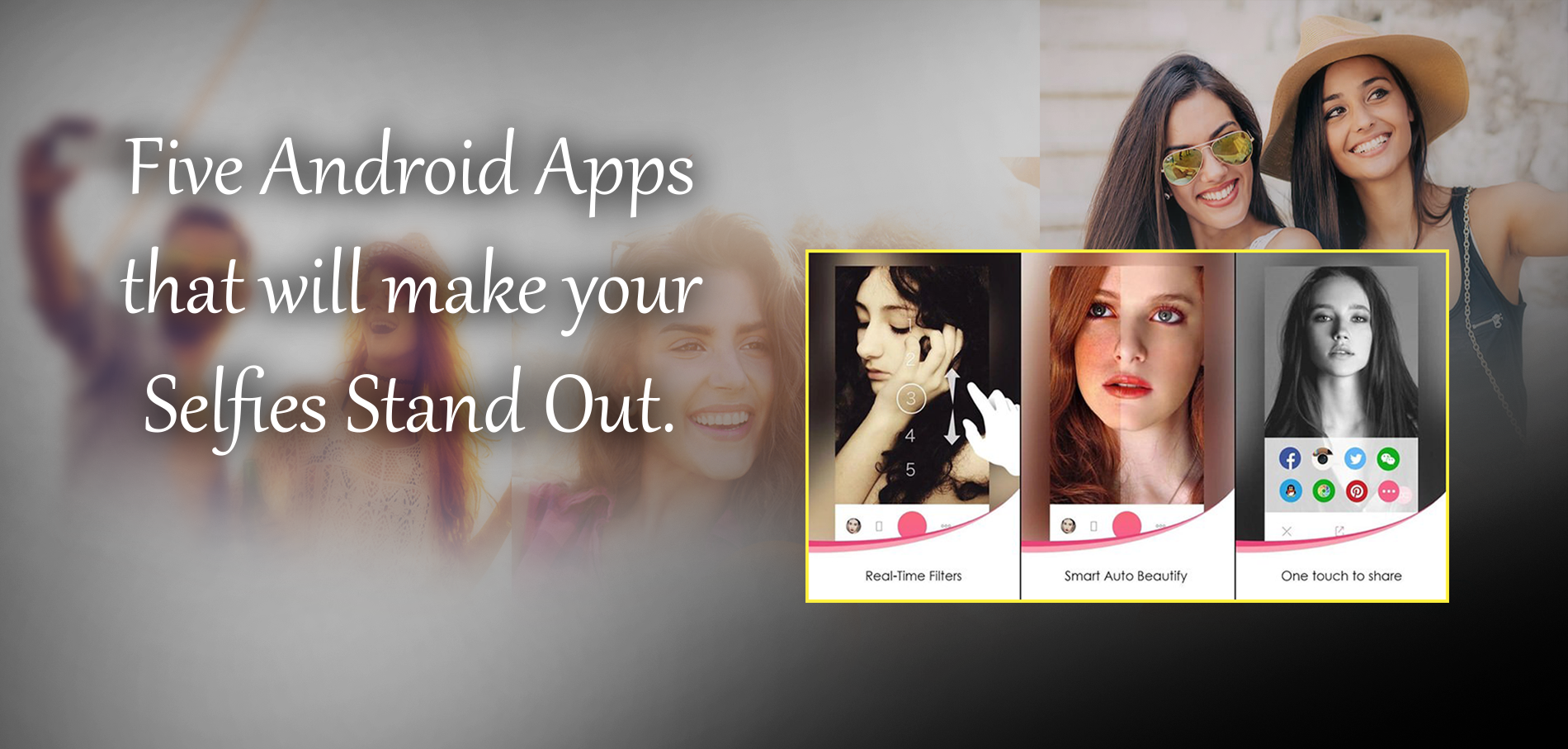 Four of the Best Free Photo Filter Apps for Android and iOS.
In no particular order here are Five of the best Selfie Apps available on Android. Some of them you may have heard of, some of them you may not have. For obvious reasons we have decided to skip Snapchat and Instagram as avid fans of selfies, you've already mastered them. 
First off the mark is Candy Camera, quite a well-known app for the selfie taker, it's quite intuitive and has a nice clean interface. One of the best features of this app, apart from looking sleek is that it allows you to take real-time enhanced pictures by using swipe enabled filters, so you can see what your selfie will look like before you even capture it.
As well as having the ability to swipe through filters, Candy Camera also has plenty of included tools that allow you to whiten your teeth, fix your eyeliner, soften your skin, and Snapchat like stickers. For all the weirdos out there Candy Camera even has a Silent Mode so you can capture a selfie when you really need to be discreet. We've taken the time to do a list of some of the pros and cons of each app.
Pros:
Plenty of beautifying functions, such as slimming, lipstick, concealer, and blush etc.
Lot's of creative features such as FreshFace, SweetCandy, EveryDay, RainyDay, 1980's
An option to put pretty frames around your snaps.
A large library of stickers
A mode to stitch your selfies together into a collage
Cons:
Candy Camera does not have a video capturing function.
Some of its editing tools are premium features and need to be purchased through the Play Store.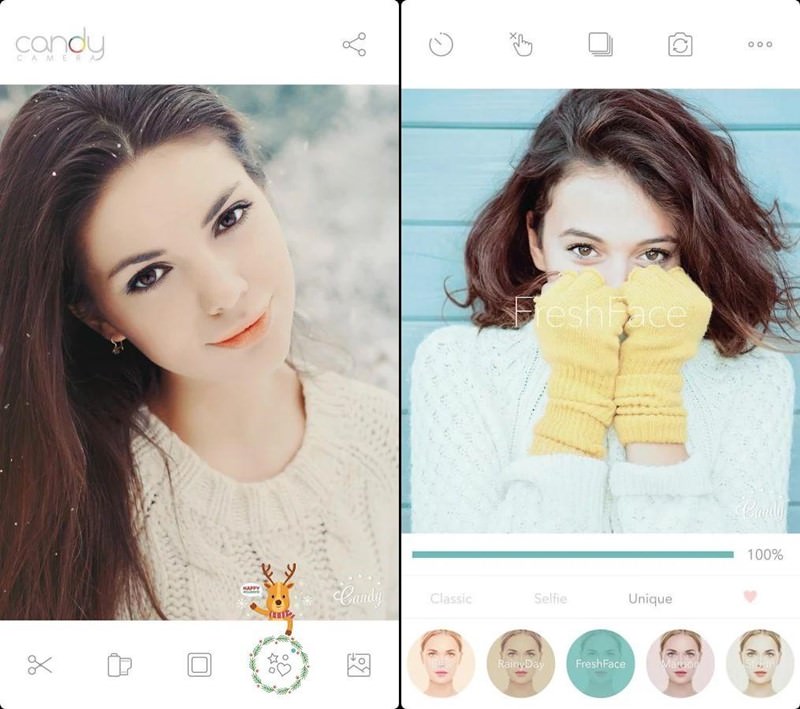 Looking at the download figures for Cymera on the Play Store it looks to be quite a popular camera and editing application. As with Candy Camera, it has beautifying functions like Facelift and Liquify: Which is an amazing tool if you have ever used it in Photoshop, as it allows you to make big things smaller and small things bigger… You can probably figure out how that is useful pretty quickly.
On top of that, there are also skin corrections and around 200 or more different kinds of makeup items and natural hair styling options available. If you feel as though that isn't enough, there are even more tools available as in-app purchases from the Play Store.  
Pros:
7 great camera lens effects to choose from, Divided Lenses, FishEye and Lomo among others.
Because not everyone speaks English it has 10+ languages and that include languages like Thai, Portuguese, Turkish and Vietnamese.
A huge collection of photo-enhancement features like automatic face recognition, anti-shake and some filters similar to Snapchat.
A clever tutorial that guides you along the beautifying path.
Cons:
The app can be a little overwhelming with so many features but it's still way more organized than Snapchat.
No color saturation and shadow adjustment feature (Yet I assume)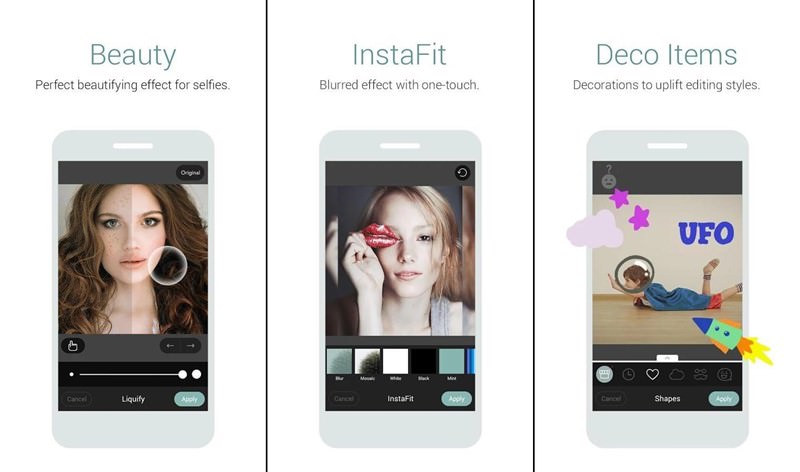 Number 3 Lidow, another photo editing app that promises to get your selfies squad ready, with similar features to the above two apps. Lidow has a fancy User Interface (UI) and a dark background, which is going to be perfect if you're up late in bed editing the day's snaps. It also has the option to import pictures from the gallery to be edited and a few different effects and filters such as color splash, blur, mirror, leak, and retro.
Pros:
The app has a color splash function that gives photos a dramatic effect, by allowing you to select which colors to keep and turn the rest into either black or white.
No crop or square images for Instagram and easy-to-make collages and grids
Cons:
Lidow reduces the image quality and doesn't allow saving in HD resolution which is fine if you don't intend to view the picture in any expanded form such as a TV or large Computer monitor.
Output images are limited to only two formats JPG and PNG.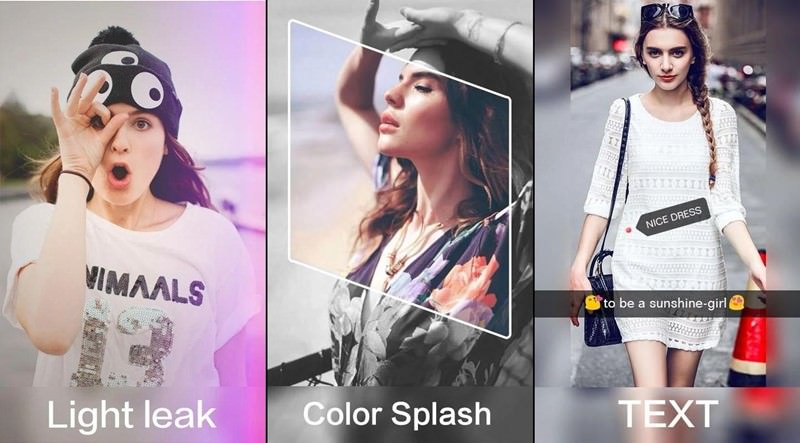 Sweet Selfie is quite a new player on the scene when it comes to photo enhancing and selfie apps, it's worth having a look at though as it comes with some quick functions like Smart Auto-fix and beautify. It also lets you share the pictures you have edited straight from the app to social media. Sweet Selfie isn't cram-packed as the others on the list though it is simpler and will save you time if you are in a rush to post a picture to your profile.
Pros:
Emulates a camera's  front flash with a white frame, that highlights the picture, which is very useful if you don't actually have a front flash on your phone.
Various photo effects like vignette, retro, and blur so you can feel truly glamorous
Supports selfie sticks for taking selfies/photos easily (not quite sure how that one works though)
Cons:
The UI isn't as user-friendly as some of the others on the list
You might need to block annoying notifications from the Android's Settings menu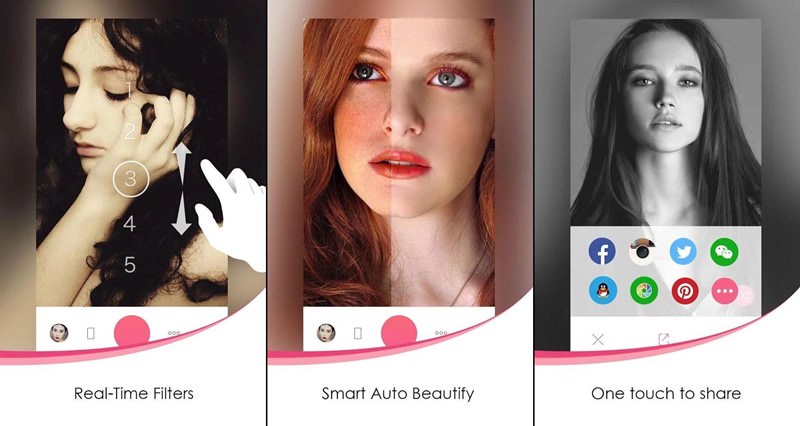 Last on the List is AirBrush, and looking at the ratings and reviews this app has a lot of people hooked. It covers all of the same features as the above apps and does it in a way that is easy to use, on an interface that's so perfect the designers should probably get a raise. There are a couple of features that are paid additions but none you can't live without. They have a pay or share option on some of them, so you can use them for free so long as you share the app prior. This feature is probably why the popularity is so high, perhaps the marketing team needs a raise too...
Pros:
Has just about every feature you can think of regarding editing selfies, skin tone adjustment, cropping, makeup enhancers, eye shaping etc.
The UI is amazingly simple to use and is super clean and elegant
Real-time filters and options you can set prior to taking a picture.
Timer mode so you can put your phone down and take a picture. (not a true selfie I guess)
Cons:
Couldn't actually find anything worth noting, but perhaps the advertising is a little too big on one of the screens but honestly it's nothing major and the developers still need to make some money on their investment so it's almost not worth mentioning.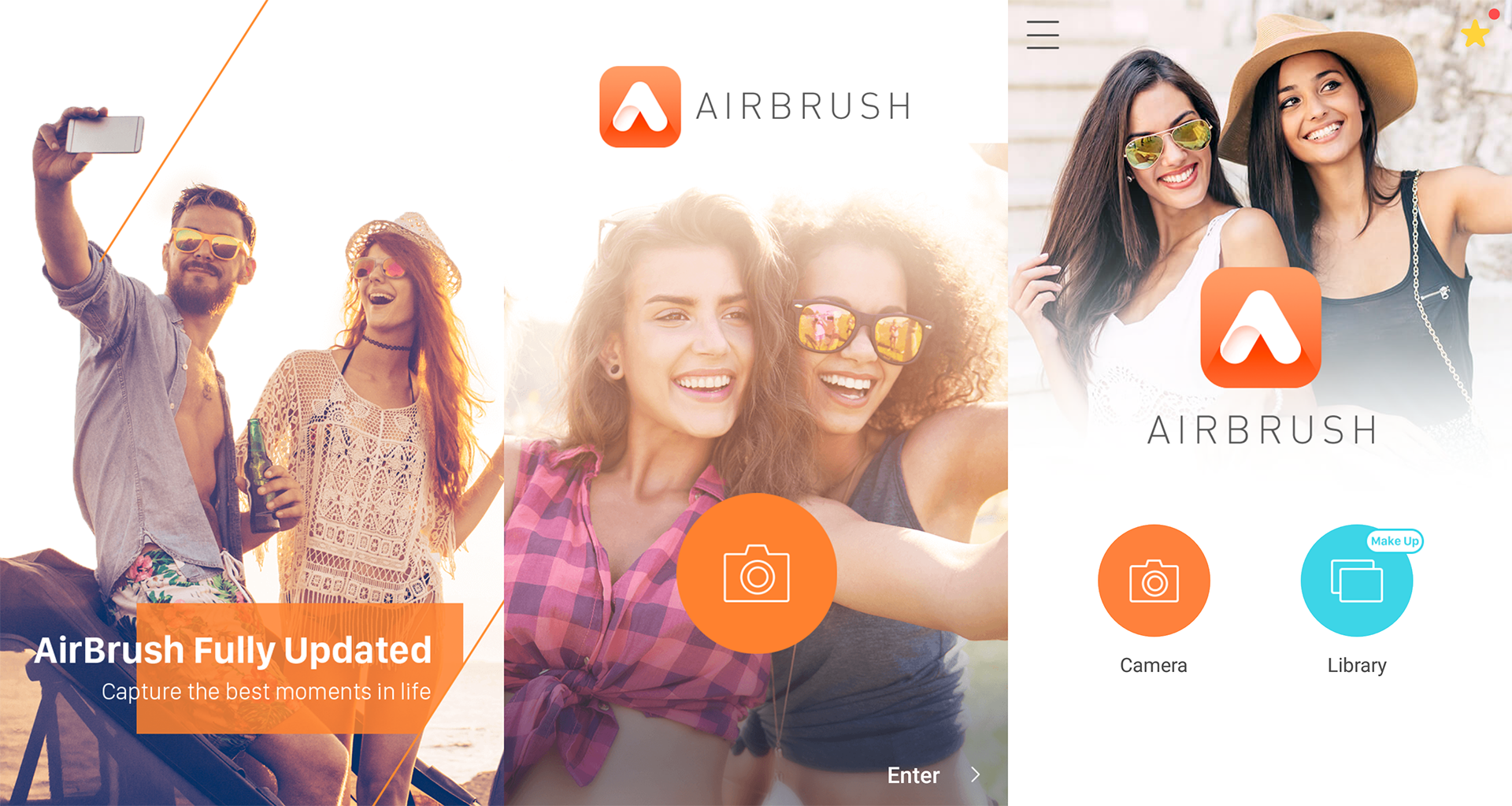 .
.