YouTube is the most popular video sharing site- we can't argue with that. However, that isn't to say that there aren't things we can complain about. The standard player is not very functional and offers some basic options. It lacks features such as automatic looping playback or the ability to set the default viewing quality. So how can we enhance our Youtube video watching experience?
If you're a frequent YouTube video watcher, you will enjoy Firefox extension called Magic Actions for Youtube. It is a wonderful enhancement to any video viewing experience on YouTube. With a plenty of features and improvements, never before has any extension offered such a level of customization available to users.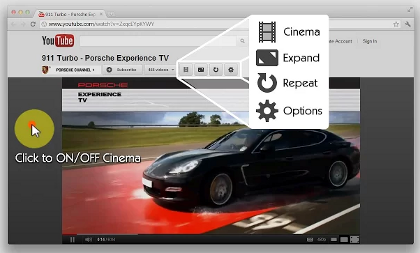 No longer do you have to watch the same background or even have to worry about changing your HD viewing setting. Once installed, the user can take advantage of numerous functions purposely designed to help you enjoy watching Youtube videos. Some of these include amazing Cinema Mode that lets you create cool ambience, volume control using the mouse wheel, auto HD capabilities, and even a awesome backlight feature. Using these features, your browser will look like a standalone custom movie viewer. Another great feature lets you hide in-video ads, which can be really annoying.
Taking it a step further, the Magic Actions allows you to center the site with the video, which is a much convenient than for a standard page where the clip was located on the left of the screen. We can also hide individual page elements such as headline, description, footer, and suggested videos.
The extension offers an interesting way to manage comments. The add-on allows you to get information about users who write opinions under the clip and adds a flag that indicates the location of a person. If necessary, you can also hide users avatars, and even entire panel comments. It is highly recommended to download this extension and enjoy the highest viewing quality. Once you install the Magic Actions browser extension for YouTube, your viewing experience will never be the same.
For me personally, this is a superb extension that adds something extra to my YouTube visits. Let me know how it works for you.