This article will guide you through the process of mining Photon Coin (PHO) using your computer's graphics card/s. Unlike a lot of other guides that show you how to set up graphics card mining, this article will take you through the entire process from wallet setup right through to miner setup.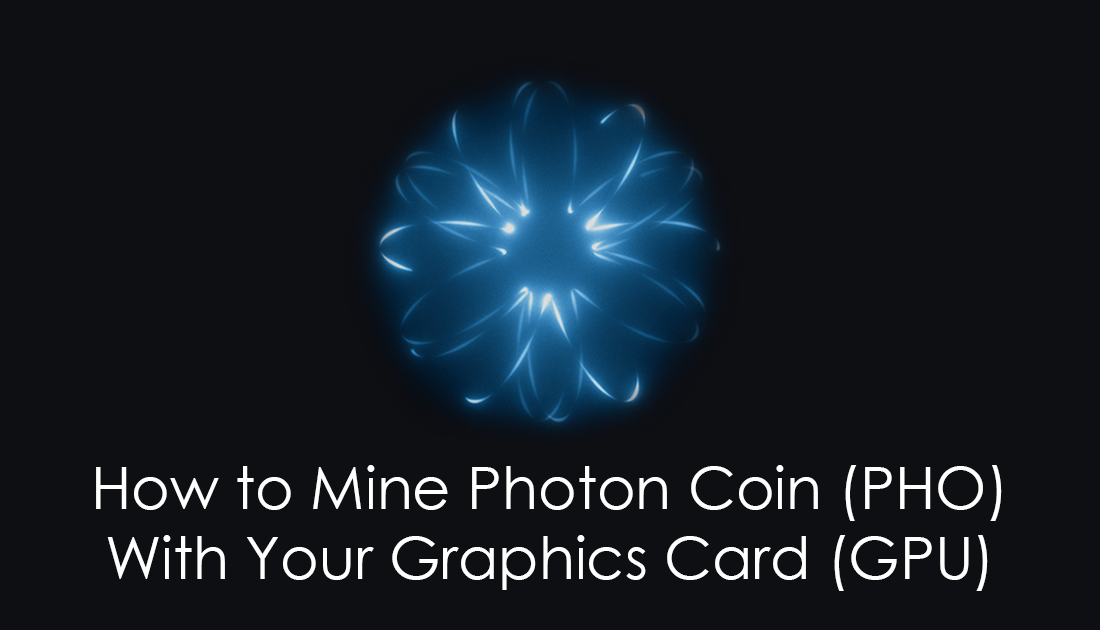 How to Mine Video Games Using Your Graphics Card.
The concept of mining cryptocurrency may seem like an extremely difficult and complicated task, however, in a lot of cases, it's actually the opposite. Once you learn the basics and successfully set up a system yourself, you'll have a very good understanding moving forward as most wallets, coins, and mining tools follow a very similar process.
Before you begin your cryptocurrency mining journey it's important to understand that not all cryptocurrency can be mined, as not all coins require miners for their networks to function. Although this guide is specifically focusing on Photon (PHO), the below link has a full list of minable currency if you wish to look into other options down the track.
https://coinmarketcap.com/coins/views/filter-non-mineable/

How Do You Set Up the Photon Coin (PHO) Wallet?
To start your Photon (PHO) mining journey the first thing you need to acquire is the Photon wallet. Most currencies offer their own wallet specifically designed for their coins which is usually the best place to store your profits. Some more advanced wallets are even capable of holding a variety of different currencies. However, for this guide, we'll be using the official Photon desktop wallet, which you can download for Windows using the link below. (When you reach the website, scroll down until you find the section)
Note: For the time being the Windows wallet is the only option available, however, other platforms will be supported in the future.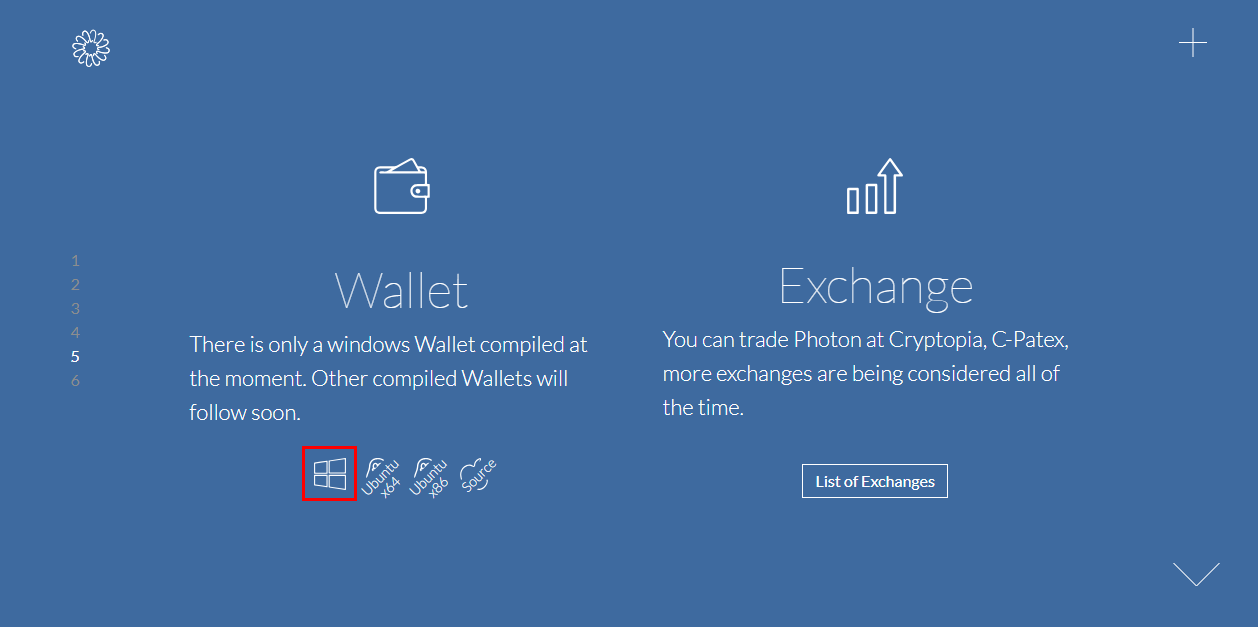 Once you have the wallet .exe file on your computer, the setup process is pretty straightforward. To begin open the file as you would any other program you've downloaded in the past. (In almost all cases, you will get a prompt/false positive from your computers antivirus protection, either Windows Defender or a third party program like Avast) This is normal as all these services are designed to protect you from CryptoJacking.
If you get the prompt, allow the file to be ignored and the wallet will open. Unlike a lot of other wallets, the PHO wallet doesn't require you to install it first. It also won't require you to create a new wallet as the first time you open it, it will create a wallet and save all the information to the following folder.
C:\Users\Downloadsource.net\AppData\Roaming
Now that you have the wallet setup, the next thing to do is encrypt it, then make a backup copy. To do this, click Settings, then Encrypt Wallet. Now enter a password and read the prompts properly before saving it. Next, before you do anything else make a backup of your password and the wallet. I would suggest you make a hard copy of your password and store it safely somewhere. (paper copy)
To back up the wallet you can use the backup File > Backup option within the wallet or simply copy the wallet.dat file from the C:\Users\Downloadsource.net\AppData\Roaming\Photon folder to another location. If you lose either of these, the wallet.dat file or your password, your fortune is gone forever. Your newly setup wallet will take around 5-7 hours to sync with the blockchain (on average), however, this won't affect the rest of the steps in this guide. Now that the wallet is set up, it's time to sign up to a PHO mining pool.
Note: You will need to make sure the wallet has fully synced to view any deposits into to your wallet. By the time you mine your first decent batch of coins, your wallet should be synced. If you are feeling up to it you can acquire wallet bootstrap files from various locations online, though their authenticity should be checked before using. Photon Coins Twitter page has some links, though the files outdate quickly.
Photon Coin (PHO) Mining Pools and Setup.
At the time of writing, there seems to only be one decent mining pool available for Photon Coin (PHO), because of that, we'll be using it for this guide. Although it is the only one available (that I could find), it's offering very good rewards. In time more pools will become available so keep searching Google from time to time to find them.
Note: Before you start to get confused by all the references to Blakecoin, this pool is a multiple coin mining pool, however, we are only mining Photon. If you wish to setup wallets for all the other coins listed you can, just copy and paste the wallet addresses for them into the correct slot within your profile on the mining pool page. The same as you will do with your initial PHO address (you'll learn about this shortly). Further on in this guide most of the miner setup will also mention Blakecoin, however, you can disregard this too.
The below links will take you to the mining pool setup page for Photon, just make sure you choose the pool which is closest to you, it will almost always perform better than one further away.
European Mining Pool (Frankfurt Based): http://eu3.blakecoin.com
US Mining Pool (New York Based): http://ny2.blakecoin.com
Regardless of the link you choose above, setup is the same for both, so follow along closely. To begin, click Sign-up in the left-hand pane and follow the standard sign up procedure, username, password, etc. Next, sign in and click My Worker in the left-hand pane and Create a New Worker, you can call it anything you like, it is just used to identify your machine.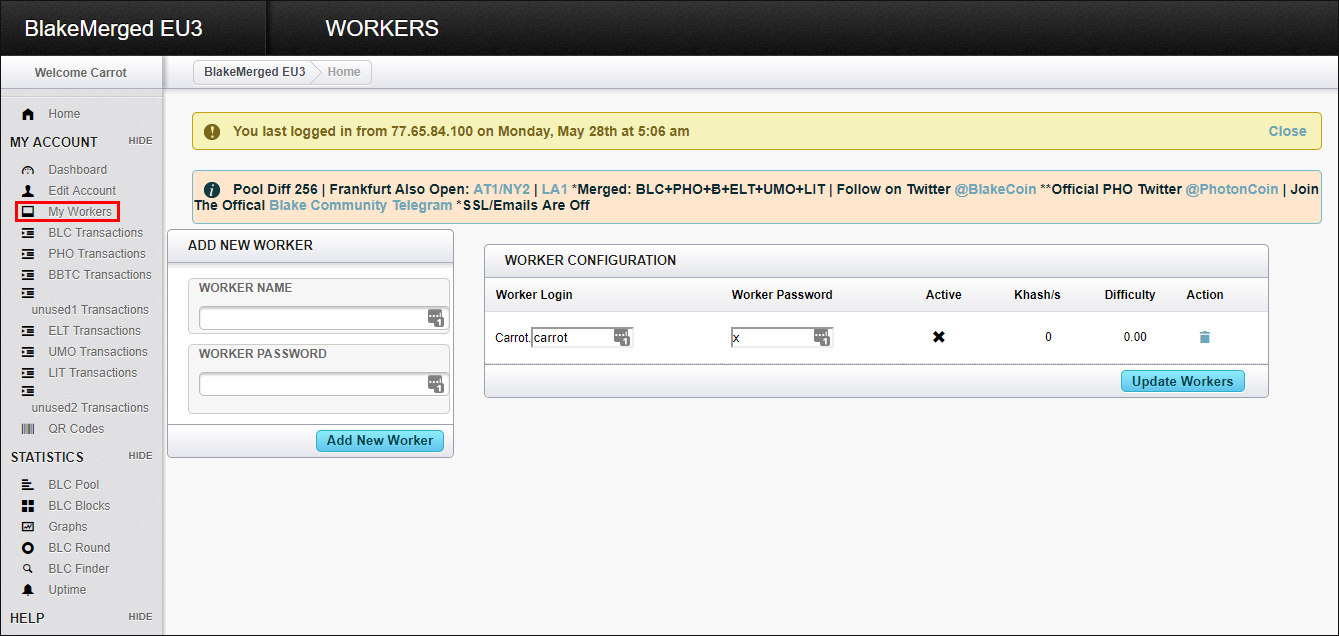 If you have more than one mining rig or computer, you can set up multiple workers so you can track their progress separately. Now that you have a worker set up, the next step is to enter a payment address for your coins to be paid to. To do this open your Photon wallet and change to the Receive tab, here you will see your wallet address.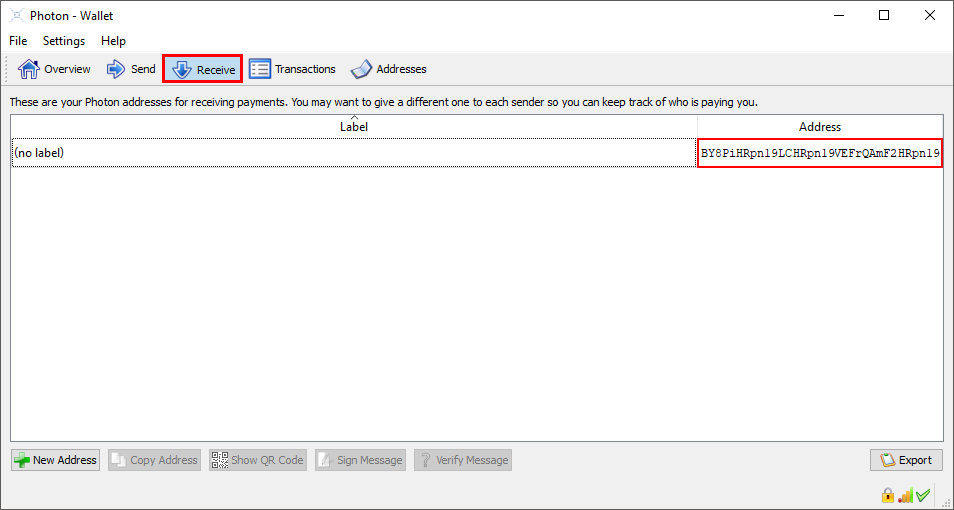 Copy this address, then go back to the mining pool page, click on Edit Account in the left-hand pane and paste your address into the PHO Payment Address box. Now scroll to the very bottom of the page and enter the 4 digit pin you created for your account to Save the change.
Note: You can create new addresses by clicking New Address in the bottom left-hand corner, though the initial one will suffice for now.
How to Change Your Photon Coin (PHO) Mining Pool Payout Figure.
By default, your account won't have a payout figure set, which is the amount of PHO you have to mine before it is sent to your wallet. In this mining pool, you can find the option by going to Edit Account, then finding PHO AUTOMATIC PAYOUT THRESHOLD on the central list. To start, try something like 20-50 PHO to make sure your address is working fine. Later on, you should raise this to a higher number because each transaction will cost you a small amount of PHO to send to your wallet. Now that your worker is setup, it's time to prepare your computer, then set up and configure the mining software.
Protecting Your Graphics Card From High Temps and Overworking While Mining.
As the process of mining Photoncoins with your GPU/s is very intensive, your GPU will be running at 100% load and at near max temps (usually 76-85 degrees celsius) the entire time you are mining. Because of this, you should consider limiting your GPU to a maximum temperature to protect the longevity of your hardware.
To do this you can use a program called MSI Afterburner, which has a simple slider that allows you to limit your GPU (any brand or model) to a specific temperature. Generally, I run mine at around 64c. Limiting your GPU to a specific temperature will decrease mining efficiency a little but it's better to be safe than sorry. Alternatively, if you live somewhere cold enough, you can always open the window and let the cold winter air help with cooling.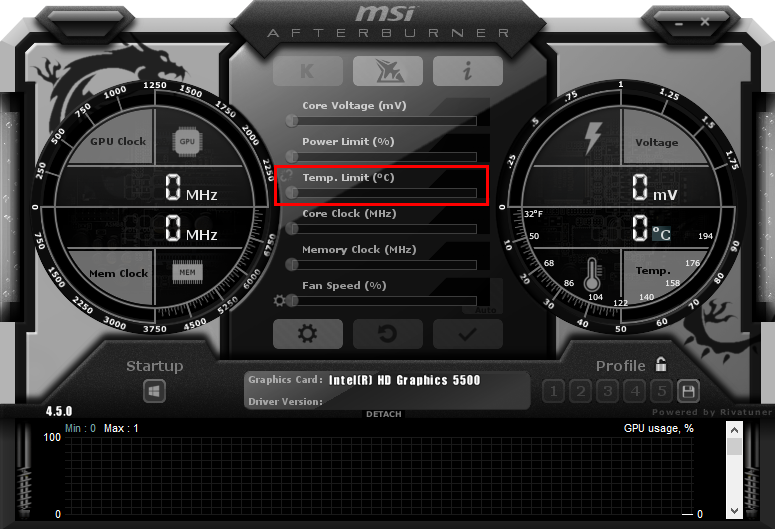 How to Setup Photon Coin Graphics Card Mining (GPU) Mining. (Nvidia)
The final step in the mining setup process is to set up your Photon Coin (PHO) mining software on your system. Depending on your hardware, either AMD or Nvidia will determine which miner and mining software you'll be using. On the mining pool page Sign in and click Getting Started in the left hand-pane, this page has all the information you need to setup your miner. Under the heading Step 2 choose a miner that matches your hardware. As I have Nvidia GPU's I'll be using the following:
CCMiner for Nvidia GPU Windows: Download here. (tested working Gtx 1060: algo blakecoin) Note - it also works very well with GTX 1070's and PhotonCoin.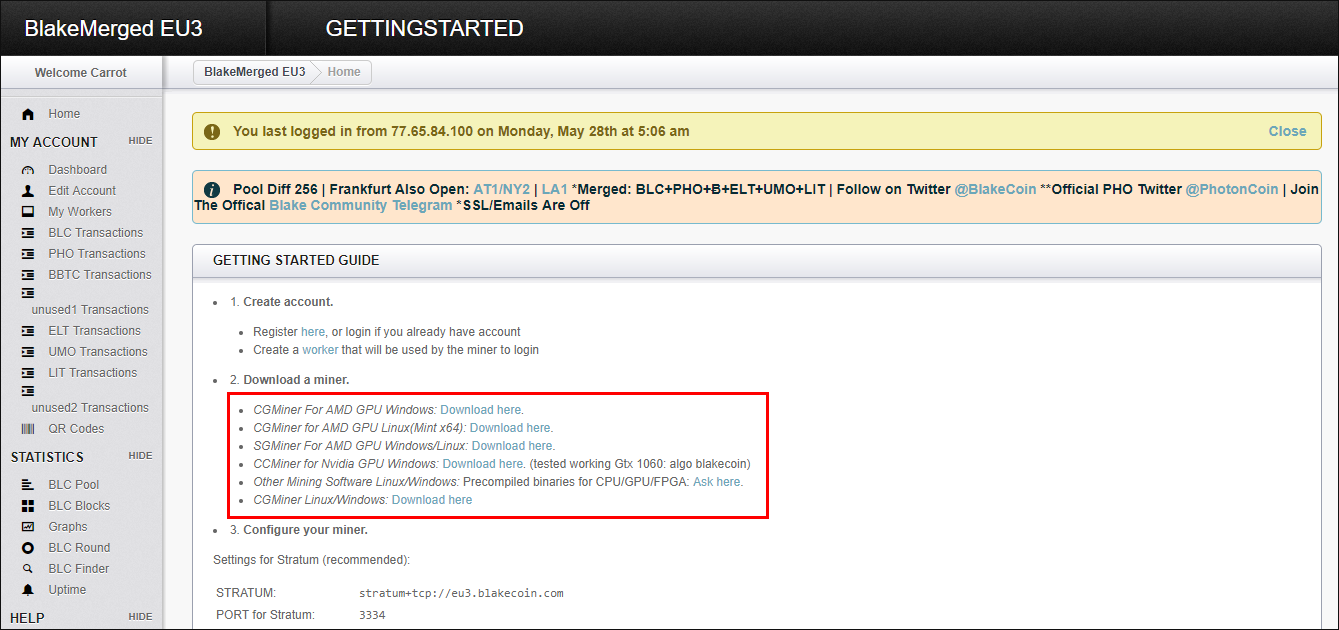 Once you have the mining software downloaded, extract it to the desired location on your computer, then enter the folder, right-click and create a new text file. In the blank open text file copy and paste the following text line:
ccminer.exe -a blakecoin -o stratum+tcp://eu3.blakecoin.com:3334 -u Weblogin.Worker -p WorkerPassword
Note: Swap out Weblogin.Worker and WorkerPassword for the worker information you created earlier. Examples for basic setup are given on the getting started page, if you get stuck look for the example for your specific miner.
Once you have entered the details correctly, go to File > Save As and save and name the file PhotonMiner.bat, this will save the file to the correct format. You can edit the details within the file anytime by right-clicking on it and selecting Edit, this will open it in notepad once again.
Alternatively, if the above text file line doesn't work and the miner closes as soon as you open it, which may happen, you can use the following instead. (Personally, I've had more luck with this one).
ccminerAlexis78 -a blakecoin -o stratum+tcp://eu3.blakecoin.com:3334 -u Weblogin.Worker -p WorkerPassword
Note: Swap out Weblogin.Worker and WorkerPassword for the worker information you created earlier.

Once you have saved the information, all you have to do to start mining is double-click the newly created PhotonMiner.bat file and the miner will start mining. If the miner crashes as soon as it starts, you have entered incorrect information in the text file. If the miner starts and displays a Stratum error, the pool is either down for some reason or has changed addresses. From time to time, you will have to check to see if anything has changed and update your bat file.
How to Setup Photon Coin Graphics Card Mining (GPU) Mining. (AMD)
Unfortunately as I don't have an AMD setup I can't show you the entire AMD process, however, most AMD miners work in a very similar way to the above Nvidia process, simply download an AMD miner from the mining pool Getting Started page, then open the config text or bat file with notepad and swap out the default details for your info. Once done double click the file to start the miner. Again, if it crashes you have entered the information incorrectly.