By default Windows 10 has one taskbar, which is more than enough for the average Windows user. However, if you have run out of space and would like to add a second taskbar, doing so is relatively easy, you also have the option to choose where on your screen it will be displayed.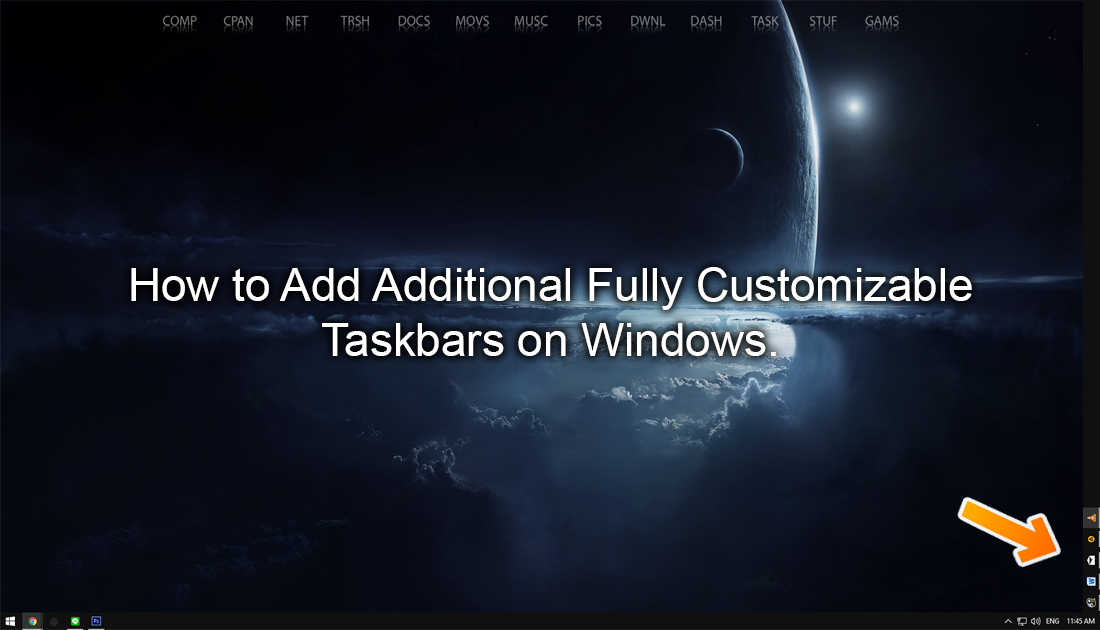 How to Restore Windows System Font Size Adjustment. (bypass the scaling option)
If you are someone who prefers to stack their desktop icons and shortcuts on the Windows taskbar, in a similar way to macOS users do. There is an easy way to add a second taskbar to your computer, should you run out of space on the original bar. Using a small free open source program called LinkBar you can add multiple taskbars to your Windows PC.
LinkBar taskbars are fully customizable and don't contain any of the content of the original Windows taskbar so you don't have to worry about the start icon or system tray icons being duplicated. Below you will find the download link for LinkBar and a full setup guide on how to set an additional taskbar on your computer.  
How to Add Additional Taskbars on Windows 10.
Once you have downloaded and installed LinkBar, double-click on the file to launch the program. On first launch, you will be asked how you would like the addition taskbar to be displayed. Either for all users of this PC or just the Current user (Only for Me). Choose whatever will work best for your situation. Next, you will be asked to choose a folder to link with the new taskbar. You can choose any folder on your computer or create a new one. The folder will be the location where all your taskbar shortcuts are stored. Once you have selected a folder, a new, empty taskbar will be placed on your desktop, ready for you to add shortcuts to.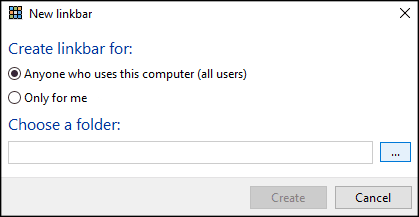 Adding Shortcuts to LinkBar Taskbars.
There are two different ways you can add shortcuts to your newly created windows taskbar. The first option is simply by right-clicking on the taskbar, selecting New Shortcut from the options, then choosing your shortcut from its location on your computer. The second option is to simply drag and drop the shortcut onto the taskbar.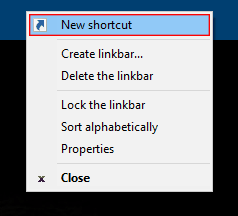 Adding Multiple Taskbars In Windows 10
If you require more than one addition taskbar on your system you can do so quite easily, simply right-click anywhere on the first LinkBar taskbar you created (that isn't a shortcut) and select Create LinkBar. A new window will open just like the first time you launched LinkBar. Follow the same steps as you did the first time and another taskbar will be placed on your Windows Desktop.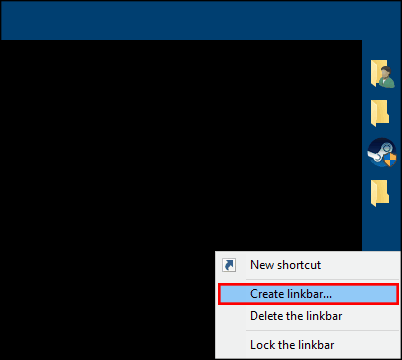 Setting LinkBar Taskbar Properties.
Once you have your taskbar/taskbars in order, you can adjust their properties, including the way the look and function. To access the Properties menu, right-click on the taskbar and select Properties from the context menu. From this menu there are quite a few different options available, you can:
Choose taskbar positions: Top, Right, Left, or Bottom.
Adjust shortcut icon size. (maximum icon size is 256 px)
Change taskbar background color.
Set Taskbar margin.
Reorder your shortcuts.
Choose to display or hide shortcut text/Change text color.
Add a glow to Taskbar.
Auto-hide Taskbar and auto-hide properties.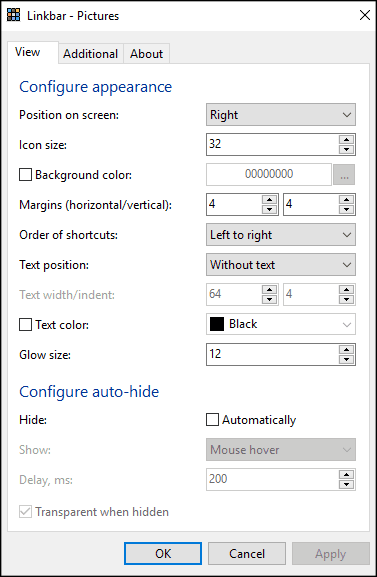 As for all of these customisation options, they are going to be completely up to how you would like your system to look and function. Once you are done making changes, click Apply then Ok to close the Properties Windows. LinkBar is a great little program that's lightweight and helps organize your desktop space efficiently. If you are looking for an, even more, macOS styled shortcut organization system check out the guide below, which will show you how to add a Mac-inspired Dock to your Windows Operating system.

How to Get a Mac-like Dock For Your Icons on Windows.