Previously we wrote an article detailing how to remove some of the more stubborn Windows 10 apps that do not come with the option to uninstall, using the PowerShell tool. If the method in that article "How to Remove All Bundled Apps From Windows 10" was a little too complicated for you, this is a much simpler alternative you can try.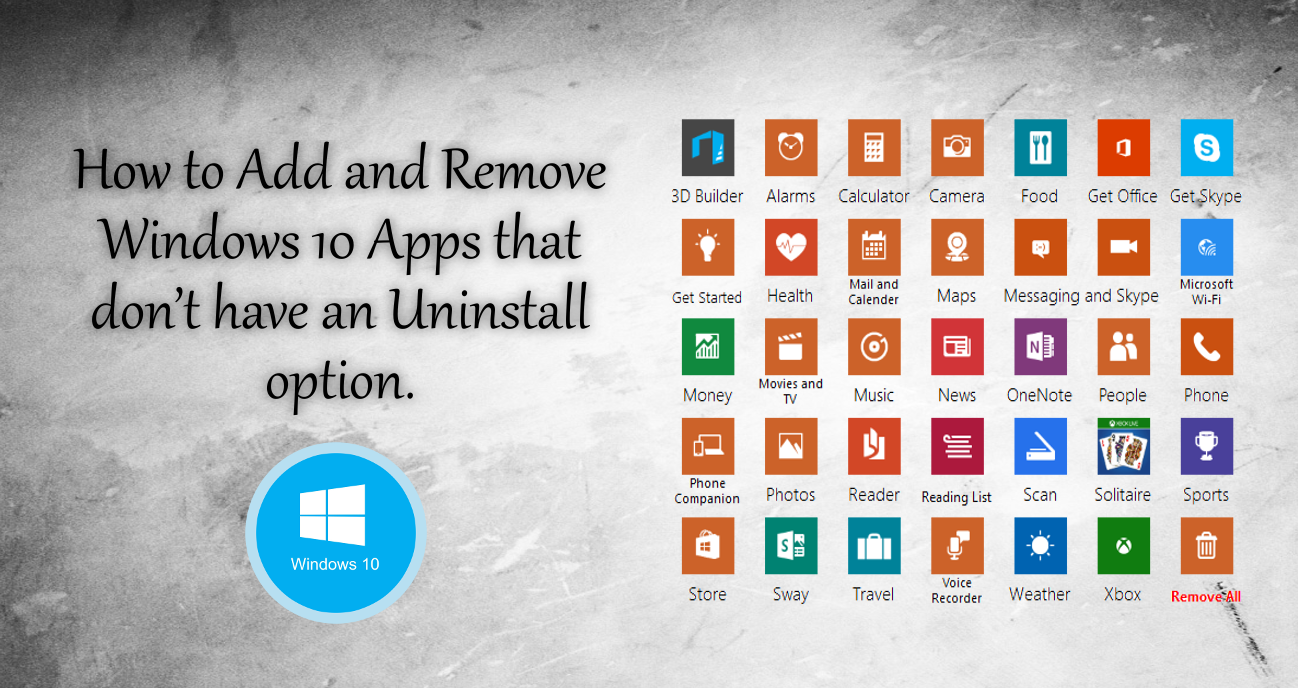 How to Get Free Offline GPS Maps and Navigation on Android Devices.
We mentioned the previous method was quite complicated for novice users of Windows and rightly so. Using the Windows PowerShell tool can be quite an intimidating task if you haven't had much experience using it in the past. The PowerShell methods restoration command also does not work as well as it once used to. Originally there was a command to restore all 34 of the default programs that were removed. However, more recently the restoration command seems to fail, leaving no other option but to restore Windows to a fresh copy.
If you are still looking to free up some space on your system and remove those apps and icons that you never use, there is still an easy way. Introducing an app called 10AppsManager, this clever little piece of freeware will allow you to uninstall and/or reinstall the built-in, default apps preinstalled on Windows 8, 8.1 and 10. A good portion of the apps are simple enough to remove by right-clicking, though some don't allow the option. This is where 10AppsManager steps in and automates the process with a simple click or two.
How to Use 10AppsManager to Remove Windows 10 Pre-Installed Apps.
The first thing you are going to have to do is download 10AppsManager,  when you have it, extract its contents to whichever location on your PC you feel it should go. (You'll be happy to know that the app doesn't even require an installation to function)
Download 10AppsManager Here From TheWindowsClub.
Before you go ahead and boot the app, the first thing you are going to want to do is make a restore point. Having a restore point is always a good idea. If you aren't sure how to create a restore point, just type Restore into the start menu and select Create a Restore Point from the list. From the pop-up window, select Create in the bottom right-hand corner and follow the instructions Windows gives. It usually only takes a minute or so to complete.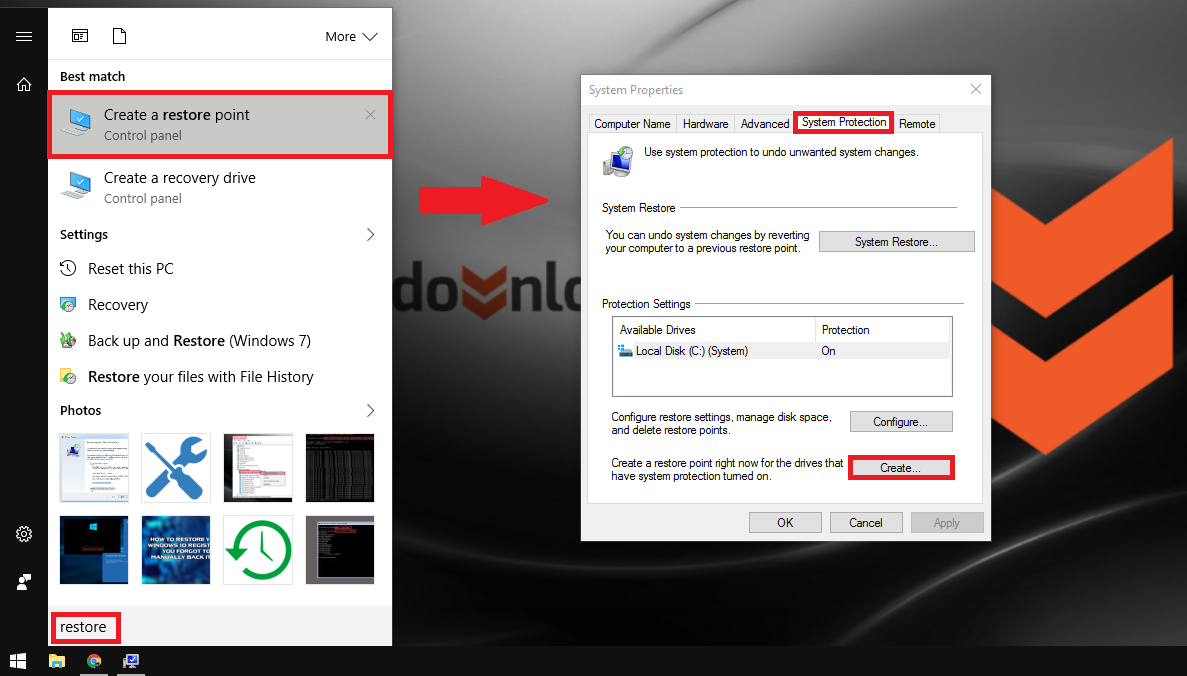 With a restore point set, you can now fire up the App. Looking at the interface of the app you will notice it's pretty damn straightforward, all you have to do is click on the app you wish to remove. It will ask if you are sure, then with a quick confirmation click, it will begin removing the app.   
If you wish to remove all of the apps in one go there is also a Remove All button in the bottom right-hand corner. If you wish to restore apps there is an option in the left-hand bottom corner. Although you can't choose to restore just one program, clicking restore will reinstall all of the programs that you have removed.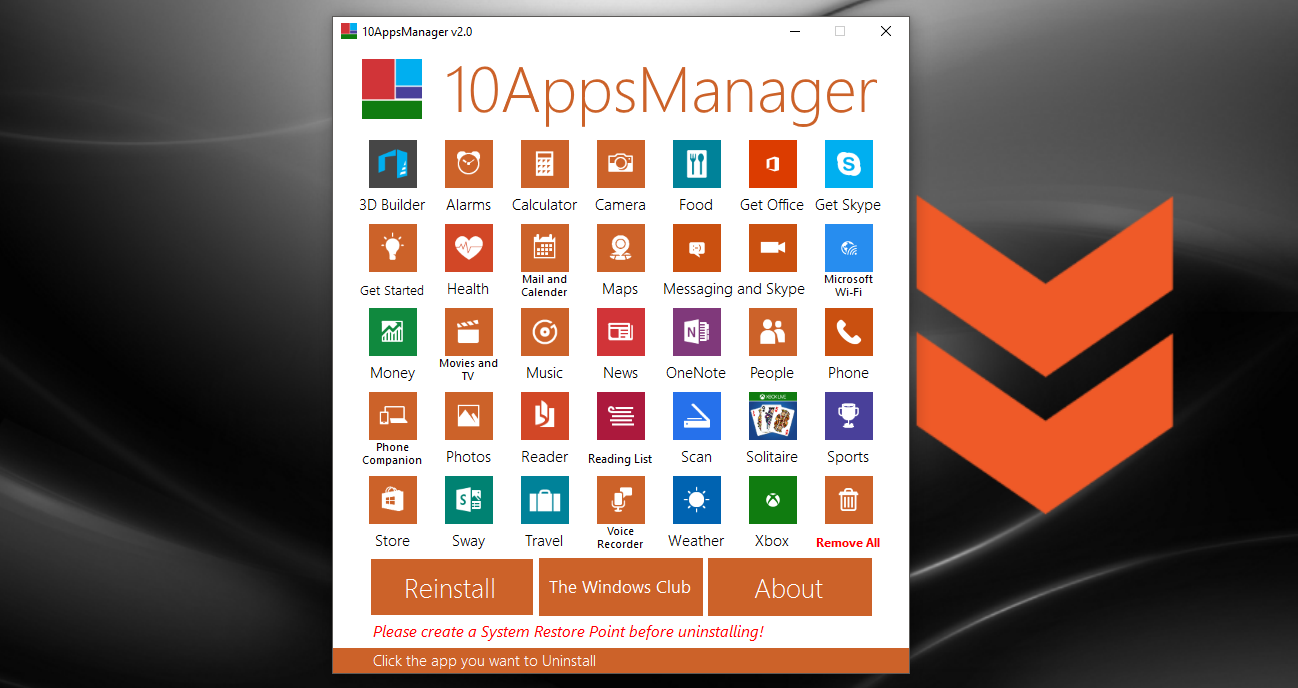 Below the complete list of Programs that can be removed using 10AppsManager in alphabetical order.  
3D Builder

Microsoft Wi-Fi 

Scan

Alarms

Money

Skype

Calculator

Movies and TV

Solitaire

Camera

Music

Sports

Food

News

Store

Get Office

OneNote

Sway

Get Skype

People

Travel

Get Started

Phone

Voice Recorder

Health

Phone Companion

Weather

Mail and Calendar

Photos

Xbox

Maps

Reader

1

 
Messaging

Reading List

 1
If you wish to remove 10AppsManager, it's super simple, just find the folder you downloaded it to, then press delete once you have selected the file.