If you are using Midjourney Ai to create art and images, you're probably wondering how to find out how many images you have left to create. 'aka' how many GPU minutes you still have to use on your account. By default, free trial accounts have 25 minutes or roughly 25 images.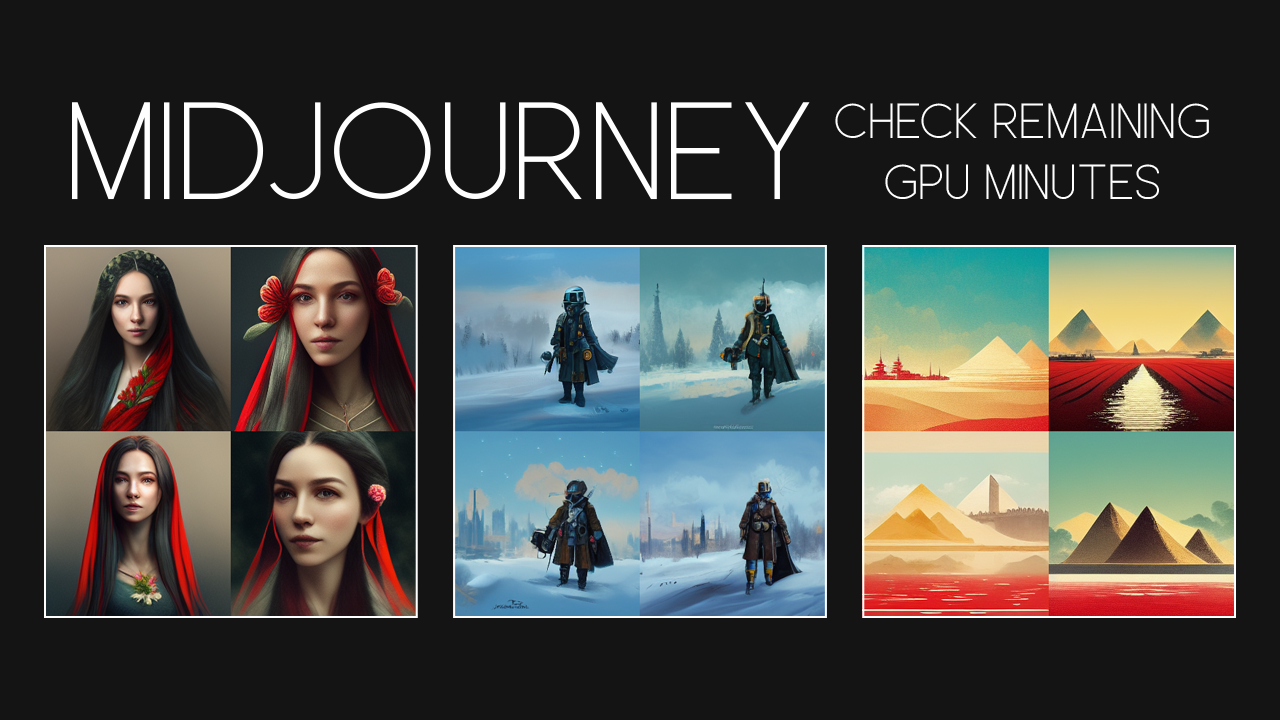 Related: How to overclock your controller on PC (No Input Lag).
Midjourney AI is an absolute masterpiece and allows you to create all kinds of content using text prompts and a range of different commands. For instance, you can request something using a string of text prompts and then follow them up with a range of different commands to point Midjourney in a specific direction or to use specific parameters. If you haven't used Commands with Midjourney make sure you check out this guide: How to use commands in Midjourney. They make a huge difference to your creations.
Another important thing to be aware of when using Micjourney is the quality of the images you are generating. By default, it takes about 1 minute of GPU time to create each image. However, you can reduce this by about seventy-five percent to save your GPU minutes for your final creation rather than trial runs. You can find out more about saving GPU minutes in Midjourney in the article below: How to get the most out of your Midjourney GPU minutes.
This brings us to the main topic of this article, how to check your remaining GPU minutes balance in Midjourney. Thankfully, the process is really simple and just requires you to use a specific command to pull the data from the Midjourney Discord server.
How do you check your GPU minutes in Midjourney? Find out how many images or GPU minutes you have left in Midjourney.
To being the process of checking GPU minutes in Midjourney AI you will need to make sure you are signed into your account and in the Midjourney server.
Once you are in the server, join a channel that allows you to create content or enter your private room (if you have a sub).
Now type /info into the text box at the bottom of the screen where you usually type commands and requests and you will see your remaining GPU Minutes. It shows as potential images and doesn't give you the exact amount of minutes sadly.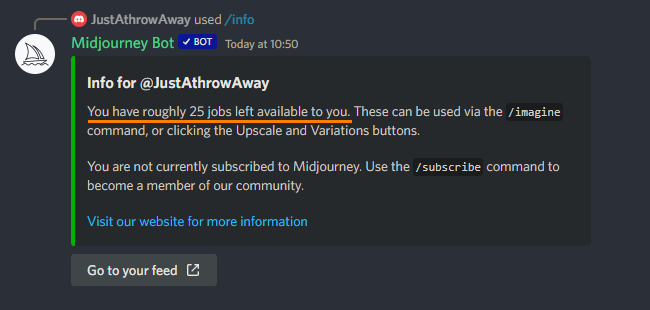 That's all there is to it. Now you can continue making content and know exactly how many images you have left at your disposal. If you are relatively new to using Midjourney and have already read all of our other guides I strongly suggest having a read through of the Midjourney user guide.
There is a ton of really good information that will guide you to the best results. Some of the other channels in the Discord server are also a good source of extra information regarding content creation. Even better check out some of the stuff on YouTube. The most important thing when using Midjourney is to be patient, it takes a lot of time to get the exact results that you want and sometimes it may take a lot of GPU minutes to create a single image worthy of posting somewhere. Anyway that wraps up this guide, if you've found it useful don't forget to check out our youtube channel