WhatsApp has finally released a new feature that allows videos of 6 seconds or less to be converted into a GIF image, which can then be sent to anyone in your contacts list. It also allows users to send GIF files they have downloaded from other sources online. For more information continue reading below.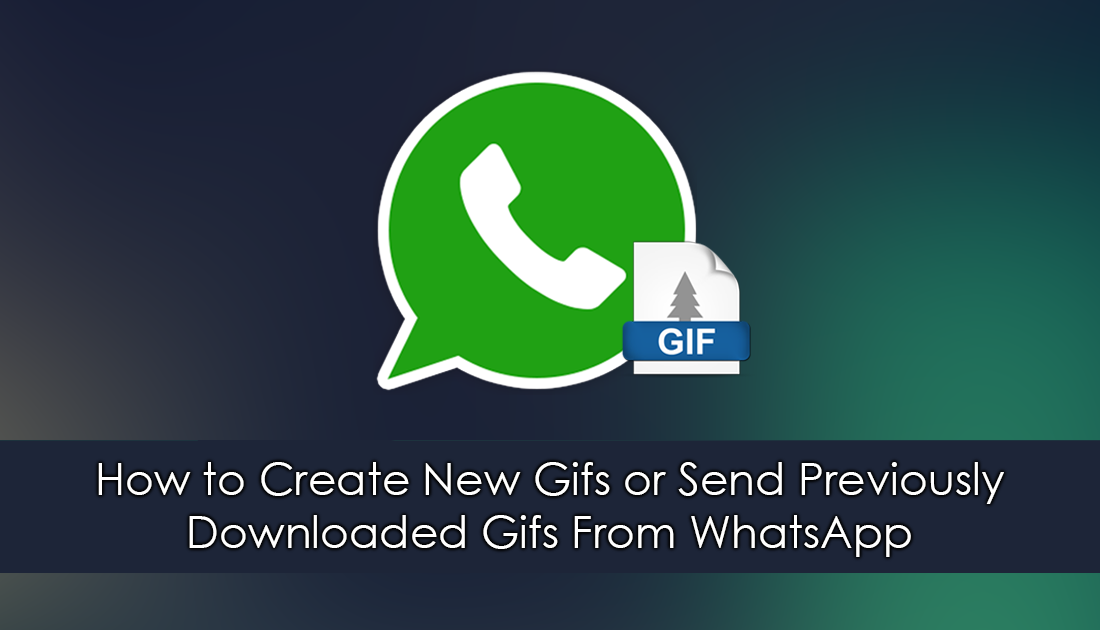 How to Install APK Files on Your Android Smartphone or Tablet.
The WhatsApp user community have been asking for GIF support for a very long time. Unfortunately for a little while longer, this option is only available via APK, however, if you are interested in testing out the new feature, you can find a tutorial on how to install and use APK files above.
Remember: This is currently only available on Whatsapp beta versions for Android. On final release of the app after beta, both these options are likely to be added and usable in the same ways as shown in this quick guide.
Beginning, there are two methods for sending GIF videos on Whatsapp, the first one, which we mentioned earlier, is done by creating your own GIF using your phone's camera, remembering it can be no longer than 6 seconds. The second option for sending .GIF's is to save them to your device from another source such as gfycat, Giphy or anywhere else on the Internet Gifs can be found.
Method One: Creating and sending a GIF Using Your Phone's Camera in WhatsApp. (Version 2.16.242 beta)
To send a GIF image, head to the Attachment Icon on the top of a chat screen within the application. After selecting the Attachment Option, choose Record Video . Now you can record a six-second (or less) video. Before sending the newly recorded video, the editing screen will appear with a camcorder icon in the top right corner of the page. When you select the camcorder icon, the icon will flip to GIF and the recorded video will be converted into a GIF video.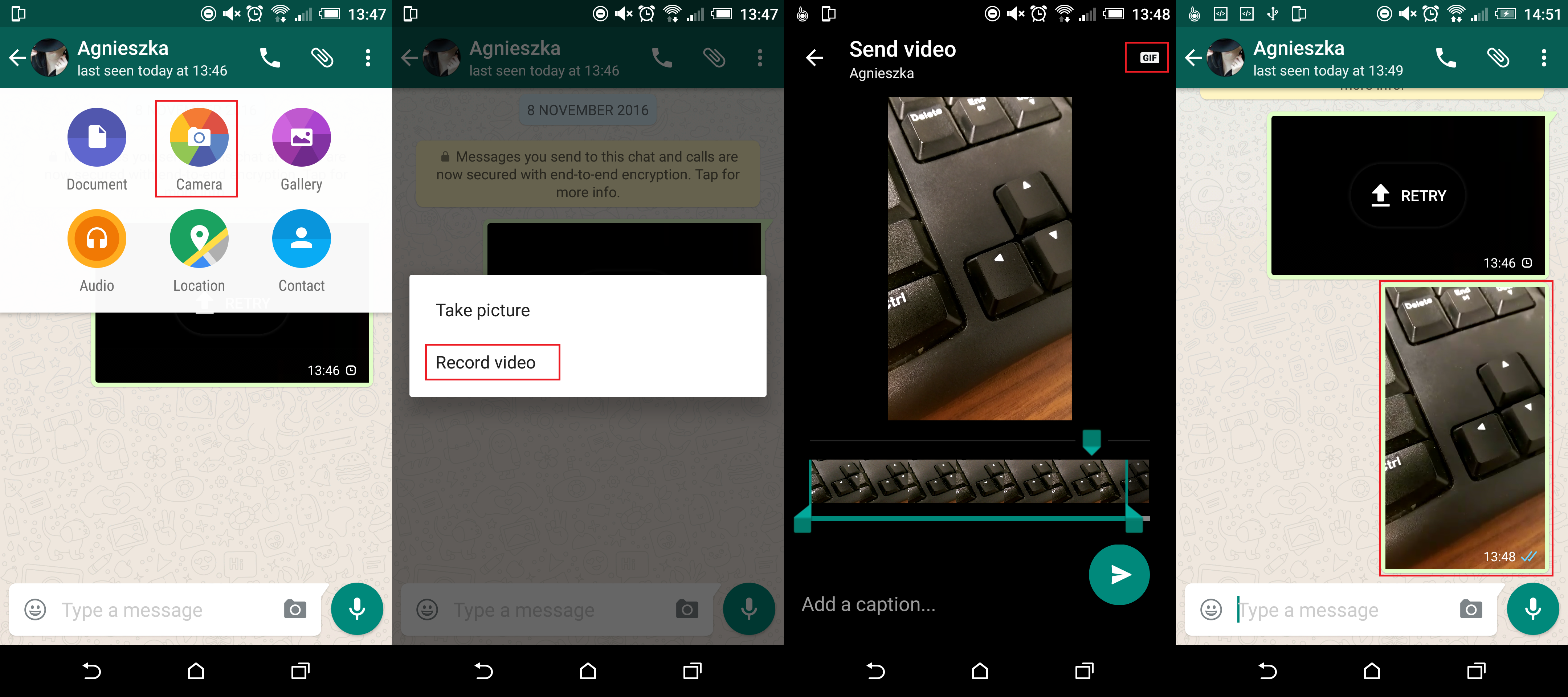 Notably, this GIF conversion feature will also function for any videos within the gallery, that are six seconds or less. Additionally, any previously recorded video can be trimmed to six seconds or less, using WhatsApp's built-in video trimmer and turned into a GIF file. Just remember that the video recorder icon will not be displayed for videos that have not been adjusted to a length of six seconds or less.
Note: Don't forget that GIF files do not contain any audio.
The videos will be converted to a GIF and dropped into the conversation to play. However, if you're on the prowl for the GIF on your phone to send onwards again, you won't find it. You will probably search high and low looking as I did before realizing it was only saved as a Mp4 file. If you look in the WhatsApp/Media/WhatsApp Animated GIFs/Sent folder on your phone, you will find the recorded files. Regardless of the saved file format you see, the file was sent and received as a GIF. labeled in the conversation as a GIF and plays as a GIF should.
Method Two: Creating and sending a GIF Using Your Phone's Camera in WhatsApp. (Version 2.16.342 beta)
If you have downloaded the newest APK Version of Android WhatsApp Messenger, version 2.16.342 Beta or newer, the create your own GIF function as talked about above has been removed. Leaving only the option to send GIF files pre-downloaded from elsewhere.
This is the second option for sending and is located in a strange place. To find the location of your saved GIF's you will have to go to the Attachment Icon at the top right-hand side of your open chat window. In this menu go to Gallery and flick over to the GIFS tab, now find the GIF you would like and send. If you are using an older APK version of WhatsApp, this function may not be added yet. It was put in somewhere between version: 2.16.242 Beta and 2.16.342 Beta.  On final release of the App after beta, both these options are likely to be added and usable in the same ways as shown in this guide.