The best thing about owning an Android, no matter what brand or model is the ease with which you can customize and modify it. Most people who customize their Android device will usually root it beforehand, which can be somewhat risky and has the potential to void the warranty. Rooting a device is basically the Android equivalent of Jailbreaking on iOS, it has its risks, but adds huge amounts of freedom. Putting this aside though there are plenty of apps available that can truly change the look and feel of your smartphone or tablet, without having to worry about breaking anything.  All you will need is a few apps, some creativity and a little bit of know how.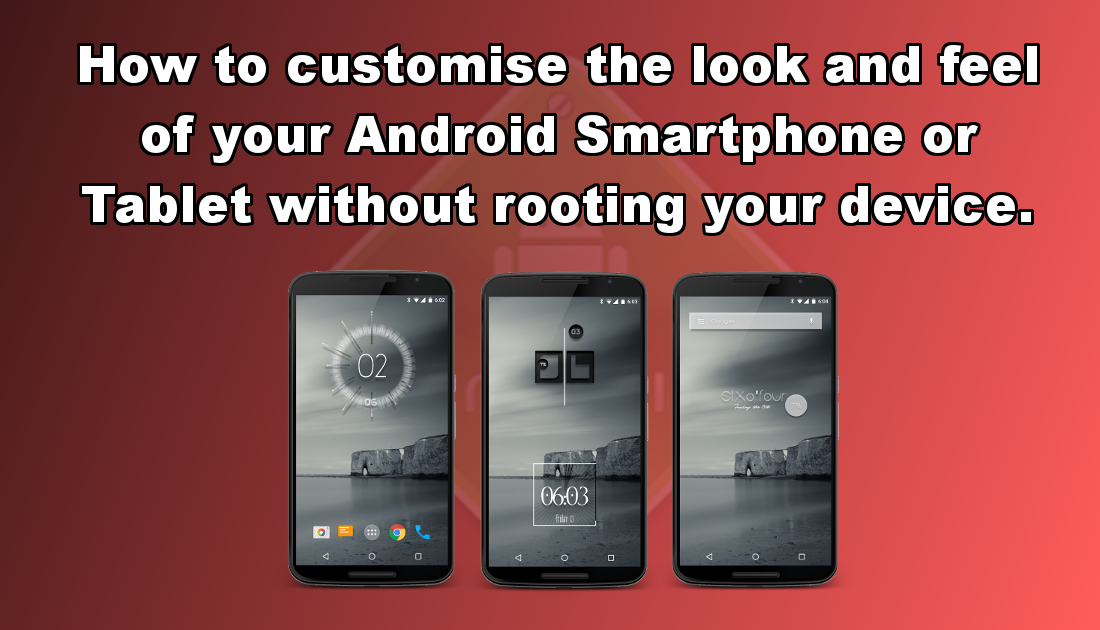 How to Shoot Camera .Raw on Your Android, Smartphone or Tablet.
The first step in getting started on a new look for your Android is picking a new launcher. Downloading a new launcher will be the base of your makeover, it will allow you to change icons, themes and add some pretty cool new functionality. Picking a launcher can be a little difficult as there are so many available on the Play store, all offering a different style, interface, and usability. It is quite possible you will try more than one before settling on something you will end up using.
A couple of top rated Android launchers worth looking at are: Action Launcher 3, free or $3.99 for the pro version, Apex Launcher, free or $3.99 for the pro version, and Go Launcher free or $5.99. Picking the free version of any of these is almost as good as the paid one, they all offer great levels of customization. For the purpose of this tutorial though, we have chosen to use Apex Launcher.
Once you have found, downloaded and installed your launcher, start it for the first time. When prompted, set it as your default launcher. You don't have to do this step to start, but it will save a little frustration as most phones are persistent about asking which launcher you wish to use. If you are unhappy with the new launcher after setting it to default, you can turn it off at any time and go back to the default one. The option for this will depend on the phone you have, but usually can be found in the Accessibility tab" in Settings.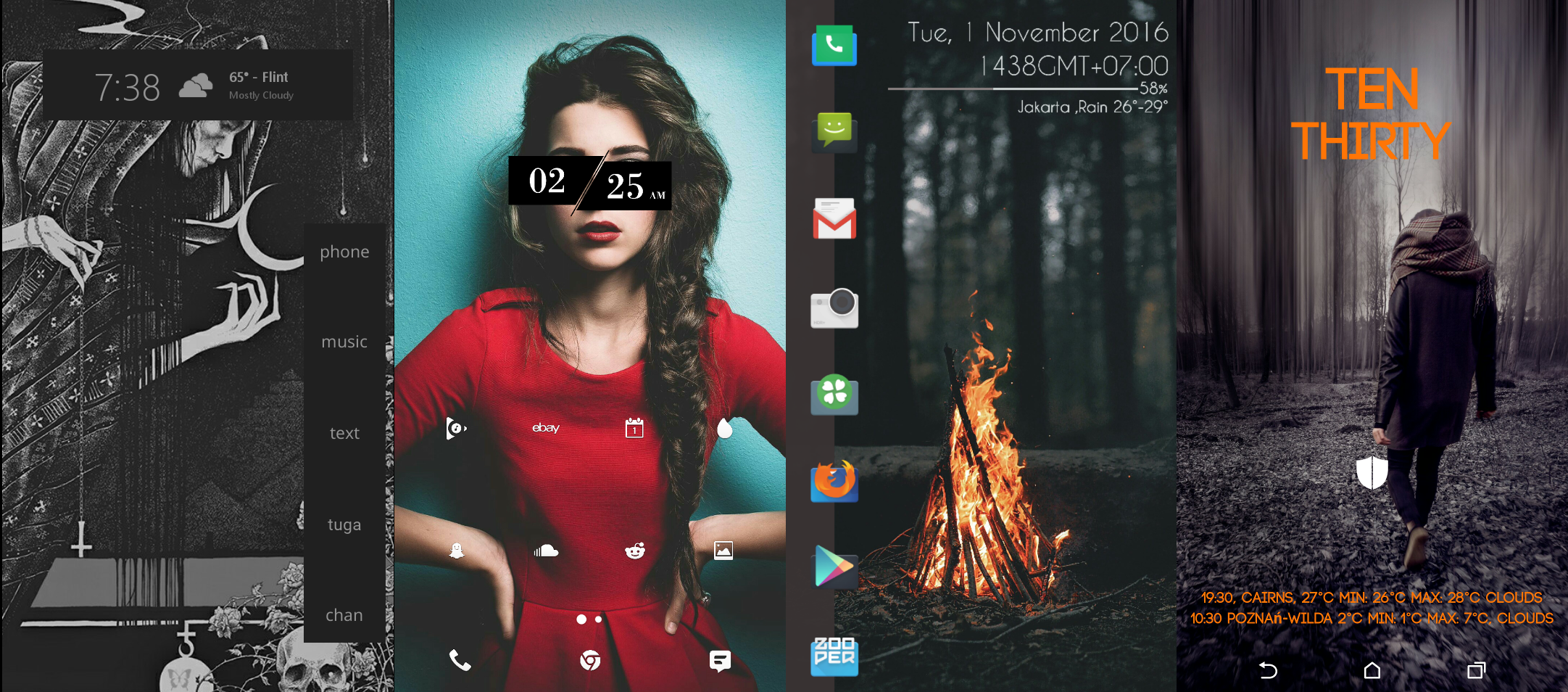 Some of the Navigation Menus and Options Available With a New Launcher Installed.
This step will be somewhat different depending on which launcher you picked, however, most are going to give you similar options, just a different way of getting to them. On Apex launcher though, to access the bulk of the options Double Tap on screen (anywhere there isn't an icon or widget to activate). This brings up all the options you have at your disposal, nearly all of them are self-explanatory, so we won't cover each of them individually.
Going down to Apex Settings is where the bulk of the new features are located. In this menu, you can do the following: change the grid layout of all the icons on your home screen, draw settings, add remove or customize the way your dock tab works, fool around with folders, themes, and basic app behaviors. Don't be afraid to have a good look around in these menus and turn things on and off, this is where you will learn the most and see the potential areas you can make some changes.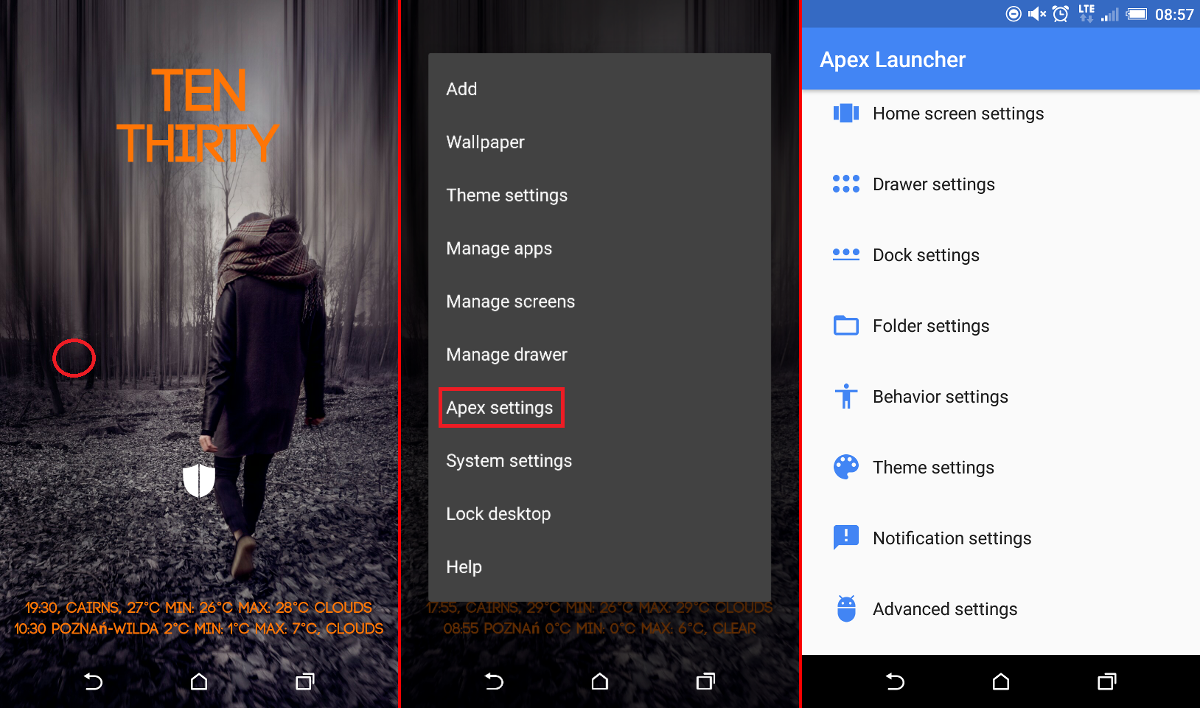 Getting and Using Custom Icon Packs to Use With Your New Launcher.
Again, this area is going to be entirely up to your style and preference. Icons will play a big part in the look and feel of your new design, they are simple to find, install and download. Simply open the Play Store and search Icon Packs, with icon packs you can download as many as you wish and swap between which ones you use on an individual level.  To change icons on your home screen, simply hold down on the one you wish to change and tap Edit from the tab that arises, next tap the icon image to change, then follow the steps.
Note: Some Icon packs may not contain an icon for every app in your library.

Installing a Custom Widget App to Make the Absolute Most of Your Customisation.
Installing a custom widget app will make the biggest change to your phone's look, there are once again plenty to choose from on the Play Store. However, I would highly recommend one called Zooper Widget, it's one of the few apps I've bothered paying for the pro version. (which has a few extra little features that will make customizing even more intricate). To use Zooper Widget for customising, double tap to bring up the Apex Menu, at the very top tap Add, choose Widgets, then scroll down to the bottom of the list to find Zooper Widget. In the Zooper menu, you can pick the size of the widget tile you wish to place down. (Pick the one you wish to use)
Note: You can adjust the size later, but try to be as close as you can from the first pick.
Once you have selected the size, it will place a widget on the screen you choose. Hold down on the widget area to bring up the resize tab or to move it around and place it where you wish. The standard version comes with quite a lot of pre-built widgets you can use, from clocks and calendars to battery level visualizations. You can download even more custom built packs with the pro version of the app if you get bored with the basic ones. Apart from these basic ones, you can also set a blank widget and build your own from scratch. There are so many possibilities with this, it's best to just let your imagination run wild and explore the options at your own pace.

Want to Customise Your Phone, But Can't Find it? Track it Down!
From here on out the customization process is up to you, if you feel like you are lacking inspiration there are endless forums available online with custom designs and ideas. And if you get confident enough who knows maybe you will decide to root your phone and take it to a whole new level.