If you had a Windows phone and grudgingly migrated to Android when support ended, this guide will show you how to download and use Microsoft's recently released Android Launcher. Microsoft's ambitious new adventure into the phone market. Even if weren't a fan of Windows phone the new Microsoft launcher is definitely worth trying.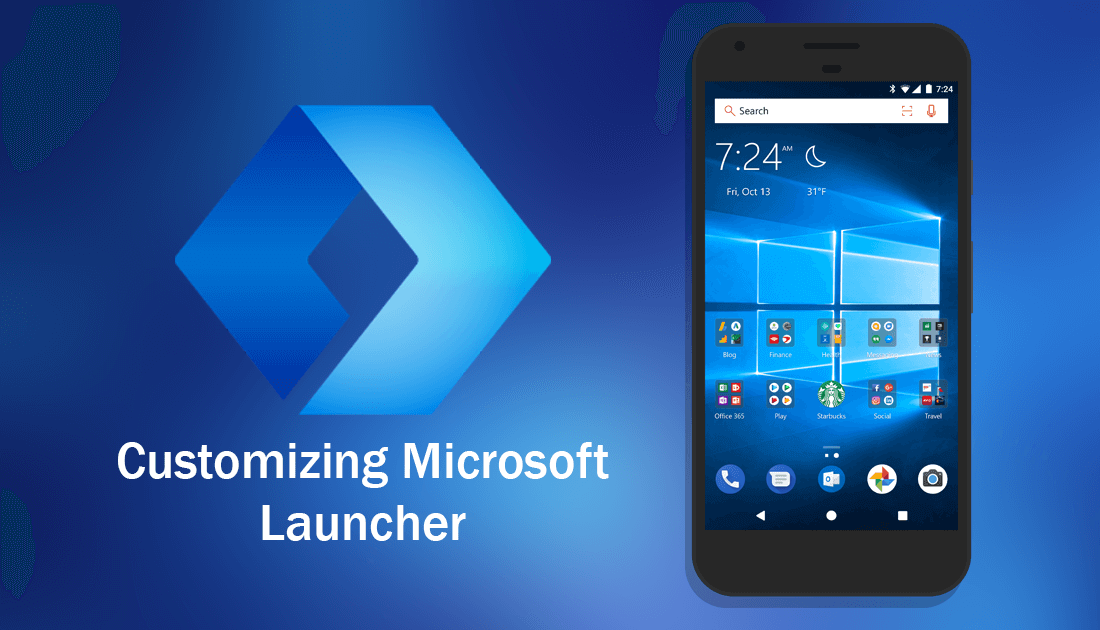 How to Get an Analytical Breakdown of Any Instagram Account. (Most Liked Picture, Top Photo, Most Likes etc).

Launchers have been available on Android devices for a very long time, with dozens of options listed on the Play Store for download, Apex Launcher, Nova Launcher and Google Now Launcher being some of the most popular choices. Their dominance may be about to change however, with Microsoft re-releasing their launcher 'Microsoft Launcher'.
Microsoft's new Android launcher is nothing like Windows previous attempts in the phone market and has far more similarities with the other launchers on the market, than the failed Windows phone. It also has a lot more Windows compatibility than all the others, which you will probably find very enticing if you have any other Windows-based devices. Apart from that, the launcher is also exceptionally easy to use, customize and of course fast!    
If you aren't familiar with Android launchers, they are app-like programs that offer completely different layouts, styles, configurable options, themes and a ton of other features for your Android devices. They basically change the look and feel of your Android and can make a nice change if you want that new phone feeling, without actually buying a new phone. You can grab the download from the Google Play Store by simply searching Microsoft Launcher or alternatively, using the download link provided below.
Download Microsoft Launcher From Google Play.  
Customizing Microsoft Launcher's Appearance on Android Devices.
Once you have the launcher installed on your device, the first thing you will most likely want to do is change the default wallpaper. As there are two ways to do this, both will be covered. The first method, which will allow you to choose wallpapers stored on your device, requires you to use the Photos App (Google Photos) When you have the app open, tap the Hamburger icon in the top left-hand corner and choose Device Folders. From here, all you have to is find the image you want to use, tap it to expand it, then use the standard Android technique to set it as a wallpaper.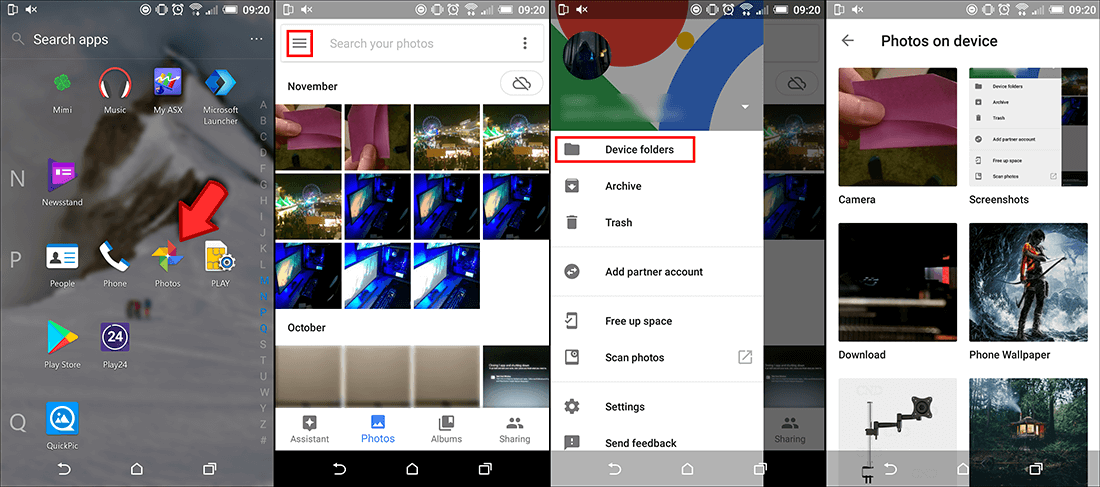 If you want to use Microsoft Launchers Wallpapers, tap the Launcher Settings icon on the Home Screen, then Change Wallpaper in the top left-hand corner of the screen. On this page, all you have to do is tap the wallpaper you wish to use, which will start a download, then tap it once again to set it (once the download is finished of course)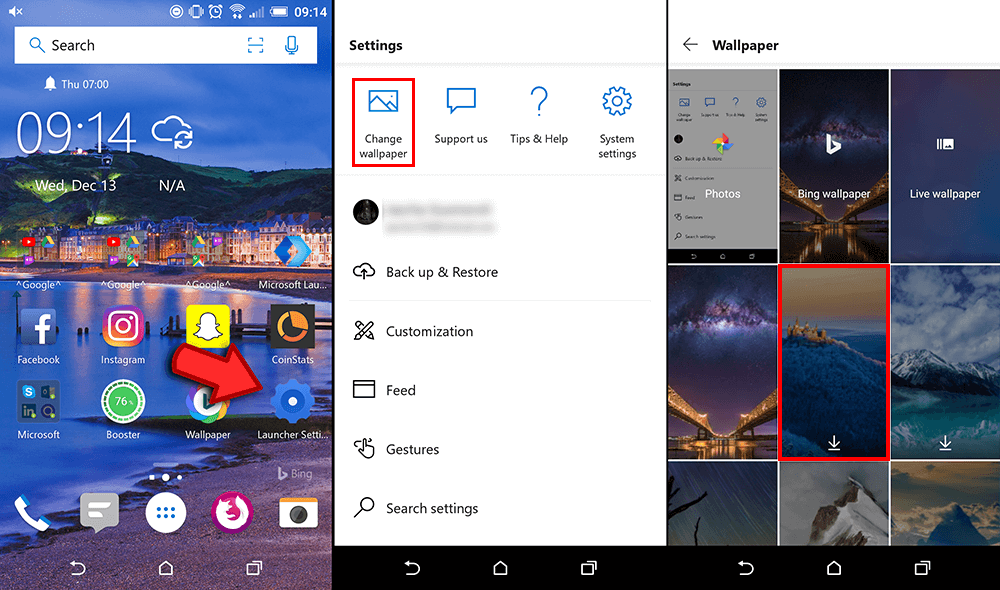 How to Set Google as the Default Search on Microsoft Launcher.
By default, Microsoft Launcher is set to use Bing as its search engine, however, thankfully, for a change, Microsoft allows you to change it. The list of options isn't huge but it does allow you to switch to either Google or Yahoo!7. To make the change, tap the Launcher Settings icon on the Home Screen, then scroll down to Search, tap it and choose your option.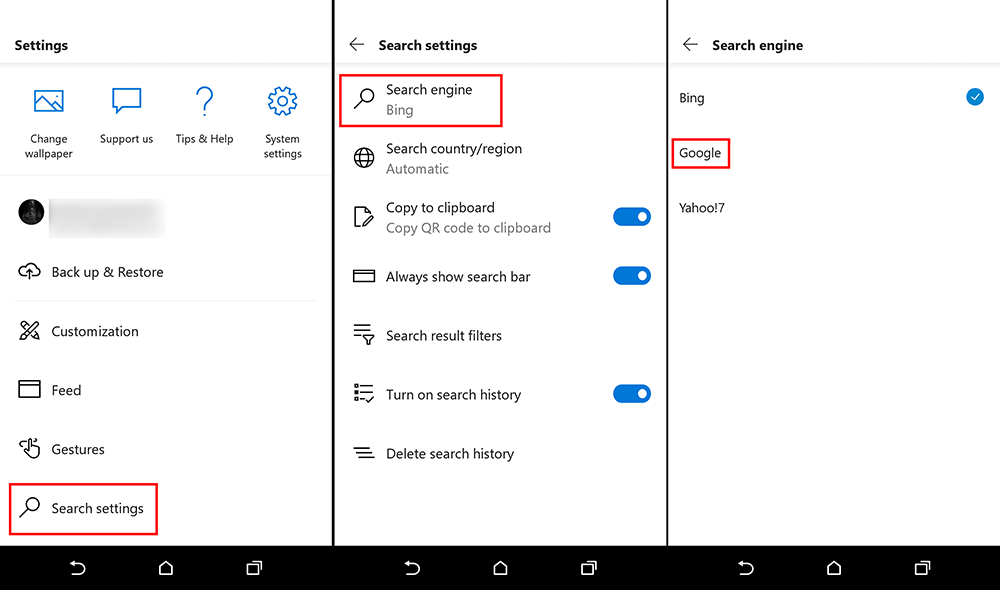 How to Customize Icon Size & Hide Apps/Folder Names on Microsoft Launcher.
If you are someone who likes to cut back on clutter, you can also choose to hide any apps you don't wish to see an icon for. This especially handy if you already have an app shortcut on your home screen and don't require a second icon in the app drawer. To hide apps and folder names tap the Launcher Settings icon on the Home Screen, then tap Customization. Inside this screen, simply tap the toggle next to the Hide Apps/Folder names and you're done.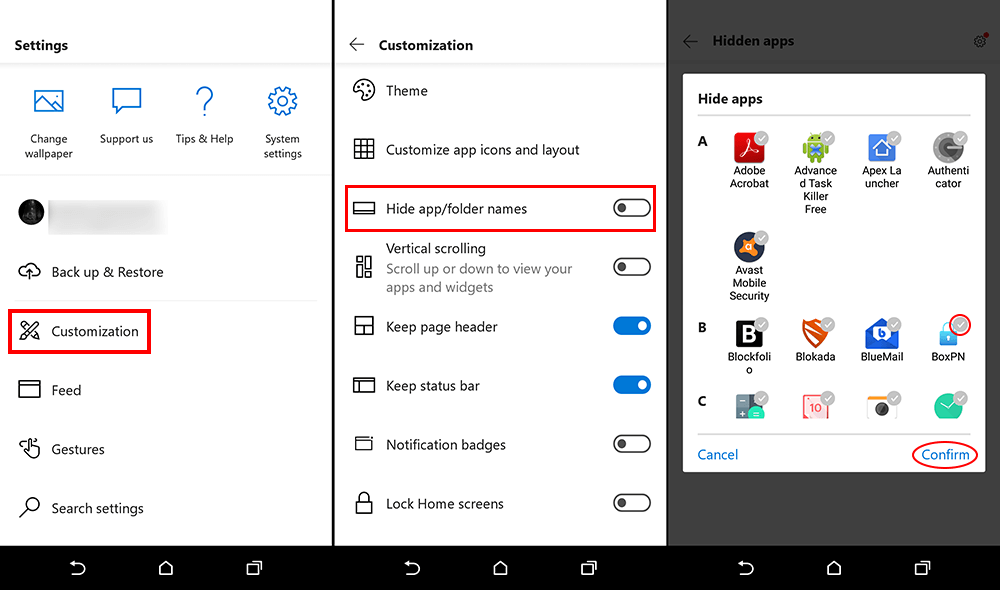 To change the size of all your icons, stay in the Customization menu and tap Customize app icons and layout. Here all you have to do is use the slider to adjust the size. While you are in this menu, you can also change your Icon pack. If you don't have any custom icon packs, simply search Icon Pack on the Play Store and you'll be flooded with options to choose from. If you set an icon pack and notice that not all icons change, simply tap and hold down on an icon until a small menu appears, select Edit App Icon, then follow the screens to make the change.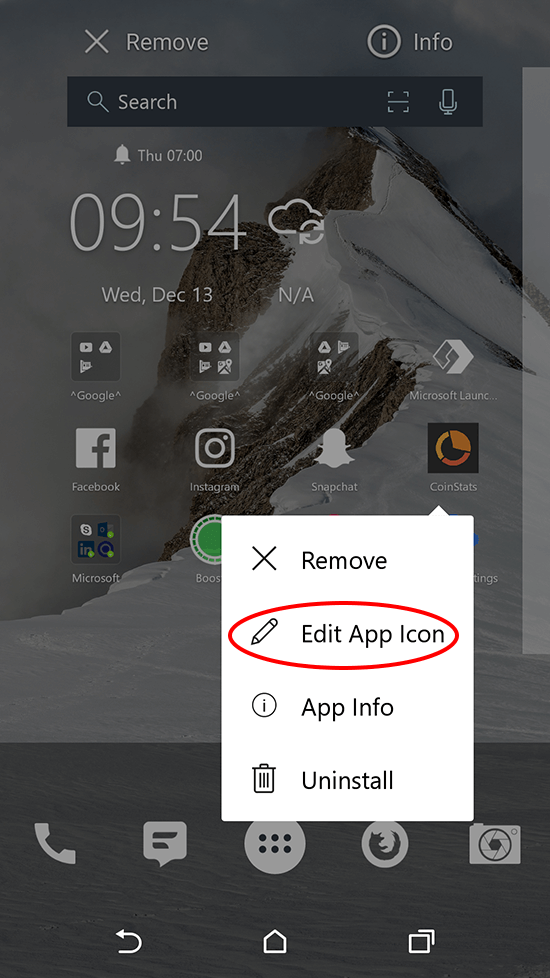 How to Backup and Restore Microsoft Launcher on Android.
Once you have your launcher customized to the way you like it, you may want to make a backup in case something happens to your phone. To create a backup of Microsoft Launcher, tap the Launcher Settings Icon again, go to Backup up & Restore, then tap Backup Microsoft Launcher. On this screen, tap backup, then choose if you want to backup to the cloud or backup to local storage. Cloud is probably going to be the better option in this situation.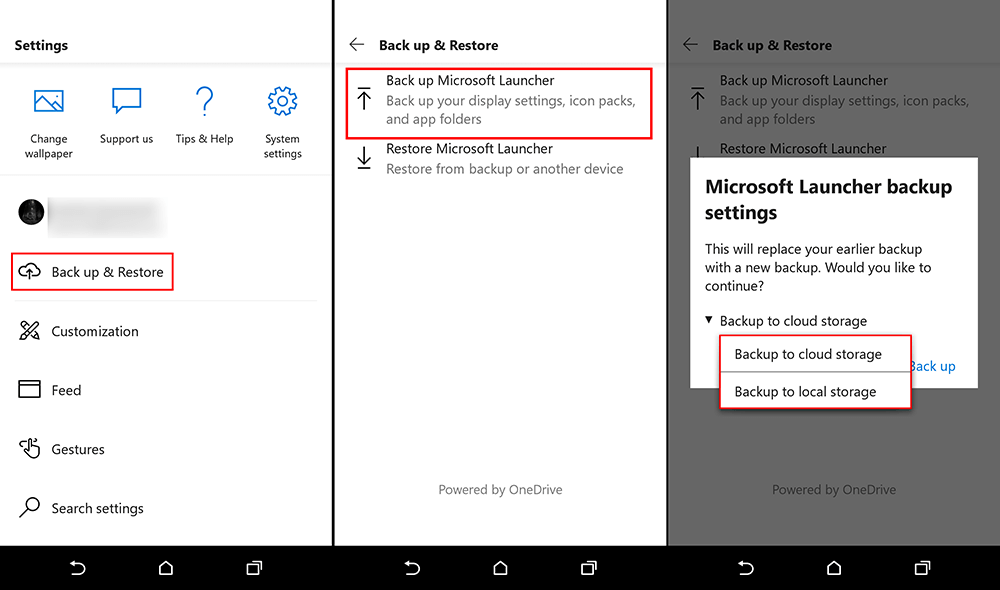 Using Microsoft Apps and Microsoft Launcher.
If you have any Microsoft programs like Word, Outlook, Powerpoint, Excel etc installed on your Windows PC, you will also be able to utilize them from your phone, simply tap the Microsoft icon on your Home Screen to view a list of all the apps available for download. By default, they will all be greyed out, pending download (unless you had them installed prior to downloading Microsoft Launcher) To start using the apps and the increased compatibility with your PC, simply make sure you are signed into your Microsoft Account on both devices and the sync system will do the rest.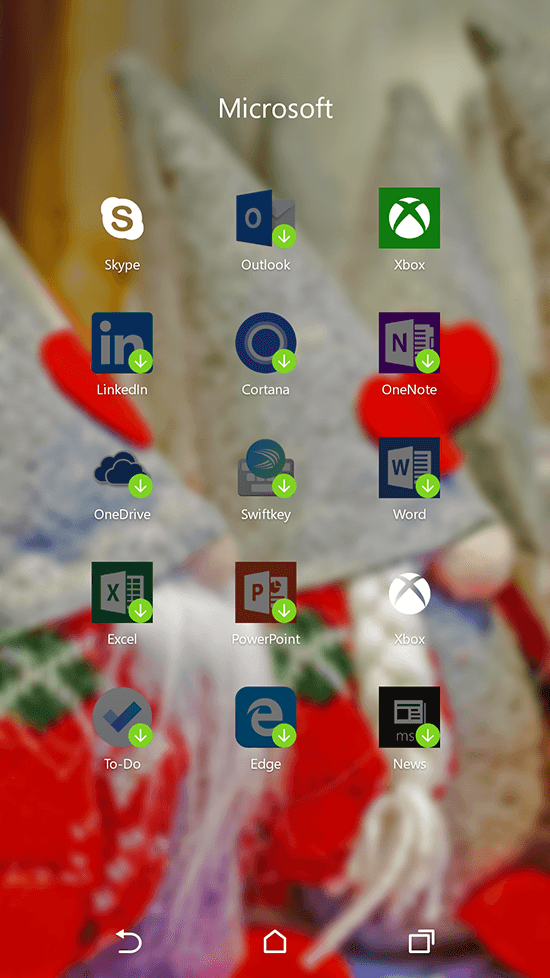 How to Uninstall Microsoft Launcher.
If you are trying to uninstall Microsoft Launcher but are finding the Uninstall option is greyed out, you will first have to change back to your old launcher. To do this, open your phones Settings menu, go down to Personalize, then select Change Phone Screen Launcher. Now all you have to do is select your old launcher, then uninstall Microsoft Launcher.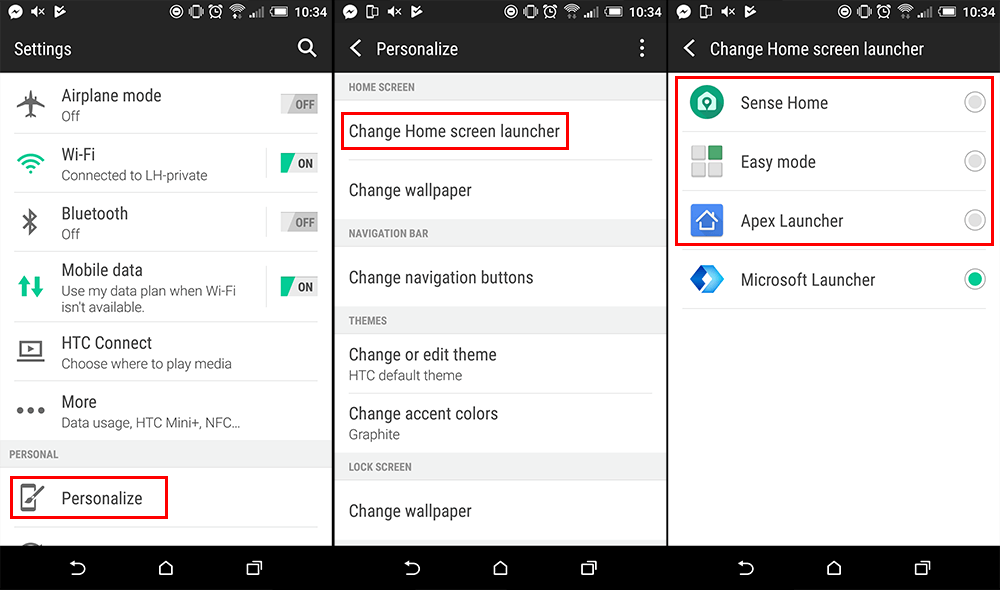 Conclusion.
I have been using the pro version of Apex Launcher for several years now and after testing out Microsoft Launcher, I will probably be making the switch permanently. It's fast, smooth, easy to use and since I have been using it, I've also noticed slightly improved battery life on my phone.