After installing avast! Free Antivirus not only do we gain a great tool to protect our computer, but also there are a few of needless add-ons installed into your Internet browser. Below we will show you how you get rid of them for good.
An add-on appears in your Firefox after you install the avast! Free Antivirus on your PC. Rather than helping with your browser's protection, the extension seems to be rather bothersome. Many users complain about the add-on slowing down the Firefox or other issues with the browser itself. See below how to delete the avast! add-on from your Firefox.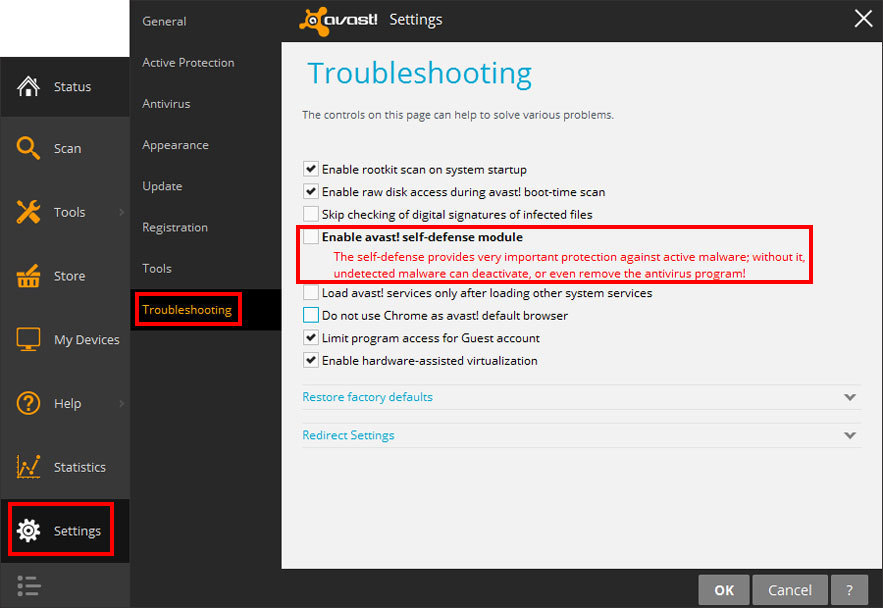 1. Launch your Firefox and go into the Add-on tab (Firefox button in the upper left corner > Add-ons)
2. In the new tab, click on Extensions button in the left menu. Now find the avast! Online Security in your browser.
3. Disable the avast! Online Security add-on in Firefox. Unfortunately you cannot delete it.
4. Close your Firefox and open up your avast! Free Antivirus.
5. Choose the Settings button in the menu on the left.
6. New window will pop up, there you need to choose the Troubleshooting button.
7. In the Troubleshooting tab tick off the 'Enable avast! Self-defence module' option. This option is responsible for forcing installation of add-ons in web browsers.
8. Click OK and you are done!