Pocket is a clever little service recently acquired by Firefox that allows you to save just about anything to view at a later time, videos, articles, picture and so on. As clever and handy as Pocket is to have around, it isn't for everyone, so if you've updated to Firefox Quantum and would like to remove Pocket from your browser this article will show you how.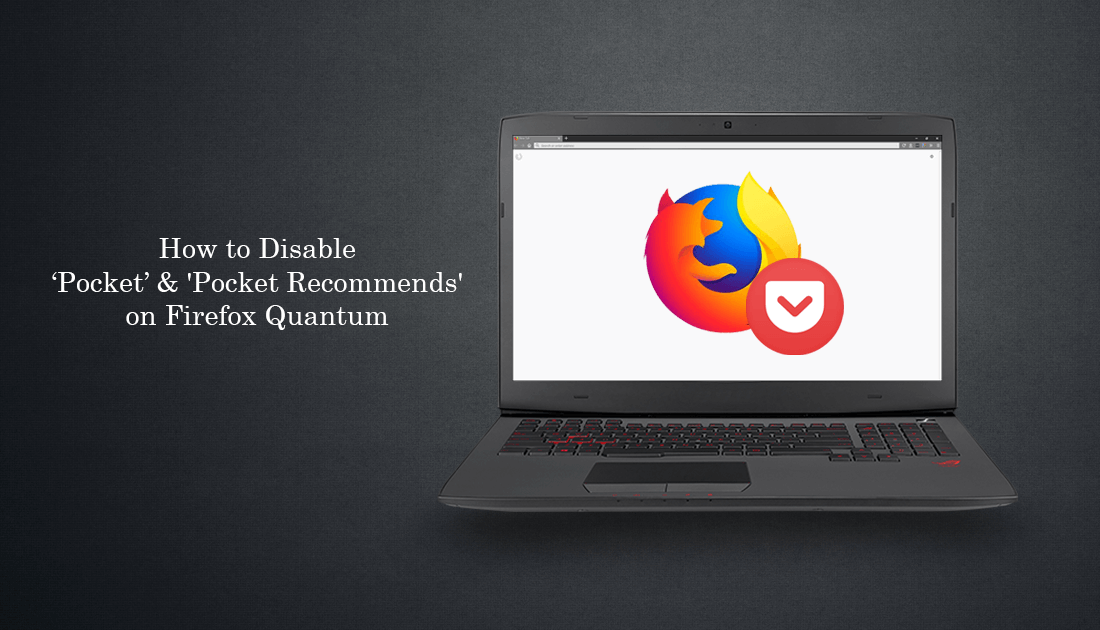 How to Create Multiple User Profiles on Firefox Quantum 'aka' Firefox 57.
If you aren't too familiar with Pocket, you may have known it by its earlier name Read it Later. It is a tiny service that allows you to save articles, web pages and a ton of other content to remote servers for later use. All this saved content become accessible on any other device you have Pocket installed on. It also allows you to read/view most of this content offline and allows you to remove clutter and junk from articles to making reading far more enjoyable.
You might be surprised to learn this but Pocket is also integrated into over 500 other apps on tons of different platforms, including Android and iOS. It has become so widely available because of its API which allows users and developers to build their own Pocket apps and integrate them into existing applications. If you want to learn a little more about Pocket, head on over to the Official Pocket Website.
How to Remove Pocket and Pocket Recommendations From Firefox Quantum.
If you are new to Firefox or are a seasoned user, you'll notice that Pocket is now a standard feature of the web browser, wedged between the favorites star and the page actions dots. Although it isn't intrusive you can remove it by doing the following.
First open Firefox Quantum, type: about:config into the address bar, then press Enter. Next, accept the warning message and search for Pocket using the search tool. Once search has found the entries for Pocket, double-click extensions.pocket.enabled to change the option's value from True to False. True being active and False being inactive. Once you have done this, Pocket will be disabled, however, you will still need to disable recommended content.

How to Remove 'Recommended by Pocket' From Firefox Quantum New Tabs.
To remove recommended by Pocked from Firefox 57, you will need to do the following. Open Firefox, create a New Tab, click on the Gear icon in the top right-hand corner of the window, then clear the recommended by Pocket option. Once it's gone, you'll no longer see anything Pocket related.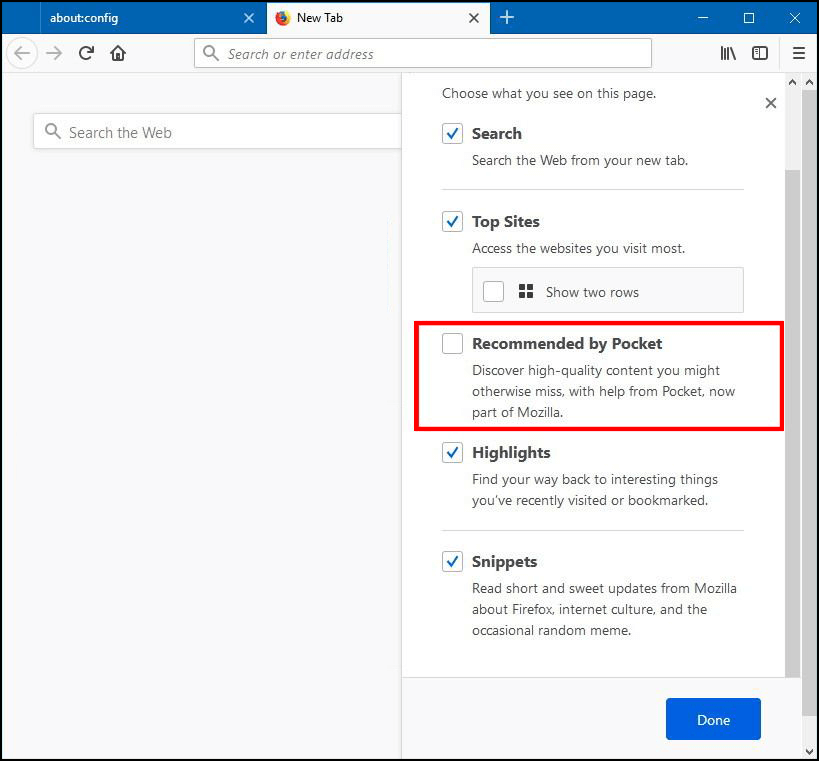 If you want to completely remove the Highlights section including topsites from Firefox Quantum, check out the guide below.