If you do not like iOS 8 or you discovered that your iPhone's or iPad's performance has dropped significantly since you updated it - it's high time you downgraded. I will show you how to easily go back from iOS 8 to iOS 7.1.2.
iOS update has only been released by Apple. However, it does not work too well on older devices (iPhone 4S, iPad 2). Therefore, some of the users who were discouraged by the update can downgrade to the lower version. In this case, it is iOs 7.1.2.
A few bits of information before you begin downgrading:
- you can only downgrade to iOS 7.1.2
- do not forget to back up your data (iCloud, iTunes)
- in iOS 7.1.2, it is not possible to restore the backup from iOS 8
- you take full responsibility for the effects of the downgrade
- before downgrading turn off Find my iPhone
Before beginning the whole process you need to download an appropriate version of iOS 7.1.2 firmware, according to the type of device you have.
iPhone 4 GSM
iPhone 4 8GB
iPhone 4 CDMA
iPhone 4S
iPhone 5 GSM
iPhone 5 GSM+CDMA
iPhone 5c GSM
iPhone 5c GSM+CDMA
iPhone 5s GSM
iPhone 5s GSM+CDMA
iPad 2 Wi-Fi
iPad 2 GSM
iPad 2 CDMA
iPad 2 New
iPad Mini Wi-Fi
iPad Mini GSM
iPad Mini CDMA
iPad 3 Wi-Fi
iPad 3 CDMA
iPad 3 GSM
iPad 4 Wi-Fi
iPad 4 GSM
iPad 4 GSM+CDMA
iPad Air Wi-Fi
iPad Air Cellular
iPad Air China
iPad Mini 2 Wi-Fi
iPad Mini 2 Cellular
iPad Mini 2 China
Once you have downloaded a proper version of the software onto your computer, connect the device with iOS 8 to your computer via USB cable. Launch iTunes and open the tab with iPhone/iPad settings. You can also click "Check for updates". Then, choose the previously downloaded IPSW file. Confirm that you know your data will be removed from the iDevice.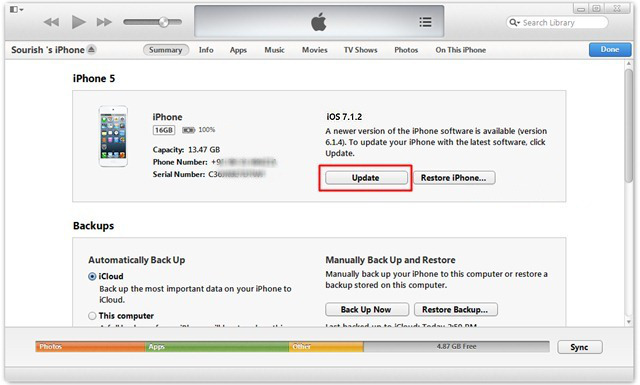 Now you only have to wait until the downgrading process is finished. Finally, the device will be rebooted and you can restore the previous backup.