If you are an avid fan of Instagram and can spend hours browsing random content from users around the world. You will be pretty excited to find out you can actually download the content from any users profile, even if you aren't following them. You can also use it to make a backup of your own accounts contents. Sounds pretty cool right!?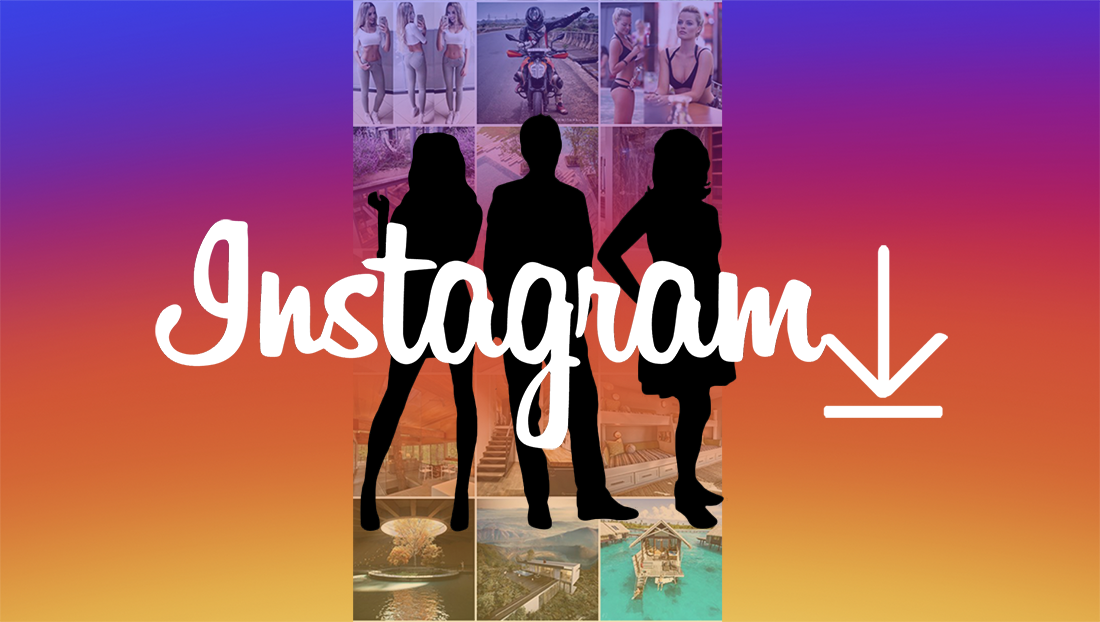 How to View Old Posts you have Liked on Instagram.
The app is called Image Hunter and is available for download from the Google Play Store. You can go directly to the download here: Download Image Hunter. Or just open the Google Play Store App on your phone/tablet and search for it. Image Hunter isn't just an app for downloading content from Instagram though, it's main and original purpose was to download images from the web, using links. However, since adding Instagram functionality it has become far more popular for this use.
For example, if you are visiting a page that contains pictures or wallpapers you would like to save, all you have to do is copy the link from the page into the app and it will allow you to download any or all of the images automatically, depending on your selection or course. Ok, so now that you know what Image Hunter does let's move onto showing you exactly how it works.
How to Download Any or All the Content from an Instagram Profile. 
Obviously, the first thing you are going to need to do is download and install Image Hunter using either of ways above. Once you have the app downloaded and installed on your device, you can launch it. Upon first launching the app you will notice it is pretty basic, consisting of one search/input bar at the top of the screen and a random option displayed in the center of the screen, sometimes it says to try the new Instagram feature, sometimes it's looking for a 5-star rating.
There are two ways to download content from Instagram profiles, the first way is to use the option displayed from the center option. Or if it isn't being displayed use the top search/input bar. Whichever option you select, all you have to do is enter the username of the Instagram account you wish to download content from, for example: @grainyedits
When you have entered the account details, tap Ok and Image Hunter will search for the account. Once the account has been found all you need to do is select the images you wish to download. If you want to download all of the content, you will need to scroll to the very bottom of the list to make sure that all the content is loaded. Then all you have to do is tap the download button. The app will then ask you where you wish to save the contents to on your phone and begin downloading everything you selected.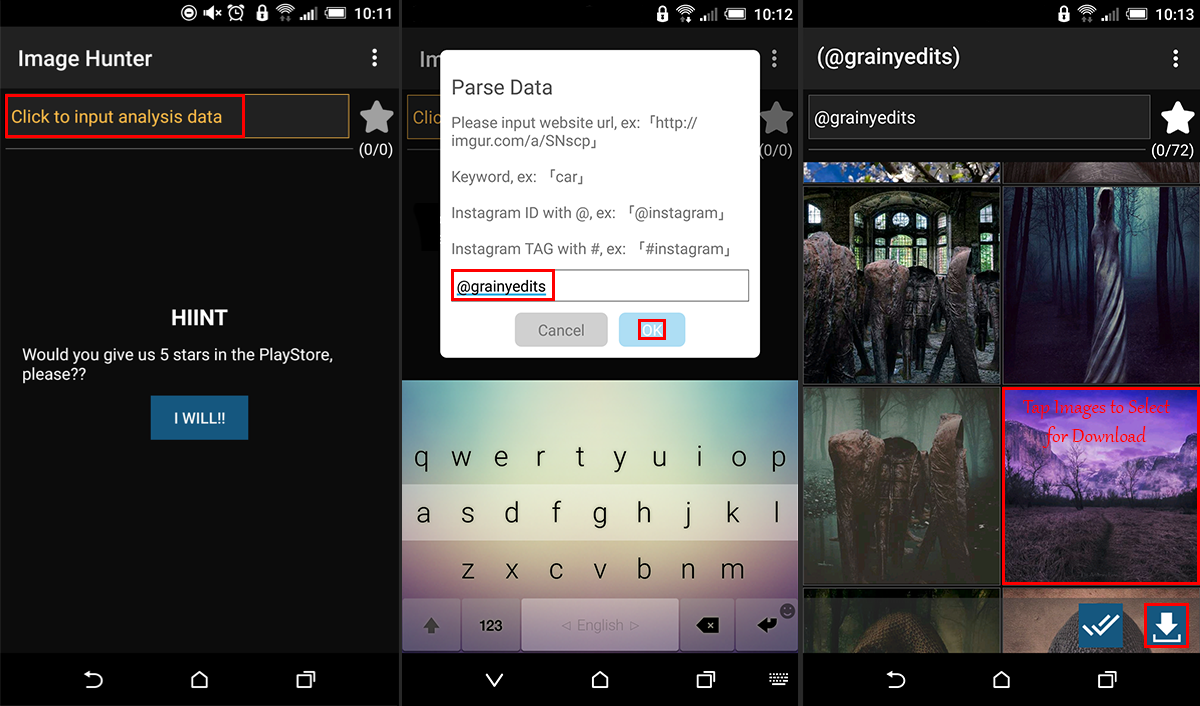 You can use any Instagram username you like, it doesn't matter if you are following them or not. As well as being able to download content from @usernames, Image Hunter will even allow you to download content from #Hashtags. For example, using the same search/input bar you could enter #Sunshine and proceed to view and download any content you like from that hashtag. Keep in mind though that searching for a #hashtag is going to list content from the most recent first.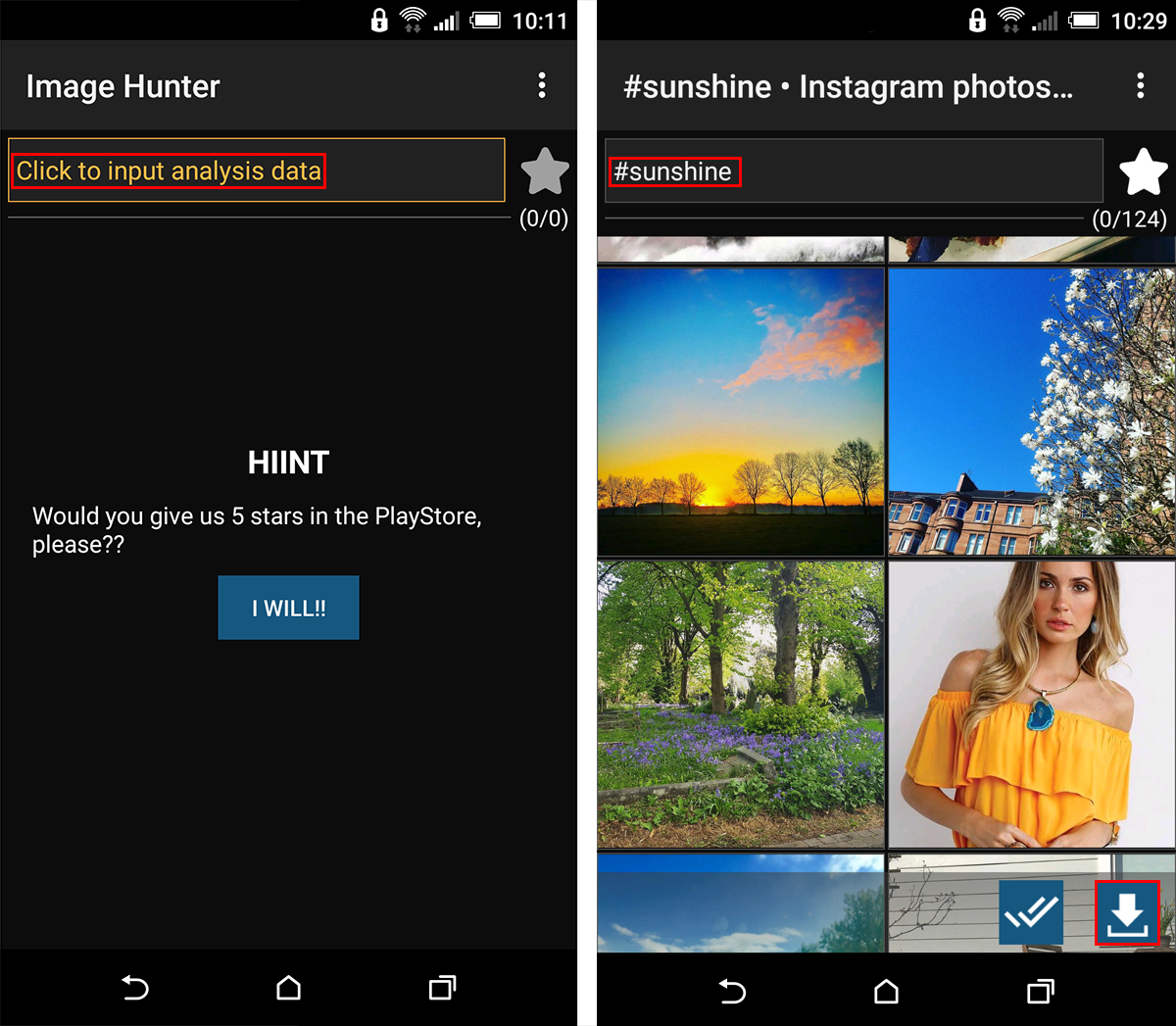 How to Download Pictures from any URL.
Besides having the ability to download content from Instagram, Image Hunter's Main function is to download images from URL links. Just enter the URL name into the search/input bar and click ok. After a few moments, the app will show you a list of all the images available on that link. Now all you have to do is tap to select which ones you want to download then download away.