If you are starting a YouTube channel you are probably already aware that YouTube has really strict rules surrounding Copyright content. However, even when you are playing it safe and getting content from legitimate sources, you may still be hit with a Copyright Claim on Youtube. This is quite common so don't freak out just yet, because there are a few things you can do to dispute the claim and release the copyright claim against your content and channel.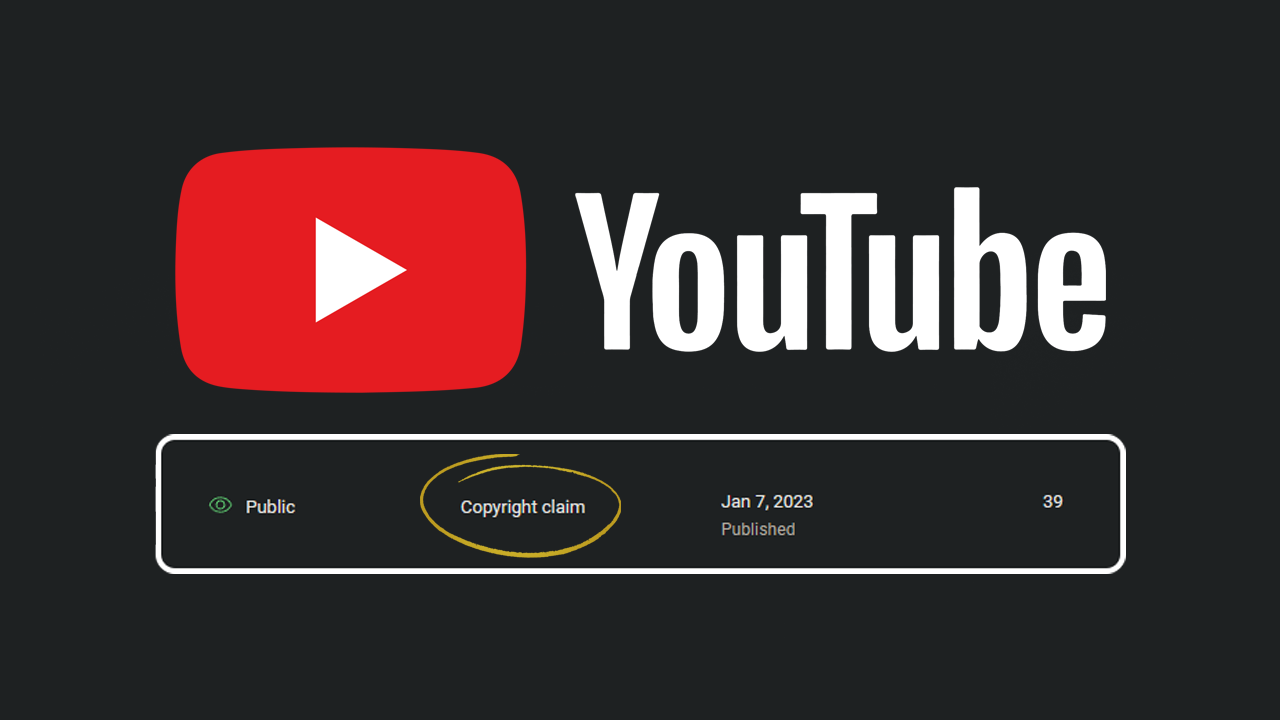 Related: How to hide YouTube Shorts.
If you're a content creator on YouTube, you may have come across a copyright claim on one of your videos. A copyright claim is made when a copyright owner (or their authorized representative) asserts that your video contains content that infringes on their copyright. This can happen if you've used copyrighted music or footage in your video without permission and sometimes even if you have permission. If a copyright claim is made against your video, it can result in your video being taken down, or revenue from ads being redirected to the copyright owner.
A classic example of this is content (usually music) that is sourced from platforms like Pixabay, Chosic, and a ton of others. Even though this music is advertised as copyright free and free to use, you will usually receive a Copyright Claim on videos you use the music in. It will almost always appear as "No impact" and not give you a warning or a strike. However, if you are monetised or become monetised at some stage, it will start to divert some of your hard-earned revenue to the original creator.
The good news is that there is a way to "Release the Copyright Claim" on your YouTube content by following a simple process. This guide will cover a ton of different situations and a range of solutions for different scenarios. That said, if you have a standard No Impact Copyright Claim on a YouTube video, you should follow the first option. If that fails for you, start working your way down the list.
How do you review & Submit a Dispute for a YouTube Copyright Claim?
The first step is to review the copyright claim and understand the basis for it. YouTube will typically provide you with information about the copyrighted content that is in question, as well as the copyright owner who made the claim. Take a close look at the copyrighted content to see if it's something you've used in your video. If you're not sure whether you've used it or not, you can compare your video to the copyrighted content in question to see if they're substantially similar.
You can do this by going to YouTube Studio > Content, hovering your mouse over Copyright claim and selecting See Details.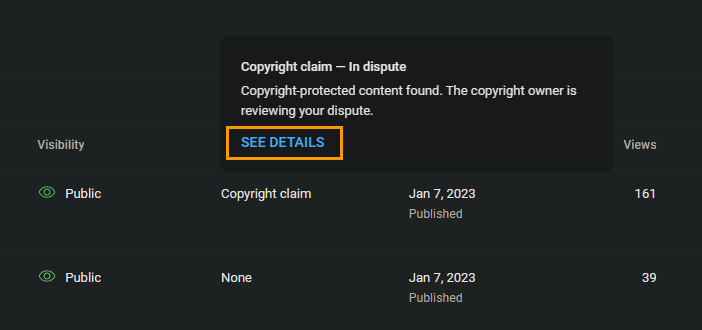 Now on the new page that appears you will see some details about the copyright affected content. A lot of the time the Song name and artist is different to the source that you have used. Different sources name tracks differently so this is to be expected. Click the three dots on the right-hand side of the entry and select Dispute from the list. (If a dispute fails you can go back and use one of the other options).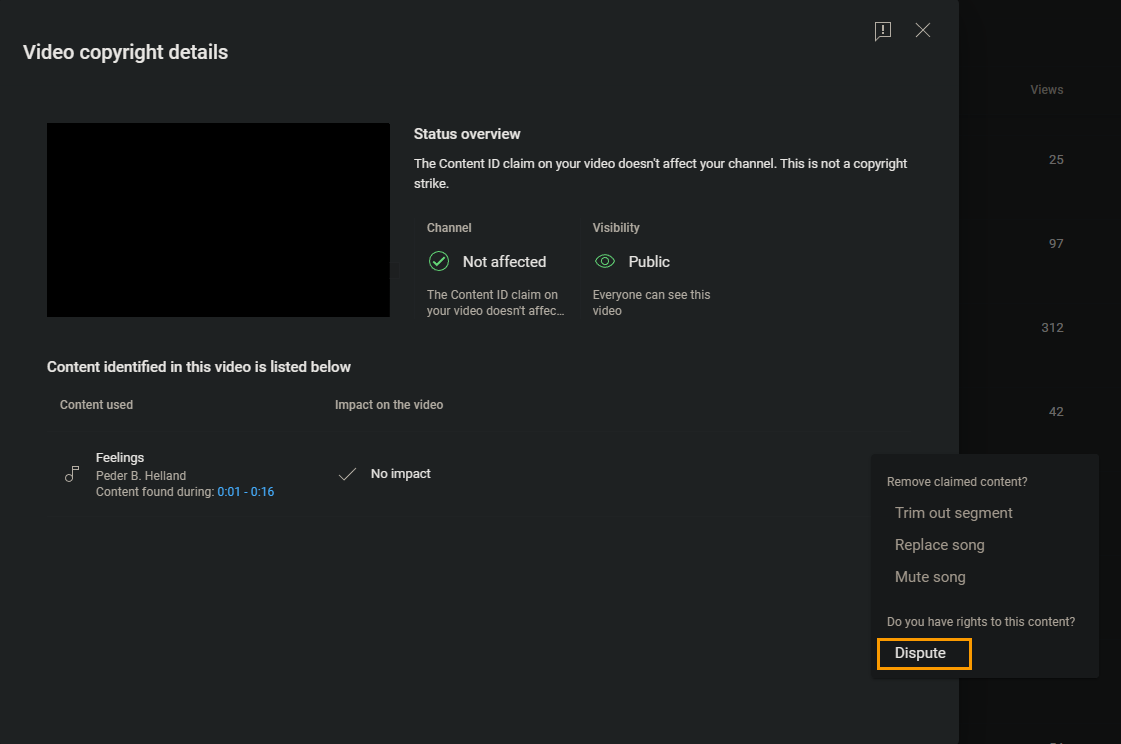 Now make sure you tick the checkbox: My dispute isn't based on any of the reasons above. I would still like to dispute this Content ID claim. Once it's checked click Continue. Again if another option fits your situation feel free to use another suggestion on the page.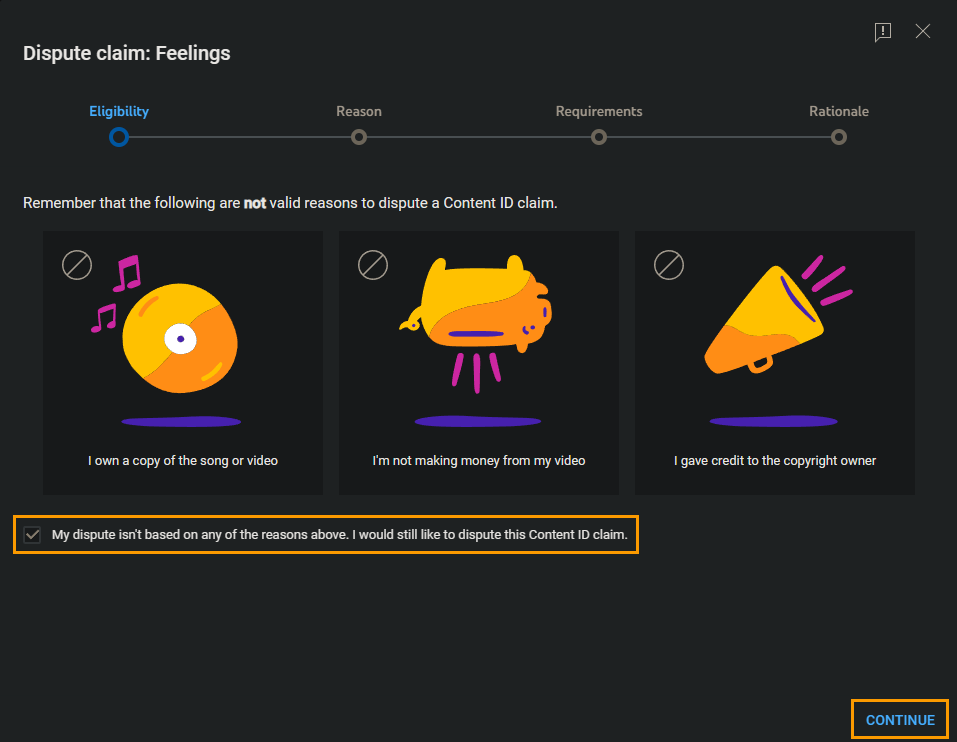 On this page, there are a few options so select the one that best fits your situation. For most people, you will need to click License, then Continue. (Pixabay and Chosic users will more than likely use this option as well).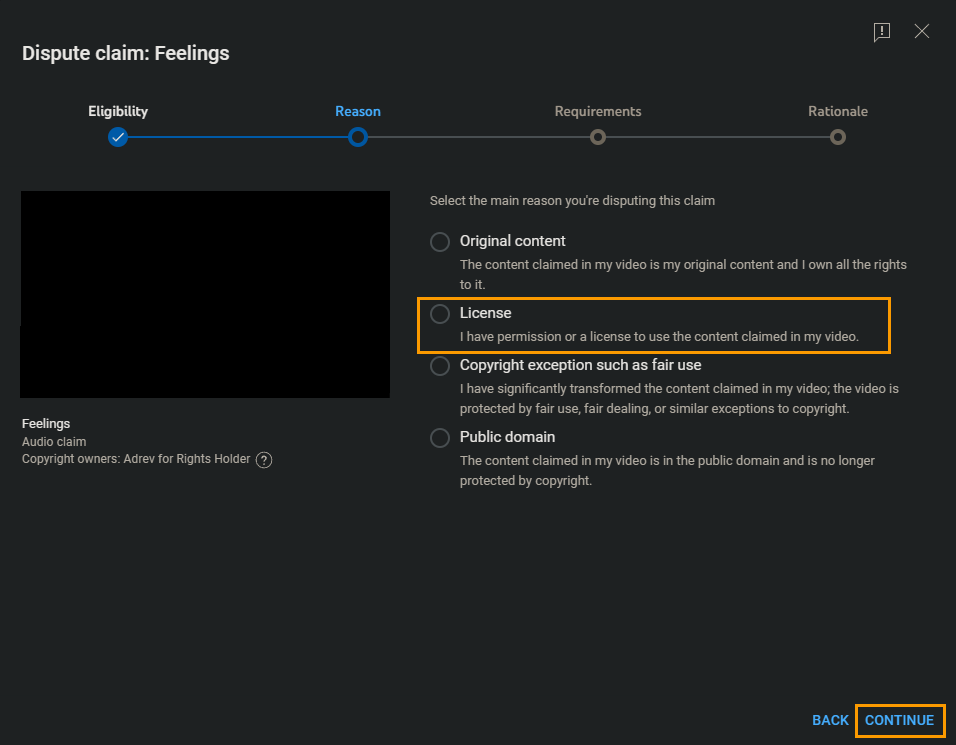 Note: If you've acquired music from Pixabay or somewhere similar, make sure you also download a copy of the Certificate (you will need an account on the platform to see this option when you download content).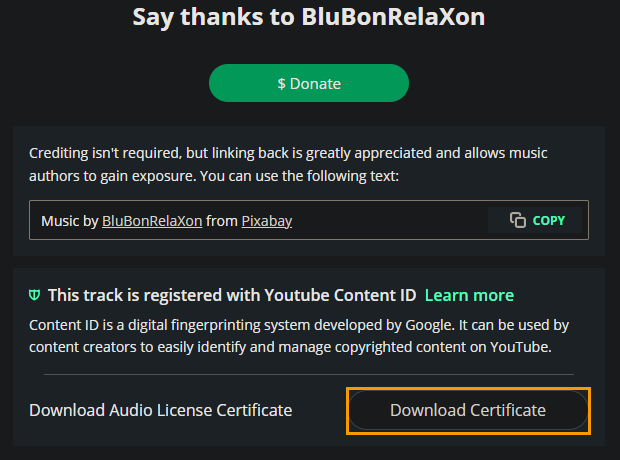 Confirm by selecting the: I have permission to use the content from the copyright owner checkbox and click Continue.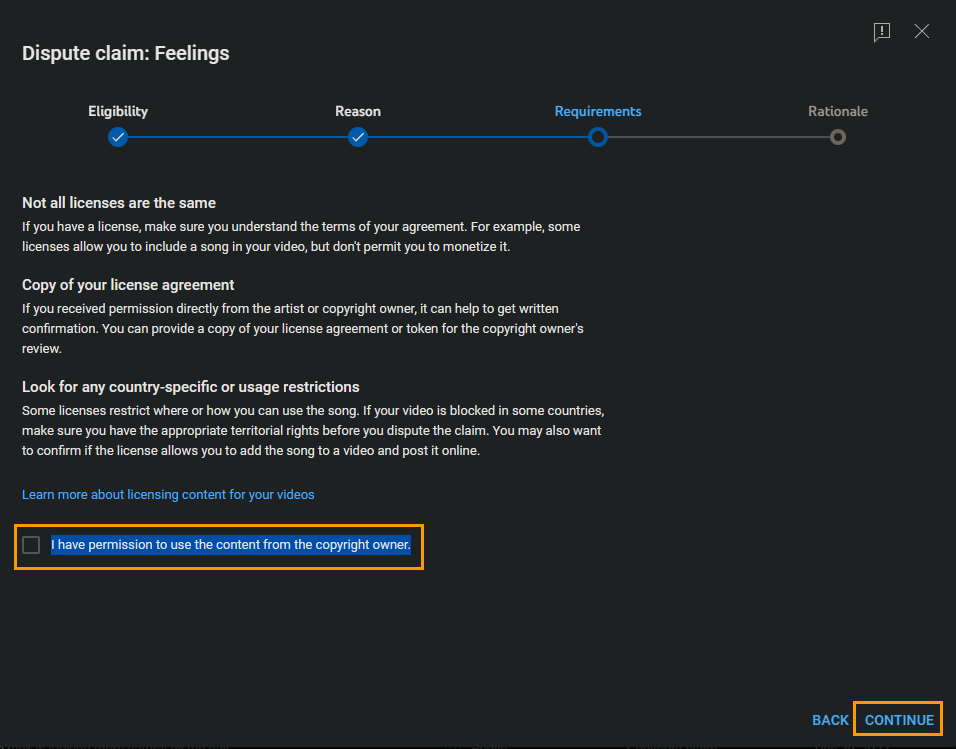 For the final step, copy and paste the information from the Certificate into the top box, check the 3 checkboxes, enter your name, and then click Submit.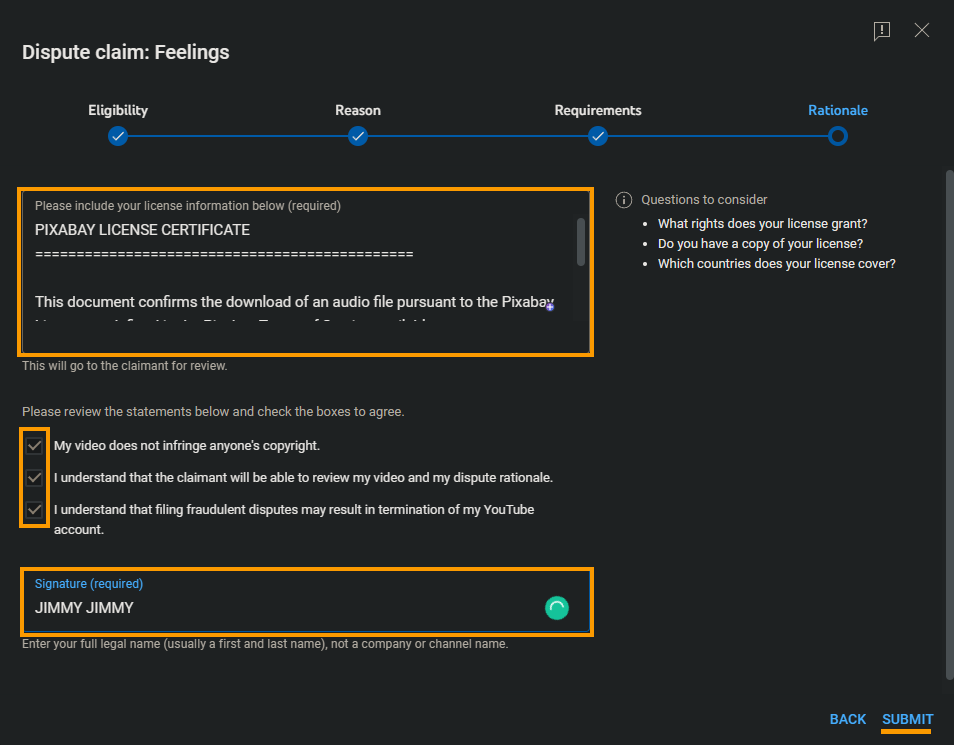 That's all there is to it! Once you have submitted the claim it may take a few days or weeks to be actioned. Sometimes it can take a little longer though. So far I've had a 100% success rate with content from Pixabay and you will receive an email saying the claim has been released. Once you see this email, you can check your content and the status will be updated to None.
For more complicated situations: Determine your rights.
Once you've reviewed the copyright claim, you need to determine whether you have the right to use the copyrighted content in question. This will depend on the nature of the copyrighted content and your intended use. There are several types of rights that might apply in this situation:
Fair use: Fair use is a legal principle that allows you to use copyrighted content without permission under certain circumstances. These circumstances include using the content for the purpose of criticism, comment, news reporting, teaching, scholarship, or research. Fair use is determined on a case-by-case basis, so you'll need to evaluate whether your use of the copyrighted content qualifies as fair use.
Public domain: If the copyrighted content is in the public domain, it's not protected by copyright and can be used freely.
Licensing: If you've obtained a license to use the copyrighted content, you can use it in accordance with the terms of the license.
File a counter-notification.
If you believe you have the right to use the copyrighted content in question, you can file a counter-notification. A counter-notification is a formal request for YouTube to restore your video and lift the copyright claim. To file a counter-notification, you'll need to provide YouTube with the following information:
Your contact information (name, address, phone number, and email address)
A statement confirming that you have a good faith belief that the material was removed or disabled as a result of a mistake or misidentification.
A statement consenting to the jurisdiction of the federal district court for the judicial district in which your address is located, or if your address is outside of the United States, for any judicial district in which YouTube may be found.
A statement under penalty of perjury that you are the owner of the video or authorized to act on the owner's behalf.
Your physical or electronic signature.
Once you've provided YouTube with this information, they'll forward your counter-notification to the copyright owner and give them the opportunity to take legal action against you. If the copyright owner doesn't take legal action within 14 business days, YouTube will restore your video and lift the copyright claim. However, this isn't always a guarantee, sometimes your content will be removed for good.
Submit a dispute: Use the process shown above and adjust accordingly.
If you're unable to file a counter notification or if it didn't work out as you hoped, you can also submit a dispute. The dispute process is provided by YouTube and can be used to dispute a copyright claim when the copyright holder has made a mistake. The process is to fill out the forms from YouTube and provide evidence that you have the right to use the copyrighted content in question, such as a license agreement or a statement confirming that the content is in the public domain. YouTube will then review your dispute and make a decision on whether to lift the copyright claim. Keep in mind that this process can take some time, so it's best to submit your dispute as soon as possible.
Seek legal help: The last resort and expensive option.
If the dispute process is not successful, and your video is still taken down, you may want to consider seeking legal help. An attorney with experience in copyright law can advise you on your rights and help you take legal action to restore your video. Keep in mind that this can be an expensive and time-consuming, so it's best to exhaust all other options before considering this step. Just remember that YouTube's copyright policy is constantly evolving, so it's always a good idea to check YouTube's copyright guidelines and terms of service from time to time. You don't want to get caught out with a silly mistake.