If you have just completed your regular security check on Windows 11 and have noticed a warning about Core Isolation being disabled. This article will explain what exactly Core Isolation is and how to enable it on your Windows 11 device. Not all Windows 11 devices will have support for this but if yours does it's worth enabling.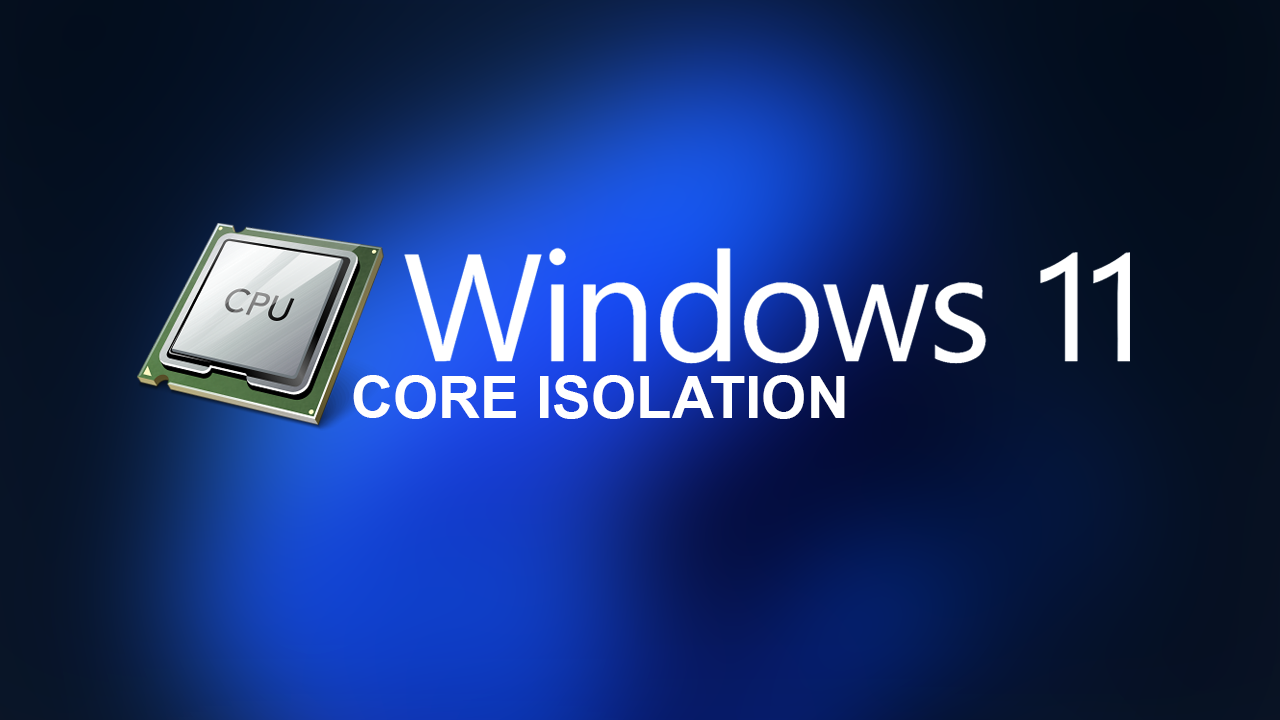 Related: How to fix Total War: Warhammer III not uninstalling from the Xbox app Properly (Game Pass)
Windows 11 has a lot of great security features built-in that allow you to keep your system safe and secure without having to pay for third-party protection services. It's no longer necessary to use programs like Avast, AVG, McAffee or anything else to get top quality system protection for your computer. Windows has everything you need ready to go. One such protection tool is called Core Isolation protection, so what exactly is it?
What Is Core Isolation in Windows 11?
Windows Core Isolation is a process that lets your OS segregate critical core processes from the rest of the ones running normally in order to defend against hostile or ill-natured software/driver or malware. It is essentially a vault that only exclusive processes have access to. The entire process uses virtualization technology which makes it even more secure than just separating processes naturally.
In basic terms, it means that your key processes are secured from any activities and attacks that occur outside this environment and highly mitigates the chances of account takeovers, system crashes, malfunctions, etc. This is a highly beneficial security attribute considering how different types of attacks have evolved over the years.
How do you enable or Disable Core Isolation on Windows 11?
In order to enable Core Isolation on Windows 11, it's best that you make sure you are on the latest version, so check for an update before continuing. This isn't necessary but it's always best to have the latest version of Windows installed on your device.
Once you have done this, type Windows Security into the Start menu and press Enter.
This will open the Windows Security tool where you'll need to click the Device Security section.
Now click on Virus & threat protection in the left-hand pane.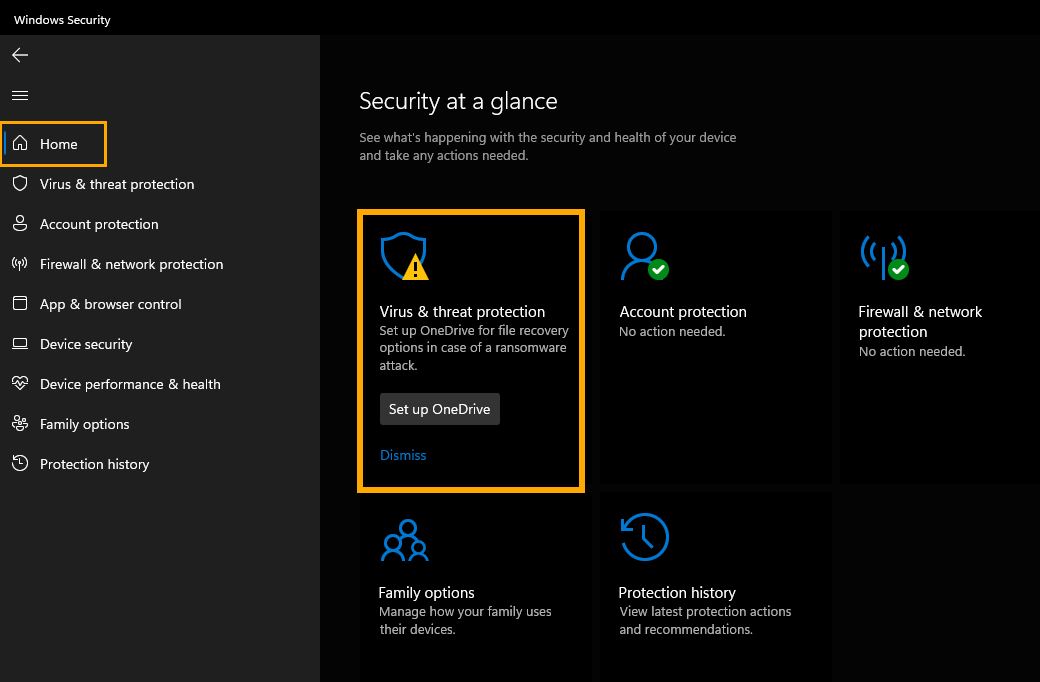 Here you will see a few different protection options. These may or may not be enabled on your device. To enable Core Isolation, click the Core isolation details link and you'll be taken to another new page.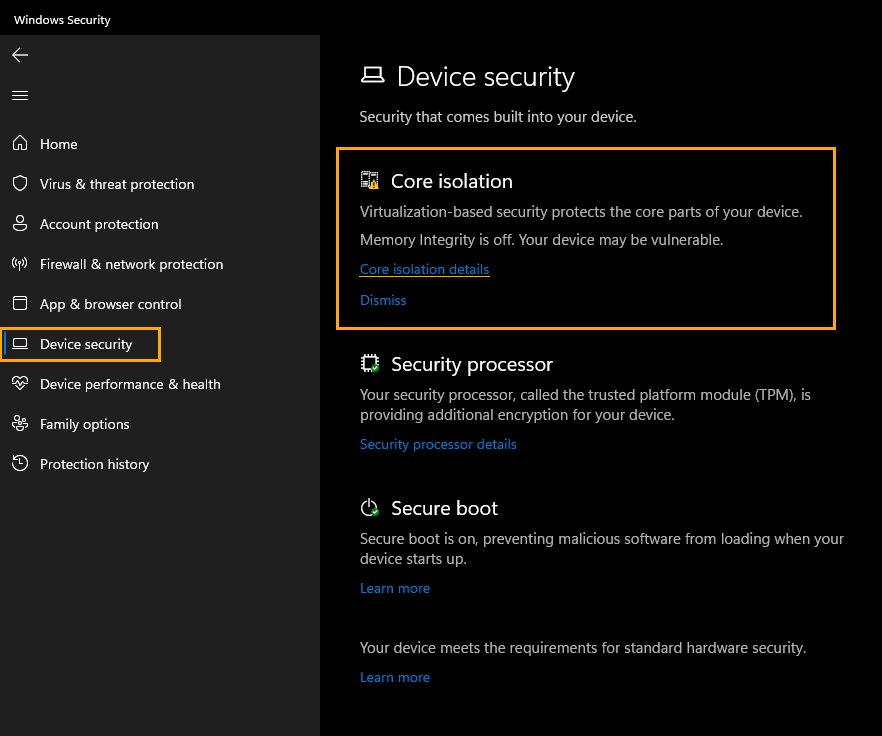 Finally, flip the toggle to On and Restart your computer for the change to take effect.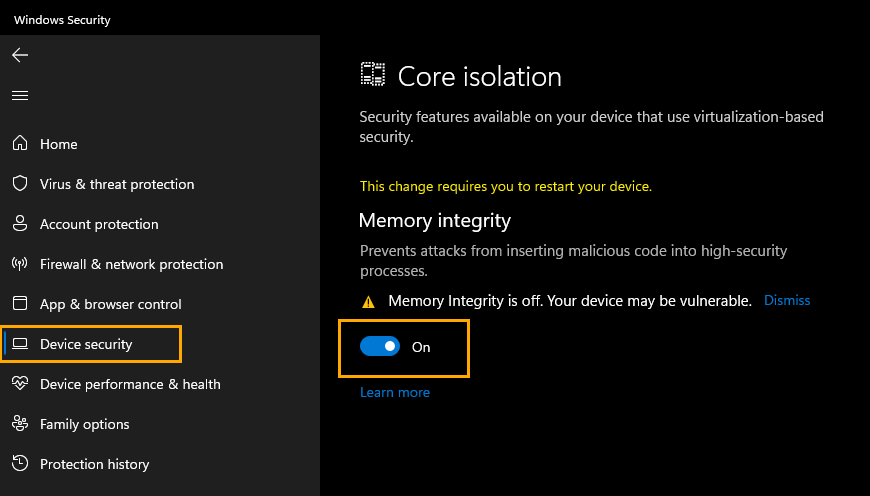 There is also a Learn more option on this page which will take you to the Microsoft information page that explains Core Isolation in full detail. If you're curious about the detailed explanation feel free to check it out./p>
After you've made this change you will no longer have a warning prompt showing in the Windows Security Center. I like to open this every now and then to make sure that everything is green and enabled. You'd be surprised how often things can randomly change within Windows Settings.
What If you don't see Core Isolation and Memory Integrity?
If you don't find any of these options, you need to make sure that you have Hardware Virtualization enabled in your system's UEFI or BIOS. How you do this will vary on your system so you'll find the steps for this on your own, unfortunately.
Incompatible driver error wdcsam64_prewin8.sys or something similar?
If memory integrity fails to enable and shows the following error code: wdcsam64_prewin8.sys and that you have an incompatible device driver already installed. Check with the manufacturer of the device to see if they have an updated driver available. If they don't have a compatible driver available, you might be able to remove the device or app that uses that incompatible driver.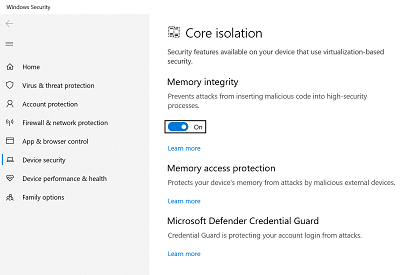 Note: If you try to install a device with an incompatible driver after turning on memory integrity, there is a good chance that you will see the same error message. If so, check with the device manufacturer to see if they have an updated driver you can download, or don't install that particular device until a compatible driver is available.
Another Windows 11 change you will probably like to make will let you disable the lock screen. After making this change you'll be taken straight to the password entry screen, rather than having to click first to remove the lock screen then enter your password. How to disable the Lock screen on Windows 11.