Learn how to enable the latest feature of Google Chrome (Canary) that allows you to view most websites and web content in dark mode. A clever feature that helps reduce battery usage and of course eye strain.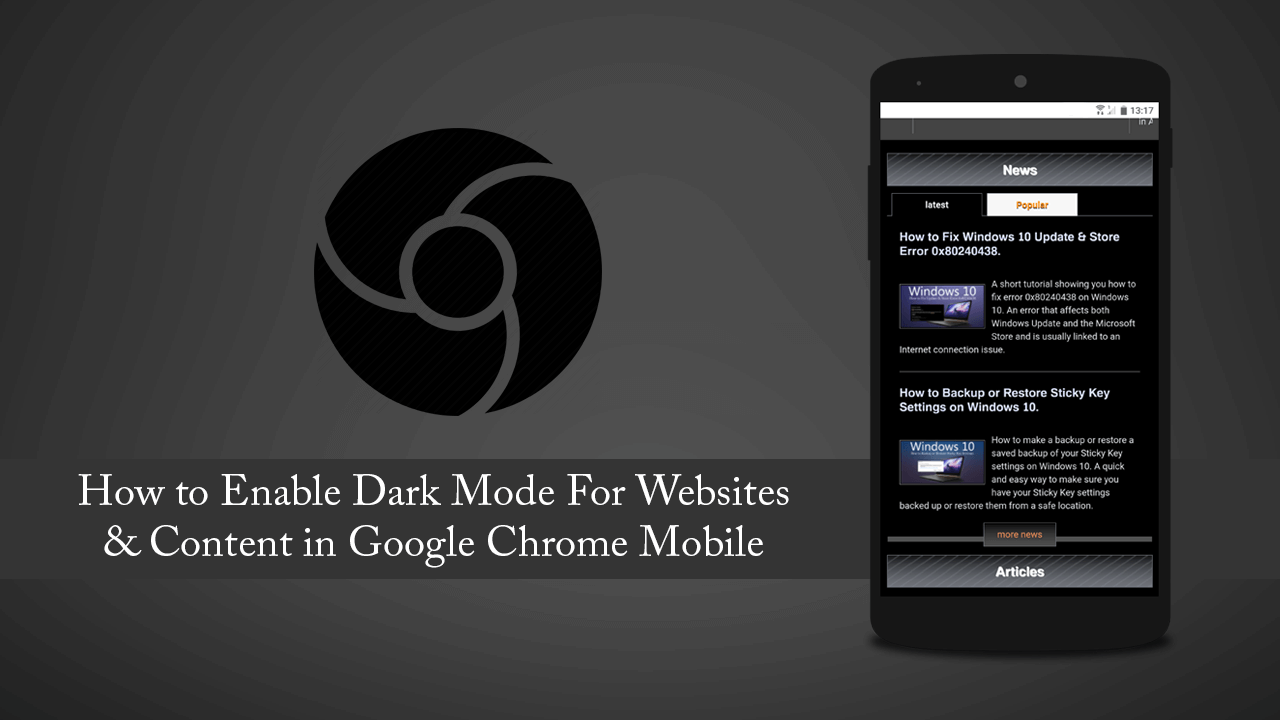 How to View Google Chrome Content in the Windows 10 Timeline. (Officially)
As dark mode gains more and more traction, for its potential battery saving properties and reduced eye strain. More companies and app developers are starting to include it as standard in the projects. Google has also been hard at work pushing dark mode across most of its own services, with Google Chrome (PC) leading the charge.  
The PC version of Chrome isn't the only version of Chrome getting a ton of attention for its up and coming dark mode. The Android version of Google Chrome (Canary) is also getting some interesting dark mode features, however, these strictly focus on web content rather than the actual browser. For example, if you were to open our website 99% of the white areas would be replaced with jet black. As you can see below.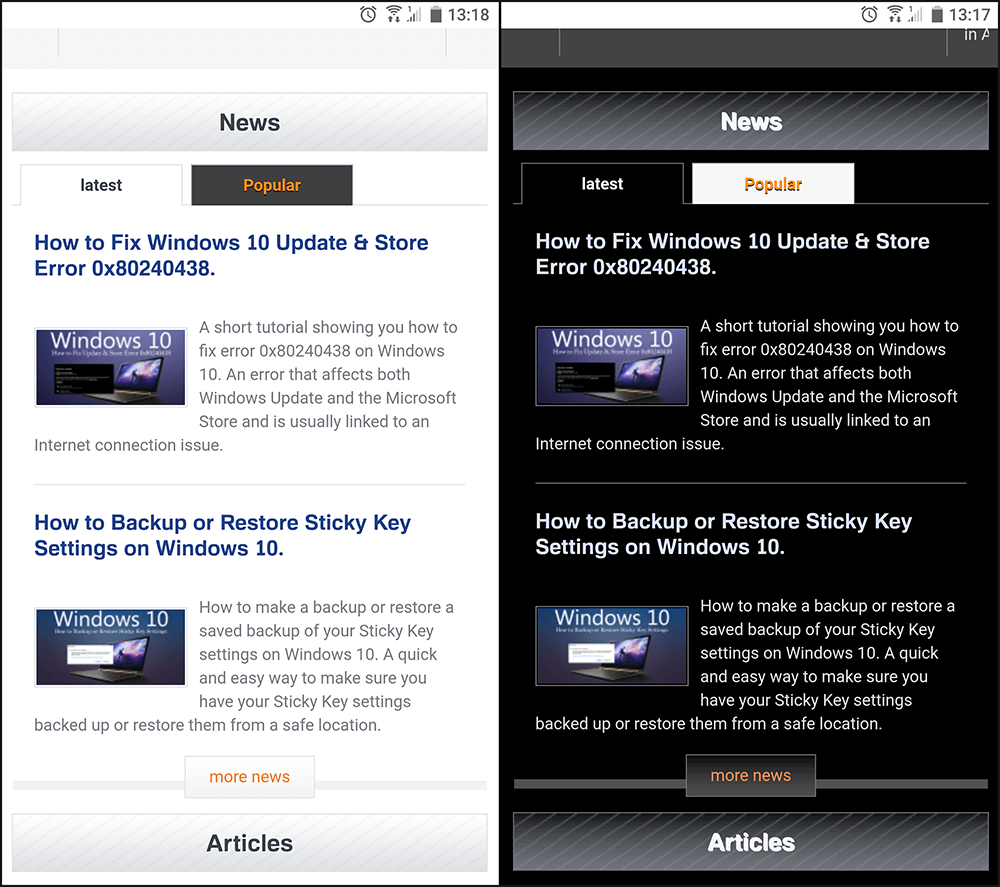 Related: How to Find and Use Google Chrome's New Full Colour Themes.
How Do You Enable Dark Mode For Websites and Web Content on Google Chrome Android?
To begin, you'll need to make sure you have the latest version of Google Chrome Canary installed on your Android device. If you don't you can grab it using the link below.
Download Google Chrome Canary From Google Play.
Once you have Chrome Canary installed on your device the rest of the process is straight forward. First, open the app, then type about:flags into the address bar and press Enter. Next, copy and paste the following into the search box at the top of the page:
Enable-android-web-contents-dark-mode
When you see the option appear (highlighted in yellow) tap on the drop down box and change the setting from Default to Enabled. Once done, tap the Relaunch Chrome option and the app will restart.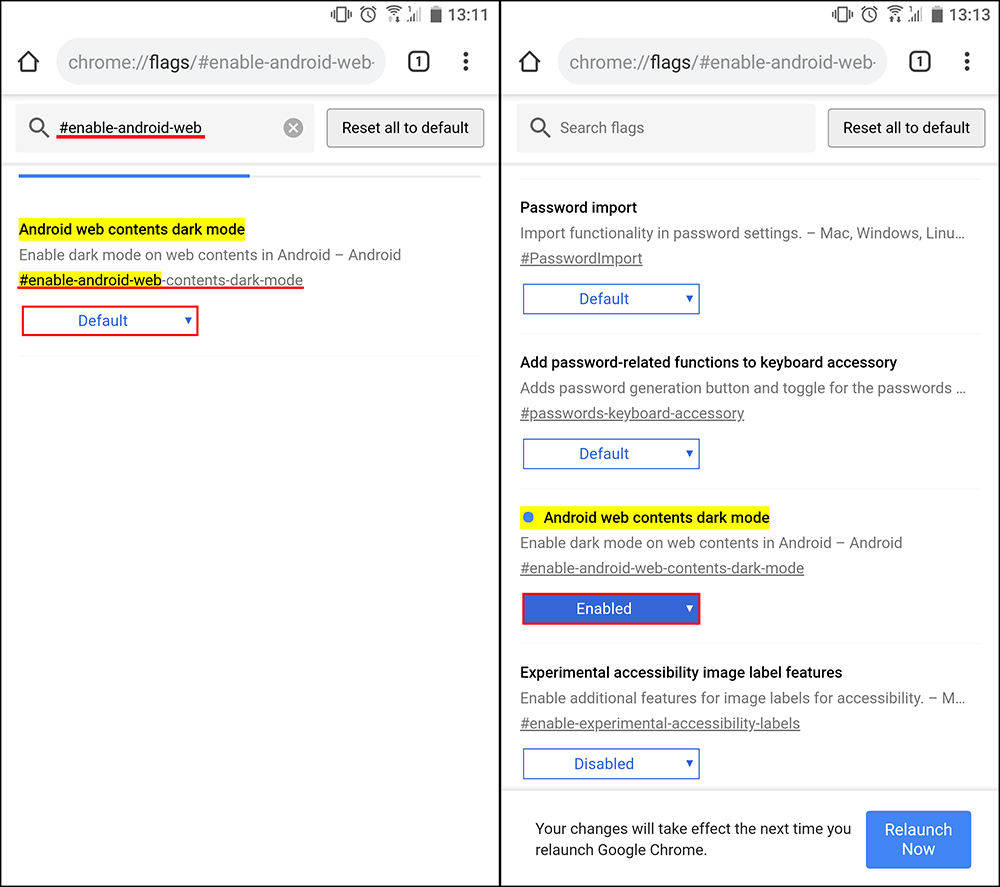 From now on whenever you visit websites Chrome will automatically convert white backgrounds to black and shift other light colours to darker shades. As the feature is still quite experimental, it doesn't always do the greatest job, however, it's a pretty good start, and does away with the need to use extensions. If you are using a Samsung device however, Samsung's built-in browser has a far better working system than Chrome.
If you find the change a little too much you can revert back to normal by returning to the exact same location and flipping the flag setting back to Default or Disabled. You can also simply uninstall and reinstall the app. Although this feature is currently still being tested in Chrome Canary, most test features usually find their way to the full official release before long. On a side note, if you are having issues with Google Chrome on PC only working in Incognito mode, check out the guide below.
How to Fix Google Chrome Only Working in Incognito Mode. (Private Mode)