30 days may not be enough when you want to test all the features of a program before purchasing a full licence. With a little help from your friends (downnloadsource.net, namely) you can earn yourself some precious time and use MS Office 2013 for free for as long as 180 days!
Earning additional 30 days of testing is possible once you download Office Trial Extender - a small yet useful application that allows you to extend trial period in both Office 2013 and 2010. This action can be repeated up to 5 times, giving you up to 180 days of of free using. The best thing? It's all legal since the program doesn't break any security locks; it only overuses a bit a function for business clients that has been implemented by, you guessed it, Microsoft itself.
So how to get your hands on 180 days long trial period?
First of all, download the trial version of the program, for example from here - Microsoft Office 2013. Currently, Microsoft is in the process of moving all its subscriptions to Office 365 canal, so it's important to get a product trial key on your e-mail.
Having downloaded and installed your Office suite, use it normally for the next 29 days. Before you are informed that your trial period is over use Office Trial Extender. All you have to do is to run the application and click on "Rearm" to give yourself extra 30 days of free trial. This process can be repeated five times, but remember - your time does not accumulate, so don't try to just click it five times in a row - it would not bring you the expected results.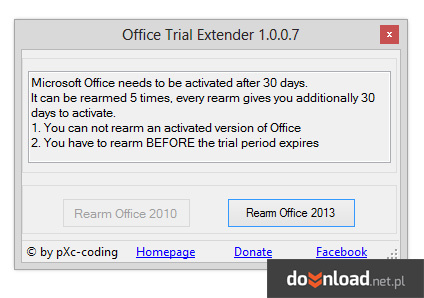 Eventual issues

Since I couldn't get a 30 days trial version of Office from Microsoft's website, it seems that the only way of obtaining it is by logging onto your Microsoft account. This way we got a 60 days long trial version, so it could be possible to extend this period to as many as 210 days. By changing the date in the system we tricked Windows into thinking 29 days have already passed and Office Trial Extender did its job quite well. However, we cannot quarantee it will work like that all the time and on every machine.