If you have an Asus Crosshair VI Hero motherboard or another similar ROG motherboard but can't update to the latest BIOS version using the EZ Flash Update Internet option. This article will show you how to manually update to a new BIO version using the manual method instead. For example, update the BIOS from version 7901 to 8101.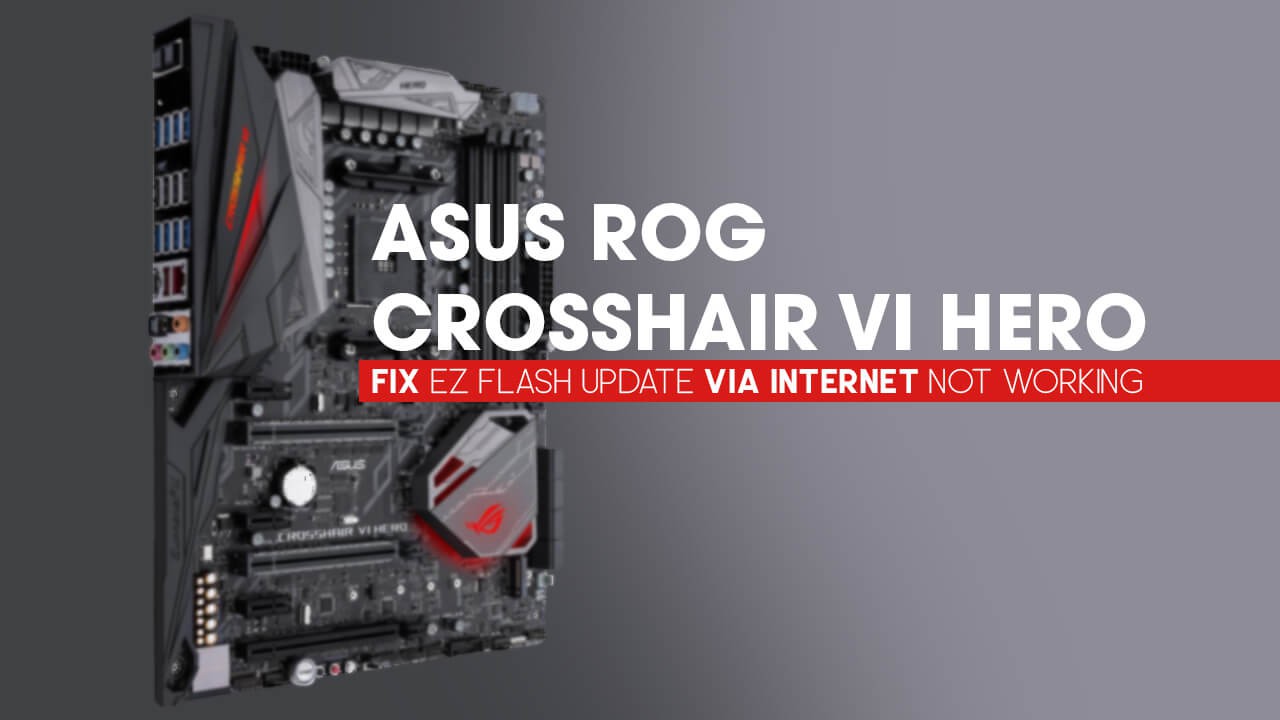 Related: How to Disable the Q-Code LED on Asus ROG Motherboards. (Disable Red Qcode LED)
Now that Windows 11 has been given an official release date most computer manufacturers have released new BIOS updates to prepare systems for the upcoming update. The main reason for these BIOS updates is to enable the required hardware and settings that Windows 11 requires to function securely and efficiently. Although it is possible to force update to Windows 11, regardless of your hardware, Microsoft has stated that stability will be an ongoing issue if you do so.
If you own an Asus ROG motherboard, in particular, a Crosshair VI Hero, you may be trying to update to the latest BIOS version using the BIOS EZ Flash Update via Internet option and only getting to BIOS version 7901 instead of 8101 or newer. For some reason the Asus Crosshair VI Hero BIOS won't update to anything newer than 7901 when using the EZ Flash Internet option.
Thankfully, it is possible to manually update your Crosshair VI Hero BIOS version from 7901 to 8101 or newer, though it does require a little extra work. So follow along as we guide you through the process. Although I haven't tried this on other ASUS ROG motherboards, the process should work for all similar models.
Asus Crosshair VI Hero BIOS won't update past 7901 using the EZ Flash Internet Option. Manually update Crosshair VI Hero BIOS to the latest version.
To update your Crosshair VI Hero motherboard if the Internet option isn't working, you'll need to do the following. First, visit the Asus ROG Crosshair VI Hero support page and download the latest BIOS version. (if you have a different motherboard simply visit its support page).
Once you have the ZIP file on your computer. Extract it to a location that works for you.
Next, open the folder and double-click the BIOSRenamer.exe file. This will open a command window where you'll be asked to press any key to start the action. Once you have done so, you will see the other file in the folder change names. For the Crosshair VI Hero, it will rename to C6H.CAP. (if you see something different that's ok, the renamer knows what it's doing)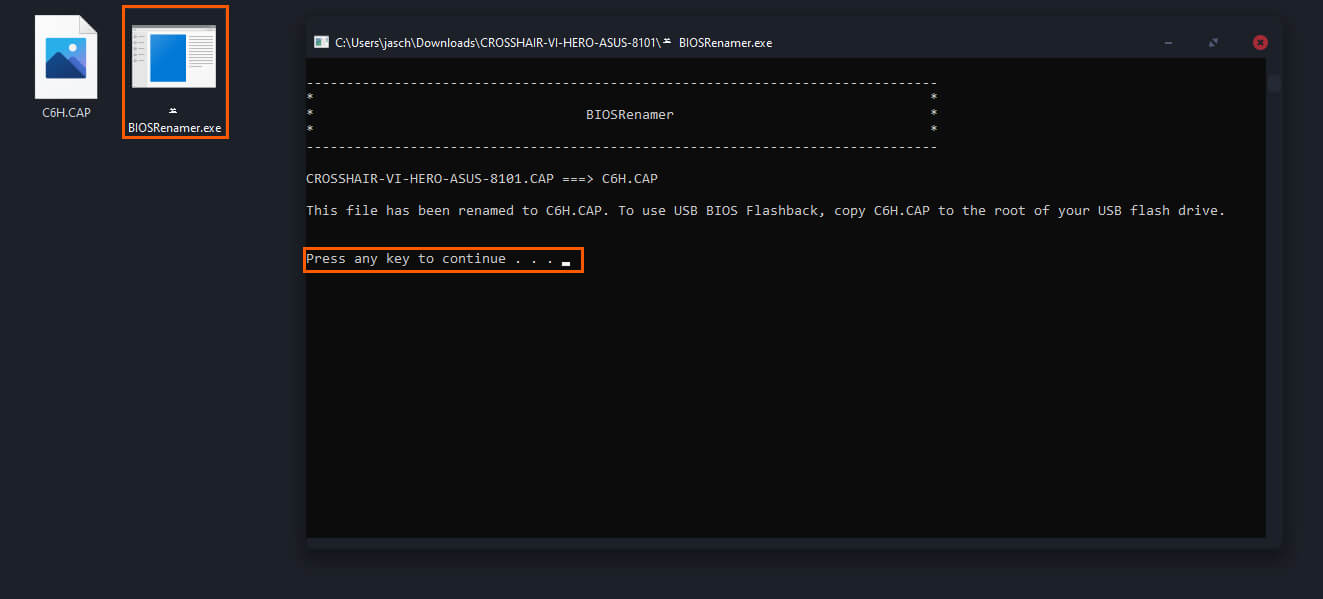 The next step is to copy the newly renamed file, in our chase C6H.CAP onto a USB stick. Once you have done this insert the USB stick into the BIOS slot on your motherboard.
Now, restart your computer to the BIOS page. Go to Tool > ASUS EZ Flash 3 Utility.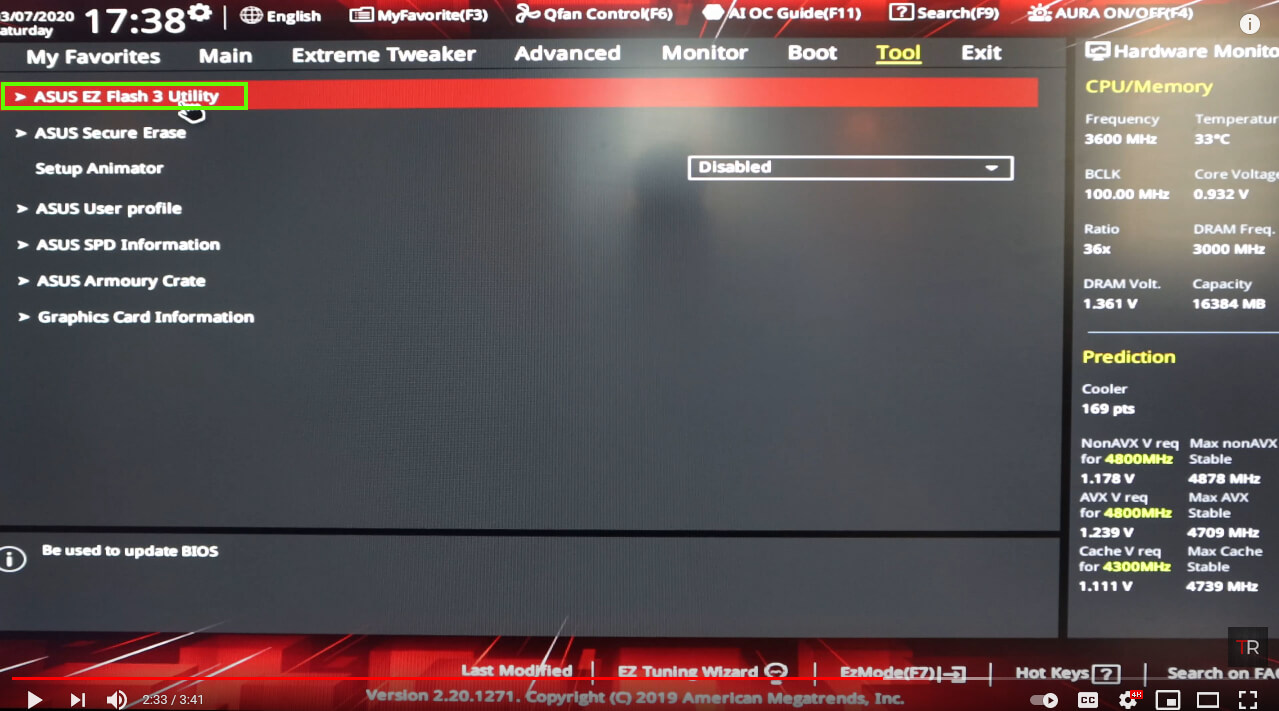 Select via Storage Devices(s) and click Next.
On this screen, you will see a list of all the storage devices connected to your computer. Thankfully the USB device is selected by default and also shows the file that is on the drive. Click this entry once, and say Yes to the prompt.
You should now see a note with the exact details of the file and hardware you are updating.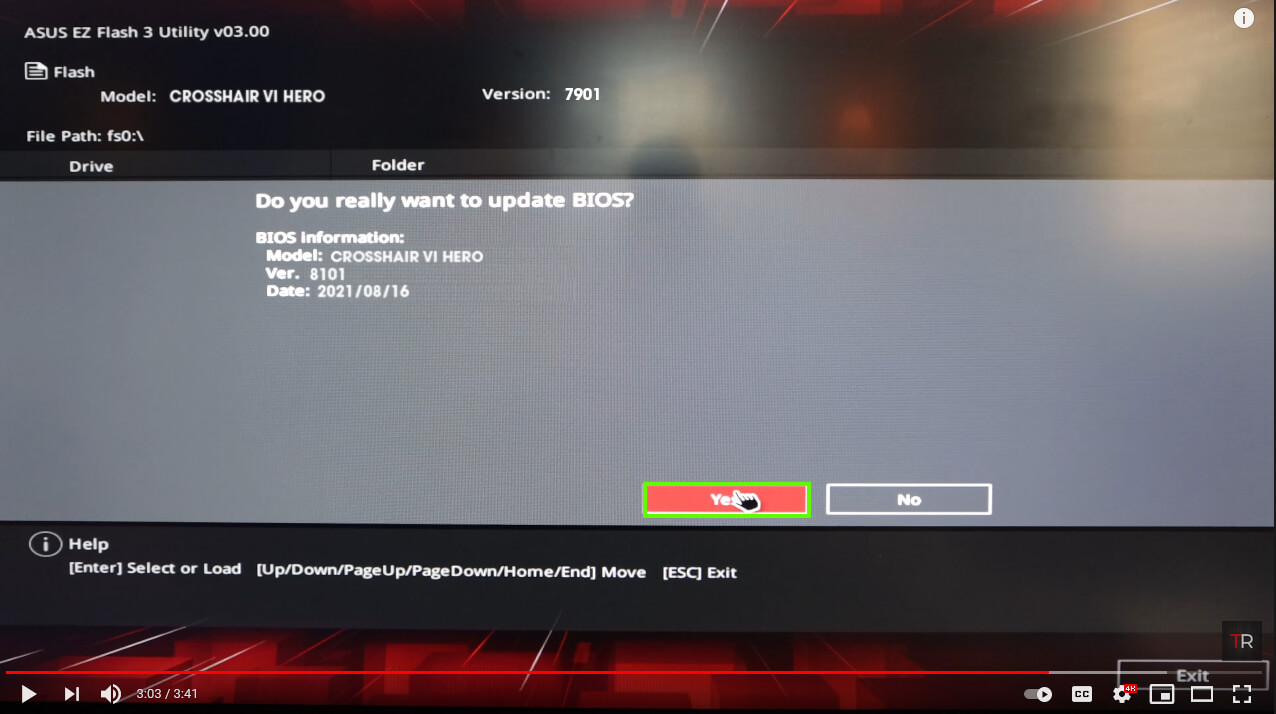 If everything looks right, click Yes and the BIOS update will commence. This usually takes a few minutes so just wait patiently. Whatever you do, don't interrupt the process! You may brick your board.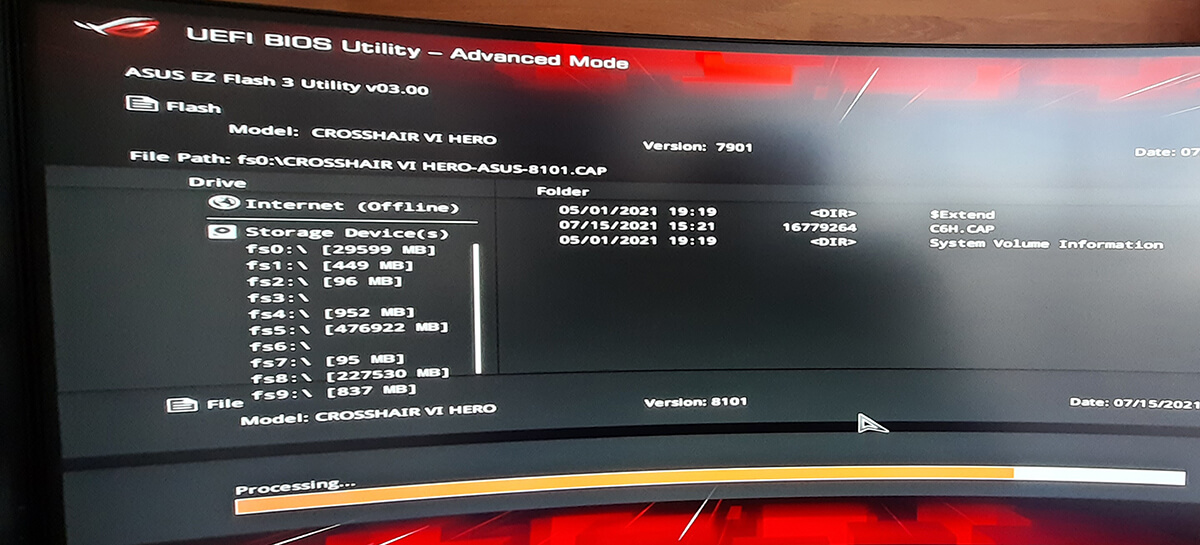 When the process finishes, your computer will Restart and take you back to the BIOS.
Every time that I update my BIOS I have to redo all my fan speed settings and double-check that my CPU overclock is still set. This may not happen to you, but it's worth checking before you exit the BIOS and start using your computer again.