If you are using Athenascope to record gaming highlights from your favourite games, you may have noticed that the Windows app has a weird bug that prevents any game sound from being recorded. Thankfully there are a couple of different things you can do to solve this problem so follow along as we guide you through them.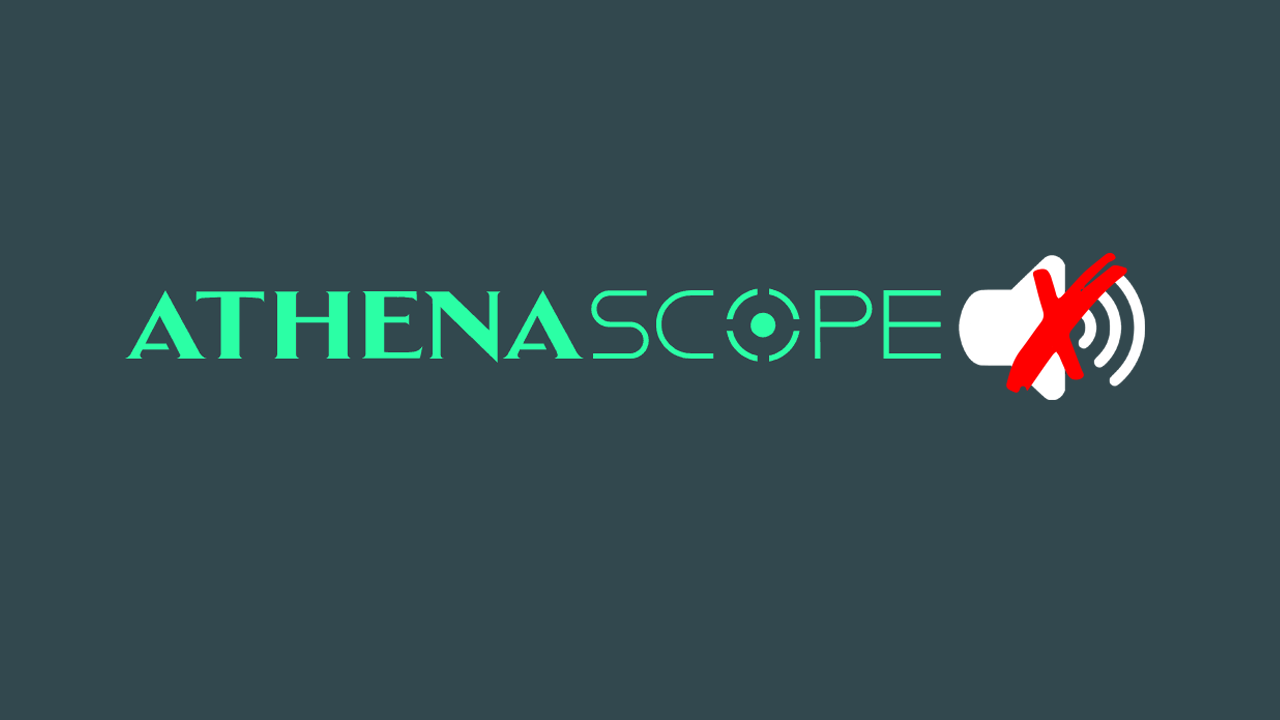 Related: How to automatically create highlights from games like Apex Legends, Fortnight, Valorant.
Athenascope of one of the best ways to record game highlights and create gaming montages of all your favourite FPS games. It's super easy to use, accepts a variety of different sources and allows you to customise what content makes it into your weekly, monthly, and early montages. If you haven't looked into Anthenascope properly yet, you're really missing out on one of the best game montage creators going.
There are 4 different ways you can record content for Athenascope:
The first is to use the Windows app which allows you to get the best quality content with a maximum quality setting of 1080p (60FPS) with an upload speed of 9000kbps.
The second method allows you to record your content straight to Twitch at whatever quality you wish. From there Athenascope will pull you Twitch streams and convert them into clips and montages.
The third method is to Stream to Facebook Gaming, connect Athenascope and Athenascope will grab your content directly from Facebook.
The fourth option is to use your Athenascope Stream Key to stream directly to Athenascope using OBS or SLOBS.
Note: The Facebook option will give you the worst quality and Twitch is somewhere in between Facebook and the Windows app. The Windows app is the best method for perfect quality, OBS/SLOBs will grant similar quality.
That brings us to the topic of this guide, Athenascope not recording audio/sound from the Windows app (Windows 10 & 11). If you do have this problem it is more than likely because you have a conflict between audio devices so let's get started on the solution. Alternatively, you may wish to stream to Athenascope using OBS or SLOBS, if so, check out our Athenascope OBS/SLOBS setup guide.
How do you fix Athenascope Windows app not recording sound? Fix Athenascope not recording audio.
OPTION 1: To begin, you're going to need to double-check your Athenascope sound settings. If there is a red speaker with an x next to the volume slider, you've muted the sound from that device, either system audio or the microphone. First, try to click the red speaker icon and the source will be unmuted. You'll know if it starts working because you'll see the volume equaliser start moving along the dB bar.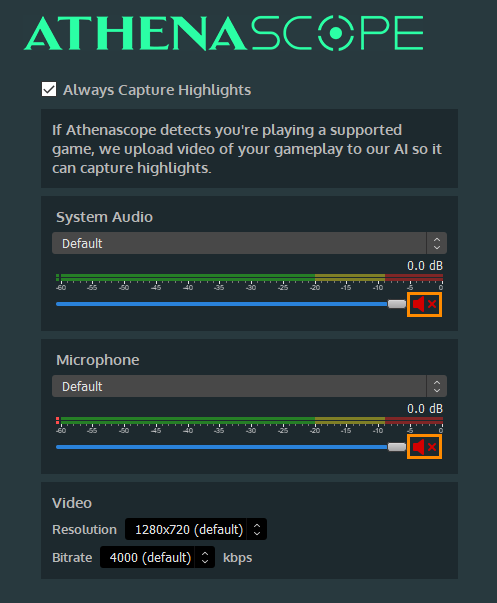 OPTION 2: Double check that you have the correct source set. By default Athenascope will set itself to use your Default audio devices, however, you may need to switch between them to get it to work. To do this simply use the drop-down option and select the audio device that you want to use to record sound.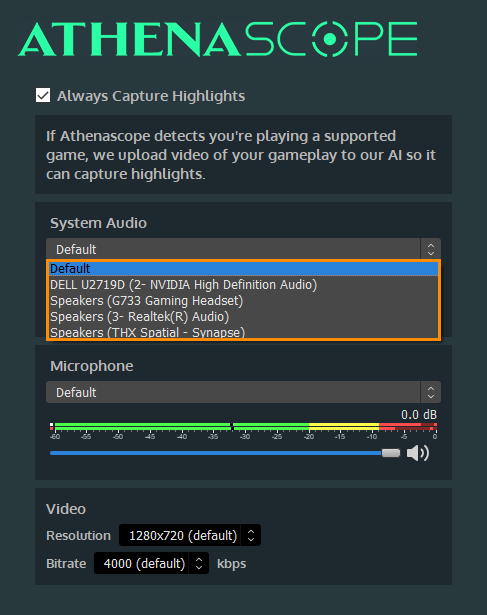 Note: If you have connected or disconnected a new audio device you will have to Restart Athenascope in order to get it to register correctly. Once you have restarted the Athenascope Windows app the devices will register correctly.
OPTION 3: Disable any audio filters and mixers you may be using, things like Voicemeeter or Soundflower? Sometimes they conflict with Athenascope.
IMPORTANT: Headsets that use a single aux plug for both microphone and speakers may cause problems, so it is recommended to use a splitter. This will allow the Athenascope app to better detect where audio is coming from.
Athenascope not recording sound from the Default Audio Device.
OPTION 1: If you've tried everything in the above section, try running Athenascope as an administrator. To do this simply, right-click the Athenascope shortcut and select Run as administrator.
OPTION 2: Open the Control Panel and go to Sound. This will open a new window showing all of your sound devices, now make sure that the correct device is set as your default device. To do this simply right-click on a device and select Set as Default Device or Set as Default Communications Device. For microphones, you'll need to check the Recording tab for recording devices.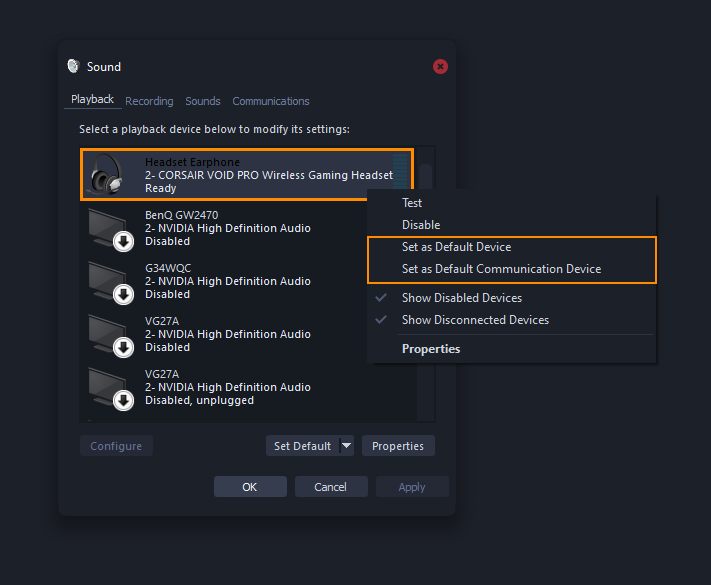 OPTION 3: Uninstall Athenascope, Restart your computer, Reinstall Athenascope, then follow Option 1 and Option 2 again.
What if you don't have audio from Twitch, Facebook, or OBS/SLOBs Steam?
If you are getting this problem from Twitch, Facebook or OBS and SLOBS, the problem will be how you have configured the streaming app you are using to upload content. This means that you'll have to check all your sources within the app you're streaming with.