If you use the Mail app on Windows 11 to keep all of your email accounts in one single location but are now getting sync error 0x80072726. This article will show you several different troubleshooting steps you can take to solve the problem and get the Mail app on Windows 11 to sync properly once again.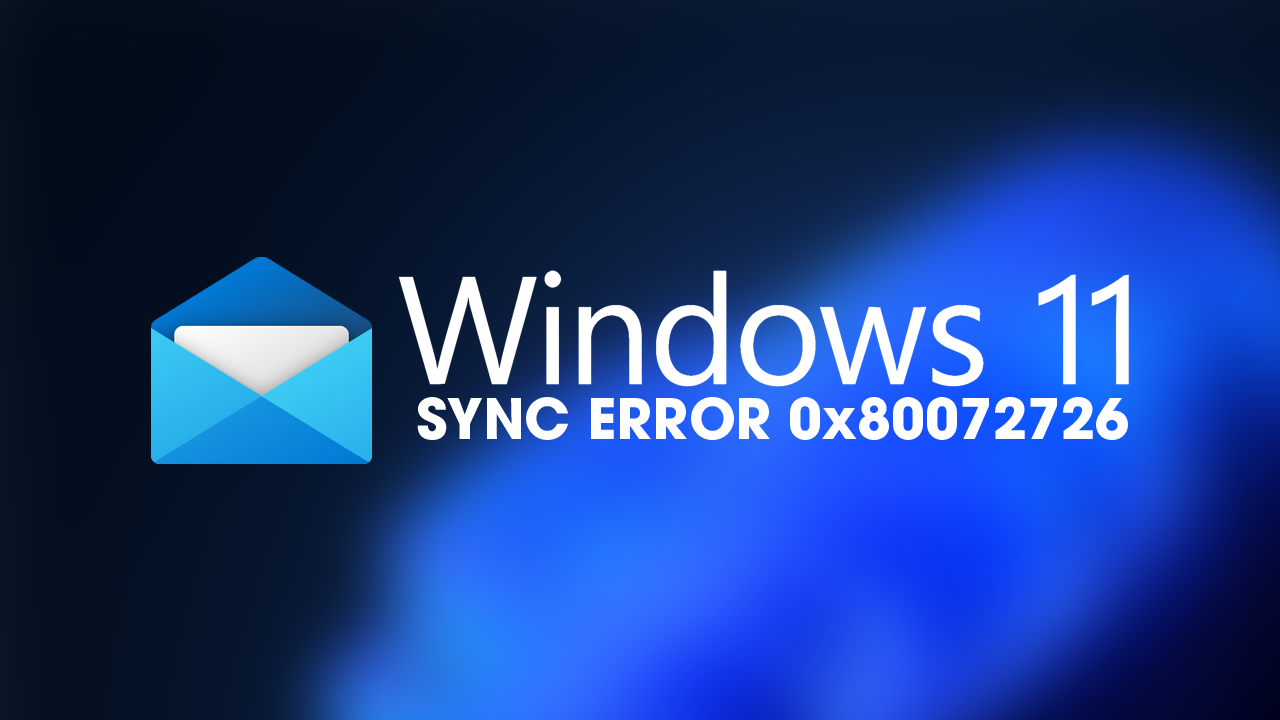 Related: How to fix Xbox App not detecting Game Pass Subscription - We encountered an error, your subscription failed to load.
The Mail app on Windows operating systems is probably the most useful of all the preinstalled default apps. It allows you to quickly and easily set up a variety of different email accounts and manage them all from a safe, user-friendly location. Although the Mail app usually escapes update bugs, and other issues it isn't entirely immune to problems.
Everyone who has used Windows knows exactly how bad Microsoft's track record is with updates, bugs and a range of other issues. Thankfully, with the exception of a few things, most errors and problems can be fixed easily. Mail app syncing error 0x80072726 is fortunately one of the easier errors to fix. The full error message is listed below if you want to confirm you're in the right location.
"We're having a problem sending messages. Make sure you have a connection and your account info is correct, and then try again.
Error code: 0x80072726"
Uninstall the last Windows 11 update that was installed to fix Mail app sync error 0x80072726 in Windows 11.
If you still have the option to uninstall the latest Windows 11 update that was installed on your computer do that. If you aren't sure how to check out the article linked below.
How to uninstall a bad Windows 11 update. Rollback a Windows 11 update.
Download and install the latest update for Windows 11 to fix Mail app sync error 0x80072726 in Windows 11.
Download and install the newest windows update after removing an old one. (Skip the problematic one) This will bring with it any fixes that may help solve this error message. There may not be any available, however, it is worth a try. To force a manual update go to Settings > Windows update > Check for updates.
Run the Windows 11 Store app troubleshooting tool to fix Mail app sync error 0x80072726.
Another decent solution you can use to solve this issue is to run the Windows Store apps troubleshooting tool. While this wasn't all that helpful or useful on older versions of Windows it has a far better success rate on Windows 11.
Open the Settings app by pressing Windows Key + I.
Next, stay on the System tab and click Troubleshooting from the central pane.
Here you will see a long list of troubleshooting options, however, the one you are looking for is near the top called Microsoft Store Apps.
Simply click Run next to this entry and follow the steps shown by the tool.
After the tool completes its checks and fixes, you should be able to update your device.
That wraps up another guide, if this has helped you out perhaps you'll consider heading on over to Youtube and subscribing to our channel, you'll find a ton of extra content over there as well.