If you are trying to play Fuga: Melodies of Steel on Game Pass but are having issues with No sound. This article will show you several different things you can try that should solve the problem. At least for the most part. The issue at hand is technically a bug but there are some ways to work around the issue until it is patched properly.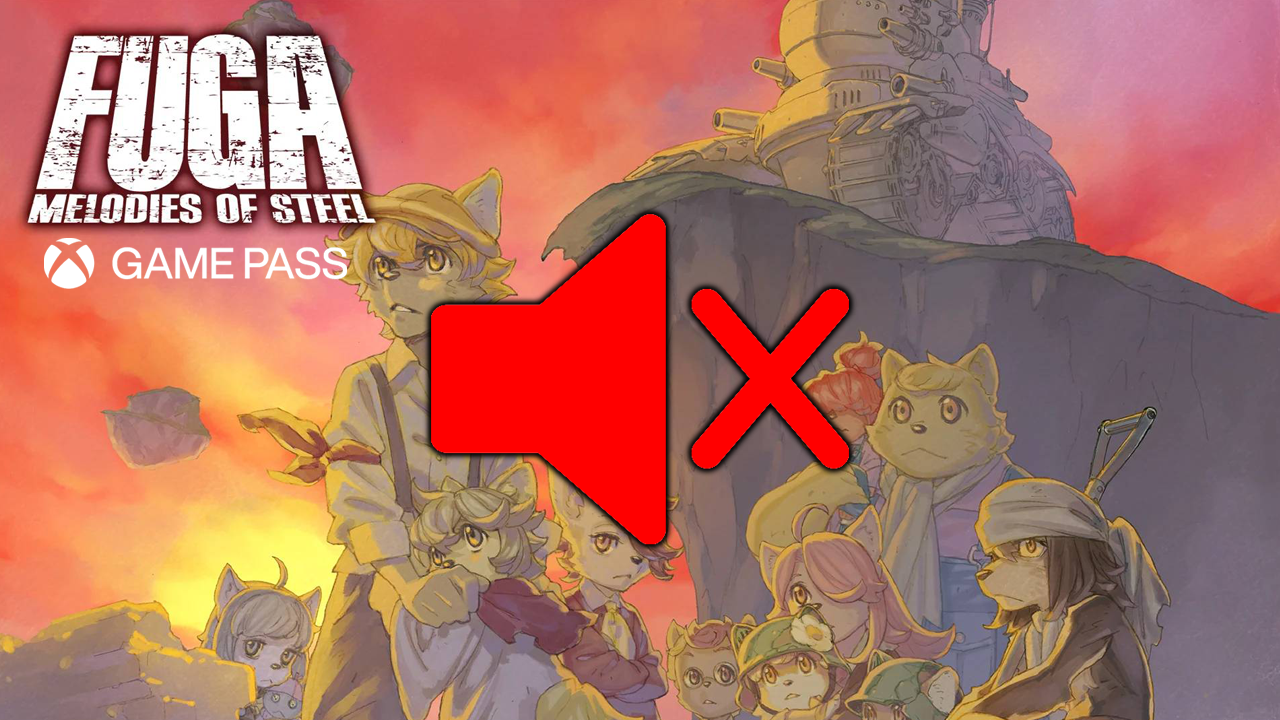 Related: How to fix no sound in Solasta: Crown of the Magister.
Microsoft Game Pass is super good value for money with more games hitting the platform each month than the average person has time to play, it does have some stability issues that still need to be worked out. We've been covering Game Pass and Xbox app issues for a long time now and have seen a ton of random issues along the way. Most of which have been patched thankfully.
That said, there are still a fair few issues that need to be addressed, including a newish issue that stops sound from working in a small selection of Game Pass games. Originally it started with Solasta: Crown of the Magister but it also affects a few other games including Fuga: Melodies of Steel. At this stage, there are several different troubleshooting steps you can take to solve this problem, however! They aren't guaranteed fixes sadly but they do have a high success rate.
How do you fix No Sound in Fuga: Melodies of Steel on Game Pass? Fix No Sound in Fuga on Game Pass.
As we mentioned the cause of no sound in Fuga: Melodies of Steel is probably Sonic Suite (all versions) though 3 seems to be the worst. So you'll need to disable it completely before sound will be restored to Fuga: Melodies of Steel.
In order to do this open Task Manager on your computer by pressing Ctrl+Alt+Delete.
Now change to the Startup tab, and find Sonic Suite 3 (or whatever one you have).
When you have found it right-click on it and select Disable.
Once you have made the change Restart your computer and you should be able to play Fuga without any sound issues.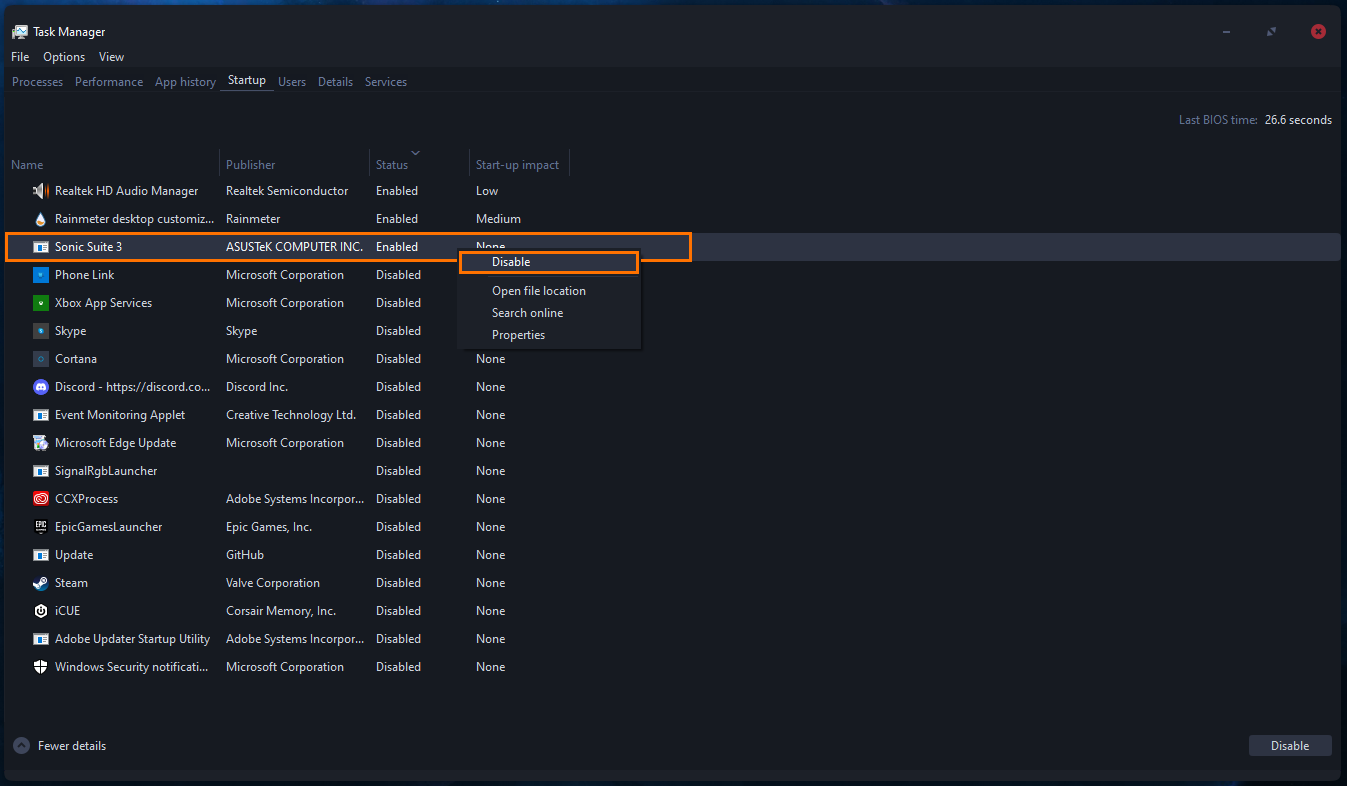 If you don't actually use Sonic Suite you can also remove it from your computer entirely which works just as well.
How do uninstall Sonic Suite from your computer to fix no sound in Fuga: Melodies of Steel?
If you'd rather just get rid of Sonic Suite because you don't actually use it. Just open Control Panel on your computer, find it on the list, then right-click on it and select Uninstall. Once the process completes, Restart your computer and you will be able to start playing Fuga: Melodies of Steel with sound again.

While you are here you may also want to uninstall some of Asus's other horrendously bad software Asus AI Suite III and worst of all Fan Expert III. Two of the worst pieces of software that have ever been included with Asus hardware.
How to Uninstall/Remove Asus AI Suite III, EZ update and Fan Expert III From your Computer.
Fix no sound in Fuga: Melodies of Steel on Game Pass.
The first and quickest solution for this problem is to shut down your computer and leave it off for at least 30 seconds. For some reason, a simple system restart doesn't solve this problem but a full shutdown does. Once your system boots up again you can open any game you've installed from Game Pass and it will be working correctly.
Repair or Reset the Microsoft Store, Xbox App, and Gaming Services.
To begin open Settings on your computer, then go to App > Installed Apps.
Next, find the Microsoft Store app, then click the 3 dots next to it and select Advanced options.
Now scroll down the list of options and click Repair. Let the process complete and check to see if the problem has been resolved.
Repeat this process for the Xbox app, and Gaming Services app.
If this doesn't work repeat the process for each app, however, this time choose Reset.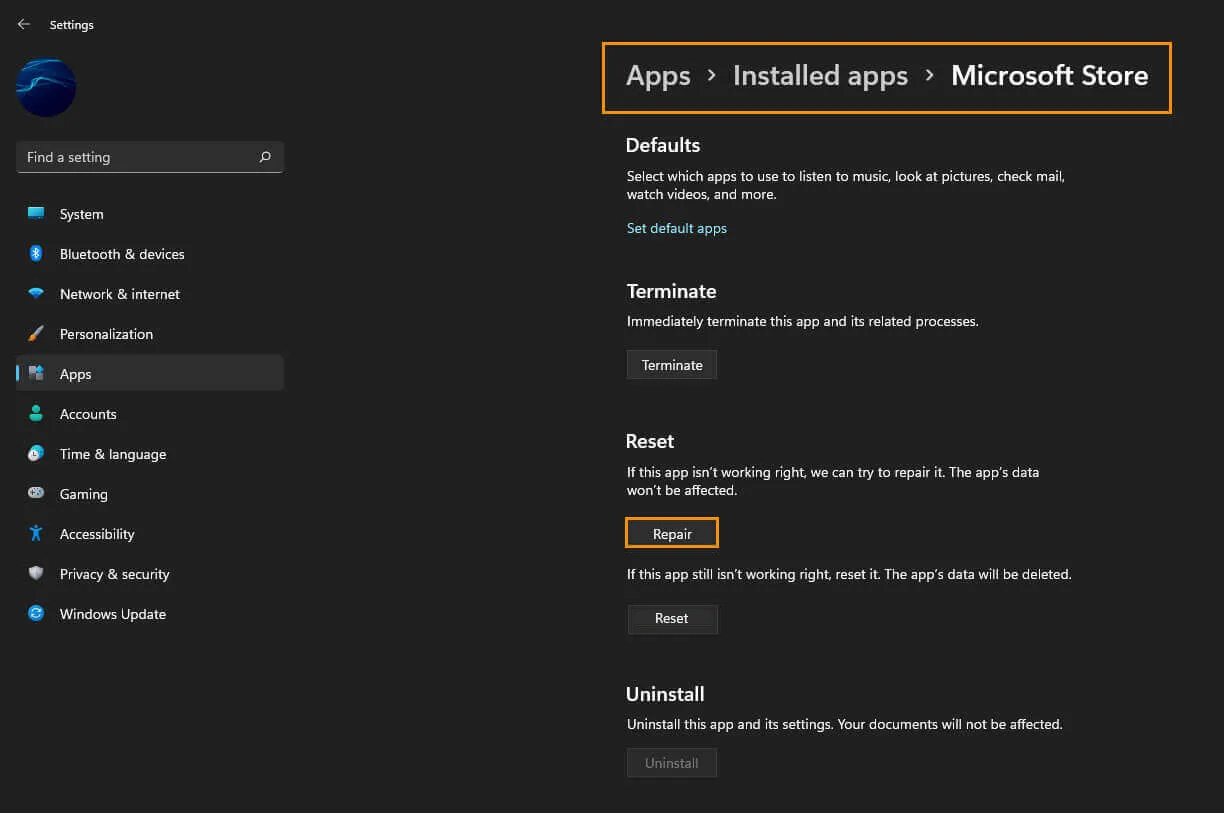 If this still doesn't work, repeat the exact same process for all three apps, however, this time select Reset instead of Repair. Just be aware that you will have to reinstall all of your games and content again. This will reset all the apps to their clean installed state. But at least your games will actually be working.
Double-check that Windows is managing sound for the game correctly.
If you are still having problems make sure the game you are having problems with is open.
Now open the Settings app by pressing Windows Key + I and navigate to System > Sound > Advanced sound options.
Here you will see everything that is using sound services on your computer. Now make sure that the game is using the correct Output device.
Download and install the latest update for Windows.
Check to see if there is a new Windows update to download. Perhaps Microsoft has addressed this issue in a new update. To force a manual update go to Settings > Windows update > Check for updates.