If you are have finished playing or don't like Total War: Warhammer III on Game Pass and want to uninstall it but can't fully remove the game. This article will show you how to uninstall Total War: Warhammer III from your computer properly removing all the files left behind on your storage device.
Related: How to fix Edge of Eternity on Game Pass not removing from dive properly after uninstall.
It's been a long wait for Total War: Warhammer III to finally land on Game Pass, unfortunately, it hasn't been a smooth launch as is typical of games that land on Game Pass and the Xbox app. Forza 5, Halo Infinite, Mass Effect: The Legendary Edition, The Hitman Trilogy, are all classic examples of launch and ongoing disasters.
If you've managed to install Total War: Warhammer III from Game Pass successfully, you're one of the lucky ones. However, that is only half the battle, as uninstalling Total War: Warhammer III is the real challenge. For example, you've probably right-clicked on Total War: Warhammer III in the Xbox app and selected Uninstall and watched the game be removed from the Xbox app. But when you've checked your storage space, you will have noticed that nothing has changed.
This is a common Game Pass issue so you'll need to follow the steps shown below to solve the problem. If you're new to Game Pass, make sure you check out all our other Game Pass troubleshooting guides as you'll certainly need them in the future. Not all of the solutions shown in this guide are going to work for everyone, but you'll need to try them all in order to find one that works on your device. This is the worst part about this problem.
Delete Delivery Optimization files to remove Total War: Warhammer III from Game Pass properly.
As this is the quickest and easiest way to solve this problem, we suggest clearing the Delivery Optimization files and working your way down the list.
The first option is to go to Settings > System > Storage > Temporary Files > Delivery Optimization Files.
Once you are in this location make sure Delivery Optimization Files is ticked then click Remove files to clear everything.
Change folder ownership of the WindowsApps folder that Total War: Warhammer III is installed.
By default Windows blocks any interaction with Game Pass game installation locations, so you'll need to make some changes in order to manually remove content. Simply go to the location you have your Game Pass Games installed, then change ownership of the folder to yourself (as admin) then delete the WindowsApps folder. You may need to use the Hidden Administrator account to action this. I've personally never had any luck using this solution but a lot of other users have so it's worth a shot.
Format your storage drive and make a Partition for Game Pass games.
If you have your games installed on a different drive or partition to Windows, you can simply right-click on the drive/partition and select Format.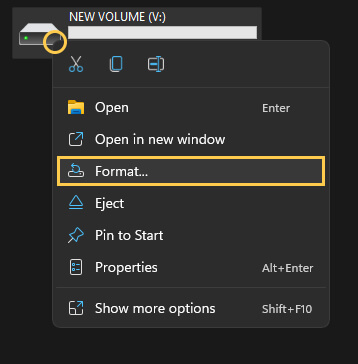 This will wipe everything off the drive EVERYTHING! If you have your games installed on C: along with Windows, this method won't work for you, so I suggest using one of the alternative options if you haven't already. If nothing in this guide has worked you may need to clean install Windows moving forward.
What I would do moving forward: Create a partition on your current drive. This will allow you to quickly and easily wipe the data of any other Game Pass games that won't uninstall, which will be a lot of them. If you do decide to use this option, try to allocate at least 120 - 150GB for the really big games that come along.