If you have recently updated to the Fall Creators version of Windows 10, you may have noticed quite a spike in your overall system memory usage. Although this hasn't happened to all users, it is quite a common bug, which often has more than one underlying problem. Thankfully it is relatively easy to plug the leak and restore memory usage to normal so let's get started.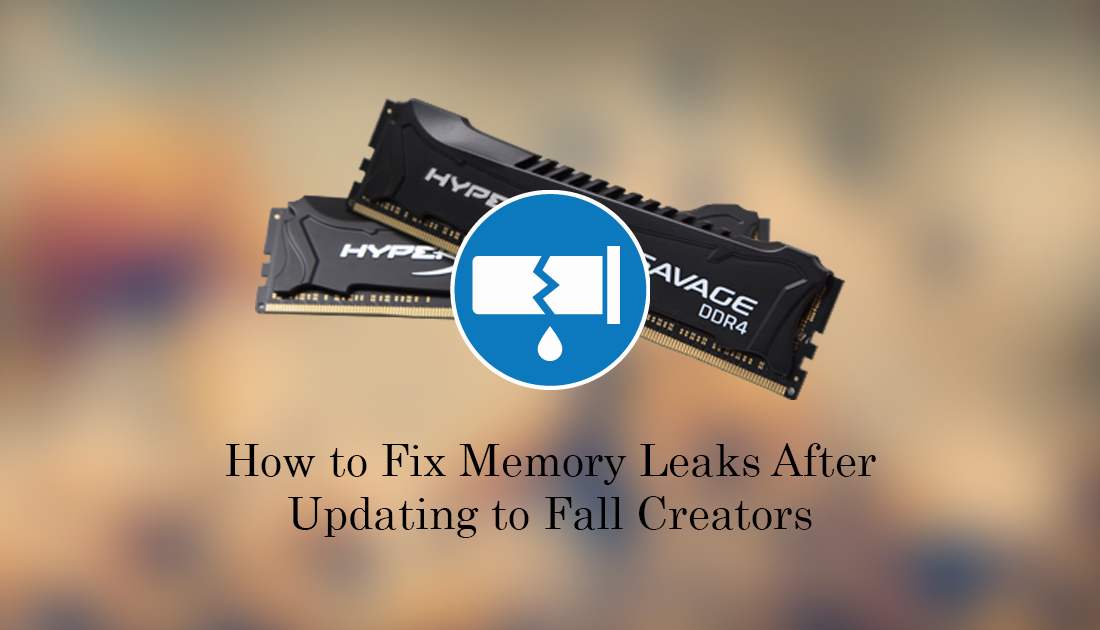 Wondering Where the Windows 10 Game Mode Option Went in Fall Creators? 
Memory leaks generally happen when a program or service fails to notify the Windows RAM/Memory manager that it has stopped using a portion of RAM. Normally once notified, Windows will reassign this portion of RAM back into the system, to be used elsewhere. However, without the notification, this portion of RAM falls into a black hole and is wasted and forgotten about, almost always until a system restart is performed.
In most situations, a quick system restart will fix all Memory leak issues, as it's usually just a random bug that doesn't occur very often. Unfortunately, after updating to Fall Creators, even system restarts don't always fix the issue, so you'll need to do some investigation.
How to Find Out if You Have a Memory Leak.
The easiest way to find out if you have a memory leak is to use the Windows Task Manager. Press Ctrl+Shift+Esc to open the Task Manager and go to the Processes tab. Here you will be able to view all the active processes including their CPU, Memory and Disk Usage information. To sort the list from highest usage first, click on the top of the Memory tab and the processes will rearrange.
You should now be able to see which programs and services are causing issues. Keep in mind that some programs are naturally heavy users of ram, Chrome, Firefox and Photoshop for example. So unless you know how much RAM these programs use on average, you can usually ignore them. However, if a program is sitting on 50% or more even Chrome (unless you have tons of tabs open) you've probably found your culprit/culprits.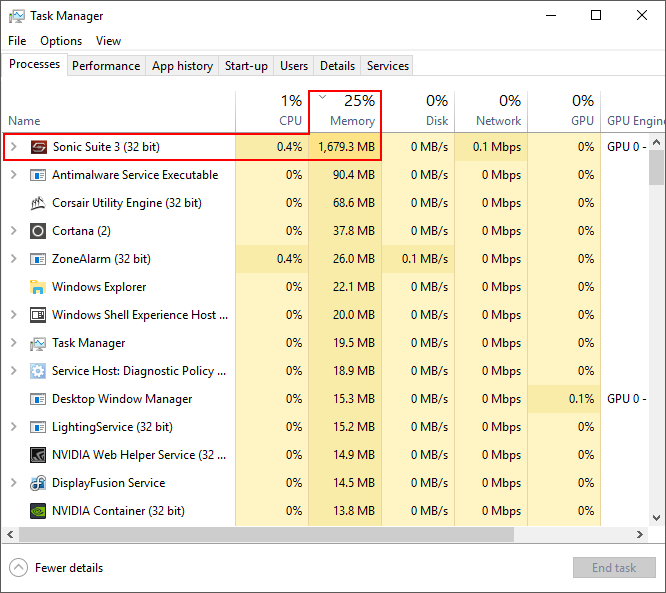 How to Fix High Memory Usage After Updating to Fall Creators.
There are a variety of different fixes available for memory leaks. Unfortunately, not all of them are guaranteed to work in every situation, so you may need to work your way through the list, just start with quick fixes first and move onto the more challenging ones last. First, make sure you have run a full system scan for Malware, Viruses, and Adware. The updated Windows Defender is pretty good, however, if you'd like a second opinion you can try Malwarebytes for Malware, Avast for Antivirus and Malwarebytes Adwcleaner for Adware. Also, if you are using Windows Defender and haven't enabled Ransomware protection (off by default) check out the guide below. 
How to Enable Windows Defenders Ransomware Protection.
Reinstall/Repair the Offending Program/Programs.
Once you have completed a full system scan and everything is ok you should try to reinstall or repair the program you suspect is causing RAM issues. This will generally fix any bugs that may have arisen during the upgrade. Just make sure you back up any information or settings before doing so.
Update/Reinstall Drivers.
Another cause of high RAM usage can be outdated or corrupted drivers. Although this isn't all that common, it is possible. When updating to Fall Creators my motherboard forgot how to interact with its RGB lighting until I done a fresh install of the drivers and the RGB control software.
Note: Network and Graphics Drivers are usually the best places to start.
You should also check to see if your system BIOS version is current. If it isn't, make sure you update it as soon as possible. If you aren't sure how, check out the guide below for more information.
Manually Update Drivers.
Press Windows Key + R to open the Run tool, then type: devmgmt.ms into the textbox. This will open the Windows Device Manager. In the Device Manager window expand all of the items and look for any drivers with a Yellow Triangle or ! mark next to them. This indicates there is an issue that needs addressing. If you find one, right-click on it and select Update driver software. If this doesn't work, right-click, select Uninstall Driver then Restart your computer. On restart Windows should automatically reinstall the driver with the latest version. If it doesn't you can visit the device manufacturers page to download the driver from their support section.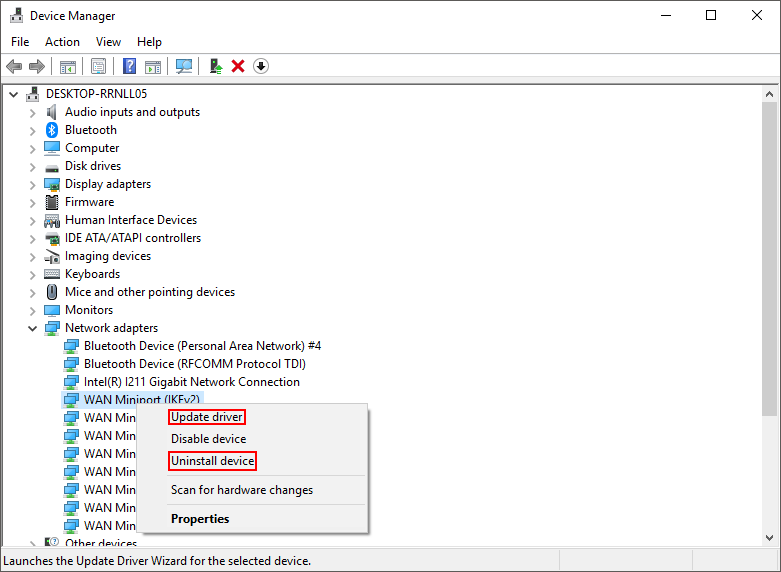 Perform a Clean Boot.
A Clean Boot will allow Windows to boot with a standard installation, so you can check to see if everything is working as normal. If it is, the problem is coming from a third-party program, app or service you have added, which will, unfortunately, mean further investigation.
Before you perform a Clean Boot make sure you have set a system restore point. To make a System Restore point, open the start menu, type Restore, then select Create a Restore Point when it shows on the list. From the new window that appears, click Create in the bottom right section of the screen, then follow the instructions given by Windows. Once you have successfully made a restore point you can continue.
To enter a clean boot state, type msconfig into the start menu and open the System Configuration Utility. Change to the General tab, then click Selective Startup. Clear the Load Startup Items check box and make sure Load System Services and Use Original boot configuration are checked.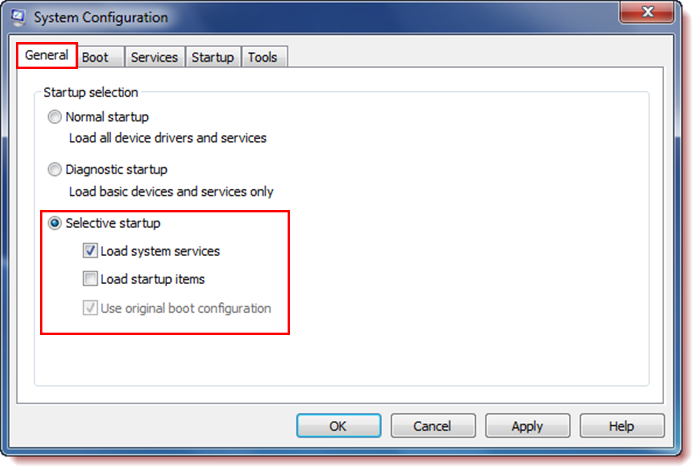 Next, change to the Services tab, place a tick in the Hide All Microsoft Services check box and Disable all. Finally Click Apply and Ok to restart your computer.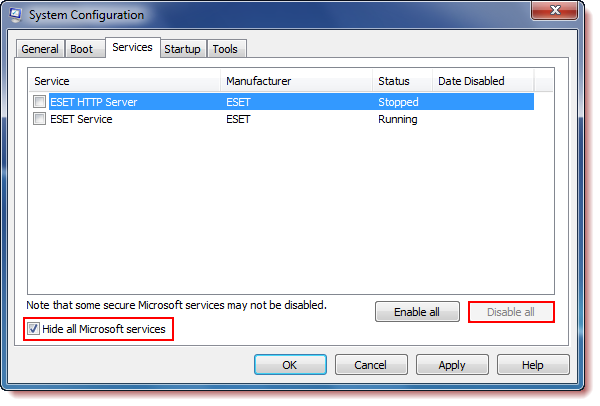 Note: To set Windows to restart and run normally again, you will need to undo the changes you made. Or use the restore point you created just before the process.
Hopefully one of these solutions has helped fix you high RAM usage problems after updating to Fall Creators. And remember, if you too are using a motherboard with RGB lighting, check the drivers and reinstall the software that manages them.