If you have recently updated to Windows 11 but really don't like the new Start menu layout. This article will show you two different ways you can restore the classic Start menu (Windows 10 Start menu) on Windows 11. Before you go ahead and do this, ask yourself this! Do you even use half the stuff on Classic Start anyway? I know I don't.
Related: How to get Gmail notifications on Windows 11.
Now that Windows 11 is officially out in the open a lot of people are starting to express their opinion on the new interface and planned changes. As always everything on Windows comes down to the Start menu, as you may remember from the Windows 8 incident! Personally, I really like the layout of the new Start menu on Windows 11, though getting used to a centralised taskbar could be tricky. But! That can be changed if you don't like it.
At first glance, I wasn't all that keen on the new Start menu layout, then I was asked how often I actually dig through the Start menu to find something. My answer to that was never. I simply click the Start menu icon and start searching for whatever I'm looking for. After realising that the new Start menu makes a lot more sense and I'm guessing Microsoft realises this as well! Either way, it's nice to have the option to switch between layouts so below you'll find two different ways to switch back to the classic Windows 10 style Start menu on Windows 10.
How to change back to the classic Start Menu on Windows 11. Windows 11 Registry Editor Change.
As you will have already noticed the biggest change on Windows 11 is the centralised start menu with a minimalised user interface. Although I personally like it, it's probably not for everyone so to change it back to the classic start menu, you'll need to do the following.
Open the Registry Editor on Windows 11 by searching regedit from the Start menu and selecting it when it appears.
Next, use the left-hand pane to navigate to the following location:
HKEY_CURRENT_USER\Software\Microsoft\Windows\CurrentVersion\Explorer\Advanced
When you get to this location right-click the central pane and select New > DWORD (32-bit) Value. Name this file Start_ShowClassicMode
Finally, double click the newly created entry and change the Value Data to the number that matches the effect you want.
DWORD 32-bit options for the Start_ShowClassicMode value are:
0 = Use the new Windows 11 Start Menu
1 = Enable Windows 10 'Classic' Start Menu
Once you have made the change Restart Windows 11 and the change will take effect.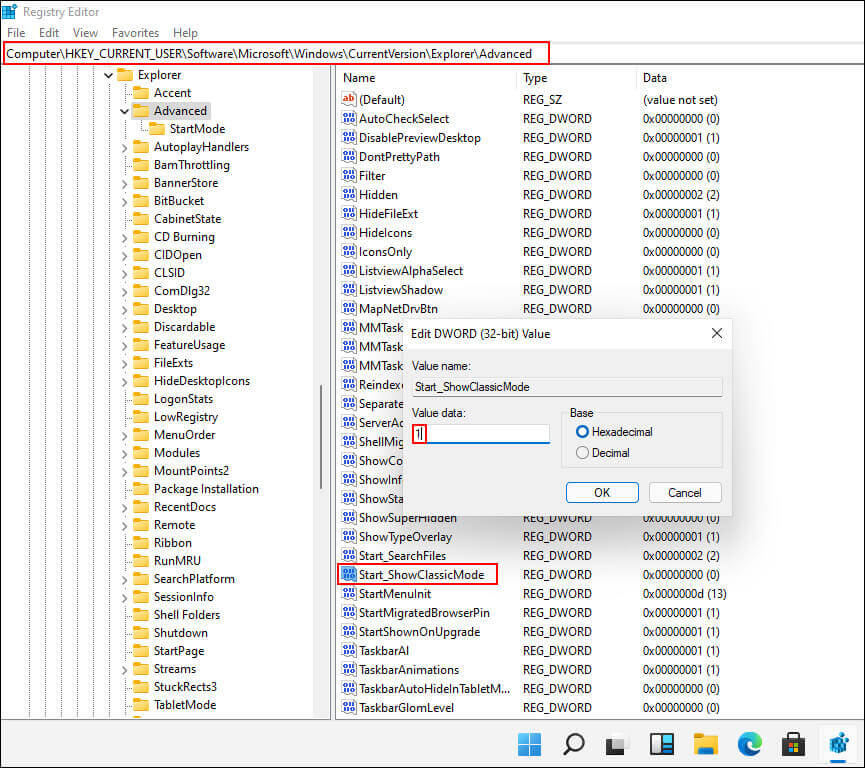 How to change back to the Windows 10 Start menu on Windows 11 using Settings.
Alternatively, you can also revert back to the Classic Start menu from Settings > Personalisation > Start. Here simply flip the toggle next to the option and the start menu will revert back to the classic version, though it will still keep a lot of Windows 11's UI changes. Alternatively, you can use custom themes from Deviant Art to do whatever you want with Windows 11. That said, it may take a few weeks for all the creators to adjust their themes for Windows 11. If you haven't seen what can be done with Windows 10 themes! You really need to go check em out!