If you have updated to Windows 11 and like most of the interface but don't enjoy having your recent files list taking up fifty percent of the current Start menu space. This article will show you how to remove the recommended files and recent file section on the Start menu. Alternatively, if you've accidentally disabled it, this guide will show you how to add them back.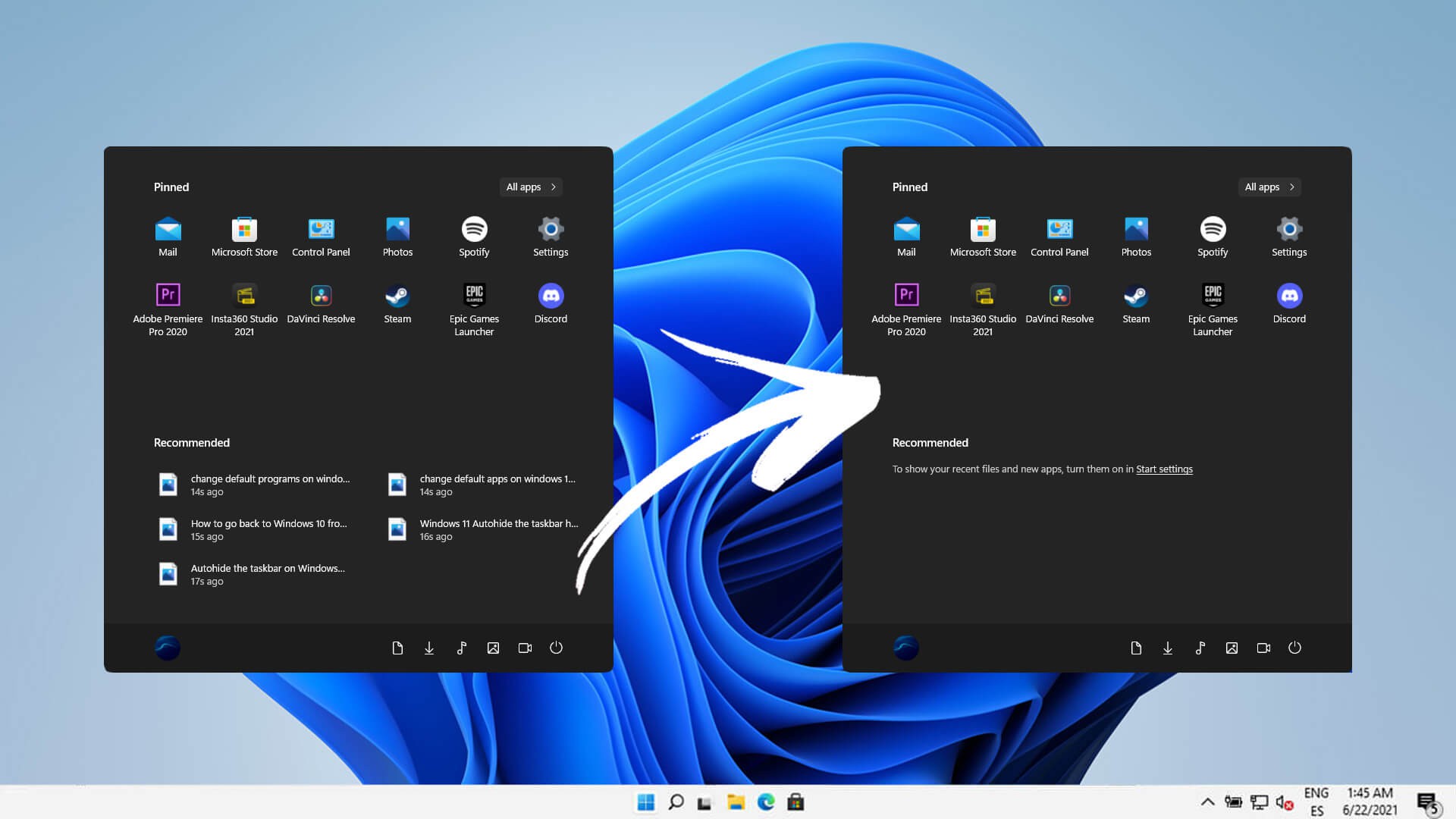 Related: How to go back to Windows 10 from Windows 11. (Windows 11 Rollback)
That Start menu on Windows is an icon part of the operating system and something that Microsoft will be treating very carefully since the drama that occurred after removing it on Windows 8. Thankfully, this time around the changes to the Start menu on Windows 11 are decent and bring a lot of clean minimalistic design aspects to Windows.
That said, myself and a lot of people find the Start menu on Windows 11 to be a little dull, feature-poor, and overall, too basic. Some of the icons are also in weird places. Like the shutdown and user options, they feel like they are the wrong way around. However, both of these things are easy enough to get used to. The only thing that isn't ideal is the huge amount of space allocated to Recommended Files 'aka' Recent Files. Luckily this can be removed quickly, though it does leave a bit of a void in its absence.
Moving forward, one would expect Microsoft to expand on this feature and add a few more customisation options to the Start menu, now that live tiles and a few other nicknacks have been removed. This would allow a lot of the blank space to be used and make a hub for storing stuff for quick, easy access. What do you think?
How do you remove recent files from the Start menu on Windows 11? Hide Recommended Files from Start menu Windows 11.
To remove recent files, recommended files from the Start menu on Windows 11 you'll need to do the following.
First, open the Start menu, then change to the Personalisation tab which can be found in the left-hand pane.
Next click Start in the central pane. This will bring up a menu with four different options. Make sure Show recently added apps, and Show recently opened items in Start, Jumplists and File Explorer are disabled.
The fourth item is Folders. This is an optional change that you may wish to make, which will add quick access icons for File Explorer, Documents, Downloads, Music, Pictures, Videos, Network, Personal. These items will be added to the left of the shutdown icon.

If you've found this Windows 11 guide handy, make sure you check out our full list of Windows 11 guides here. We've covered a ton of Windows 11 personalisation options that allow you to customise Windows 11 as well as restore a lot of things you miss from Windows 10. Including the classic style Start menu. However, seeing as this is still a preview build of Windows 11 there are bound to be a lot of cool new changes coming so make sure you bookmark our site and check back from time to time to see what other interesting customisation options Windows 11 has gained.