If you have a Game Pass subscription on PC you've probably installed quite a few games already. You've probably also noticed that Game Pass on PC isn't exactly a reliable, stable service. For example, games don't automatically update when updates are available. Thankfully there is a way to solve this problem by manually triggering Game Pass game updates. So follow along as we guide you through the process.
Related: How to show a Taskbar battery icon for Corsair wireless devices on Windows 10 & 11.
Microsoft Game Pass is growing in popularity more and more lately, with a huge list of exclusive games hitting the platform recently. In the last month alone we've seen Forza Horizon 5, Age of Empires IV, Halo Infinite and a slew of others. Unfortunately, the PC version of Game Pass isn't as reliable as people would expect, with at least four main issues plaguing the service. Below you will find three of them, while this guide will tackle the fourth one.
How to fix Game Pass Error 0x00000001 Can't install games.
How to fix can't uninstall or delete games from Game Pass.
How to fix Gaming Services Error 31: A device attached to the system is not functioning. (GamePass)
Once you have managed to get past all the other issues with Game Pass, there's also quite a high chance that some of or all of your Game Pass games won't update automatically when updates are released. Normally Game Pass games will update in the background as soon as updates are available, even if you don't have the Xbox app open. If they don't do this, they should automatically start updating when you open the Xbox app.
How to force Game Pass games to update. How do you manually update Game Pass Games?
As we established above, not everyone is going to get an automatic update for a range of different games on Game Pass. Instead, you'll need to do the following.
First, open the Microsoft Store app, then click the Library icon in the bottom left-hand corner.
Next, change to the Games tab and you will see all the Games installed on your computer from the Microsoft Store and Xbox app.
Next to the game you want to update, you should see an Update icon. If you don't the might not be a game update. So double-check there is actually a new version out. Click Update and the update will start. Most Game Pass game updates are quite big so expect it to take some time to complete.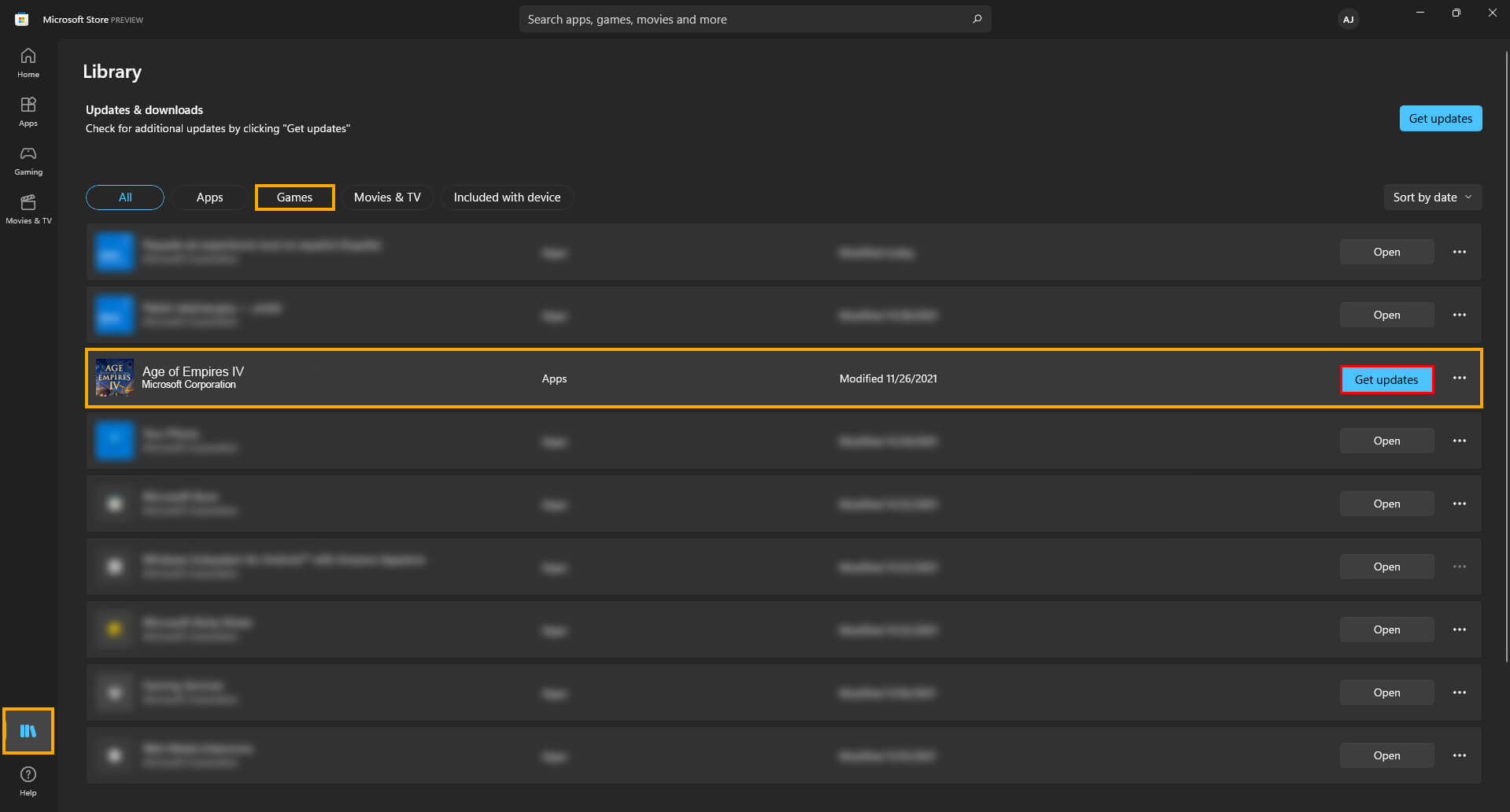 Once the download has finished, open the Xbox app and launch the game and everything will be working perfectly and you will have the latest update installed. Alternatively, you could stay on the All tab of the Library section and click Get Updates, however, this will download and install every update available for your installed apps. This means you may be waiting a little while longer to start playing your game.
Problems installing or uninstalling Games from Game Pass?
If you are having issues removing any Game Pass game from your computer, make sure you check out the following article. It will guide you through several different troubleshooting steps that will resolve the problem. How to fix can't uninstall or delete games from Game Pass.