Setting apps or programs to launch on startup is quite common on Windows-based PC's, however, macOS users are far less familiar with it. Apart from a few apps or programs that have auto start features built into them, you may not have known that you can set any program, app, or item of your choosing to launch on boot.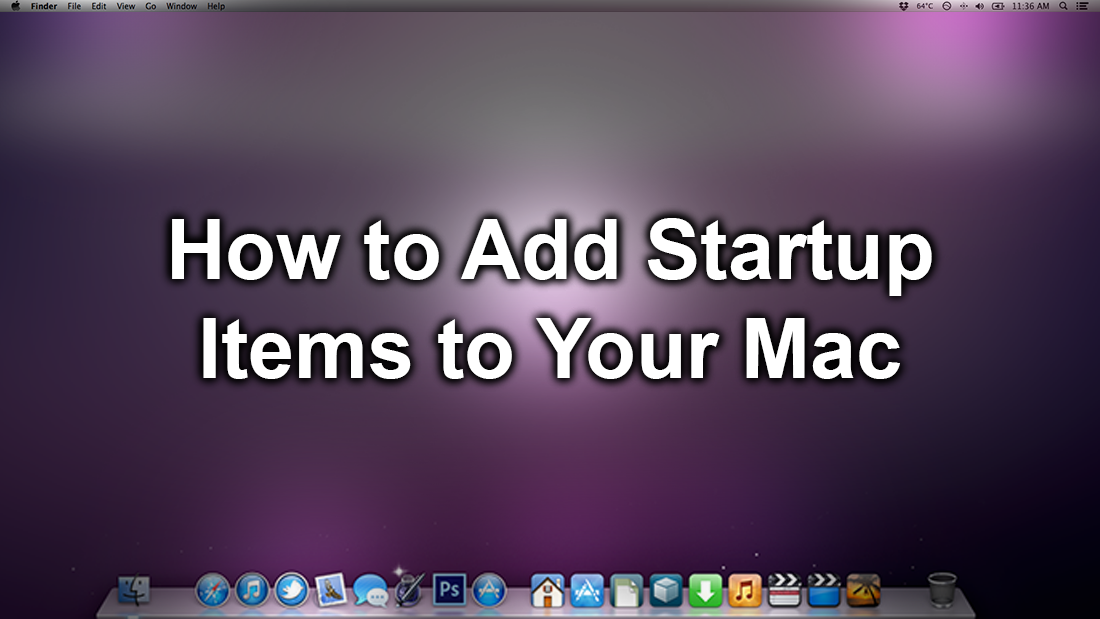 How to Fix WhatsApps Connection Problems and Check for Outages.
Startup items on Mac are also quite often referred to as login items and can range from programs, apps, documents, ebooks, even tasks. One of the most popular apps to set to auto launch on login is Apple Mail. This is mainly done for convenience and so that users don't forget to check their email. If email isn't your thing though, there are plenty of reasons you may wish to set something automatically boot on startup/login.
The only thing you need to remember when setting items to automatically boot is that each one you add will cause your computer to take a little longer to load, as it will be performing additional tasks. This isn't going to make much of a difference to you if you are always launching that program shortly after startup anyway. So without further adieu, let's learn something!
How to Add Startup Items on macOS.
As there are several different ways you can add items to your macOS startup we will list them below. There isn't any particular one you should use, so feel free to pick the one you are most comfortable using or the easiest.
Option 1 -  The System Preferences Menu.
First, you will need to log into your Mac using the account you want the new startup items to launch from. Once you have logged, click on the System Preferences icon in the Dock or Select System Preferences from the Apple menu. Next click on Accounts or Users & Groups.

Here make sure you select the correct username from the list of accounts, then jump to the login items tab. Now click the + icon just below the login items window and choose the item you wish to add to your startup list. Once you've selected an item, click Add and the item will be added to your MacOS Startup/login process.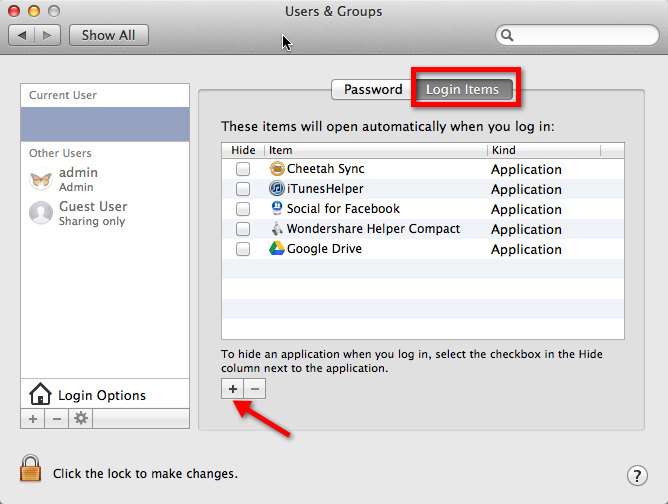 From now on whenever you start your computer, these newly added items will launch or open as the computer boots
A Handy Tip! Next to each of the login items, there is a small checkbox labeled Hide. If you check this box, the app will start but not display itself in an open window. Which is really useful if you are opening more than one item and you aren't sure which one you will be using first.    
Option 2 - Drag and Drop.
As with most Mac apps and programs you can also add startup items by using the drag and drop technique. Using the first steps from Option 1, Open the Login Items tab and click and hold the item you wish to add, now drag this particular item onto the list. This is a really easy way to add items you may have trouble finding, or aren't listed in the find window. Once you've added your item, you can close the System Preferences window.
From now on whenever you start your computer, these newly added items will launch or open as the computer boots.
Option 3 - Dock Options.
Another really easy way to add items Startup on macOS is to use the Dock. (So long as the item you wish to add is on the dock) If it is on the dock you can use the Dock menu to add the item to startup, simply right-click on the app icon in the dock, select Options > Start at Login. Simple from now on this item will automatically launch on login.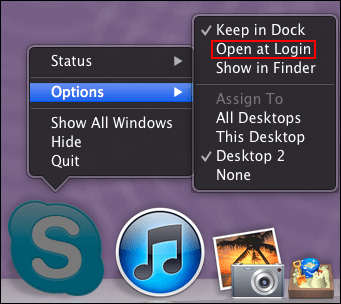 Removing Items From the Startup List.
If at any stage you wish to remove an item or items from the startup list, simply reverse the process, go back into System Preferences and remove any items you have added in the past. Or if you used the Dock Method change the setting back to its previous state.
Don't Go Crazy!
Just remember that the more items you add to the startup menu, the longer your computer is going to take to boot. It will also slow down your overall system speed, especially if you leave them all running in the background. It's also a good idea to remove any items from your Startup list you don't need running on startup, this will help speed up boot times and is a good way to offset any new additions to the startup process.