With mobile data prices being far more expensive than standard Internet plans and mobile apps become more and more data hungry, it's become a necessity to keep track of daily, weekly and monthly data usage. Although all phones come with data monitoring settings, most are far from easy to use and don't always offer user-friendly experiences. So if you are looking for an alternative app, that's easy to use, check out 4 of our top recommended apps.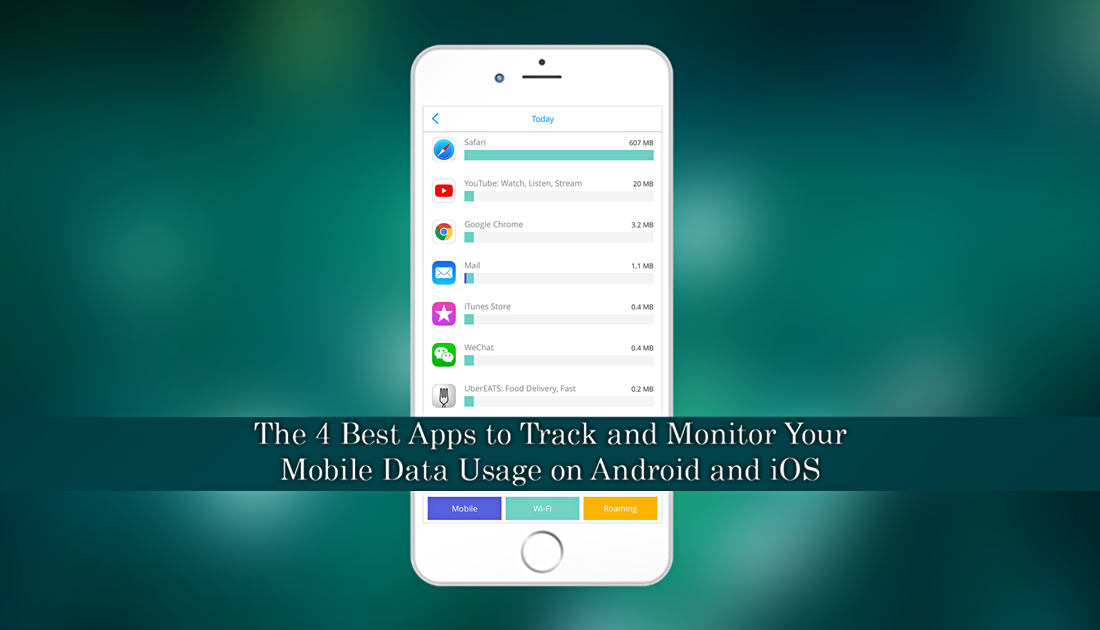 How to Back Up and Restore Task Manager Settings on Windows 10.
Of the two main mobile operating systems, Android is by far the better of the two for providing data monitoring services, however, it is still quite lacking. Thankfully there are quite a few different options available for both Android and iOS devices 4 of which we have listed below in no particular order. 
RadioOpt Traffic Monitor & 3G/4G Speed. Android | iOS
RadioOpt Traffic Monitor monitors both your data usage and your speed and mobile coverage. You can specify your data plan period and set limits as well as alarms that will signal when you are getting close to your limit. RadioOpt even keeps track of roaming data usage in a separate section, should you feel the need to compare.
If you like extra options and want to track your connection speed (WiFi/Mobile) you can also use the built-in speed test tool which allows you to check upload speed, download speed and your ping. My personal favorite about the app though is the coverage map, which allows you to check where you get the best mobile coverage, then compare it to other users.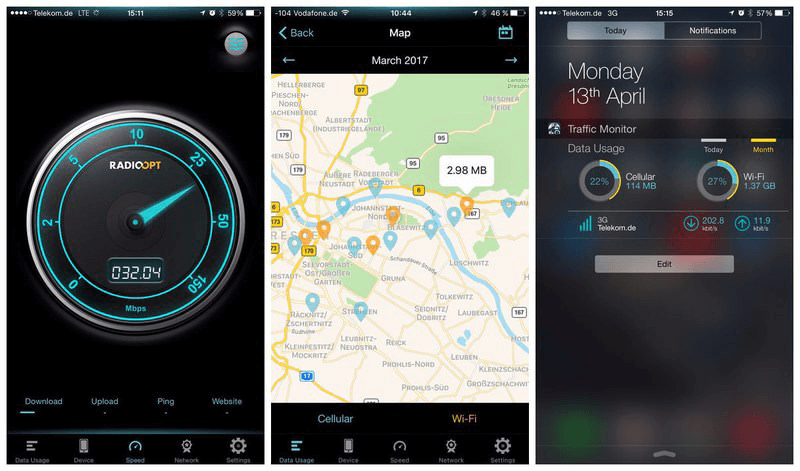 My Data Manager is another great app for monitoring data usage and is available for both Android and iOS. It's free, doesn't contain ads, and tracks mobile, WiFi and roaming data usage. As with RadioOpt, you can input your data limit and renewal date. Another cool feature of My Data Manager is the ability to track how much data apps are using, again shown in categories mobile, wifi etc.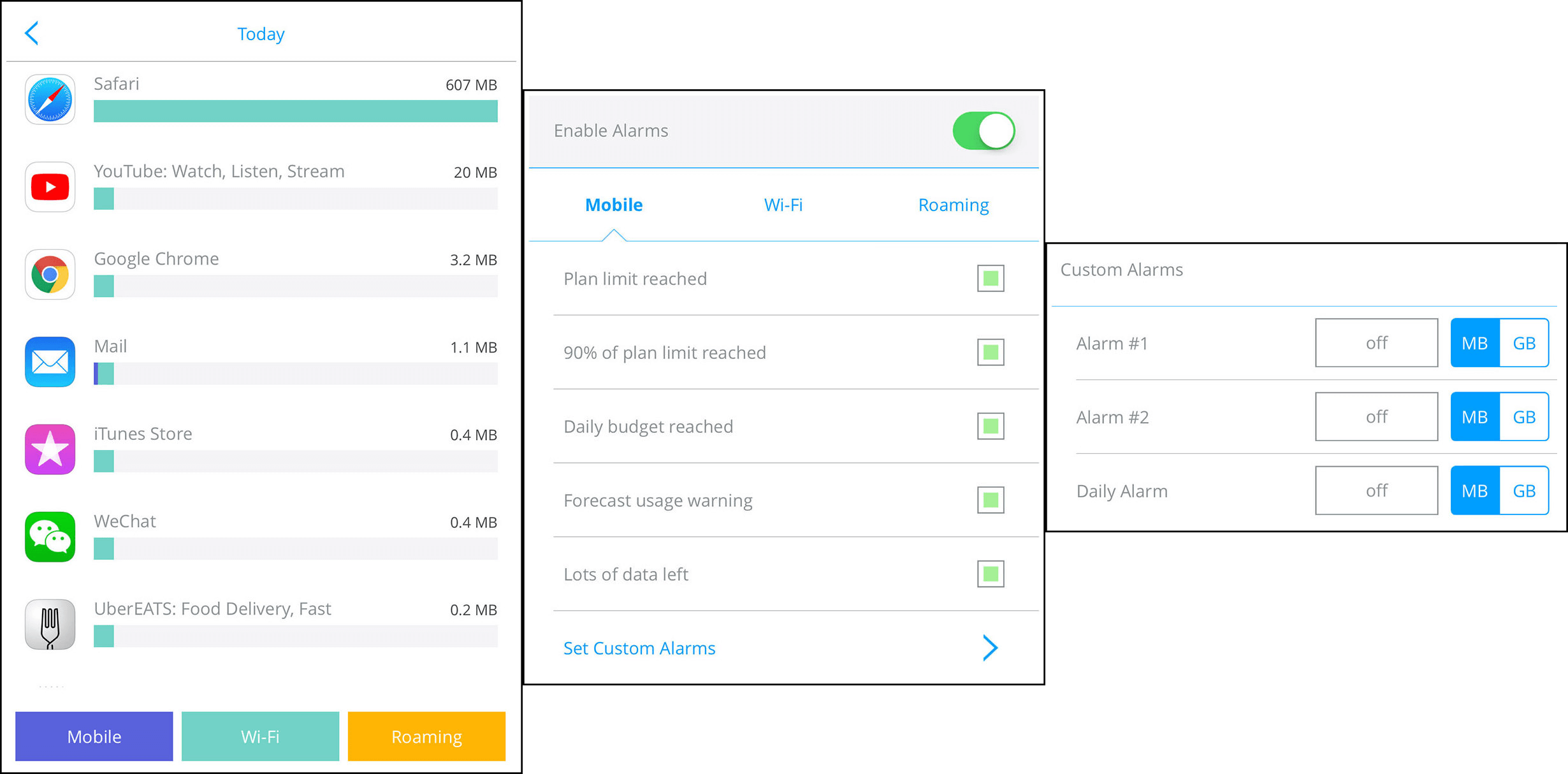 Glasswire Data Usage Monitor. Android
Glasswire is another great mobile data monitoring tool which originated on desktop. It allows you to monitor your data usage and keep track of your network usage and record app behavior/usage. As with both of the other apps, you can set your own mobile data and WiFi alerts, so you know when you are about to exceed your data plan limit. You can track data usage in real-time, and even go back in time to see which app used data on a particular day. Lastly, one feature unique to Glasswire is the option to whitelist apps from your data monitoring list, something you will find useful if your provider has free data for selected apps like Facebook or Instagram.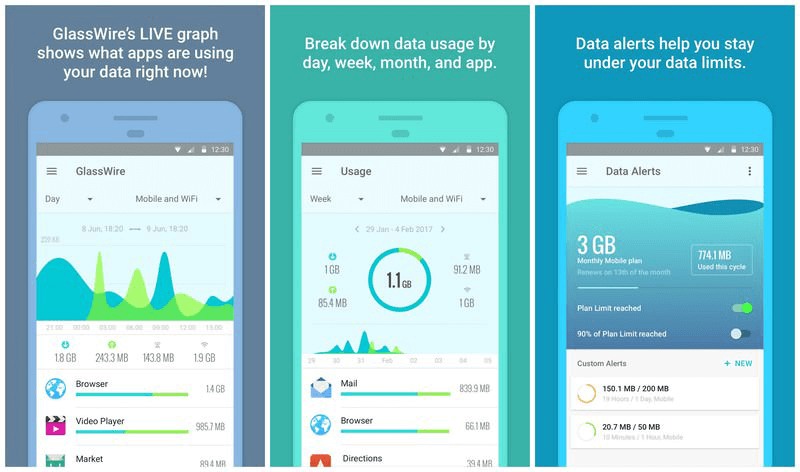 DataMan Next. iOS
Last on the list is DataMan Next, a very minimalist data monitoring app, specifically designed for iOS. It's clean, fast and easy to use. It allows you to monitor specific apps and their usage, combining the results into an overall total. There's also a widget if you are really paranoid about running over your data limit. The most interesting feature about DataMan is the prediction feature which lets you know if you are going to stay within your data limits for the month or blow them by a mile.