No doubt if you've come this far in search of GOT filters you're quite a big Game of Thrones fan, so we won't hold you up on your journey. Keep on scrolling down the page to find out how you can get a hold of the cool new Snapchat Game of Thrones Season 7 filters and turn yourself into a wretched White Walker today!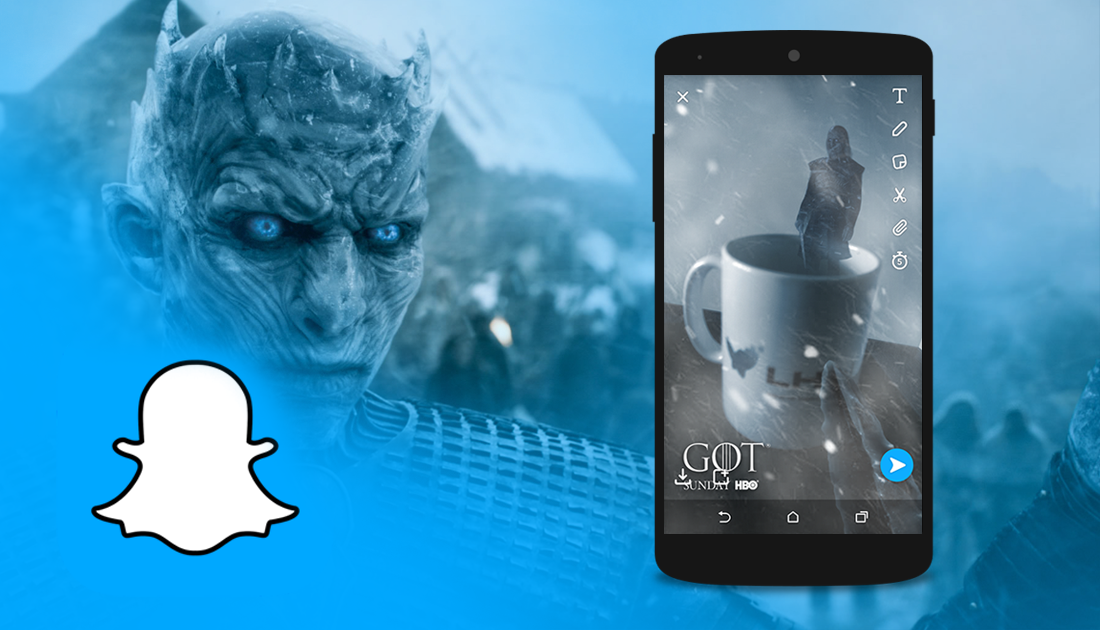 How to Save Edited Instagram Pictures Without Posting Them. 
As you are more than likely aware the new season of Game of Thrones is set to launch on HBO in the next few days. July 16th to be precise, almost two months behind its usual start date. The later release date for George RR Martin's recreated book series hasn't even dampened fan hype, in fact, it's probably increased. Closely coinciding with the season seven release Snapchat has teamed up with Game of Thrones and released a special White Walker Filter that will turn your Snaps into cold wintery, White Walker monstrosities.
If you have been looking for the new White Walker filters, you may have noticed they aren't in the usual filters location. Instead, you will have to acquire/unlock them using a special method. It's not that tricky but you will need to know where to look. Using the steps listed below you'll be able to activate the filters on your device.
Unlocking the Hidden Game of Thrones Filters in Snapchat.
Instead of just giving everyone access to the Game of Thrones White Walker filters Snapchat has decided to make their users work for the new filters. So, to get the new filters you will need to visit a specific website where you can scan a special Snapcode. Once this code has been scanned, you will have one hour access to the unique GOT filter. If you want more than an hour you will need to go back to the same site and re-scan the code. The number of times you can use this code hasn't been determined yet, so you'd best make the most of your screen time! The special scannable Snapcode that will grant you access to the filters can be found below, just click on the link.
Snapcode: Game of Thrones White Walker Filter.
In order to make this work, you are going to need to view the website from another device so you can use your phone or tablet to scan the code. Or if you have a friend nearby you can just take it in turns loading the page on your screen then scanning the code from there.
To activate the Snapcode you will need to open Snapchat, then using the camera, focus on the snap code. Making sure your zoom in close enough for the code to be clear. I found the easiest way for it to acknowledge was to tap and hold a finger on the screen in the same manner you would to use the Shazam feature.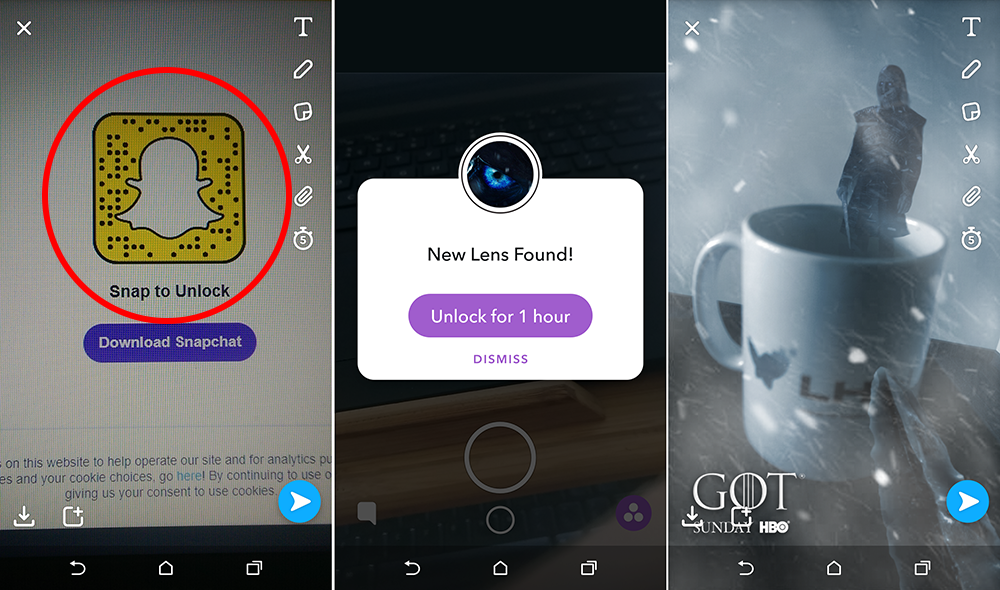 After a few seconds, Snapchat will accept the code and grant your 1 hour of access to the cool White Walker Filter. Once you accept the offer, you will be able to start using the Game of Thrones white walker filter instantly. Simply look for the blue eye in your filters collection. (it's the first choice)
It's a super fun filter to play around with as it makes some cool changes as you move your face around on the screen, especially when you open and close your mouth. If you flip to the rear camera, you will also have the ability to filter your surroundings, making it look like you are in a full blown blizzard, surrounded by white walkers. You might even have the option to vanquish some with a cleverly included gesture.