If you are using Windows 10 and can't unpin items from the Windows 10 taskbar, this guide will guide you through several different steps you can take to fix the problem. Fix what is causing Windows 10 taskbar items to become unpinable.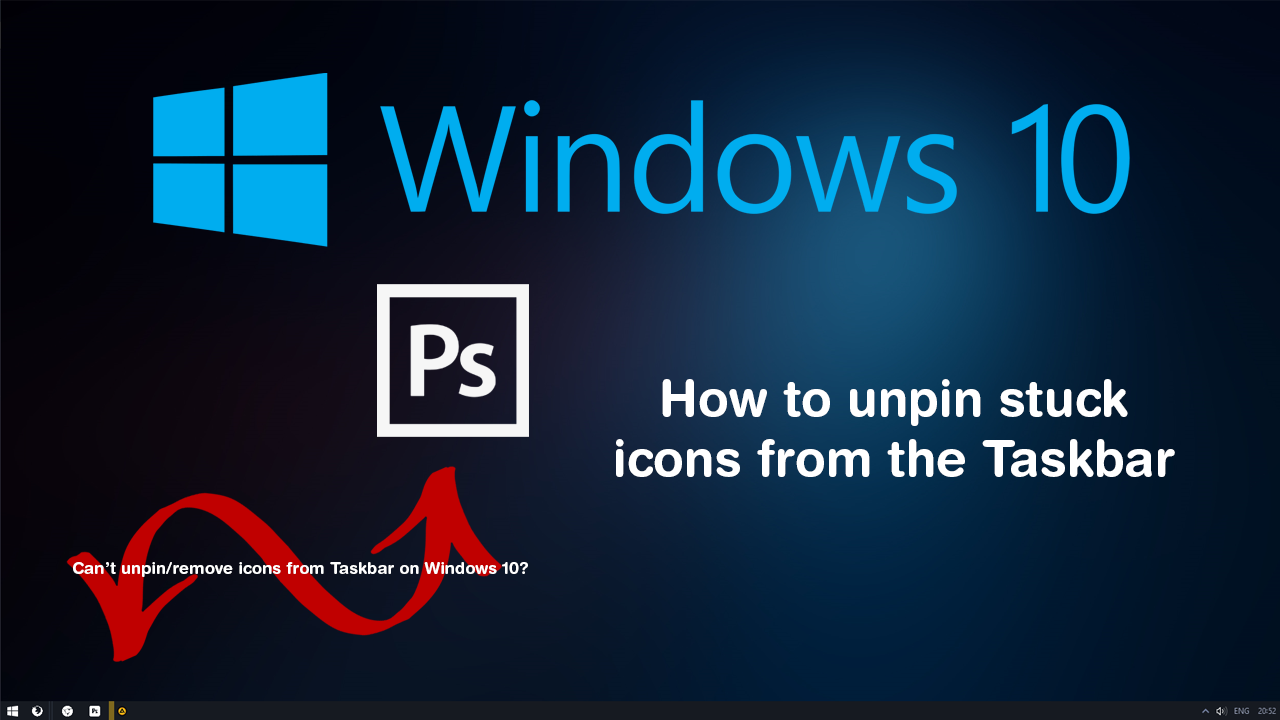 How to turn on Tab Previews in Microsoft Edge. (Enable Tab Previews Microsoft Edge)
The taskbar on Windows 10 is one of the best places on the operating system to store quick access icons for programs and apps. It's quicker and easier to access than the start menu or the desktop, especially when you have other programs or browser windows open. Unfortunately, it's also prone to a few little issues that can cause items to become unpinable. Thankfully, when a taskbar item does become stuck and can't be unpinned, you can fix it using a variety of different methods. 
To begin, the quickest and easiest check is to restart explorer, which can be done by pressing Ctrl+Alt+Delete to open the Task Manager and Ending the task for Exploer.exe. If this doesn't work, a quick computer restart should do the trick and allow you to unpin taskbar icons once again. If it doesn't, please continue with the more advanced steps shown below. 
Related: How to fix 'The publisher of this app doesn't allow it to be moved to a different location' on Windows 10. (error code 0x80073d21)
Can't unpin or remove programs and apps from the Taskbar on Windows 10? Fix?
If the quick fixes above didn't fix this issue for you and you are still trying to unpin suck items from the Windows 10 taskbar, you'll need to try a couple of slightly more in-depth fixes. First open the Start menu, the search for the program/app that can't be unpinned from the Taskbar. When you find it, right-click on it and select, Unpin from Taskbar. 9 times out of 10 this will override any other pinning command and get rid of the icons. If it doesn't, continue with the next potential fix below. 
Delete pinned apps and programs that are stuck on the Taskbar using File Explorer.
Not a lot of people know this but just like the Start menu the Taskbar on Windows 10 also has a folder that is stored within your Windows 10 installation. Inside this folder, you can find all the shortcuts stored on the Taskbar, which means you can quickly and easily add or remove entries as you desire. Completely bypassing the 'Pin to' system found within context menus. To access this location open the Run tool by press Windows Key + R, then copy and paste the following into the text box and press Enter. 
%AppData%\Microsoft\Internet Explorer\Quick Launch\User Pinned\TaskBar

Alternatively, you can open the File Explorer and navigate to the following location
C:\Users\YOURUSERNAME\AppData\Roaming\Microsoft\Internet Explorer\Quick Launch\User Pinned\TaskBar


Uninstall the program/app to remove it from the Taskbar on Windows 10.
If the program or app that is stuck on the taskbar still won't come unstuck, you can uninstall and reinstall it. This will fully remove it from the Taskbar, however, is probably the most time-consuming method, as it requires you to set up the program or app again once it has been installed. 
On a Side Note...
If you are also looking for a quick and easy way to pin portable programs to the Taskbar or Start menu on Windows 10, make sure you check out the following article will guide you through the process.

How to pin portable apps/programs to the Start menu on Windows 10.