There are tons of how-to guides claiming to show you how to upload content such as photos and videos to Instagram from your computer. Unfortunately, the majority of these articles start this process on a PC and finish it from a mobile device, or you are expected to use an Android emulator. This guide will show you an entirely different way to upload content to Instagram from your Windows PC or Mac.
How to Make Photo Grids on Instagram the Easy Way.
In 2013 Instagram added support for video content, allowing small clips to be shared on its service. Generally, adding video content from modern mobile device looks and works fine, however, there are times you might like to tweak your video a little, maybe edit out some bad frame or retouch the coloring. In situations like this, when you're editing from your PC, having the option to upload to Instagram directly is extremely desirable.
As we mentioned above, there are quite a few ways available to upload content to Instagram from your computer, however, a fair portion of these services are paid or require you to use an Android emulator. The method this guide will introduce you to is quite different, instead of a web based solution or an emulator we'll be using a small program called Gramblr.
Gramblr has been around since 2011 and is still going strong. It also supports both Windows and Mac, with some support for Linux (you'll need to email them to find out a little more information on Linux versions though) You can grab Gramblr from the link below.

Download Gramblr - PC Instagram Photo Video Uploader.
Upload Photos and Videos to Instagram From your Mac or Windows PC Using Gramblr.
Once you have downloaded Gramblr, extract the file with your preferred zip program, (WinRAR is good if you don't already have a program) when the file has been extracted, double click on the Gramblr.exe file to launch the program. Before you can start using Gramblr you will need to create an account and log into your Instagram account, which is standard on most apps and programs these days. Setup is easy and only takes a moment. On launch, the first thing you will probably notice is the Coins icon in the top menu bar. Don't worry you don't need to pay for anything to use the service, not the basic parts anyway.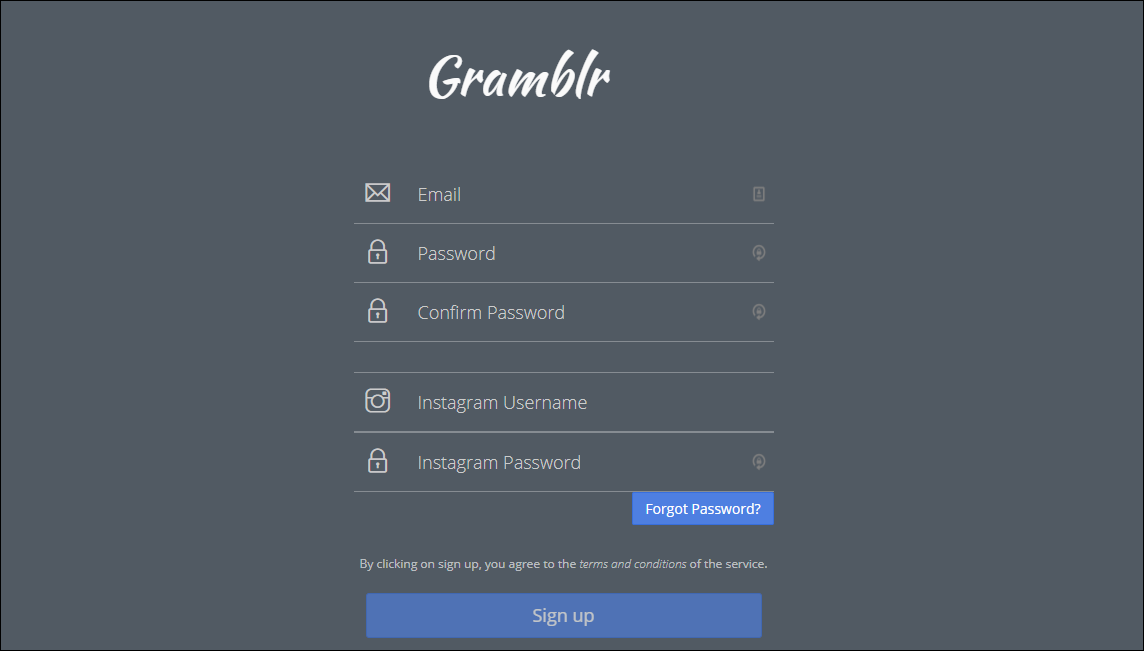 Running down the left-hand side of the window is a list of options, all of which are pretty self-explanatory and worth delving into at your own leisure, especially if you are trying to build a following from scratch. Moving on to the main function of Gramblr, we will be using the Upload Now! Option. This tab is where you will be doing all of your uploading to Instagram, both photos, and videos.
Click once inside the square to open the file selection window (you can drag and drop if you like) Here you will be able to choose the content you wish to upload to Instagram.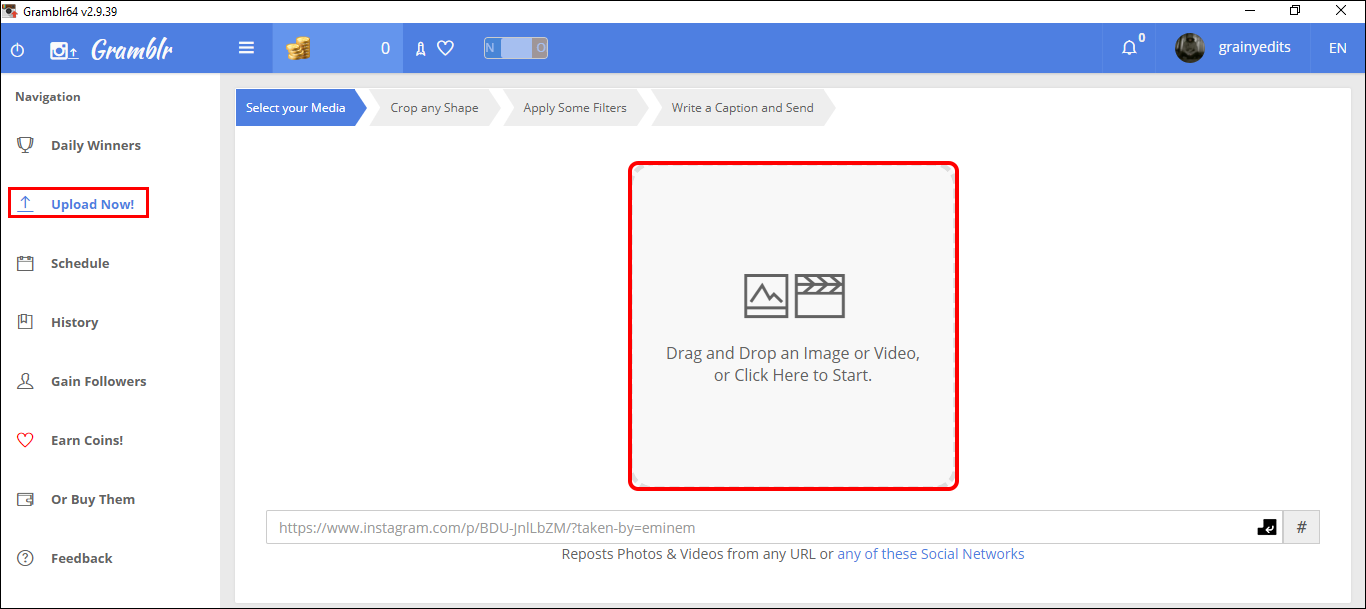 Once you have selected something, you will be given the option to crop your image. After you have set you crop, click the Green Save button to proceed to the filters/editing screen.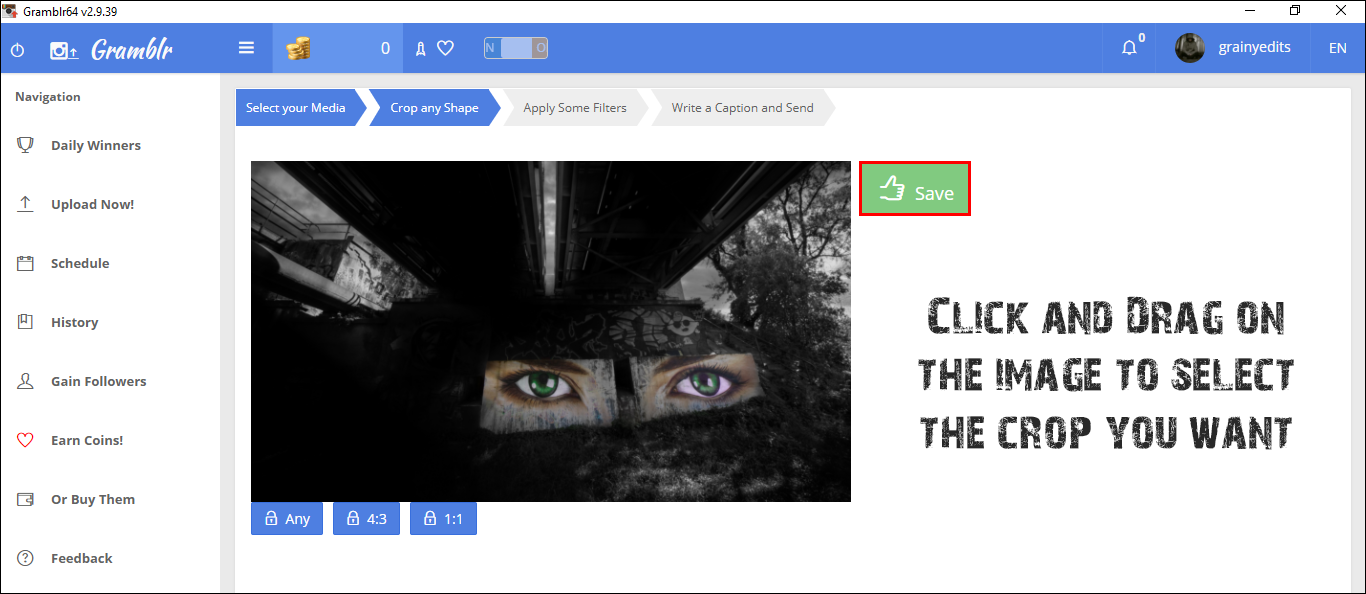 The Filters screen has 2 different options available, Filters, which is for images and Motion which is videos. The interesting part is that you can use either option for your content. For example, if you upload an image, you can still use the motion option, which adds an interesting effect to your image. When you are done playing around with the filters and motion options, Save them and click Continue.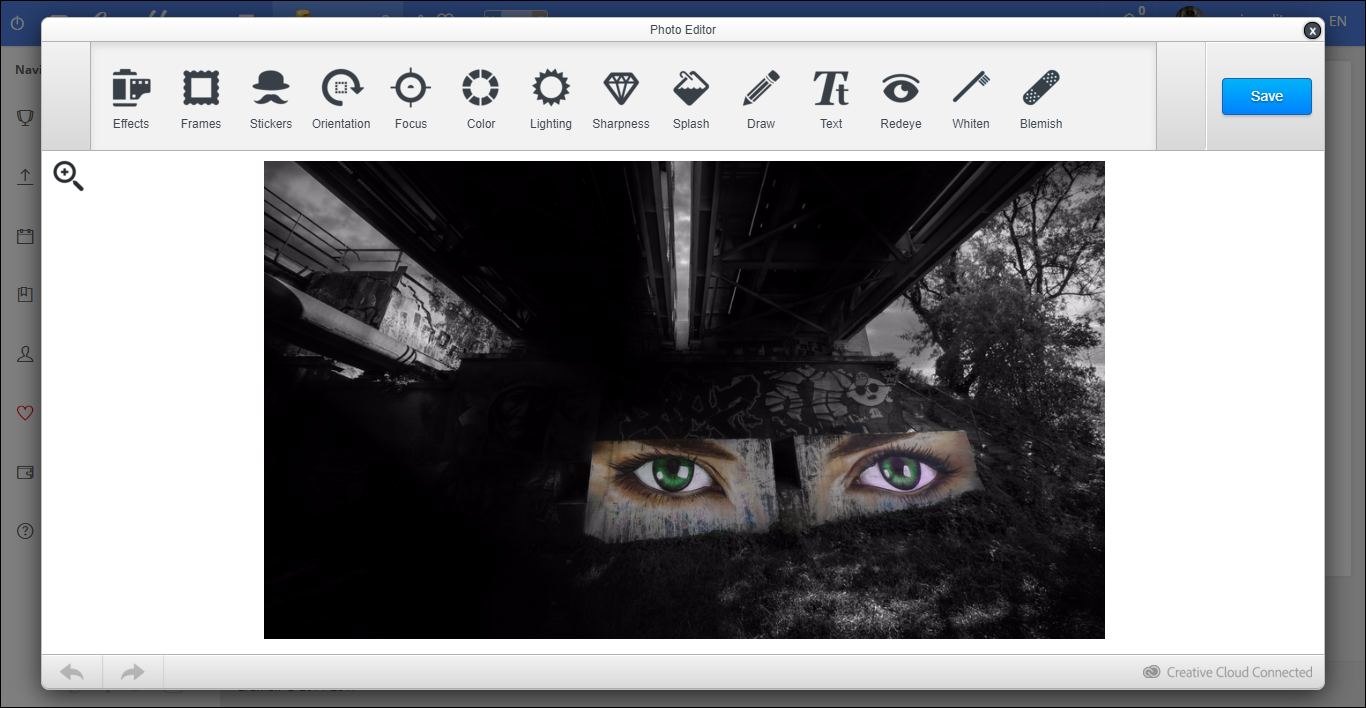 On this screen, you will have the ability to tag users, add hashtags, descriptions, emojis and choose when you would like your image to be posted, all of which is easy to do and very self-explanatory. Once you have entered all the information you want, click Send to start the upload. Upon finishing the upload, you will then be given the option to accept more likes for your image, 75 being the initial boost, all of which roll in very, very fast! If you have the time explore the Earn Coins section of Gramblr for a better understanding of the likes system.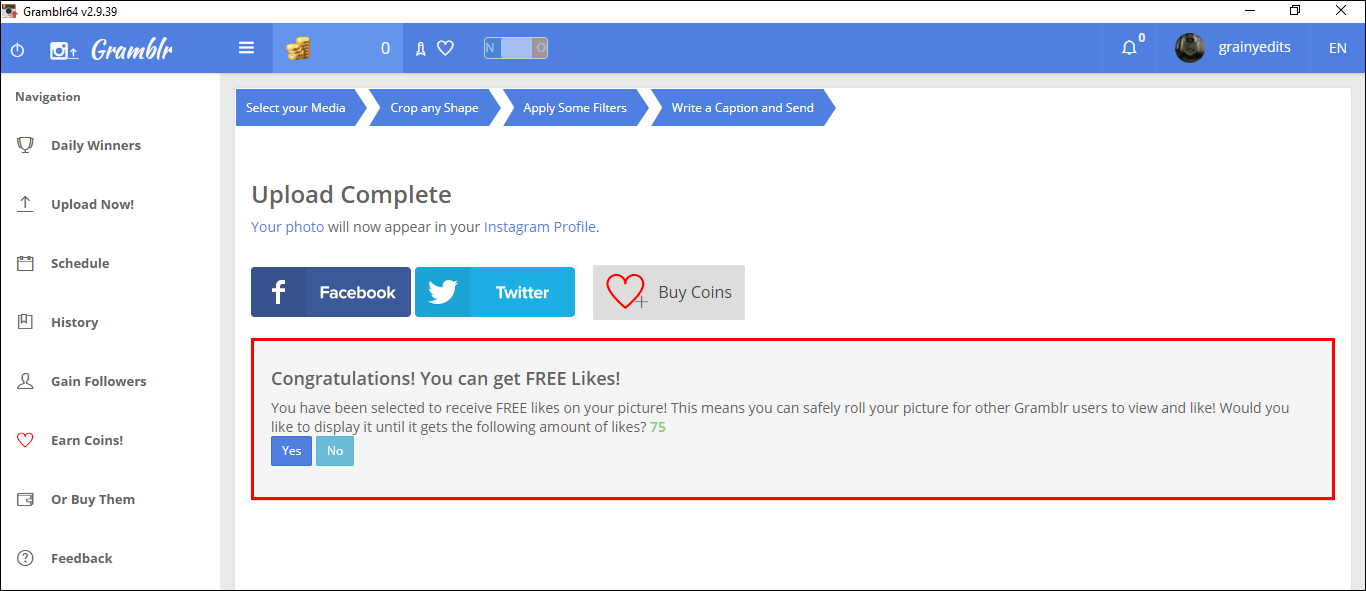 That's it, now you know how to upload photos and videos to Instagram directly from your computer. No messing around with emulators and websites. Gramblr is quick easy to use and has a great community to explore. You may even find yourself using Gramblr to upload content more than the Instagram app on your phone.