It's undoubtedly true that we don't usually come up with really creative passwords that are bound to protect our account. And how many among us use the same password on a couple of websites? These little crimes heap up to turn into a bubble that may burst one day, leaving us hacked. But what should we do? The answer is simple - turn to a password manager.
Password managers are perfect when you want to secure your accounts with really strong keys, but at the same time you are not capable of remembering long sequences of seemingly random letters and number. To put it simply: if you're a normal, healthy human being with a thing for security, you can try one of these programs:
LastPass is a password manager that stores your data in a cloud and supports all the popular Internet browsers. Furthermore, there are numerous additional plug-ins and extensions to secure your PC even more. Synching between your equipment is possble with a version compatible with mobile devices. Since all our data remains safe on official servers in an encrypted form, even the creators of the program can't access your sensitive data. With its configuration creator LastPass makes it easy to manage all the settings even for a beginner. With the program it is also possible to check our previous passwords and see how safe they really are.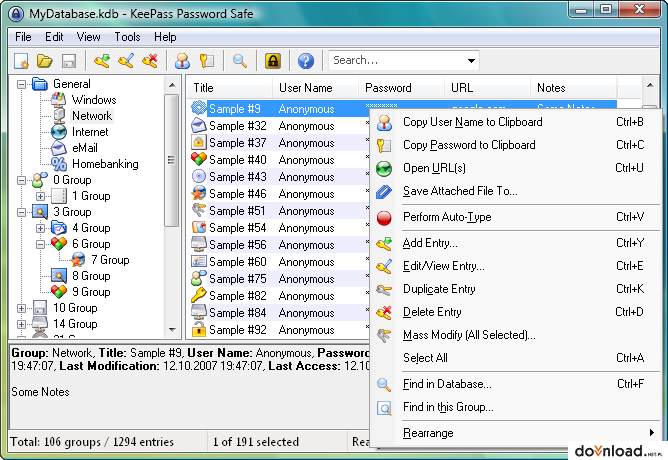 Keepass is a great choice for those of you who don't trust clouds and who would like to store their password on their own hard drives. The program also supports all the popular Internet browsers and mobile devices. However, you have to remember that synching passkeys won't be done automatically as it is in the case of LastPass. But it is possible to use popular cloud devices such as SkyDrive or Dropbox.
Once you have chosen a password manager all you have to do is to pick one strong master password - this is the only password you need to remember - that will give you an access to all your encrypted and saved data. Apart from creating new, safe passwords and saving them in its memory, these applications can also remember more of your sensitive data to automatically fill in things such as credit card number, ID number or personal data, significantly shortening the time you have to spend when e.g. registering in a Web service or buying something in an online shop.