How to Fix iOS 11 Increased Battery Usage.
Author

Publication date

10.10.2017

Ilość komentarzy
If you have recently upgraded to iOS 11 and have noticed a massive spike in battery usage, you are not alone. Almost all iPhone users who have upgraded to iOS 11 have noticed poor battery performance, even on newer devices such as the iPhone 7. Thankfully, the battery drain problem on iOS 11 is easily fixed with some simple settings changes.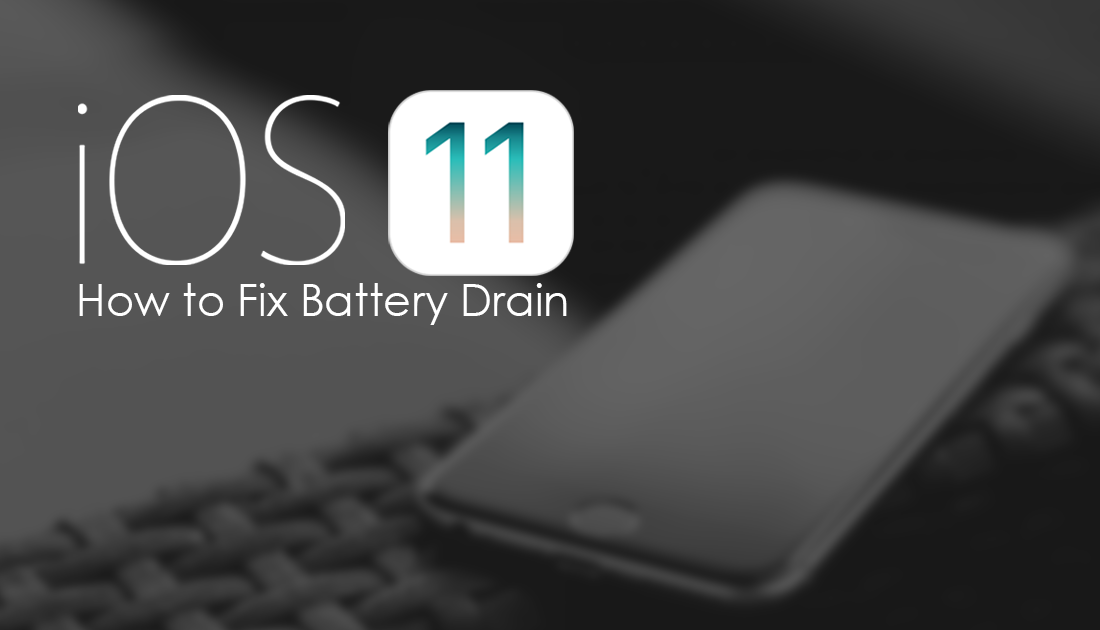 How to Hide/Remove the App Icons At the Bottom of iMessage On iOS 11.
Generally, when software updates are rolled out to devices they are supposed to improve the overall user experience. iOS 11 has brought a swath of cool new features and tweaked plenty of old favorites but it has also created one major problem, increased battery drain, one of the worst things that can happen to a mobile device. If you've recently updated to iOS 11 and are trying to fix battery drain, the steps shown below will help you dramatically reduce your iPhone's battery usage levels.    
Fix Increased Battery Drain on iOS 11 Devices. (iPhone 5, 6, 7, 8)
Depending on your day to day phone usage, you can use any or all of the following fixes to reduce battery consumption on iOS 11. Obviously using all of them together will give you the best results but it isn't a must, so feel free to pick and choose the options you can and can't live without.  
Turn Off Siri Eavesdropping.
One of the best places to start fixing battery drain issues on iOS11 is with Siri. If you don't need or rarely use the Siri background service, you can stop it from running. This won't completely disable Siri, it just means you will need to access Siri by holding the home button, instead of saying 'Hey Siri'. To disable Siri's background listening service, go to Settings, then Siri & Search and turn off Listen for "Hey Siri" Apart from battery drain, this is also a great way to stop Apple gathering passive information about your usage.
Turn Off Assistivetouch.
Another battery draining feature most people can do without is Assistivetouch. This feature is designed for people who have a hard time touching the screen accurately. It works by assisting with finger dexterity, particularly when using gestures such as pinching and multi-finger swipes. To disable Assistivetouch, go to Settings, General, Accessibility and finally AssistiveTouch. On this screen simply flip the toggle to the Off position.
Turn Off Email Fetch.
Another great way to reduce battery drain on iOS 11 is to disable the email fetch service. If you use email for work or are waiting on an important email, this option may be one you need to leave enabled, however for anyone who doesn't use email frequently, disabling it will help with battery drain. Disabling email fetch simply stops your phone from constantly refreshing your email inbox. Once disabled your email app will only refresh/search for new emails when you open it.
If you'd rather not completely disable it though, it is possible to set how often a search is performed, every 30 minutes or hourly for example. To change iOS11 email fetch settings go to Settings, Accounts & passwords, then Fetch New Data. Here change the fetch intervals or disable fetch completely, the choice is yours.
Turn Off Background Apps.
You can also save substantial battery power by preventing your phone from constantly refreshing all your apps, it's also a great way to reduce distraction if you find yourself constantly checking notifications. Changing these settings allows you to customise which apps constantly refresh. To do this, go to Settings, General, then Background App Refresh. On this page choose which apps you want to stop constantly refreshing/updating in the background. You'll probably be surprised by how many apps think they need refresh priority.
Enable Low Power Mode.
Finally, the most obvious way to improve battery performance on devices running iOS 11 is to enable Low Power Mode. Low Power Mode has its pros and cons but is very good at extending battery life. For a full rundown on Low Power Mode for iOS 11, including Enabling and Disabling the feature check out the guide below.

How to Enable and Disable Low Power Mode on iOS 11.