Ads are a very important source of income for most developers trying to make a living online. Most of the time ads are implemented in a way that is fair and mostly unintrusive. Sometimes, though, ads displayed in apps and games are terribly annoying and even forceful in getting their point across. Thankfully, in most cases, if you find ads to aggressive, you can block them in apps and games, without needing to root your device.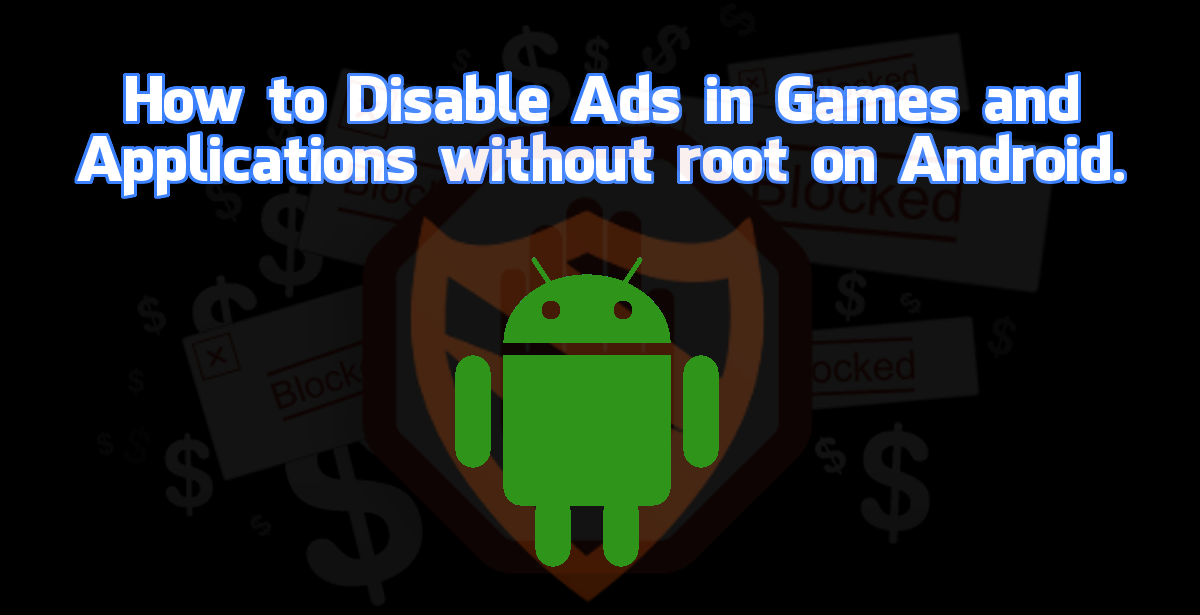 How to Install Any APK File on Any Android Smartphone or Tablet.
As mentioned above, Ads are basically the main and only source of income for developers and websites which produce free content, free applications and free games. So if you can, it's always best to support the freeware industry. However, when advertisers get too forceful and their marketing schemes render your favourite games unplayable, you may not have a choice but to turn to an adblocker.
Method One: Blocking Ads in Android Apps and Games Using Blokada.
The first way you can block ads in apps on Android is to try a fairly new application called Blokada. It blocks unwanted content in applications, things such as advertising, user tracking, malware and some other annoying features, that chew up data and slow things down. The application is not available officially in the Play Store for obvious reasons, as Google doesn't support software that circumvents its main source of income, therefore you must download it from elsewhere, in the form of an .apk file. 
After entering GitHub go to the section Releases and download the latest version (which is currently 2.2.3) Under the subheading Downloads choose the file called: blokada-fdroid-v2.2.3.apk.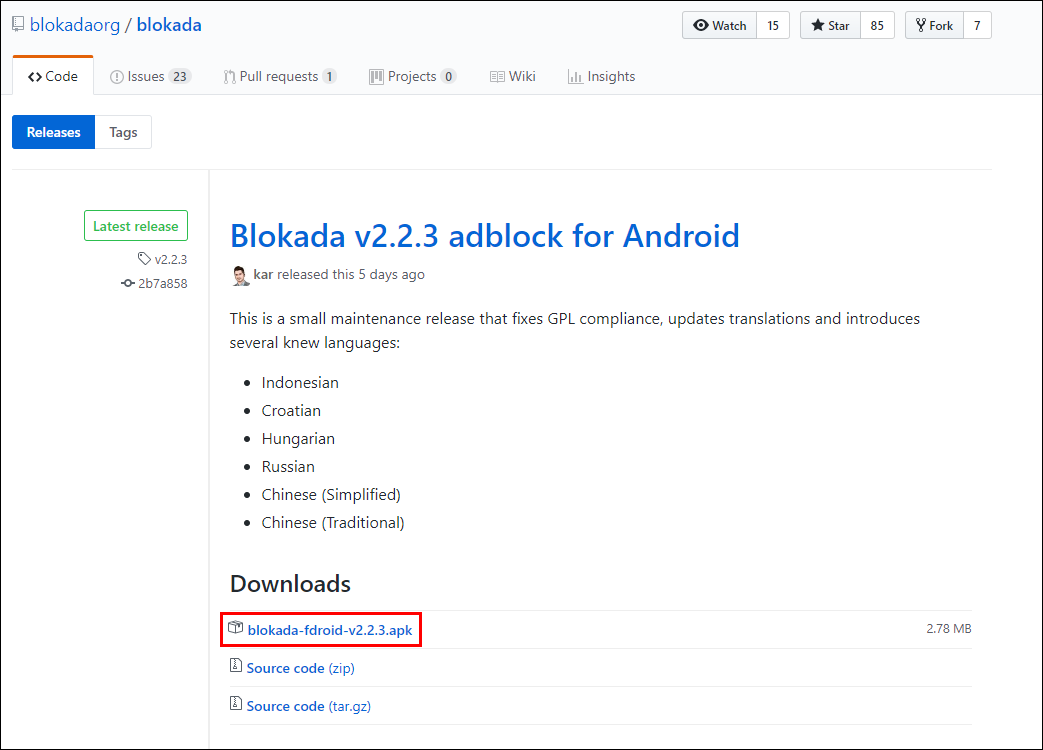 Blokada is a VPN like app, which uses a tunnelled connection to filter out ads and junk if it sounds complicated or scary, there is no need to worry, it isn't an external VPN server. This function is only used in order to modify the settings of your Internet connection's DNS addresses that interpret the way websites send you ads, blocking the servers which they (ads) are sent from.
Note: Unfortunately you can't use Blokada alongside an actual VPN.
You can either download the Blokada apk file directly onto your phone, saving it to your downloads folder (or wherever you want really) or alternatively you can download it on your computer and transfer it across, it doesn't matter as both methods work fine. Once you have the file on your device, go to Settings > Security and check the box Unknown Sources, this will allow you to install apps from outside the Play Store. Now you are ready to install the app.
Using the file manager on your phone, navigate to the place you saved the .apk file. When you get there, tap it to begin the installation. You will most likely get a prompt from your phone stating that installing files from unknown sources is dangerous, you will have to agree to continue installing the file.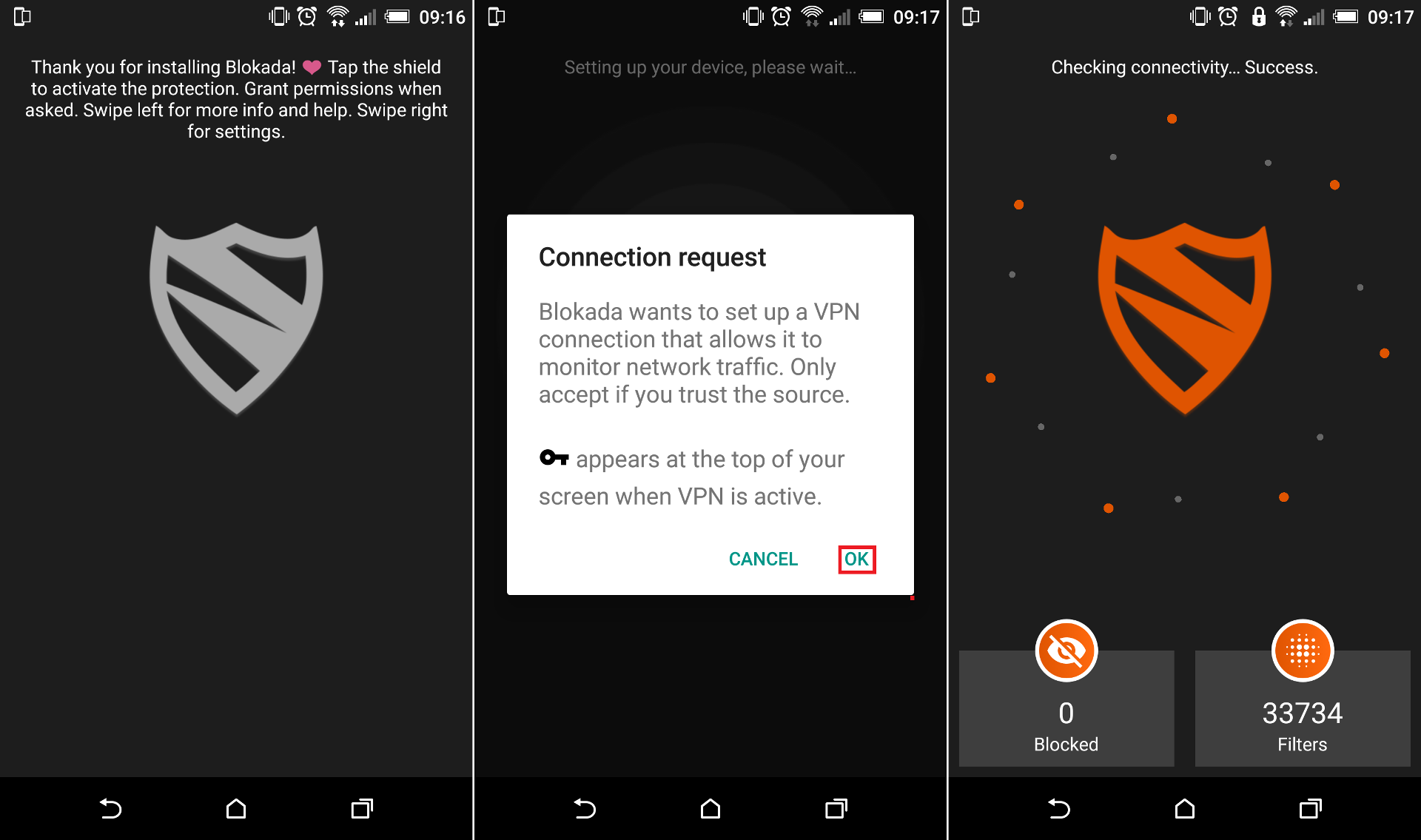 After a few short moments of installation, Blokada will be installed on your phone. The app very simple displaying only a greyed out shield icon at the top and a greyed out power icon at the bottom. Grey meaning the app is not yet active. In order to start Blokada, tap the Shield or the Power Icon, after one tap, Blokada will start. When Blokada is running on your device, it will be displayed as a key or padlock icon in your notification bar.
If you want to turn Blokada Off, simply open it and tap the Shield Icon/Power Icon. If you wish to uninstall the app it can be done in the same manner you would any other app from the Google Play store.
Note: Just remember Blokada is not going to block every single ad or tracker you come across but it will reduce the amount significantly. During my tests, it worked brilliantly, however, I would recommend turning off notifications for the app, as it does like to brag about how much stuff it's blocking for you.
Method Two: Blocking Ads on Android Using DNS66.
This method is almost identical to the first method for blocking ads on Android devices, it uses an App called DNS66. However, DNS66 has an increased list of filters for blocking ads, you can choose which ones you like and which ones you do not. The DNS address is also configurable. As with Blokada, DNS66 is only available from F-Droid another alternative App Store similar to Google Play, offering a lot of applications which aren't featured on Google because they don't fit all the rules and regulations. Adblocking being one of the main deal breakers.
Download the F-Droid App Store. (an unofficial app store)
Download F-Droid to your phone, then install it using the same method we used above for Blokada. Once you have installed the F-Droid store, open it and search for DNS66, when you track it down, Download the .apk and use your file manager and the above installation method.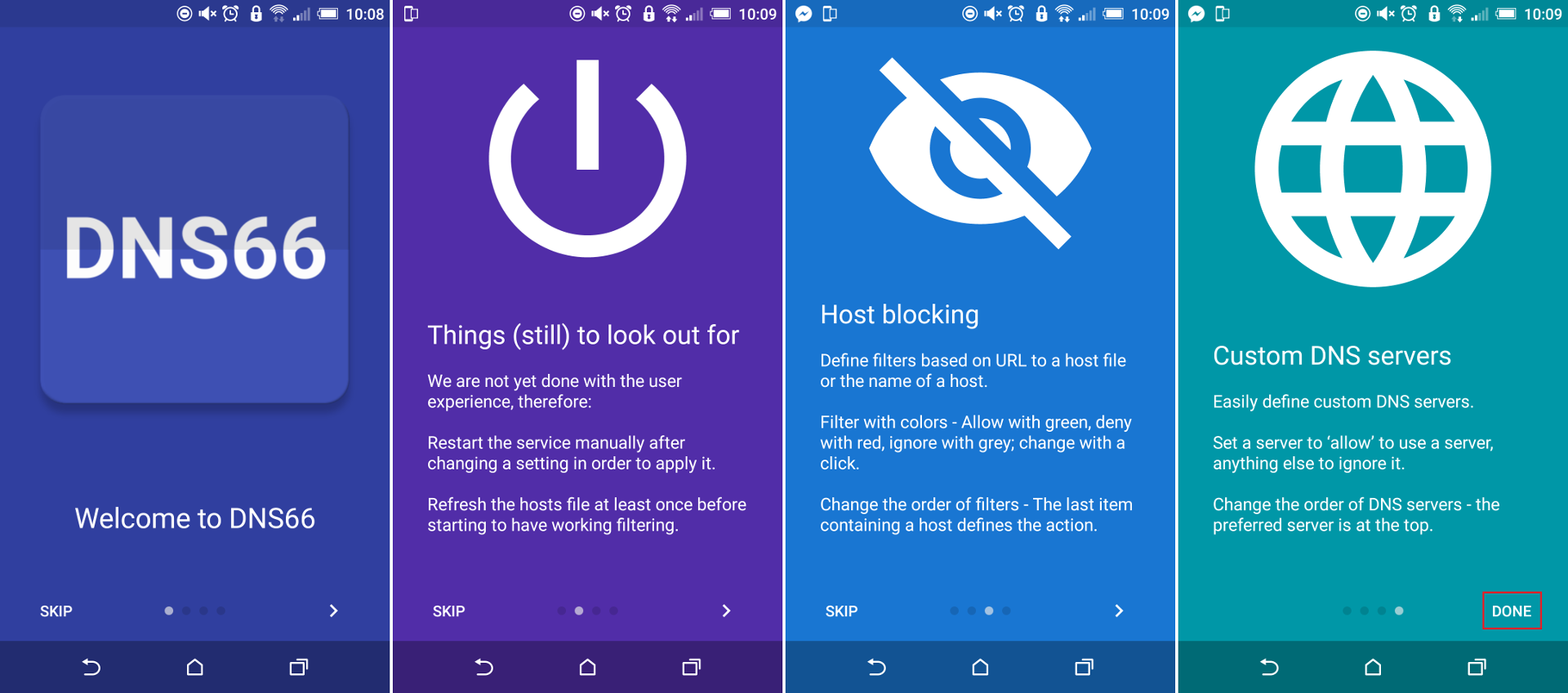 When you have the app installed, launch it and read through the menu which explains some of the functions and how they work (if you could be bothered) Once you are in the main app, at the bottom flick over to the Domain Filters tab and browse the list of filters. Here you can set the blocking methods available. You must have at least one on for the app to work. Adaway Hosts File at the top is a good basic function to leave on, however, at the end of the day, the choice is yours. When you are done choosing filters, flip back over to the Start/Stop menu and turn it On. If you wish to remove the either of the apps, you can do so, in the same manner, you would any other app on your system.
Note: Just like Blokada, DNS66 will also work in a VPN, displaying a key or Padlock icon in your notification bar.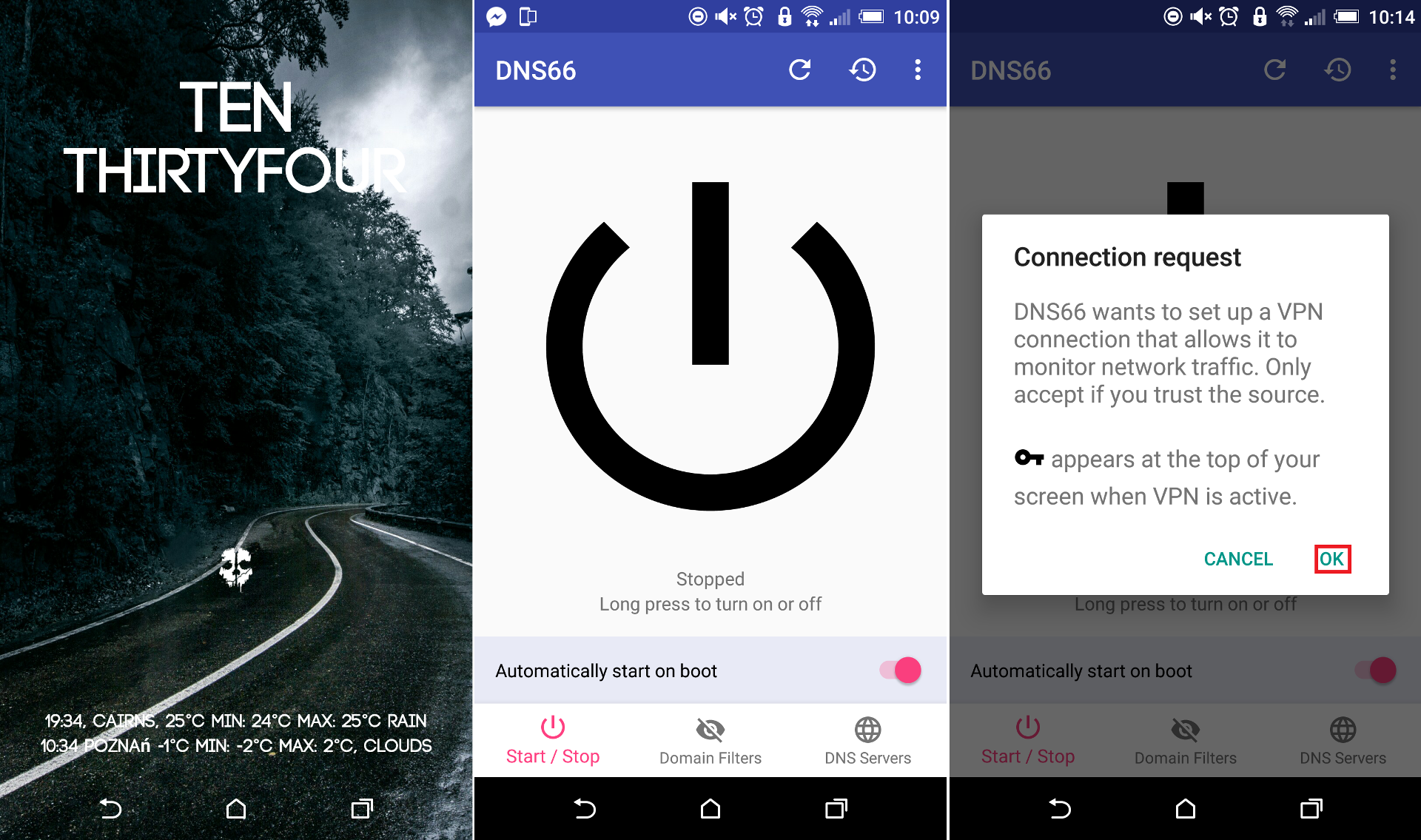 Given the choice between both of these apps, I personally prefer to use Blokada, as it doesn't require the installation of a second app store. (once you have installed DNS66 you can freely remove the F-Droid app store if you want) Blokada is also far more user-friendly for those new to mobile ad blocking.