If you use Peace EQ coupled with Equalizer APO to manage sound quality and settings on Windows 10 or 11 but have noticed that it is no longer working after a major Windows update. This article will show you how to quickly and easily solve the problem. Unfortunately, you will have to follow these steps after most Windows 10 or 11 updates which is a little annoying.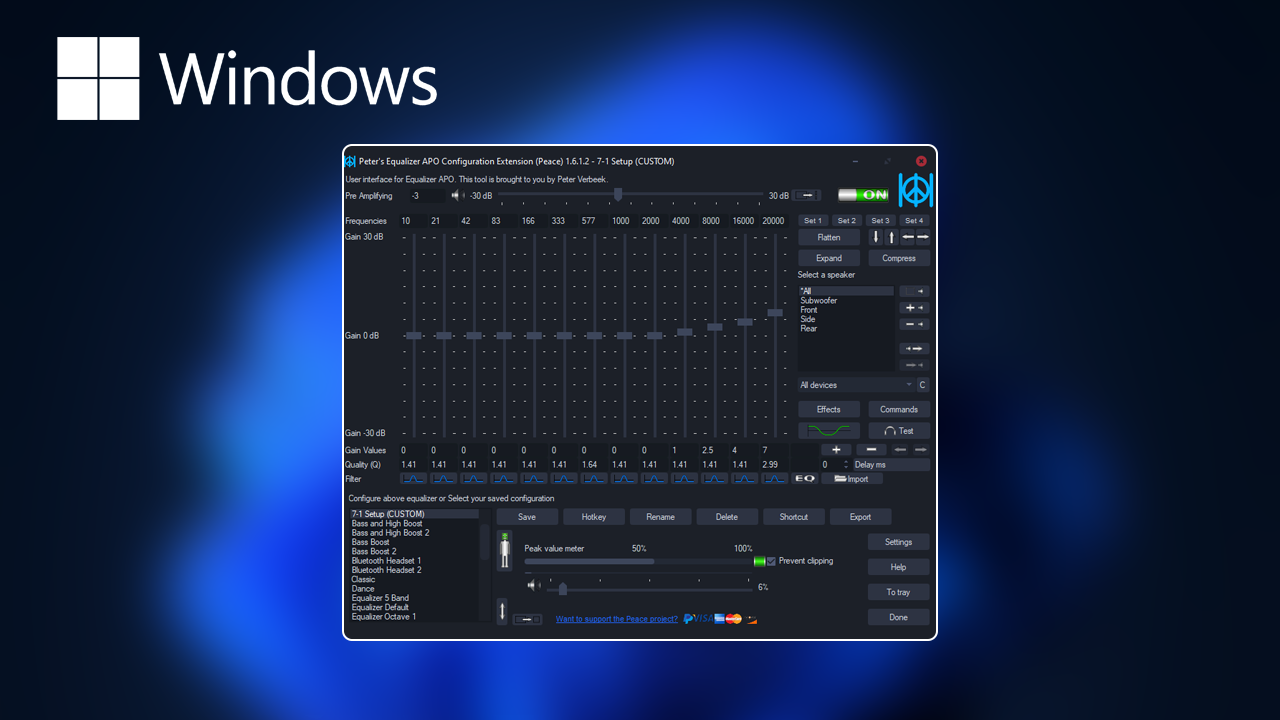 Related: How to fix Windows Game Bar error - You'll need a new app to open this ms-gamingoverlay.
After so many years it seems crazy that Windows 10 and 11 don't have a decent built-in sound equalizer, that allows you to better adjust the quality of sound on the system. Instead, we're all forced to use third-party tools to make sound improvements across sound devices. Thankfully there are a few really good options available that would more than likely be better than Windows options anyway… But that's not the point…
Equalizer APO coupled with Peace Equalizer is the best sound equaliser combination available for Windows 10 and 11 and allows you to change anything and everything related to sound on your device. They are also easy to use have a ton of hotkeys and allow you to use multiple custom presets. Unfortunately, Windows updates on both Windows 10 and 11 have a habit of breaking both of these EQ components. This means you're going to have to do some troubleshooting after most updates. Although they continue to look like they are working sound settings don't apply properly meaning no changes take effect.
How do you fix Equalizer APO and Peace Equalizer not working on Windows 10/11? Peace EQ and Equalizer APO not working after Windows updates.
Annoyingly this problem has been going on for a long time now and there doesn't seem to be a permanent fix on the way any time. However, the fix is easy it's just time-consuming so let's get started.
To begin, the first thing you are going to need to do is to uninstall Peace Equalizer so open up Control Panel on Windows 10 or Settings on Windows 11 and uninstall it.

Once you have done this repeat the process for Equalizer APO and make sure to delete all the configuration files as well.

Now that you have uninstalled both of these clients, restart your computer.
After your computer has restarted reinstalled Equalizer APO and select the devices that you wish to use. It's best not to select them all, just select your primary devices. For example, your headphones and sound bar etc.
Now that you have installed Equalizer APO make sure you accept the offer to Restart your computer. If you don't there may be problems in the steps that follow, causing you to restart the entire process again.
With Equalizer APO installed you can now download and install Peace EQ. When you have installed Peace, you can open it and start customising your sound settings and equalizer settings.
As we mentioned above you will probably have to do this after every major Windows update (Windows 10 & 11) for some reason Peace stops working after major updates but it's more than likely it is Equalizer APO that has stopped working, in turn causing problems for Peace. we've tried simply uninstalling Equalizer APO while keeping Peace but it doesn't solve the problem, you need to remove them both in order to fix the issue.