How to Fix Windows stuck on "Getting Ready Screen" After Updating.
Author

Publication date

17.03.2017

Ilość komentarzy
If you are a long term Windows users you have probably come across this issue before. After installing an automatic update, Windows likes to perform a restart. On rare occasions after rebooting, your machine will continue to cycle endlessly on the "Windows is getting ready screen". Generally resetting your machine will fix this issue, if however, you have tried this countless times and it still doesn't work, you can follow the instructions of this guide to fix the problem.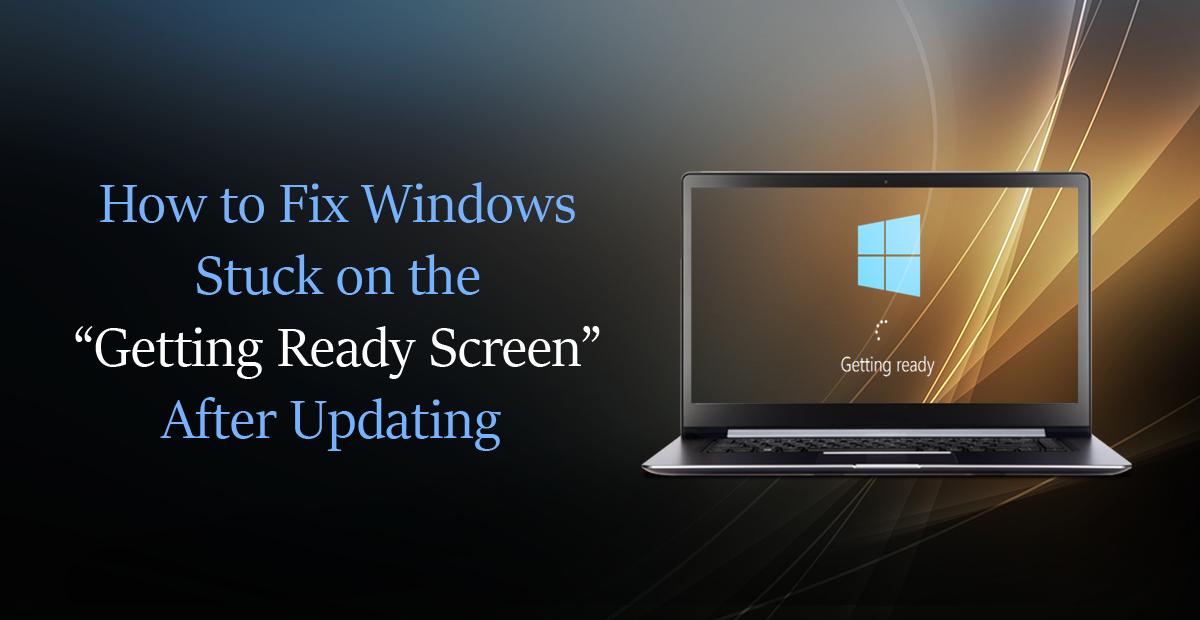 How to Create a Fully Automatic Backup System for your Android Devices. (Phones and Tablets) 
Generally, Windows updates are a smooth, automated process, not much ever happens and you probably barely notice any visible changes to your operating system. If for some reason the last update on your machine has failed or caused an issue, you might be stuck in an endless loop of resets, because your computer refuses to get ready. Sometimes if you are lucky the Windows Startup repair screen will appear, offering you a way out. (The Advanced Startup Options menu should appear automatically after two consecutive startup errors.)
Fix Windows Stuck on the Getting Ready Screen.
Below are a few methods you can try in order to stop your computer getting stuck on the getting ready screen. It's best to work your way down the list from top to bottom for the best and fastest results. Some of the screenshots below may vary somewhat depending on the version of windows you are running, however, the basis of the instructions are almost identical. 
Method 1: Startup Repair.
You may have already noticed that in Windows 8 and 10 the Advanced boot menu is disabled by default. So you have a couple of options here. First, you can Enable the Advanced Boot Menu Manually or use bootable media (Windows Disk, or USB drive) As the first option is explained in the above link we will proceed to demonstrate using a bootable media device.
First, Insert your bootable media either disk or USB into your computer then turn on the power. In the case of the disk, you will need to have the power on first for obvious reasons then reset it.
Press the F10 or F8 key (whichever works on your model of PC) this will open the boot menu. Here choose the option relating to your Media device USB/DVD etc.
You should now to faced with the Windows Installation menu. Click on Repair your computer.
Here, you should see Startup Repair. Click on it and follow all the instructions.
the above process should look very similar to the below screenshot depending on your Version of Windows.
After the Startup Repair process completes you should now have your Windows system back in working order. If for some reason it still isn't cooperating you can move onto the next step.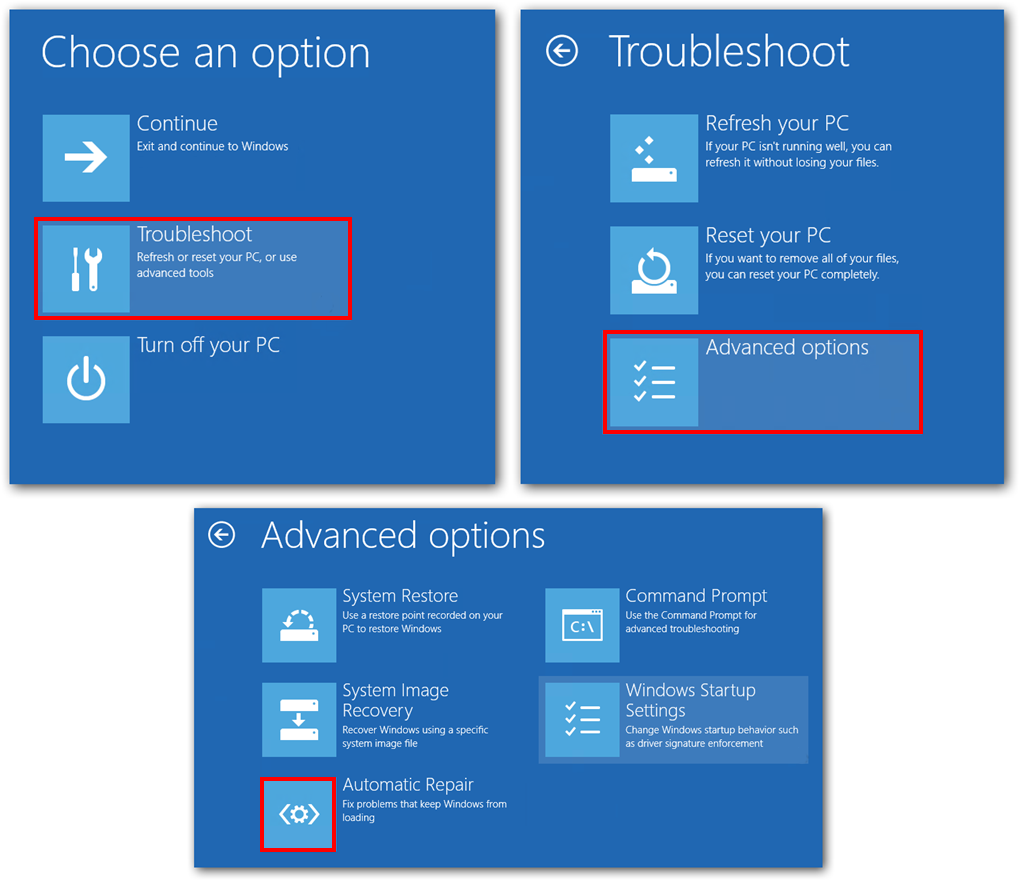 Note: You should always have a bootable Windows device of some sort on hand in case you ever need to perform a task like above or reinstall Windows from scratch.
Method 2: Uninstall the Most Recent Update in Safe Mode.
It's not too often that startup repair will fail, however, it is a possibility. If startup repair didn't fix your issue you can try booting your computer into safe mode instead. To boot your computer into safe mode you will need to follow the above steps from method one to launch the Advanced Startup options. From the advanced startup options menu select Safe mode.
Once you have booted into safe mode, go to Control Panel > Programs > Programs and Features.
Then, click on View installed update.
Next, Uninstall the problem update, which will almost certainly be the most recent one.
Lastly, restart your computer and let it boot normally into Windows. Your problem should now be fixed.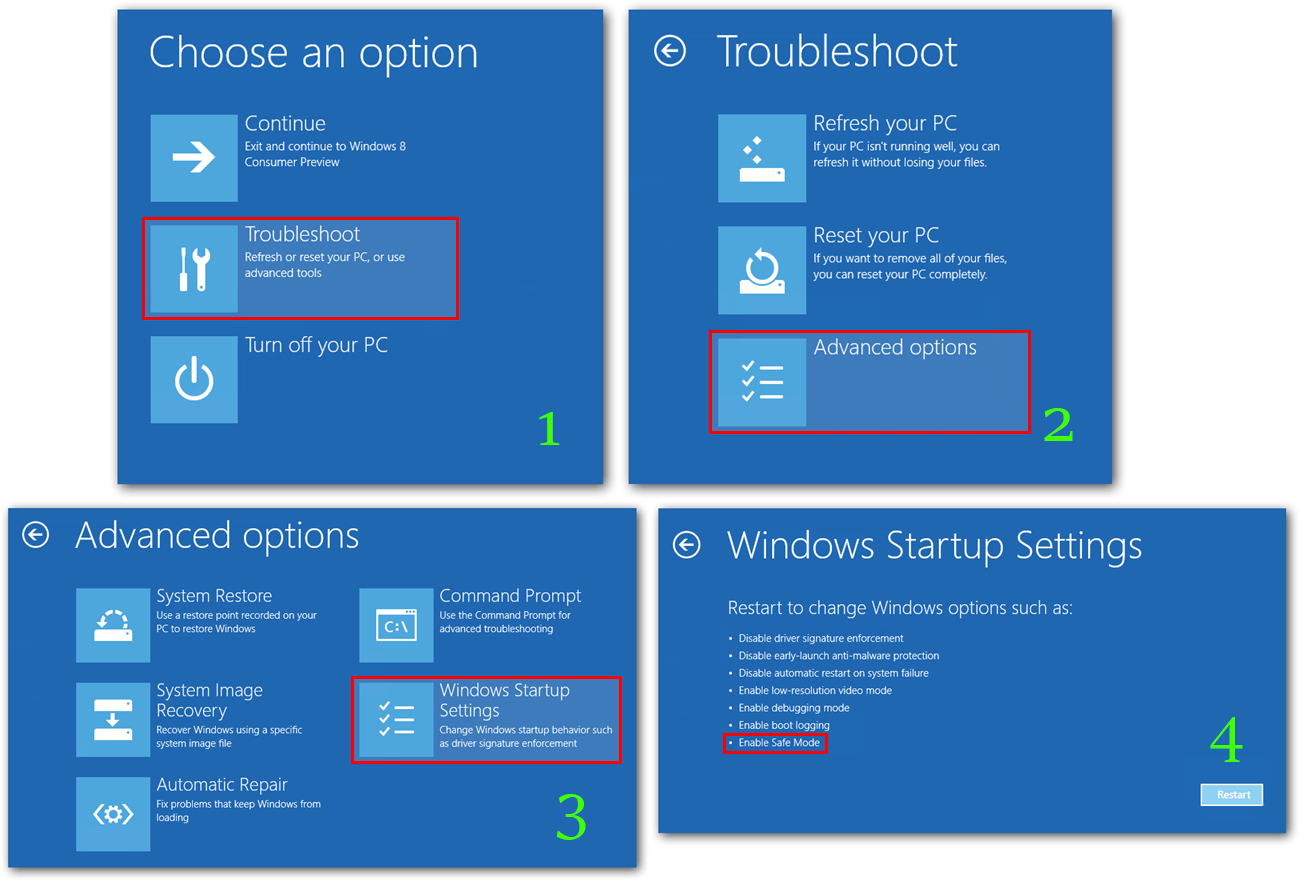 Method 3: Perform a System Restore.
If the above methods failed to work for you, you can try performing a System Restore, again using the Advanced Startup Menu to find the option. Once you have found it in the Advanced startup menu, just follow the Windows steps and select a Restore point that was working prior to the latest update.