If you are looking for an easy, completely uninvolved way to make a little difference around the world, this article will show you an amazing way you can help fund tree planting projects, without leaving your computer. Sound too good to be true? For once it isn't!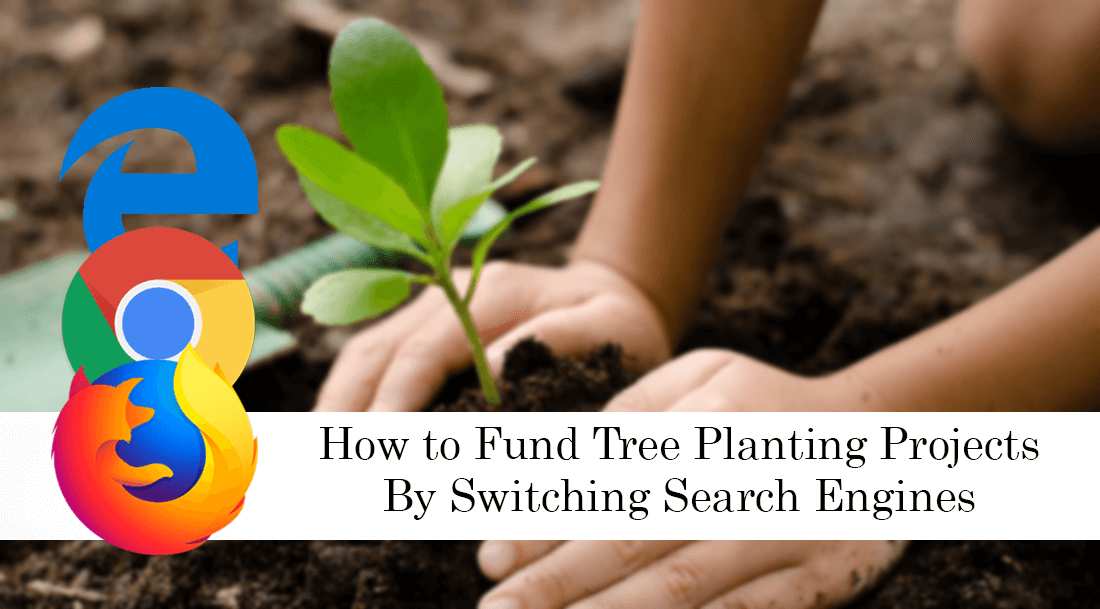 Four of the Best Alternatives to Shazam, For When You Can't Use Shazam.
Regardless of where you live in the world, you can undoubtedly see and feel the impact humans have on the environment. The weather is becoming more sporadic and extreme, oceans and lakes are filled with plastic, rivers are dying from sewage runoff, and forests are being felled for timber, farming, and mining.
Sadly this is just the tip of the iceberg with hundreds of other issues also contributing to the current start of the environment. Thankfully, in an effort to make a difference, a clever group of people has come together to create a very simple, yet very effective environmental rejuvenation project, which already has more than a million users.  
The company is called Ecosia and is based on a simple search engine that uses money raised from search ad revenue to fund tree planting projects around the globe. In fact, Ecosia's goal is to spend at least 80% of profit monthly/yearly on tree planting projects around the globe.
Surprising the search engine also manages to do this without using trackers or selling user data to advertisers, which is pretty impressive. (That being said, Ecosia does employ some trackers on some pages to monitor their marketing effectiveness) On average it takes about 45 searches to plant a tree, which is quite good as the average person will probably plant 1 tree per week.
Note: You will need to disable all your ad blockers for the Ecosia search page, otherwise your good deed is pointless. This is as simple as clicking your ad blocking extension icon and selecting 'disable for this site'. Don't worry your ad blocker will still continue to block content once you travel away from the page.
If you are still skeptical about the entire project, you can view all their financial reports, budgets, projects and previous spendings online here. At the end of the day, however, switching to Ecosia search engine doesn't cost you anything, and you get still get the search results requested. The only difference is you help out the environment while doing so. Imagine how much of a difference Google could make if they donated a tiny 0.5% of their search revenue to environmental projects.
If you would like to start using Ecosia search to help fund tree planting and other environmental projects all you have to do is switch from your current search engine to Ecosia, which you can do by setting https://www.ecosia.org/ as your main search page. If you are worried about the kind of search results you will get with Ecosia, there's no need to worry as the results are still very reliable and powered by Microsoft. So you probably won't find yourself needing to switch to Google very often. If you still need some reassurance, check out the reviews for Ecosias extensions on Chrome and Firefox.  
How Do You Use Ecosia Search on Google Chrome and Mozilla Firefox?
Apart from simply using the Ecosia webpage, you can also add Ecosia search extension to Chrome and Firefox using their corresponding extensions. Both of which you can find links to below. Combined these extensions have more than 1 million users between them.
Add Ecosia Search to Google Chrome.
Add Ecosia Search to Mozilla Firefox.
Note: Remember regardless of the option you choose to use, you will need to disable all your ad blockers for the Ecosia search page, otherwise, your good deed is pointless.
The main Ecosia search page also keeps track of your search count so you can see how many trees you have managed to plant since switching to the search engine. To view this information, simply click the small tree icon in the upper right-hand corner. You'll also find some other interesting info if you click the small notification icon to the right of the tree.
Wrapping Things Up!
Even if you are still skeptical of the entire concept of planting trees simply by searching the web, it doesn't cost you a cent and you still get search results. The worst case scenario is that you may have to switch to Google for a slightly more complicated search topic. If you find Ecosia as inspiring as I have please spread the word, every little bit helps!