Does your wireless connection work a little slower than usual? Does it disconnect often? Or maybe you just want to get more out of your connection? If you answered 'yes' to any of these questions, then read on, as we have a perfect solution for users with both rooted and unrooted devices. 
I usually do not trust any applications which promise to overdrive physical limitations with software. However, I have come across an application which allows to optimize your Internet connection through modification of system files by using a well-tested trick from Linux software.
This application, called Internet Speed Master, improves your connection by means of special TCP/IP configuration. It works fastest when your Android device is rooted, since then the application can do more. However, the creator of the app knew that not everyone has their device rooted; therefore, there are also features for connection optimization in unrooted devices, even though the results largely depend on connection type, phone model and system version.
Optimizing your connection with Internet Speed Master
Once you have installed and launched the app, you will see a simple interface with a couple of available options. The interface could be divided into two sections, separated with a thin blue line. The upper section contains options for optimization of rooted devices, while the bottom section has options for unrooted Android.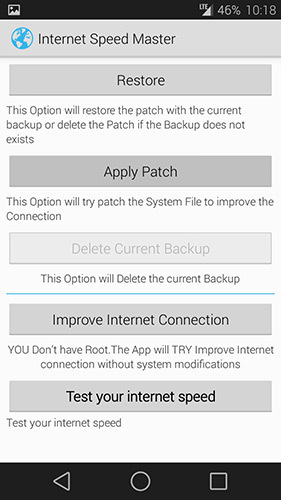 If your phone is rooted, then all you need to do is to touch the "Apply Patch" button. The application will introduce some changes into system files and display a message informing about successful patch install. If the application displays a message asking for the right to introduce those changes, you should choose the "Accept" option. Now you can turn off the app and check your connection with, e.g., SpeedTest.
If your device has not been rooted, you have the "Improve Internet Connection" option available in the bottom section. This option introduces as many changes as it can as a standard user. Optimization should also be visible, but it will not work as well as in the case of the former option (or it may not work at all).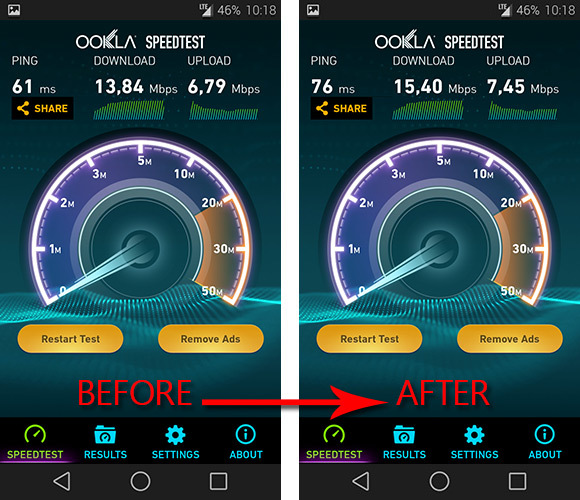 In my case (optimization of a rooted device) the application speeded up my connection a little bit - a few megabits.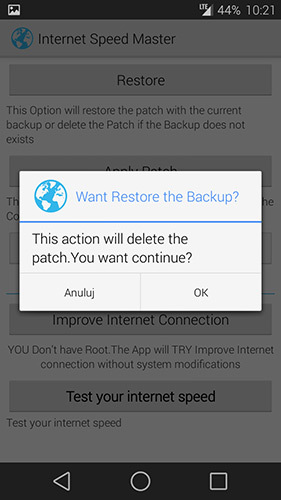 You can quickly remove the patch installed by Internet Speed Master - you just have to start the application and then choose "Restore". The application will restore default Android settings.