Nowadays having a Facebook account has begun to be one of the main means of our public appearence and can influence the way other people perceive us. Securing your Facebook account with a strong password is a pretty common thing. However, it isn't always sufficient and your account can be hacked into. How to recover it before a third person gets a hold of it or publishes something in our name?
Fortunately, Facebook allows you to access a proper tool that will help you recover your account. Once you are done with getting your account back, you should consider putting up a few more optional securities that will help protect your account in the future.
Recovering a hacked Facebook account
The first thing you need to do is proceed to Facebook's hacked account recovery site. Dialog window will open in which you can begin reporting that your account's securities have been compromised.

To proceed, you need to click the 'My Account is Compromised' button. Next screen will pop up, in which you need to search and point your account. By default, it can be done by providing your e-mail address, telephone number, user name as well as your name and surname.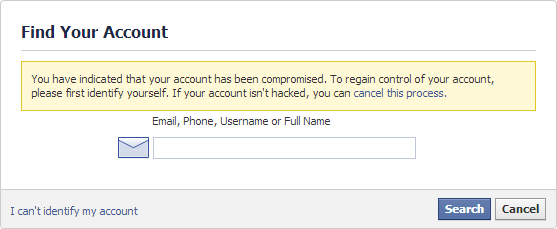 After typing proper personal data, Facebook will look through the database and display matching accounts. You need to choose your profile from the provided list. Facebook will now allow you log into your account using the old password. Yes, even if the hacker has changed your password on this account, by using this method you can still access your Facebook.
After successfully logging in, you can change your password, preferably choosing a difficult one.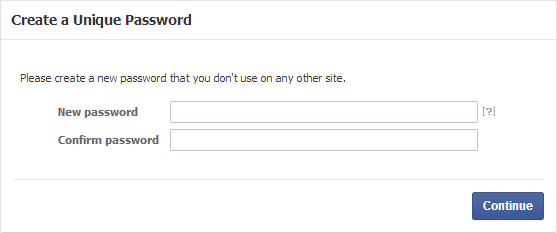 Facebook will also offer you to change your e-mail address. It really is worth to do this, in order to leave no data from the previous settings behind.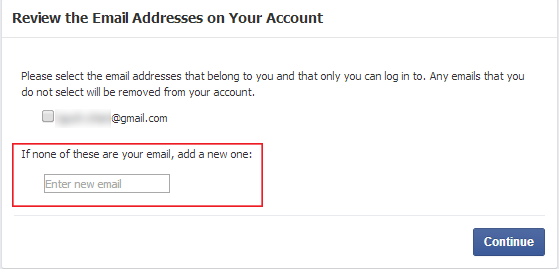 To finish the recovery process Facebook will offer you to turn on e-mail and text message notifications every time someone logs onto your account. It is greatly advised to enable this option, because it will help you to react faster in case of a possible attack.
Enabling two-factor login authentication
In order to enhance security, you should consider enabling two-factor authentication for your account. An authentication code will be sent to your mobile phone when you try to log in and you will need to type the code along with your password to successfully log into your Facebook. Thanks to this method, even if a third person knows your Facebook password, he/she will not be able to log in without the code that will accessible only on your smartphone. On a a given computer or device, the code will need to be typed only once, so you don't have to worry about typing it everytime you try to log in using the same device.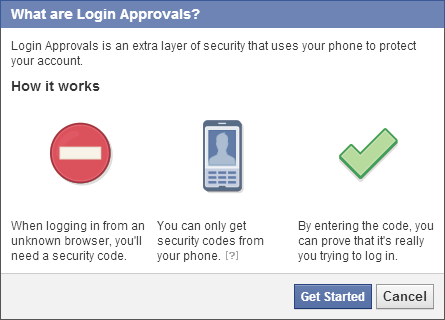 In order to enable this feature, you need to proceed to your account's settings and then choose the 'Security' tab. Here you will find the 'Login Approvals' section. Click the 'Edit' button next to it and enable the 'Require a security code to access my account from unknown browsers'. Click on the 'Get Started' button and simply follow the instructions that will appear on your screen.