At some stage, we have all sent an important email only for it to sit unopened in an inbox. Thankfully, there is now a solution to get that email opened post haste! All you need is a Gmail account and Google Chrome, after that, it's just a case of downloading a trusty extension which will allow you to send emails directly to a mobile number.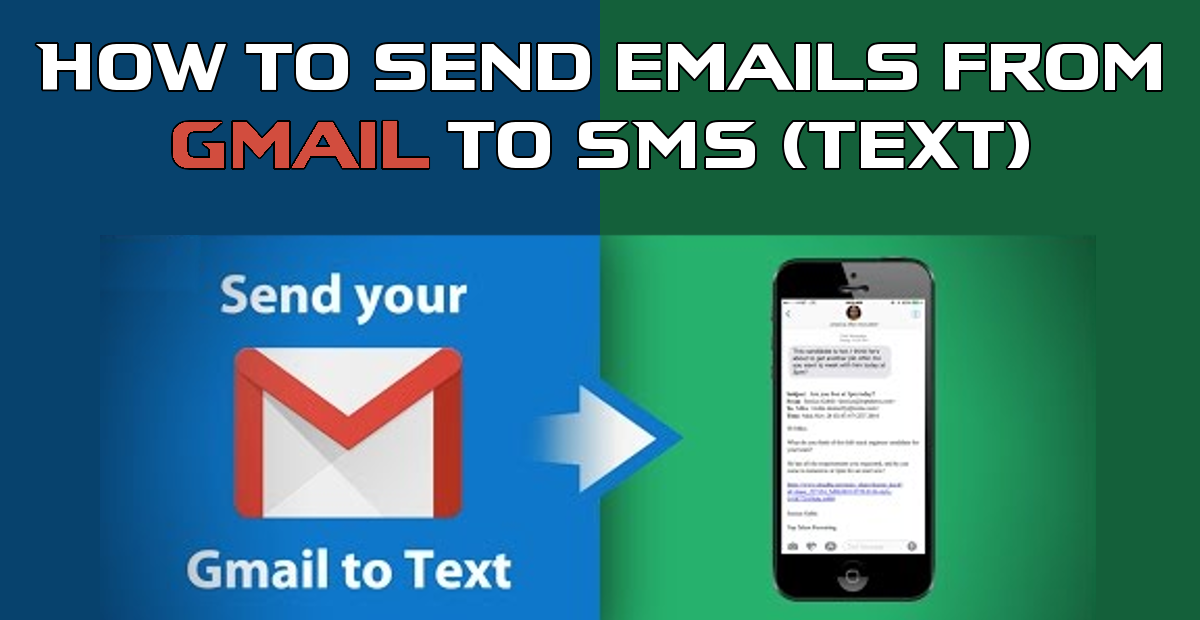 How to Sync Your Google Chrome Browser On All Your Devices.
With the world relying quite heavily on email, especially for business, it can be quite stressful sending an important message knowing it may sit unopened for quite some time. The worst part about this is that it may not even make it into the Inbox.... Thankfully, there is now a pretty cool extension available for Chrome and Gmail. The extension is called 'send your email to SMS (text)' The name is boring but it does make its intended purpose very well known. If sending an email to SMS is of interest to you, follow closely as we show you where to find the extension and how to use it.
Downloading CloudHQ's 'Send Your Email to SMS (text)' Chrome Extension.
In order to use this extension, you will first have to make sure of two things.
Number 1: You are using a Gmail account.
Number 2: You are using Google Chrome.
You can download Chrome here: Download Google Chrome.
There are two ways to go about searching for Chrome extensions, the first is to do a Google search, then follow the link to the extension. The second is to use the menu inside Chrome. To do this, click the 3 vertical dots in the top right-hand corner of your browser to open the Chrome menu. From here go down and select Settings. Inside the settings menu, in the top left-hand section of the page, you will see Extensions.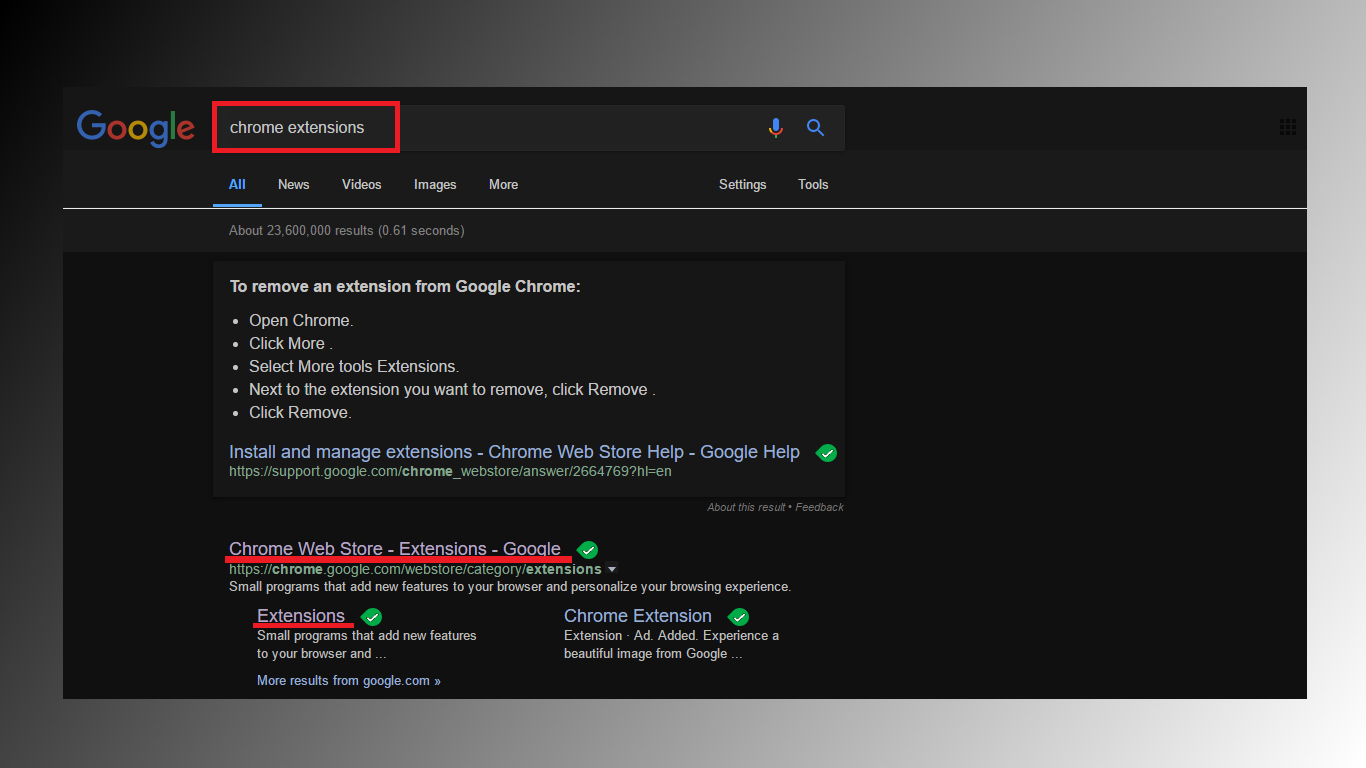 Enter this menu and scroll towards the bottom, until you see a clickable sentence that says 'get more extensions', this will take you directly to the Google Chrome extension page. In the search bar in the top left-hand corner search: CloudHQ the first result will be the one you are looking for, Send Your Email to SMS (text). If you are not sure if you have the right one, the description reads something like this:
"Text message your email to any mobile number with 1 click. Send your email to any mobile number.  90% of the time, a text message gets read in under 3 minutes.  If something is important, don't text someone "check your email",just send your email to that person's mobile number and get faster results!"
Once you are confident you have the right one, click the add to chrome button in the top right-hand corner of the page (blue button) It will only take a few seconds to install.
Here is a direct link if you are having trouble: CloudHQ extension
Where to Find the Extension Icon in Your Gmail Account.
This extension will add a Mobile Phone Icon to your Gmail accounts New message interface. It is quite small and discreet, located right next to the blue send button. Clicking on the mobile phone icon while an e-mail is opened will open up a dialogue box that allows you to fill in the recipient's phone number. It does say you can also attach a short message to send with it, however, I couldn't find the option at all and the interface has changed somewhat to their promotional video… Either way, it still works great and provides a link to the email in your text box.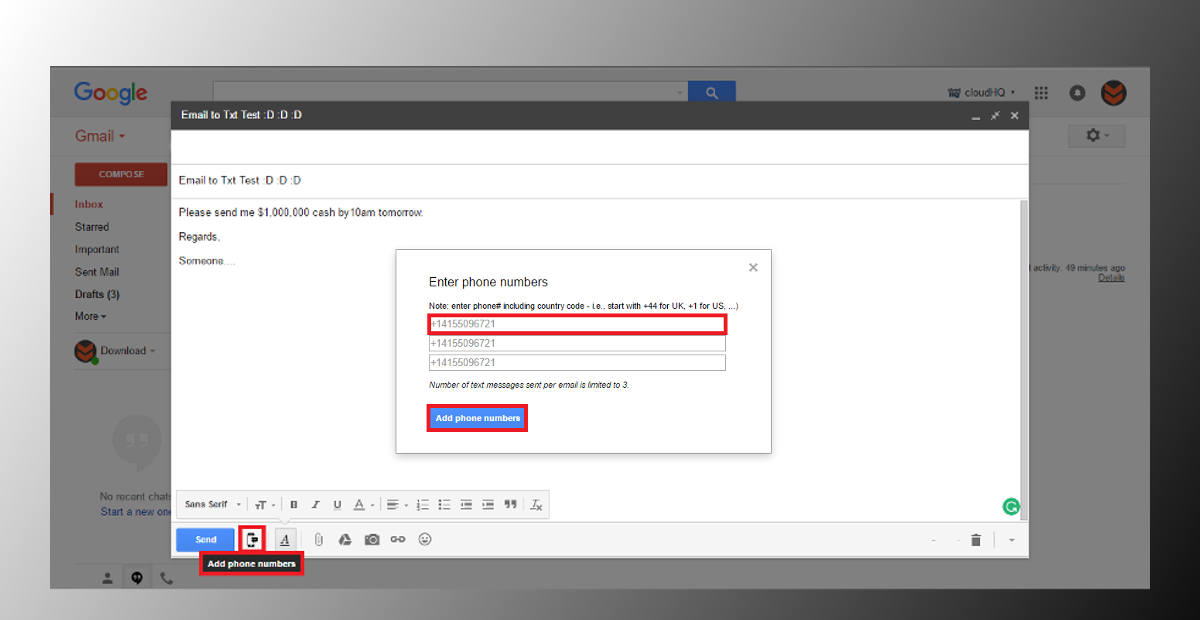 Note: you will have to link your Gmail with CloudHQ before the option becomes available, with a quick verification.
Once you've filled out the boxes, click the send button and the recipient's phone will get a text message with a link to the email.