There are a lot of solutions available when you need to send files from a mobile device to a computer. One of lastest programs that helps with this matter is PhotoSync. It was previously available only on iOS, today PhotoSync allows you to instantly exchange your multimedia between Android, iOS and PC.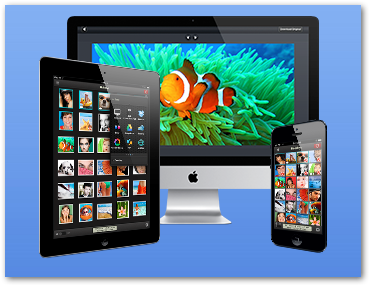 When using PhotoSync, you can easily transfer images and movies between Android, iOS and PC in various combinations. The app is compatible with other types of devices, which allows the transfer to take place seamlessly between different types of them. All you need is the device to be in the same Wi-Fi network.
Additionally, PC users can access a desktop app called 'PhotoSync Companion', which allows you to send you images and movies wirelessly onto other mobile devices. All you need to do is simply drag and drop the file in a certain place on the screen.
The Android and home PC version of this program is free of charge, but, unfortunately, iOS users have to pay a bit less that 3 dollars for it.
Fast data transfer between the devices
After you launch the app on your mobile device (in our case it's Android), Photosync will display a list of all of your images and movies as thumbnails. Transferring the files into another device is very simple. First, you need to mark the elements that you want transferred. You can mark images or movies one by one, as well as hold your finger longer and mark more of them at once.
After you have marked the elements, tap the red arrows icon. A question notification will come up, asking you which images or movies you want transferred. You can choose between the following options: New, Selected, All. Obviously, you want to transfer the files that you have already selected, so you need to tap 'Selected'.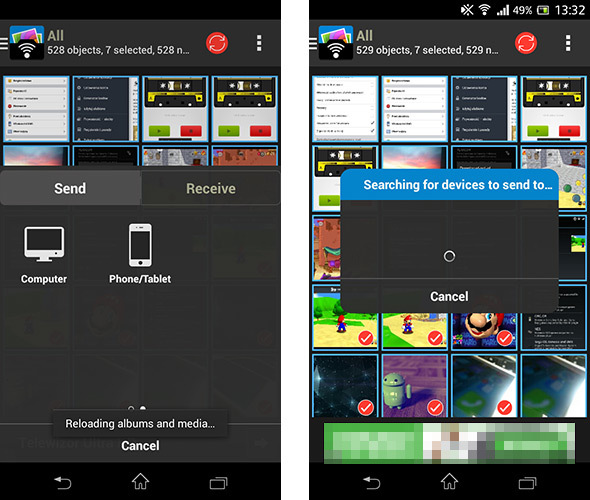 In the next step, you need to determine where you want your files transferred - you can choose a computer or a mobile device. After you make your choice, network scan will be launched in order to find another device with PhotoSync installed on it. All you need to do now is choose the device and you're done.
Computer app
Users that want to transfer their files from a smartphone / tablet to a computer, can install the PhotoSync Companion app on Mac and Windows.
After installing the app, a little window will appear near the system tray. You can transfer your files instantly by using it. All you need to do is drag and drop an image or a movie into the app's window.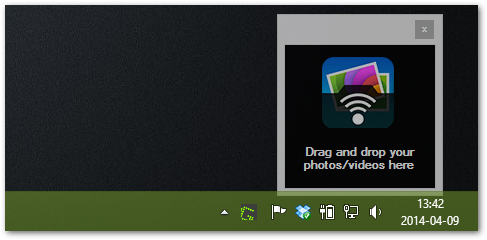 The Exchange window will open. You need to choose where you want your files transferred. After you choose the device, the file will instantly be directed to it.