If you are someone who likes to side with caution when Windows or any other developer releases a huge new update, you are not alone. Sometimes new updates, like the Creators Update are riddled with bugs that can cause frustrating problems on your PC without any workarounds or fixes. Thankfully there is still a way to postpone the update.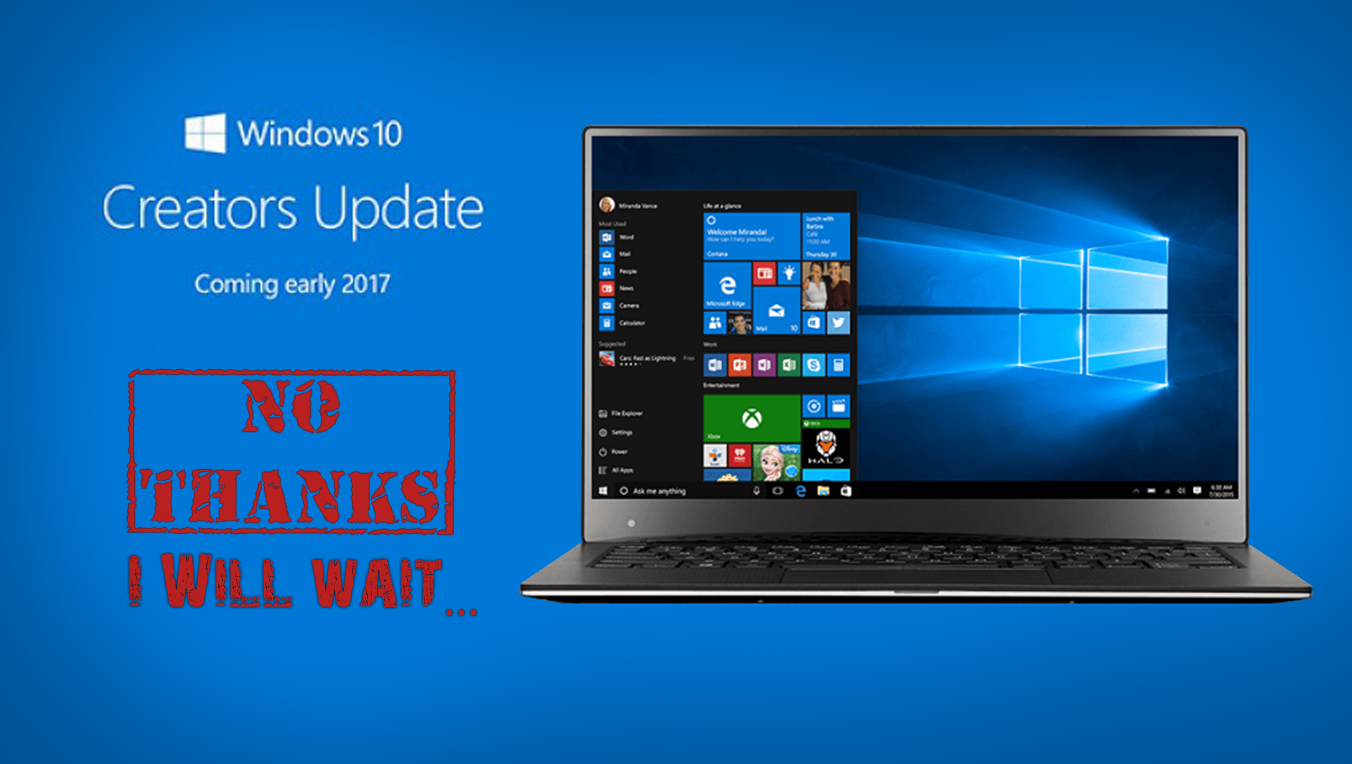 How to Edit or Erase Your Personal Information Such as GPS Locations and Names From Image Metadata.
Some good news and bad news, you can't actually completely stop the update from happening. However, you can postpone it for between 60 to 180 days, depending on your Windows version. This should give Windows time to fix any major issues that happen to be discovered during the initial release. A little more bad news, this option is only available on Windows 10 Pro, Enterprise, and Education. Windows Home users will have to use a different method (workaround) described at the end of this article.
How to Postpone the Windows 10 Creators Update From the Settings Menu.
From the Windows settings menu, it is possible to pause any feature updates like the Windows 10 Creators Update. For a maximum of 60 days anyway. Which isn't life changing but will buy you some time. As mentioned above this method is only going to work on Windows 10 Pro, Enterprise and Education, so let's get started.
Open the Settings menu, and click on Update & Security. Next click on Windows Update, then the Advanced Options link. Finally, check the Defer feature updates box. This will buy you 60 days reprieve from the Creators Update.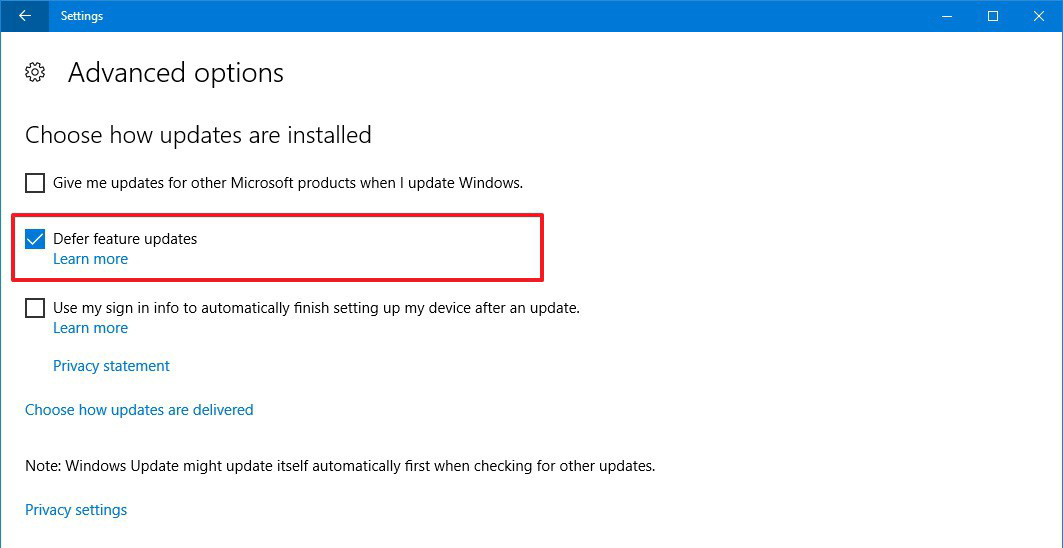 How to Defer Windows 10 Creators Update Using Group Policy.
This next method is a little more complicated but will delay the Windows 10 Creators Update by 180 days. It is specifically intended for Business use, however, it is still possible to use this option on Windows 10 Pro, Enterprise and Education, the only catch though is that you can only configure it using the Local Group Policy Editor. Again let's get started deferring this update.
Open the Run command by pressing Windows Key + R
Enter gpedit.msc into the box, then press Enter to open the Local Group Policy Editor.
Navigate to the following location:
Computer Configuration > Administrative Templates > Windows Components > Windows Update > Defer Windows Updates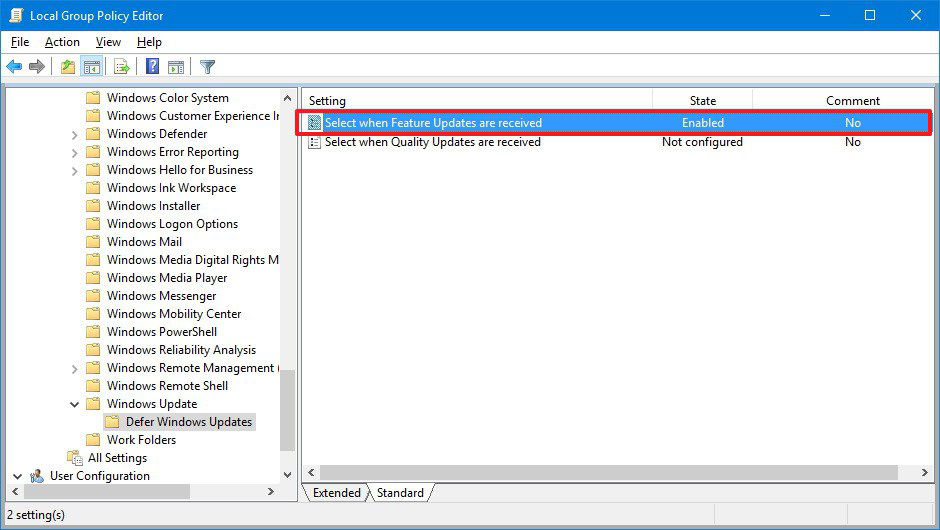 Double-click Select when Feature Updates are received policy.
Select the Enabled option.
Under Options, select the Current Branch for Business option from the drop-down menu.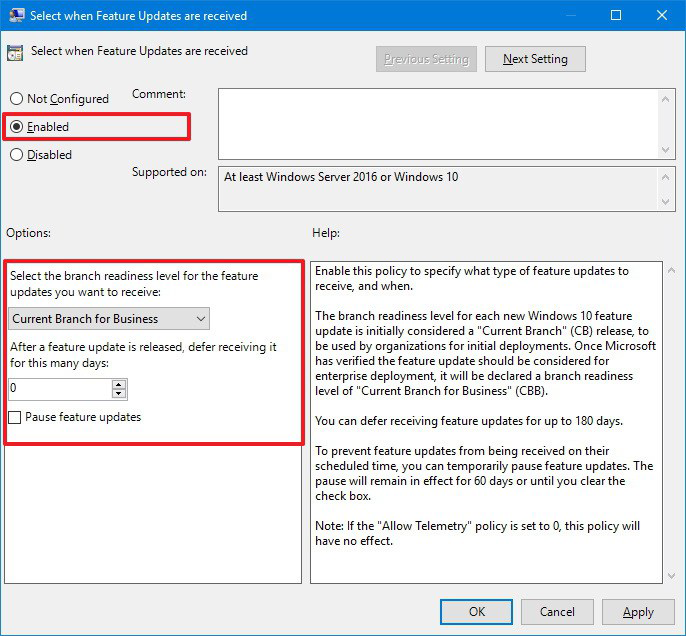 Now you can choose how long you want to postpone updates, remembering you can max it out at 180 days.
Check the Pause Feature Updates option (this is the same option as we used above in the settings menu) The pause will last 60 days or until you unpause it.
Click Apply then Ok to finish making the changes.
How to Defer Creators Update on Windows 10 Home.
If you are like a good percentage of Windows 10 users you are most likely using Windows 10 Home, unfortunately, there is no official way to stop or postpone the Creators update. As soon as the update is rolled out it will download and install automatically. There is a workaround though that should be able to stop it, for some time anyway. By changing your WiFi connection to metered, which places limits on how your Operating System uses the internet. Unfortunately, this doesn't work on Ethernet connections. (ironically this is being added in the Creators Update)
Open the Settings menu.
Click Network & Internet and select WiFi
Click on the WiFi network you are connected to.
Under the heading Metered Connection, turn on Set as metered connection toggle and you have made all the changes you need.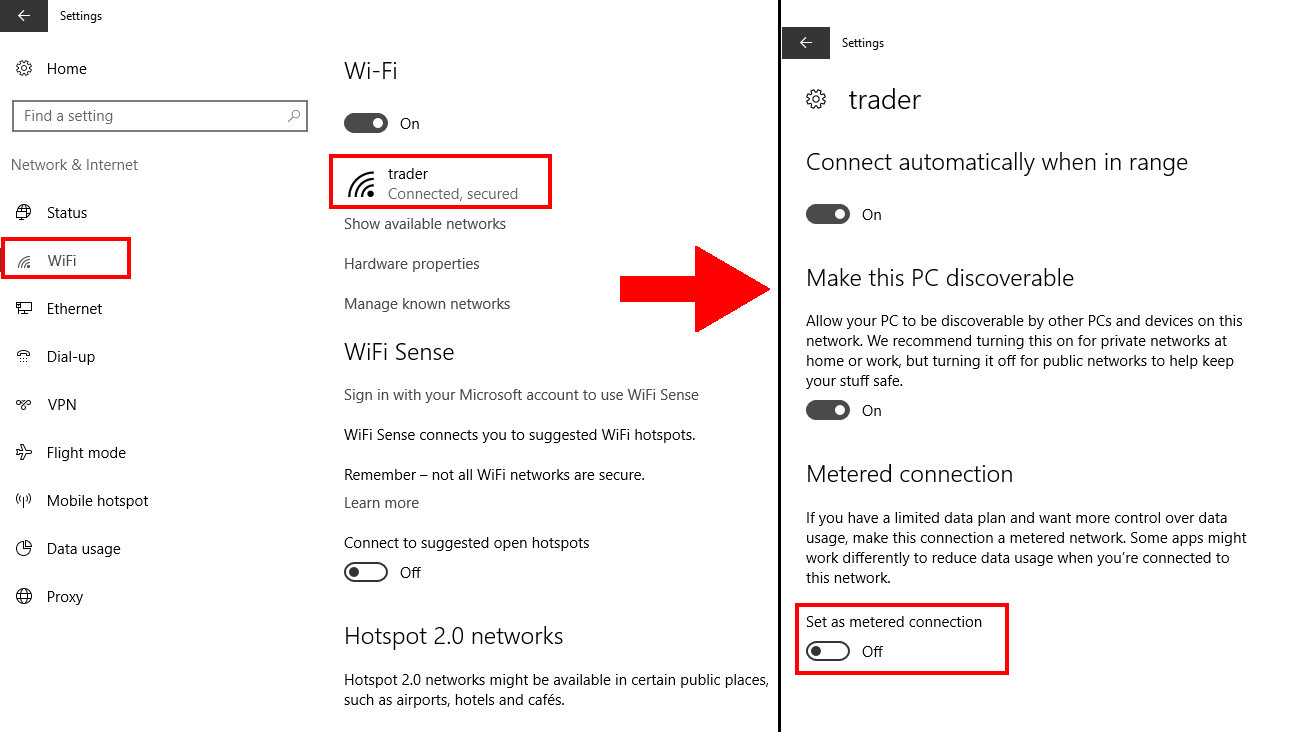 Note: Changing this feature will block most other updates your Windows computer may also wish to undertake so be aware it may impact on the security of your system.
Ultimately though the Windows 10 Creators Update should bring with it a lot of cool new features, tweaks and security updates, so postponing it for 30 to 60 days is probably best just to let Microsoft work out the release bugs. Afte, that it will likely be a great update.