If you are looking for a new game to play but just can't decide on a title? This article will show you how to use Steam's brand-new Interactive Recommender feature. A handy new tool that uses your current game playtime to suggest new content. From my experience so far It has suggested quite a few decent games I'd want to play.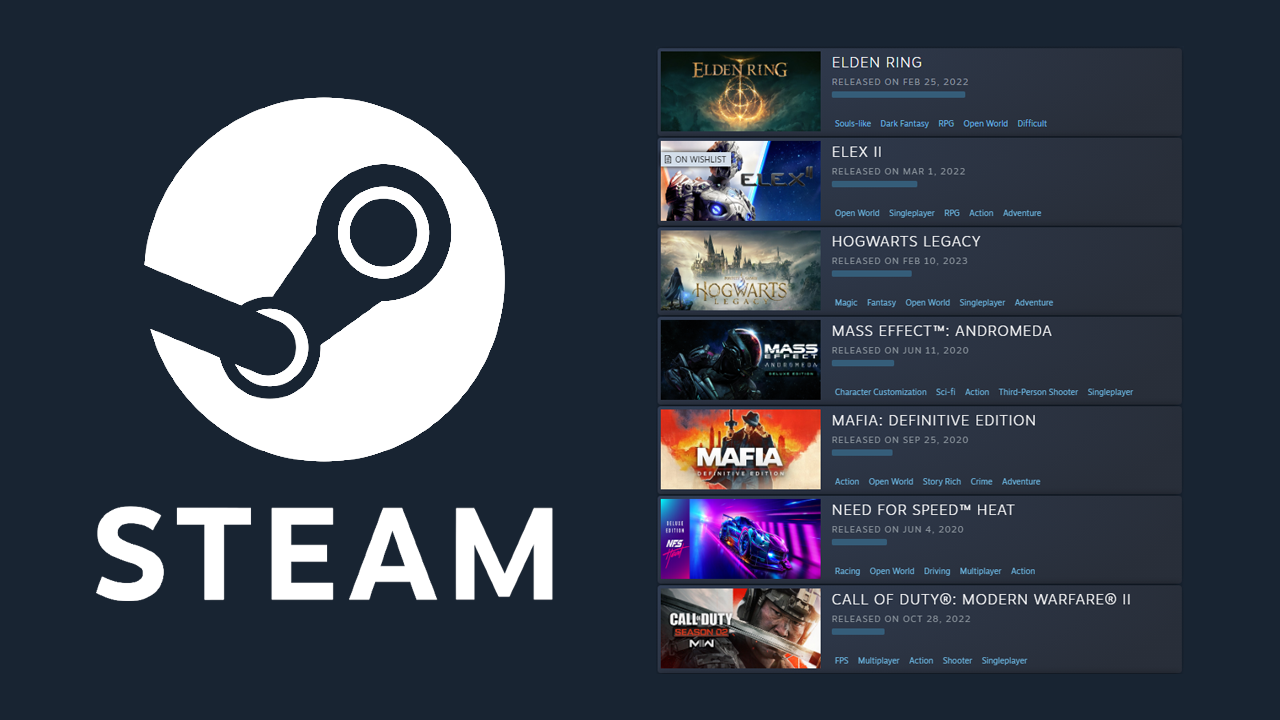 Related: How to Download Steam Cloud Saves. (Get Game Saves From Steam Cloud)
Without a doubt Steam is still the best gaming client on the market, it's super efficient, reliable, stocked full of features and doesn't mess around trying to be something it isn't. There's a good reason why gamers are absolutely dedicated to using Steam over any other platform in existence. While Microsoft Game Pass give steam a run for the money in the value department the Xbox app is a dumpster fire in comparison.
So what exactly is the Interactive Recommender in Steam? Well, it's a surprisingly great new feature that uses your gameplay time history (hours logged) and the genres of games you play the most to suggest games you might like to play. It also uses some information from your current Wishlist, though this isn't weighted all that heavy as it isn't as reliable as actually played hours.
From, my experience using Interactive Recommender in Steam I've found it to be spot on! While I switch between Steam and Game Pass quite often Steam managed to list quite a few games I had already finished and enjoyed over on Game Pass so it's quite accurate in its assumptions. So where exactly is the Interactive Recommender in Steam and how do you use it?
How do you find and use the Interactive Recommender in Steam? Get game Recommendations from Steam using your previously played hours in games.
To access the Steam Interactive Recommender, go to the Steam Store page in the top left-hand corner.
Now click the Your Store option just below the original Store heading.
A drop-down menu will appear with a long list of options. From this list select Interactive Recommender.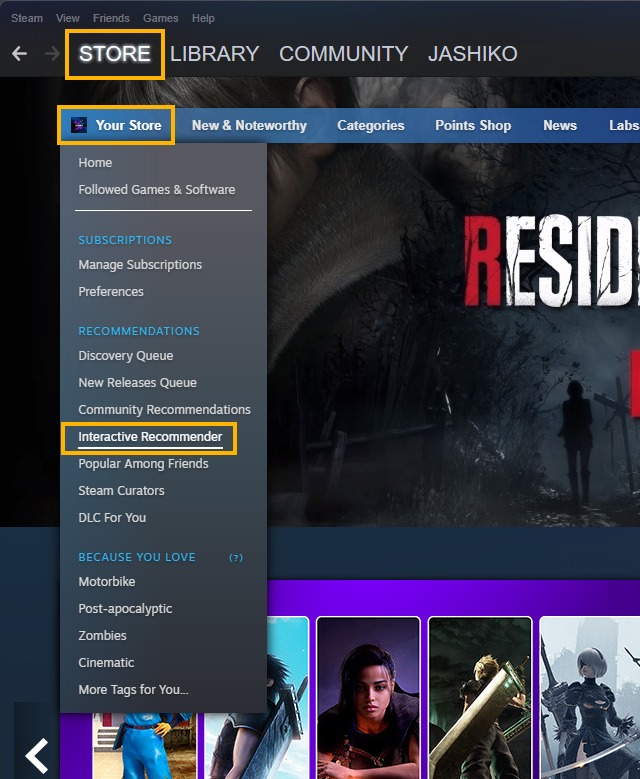 This will bring you to the recommender! Here you will see all of the games you played in order of most recent. It also shows you your total hours played in games (Probably a lot!) As well as that information you will see the list of suggested games ranked from "you most likely to enjoy" My list was pretty spot on even though I spend 50% of my time playing games over on Game Pass these days. Even with this lack of gameplay data from Game Pass steam managed to absolutely nail my potential preferences for games.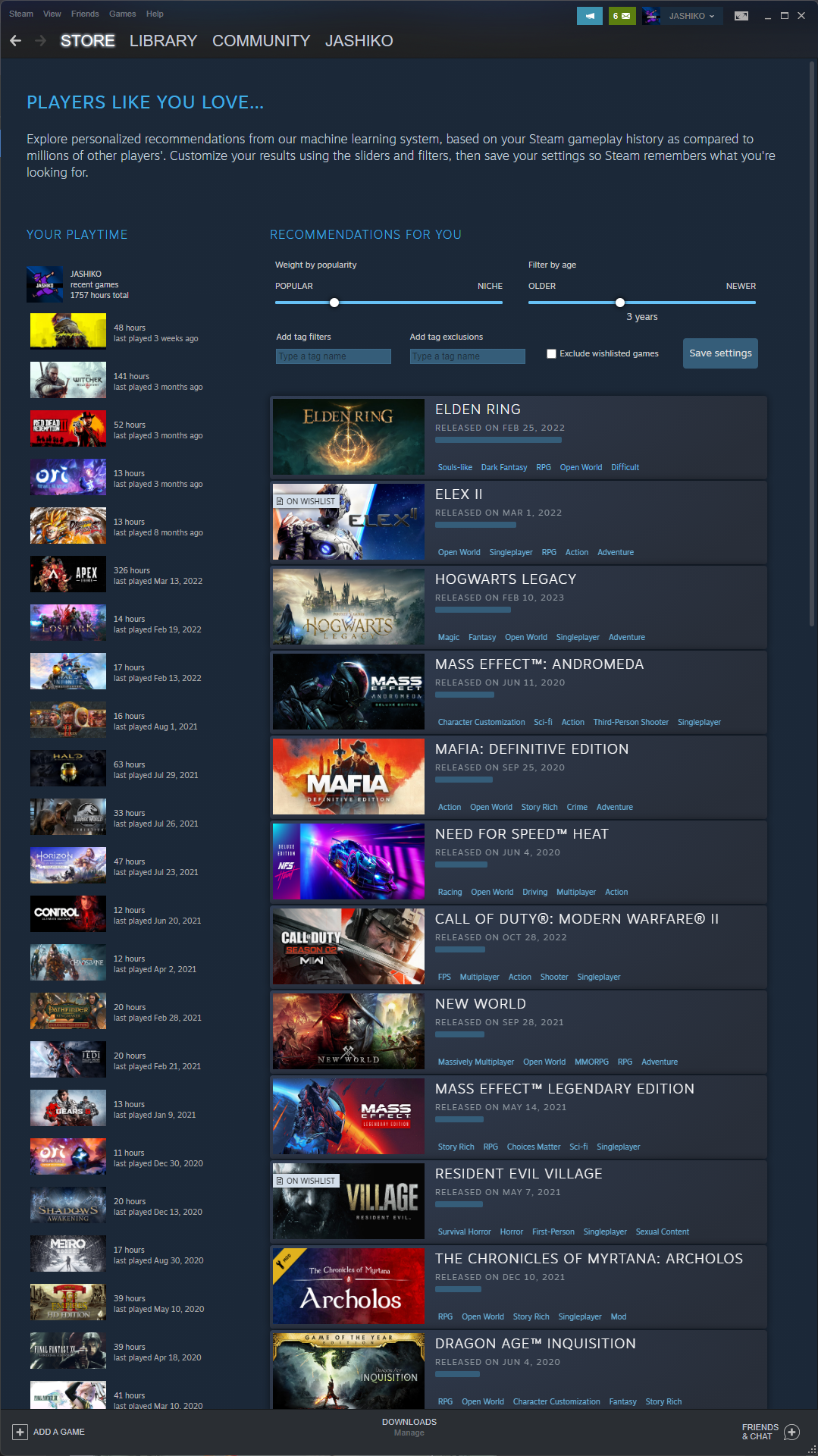 You'll also notice that games from your wishlist will appear in the list but that doesn't really get taken into account when creating the list. If you want more control of the list you can use the POPULAR and OLDER sliders at the top of the page to adjust the games that appear in the list. There are also options to filter by tags and a few other options you might like to check out.
Seeing how Microsoft and Steam have a pretty decent relationship these days I wouldn't mind both companies sharing play time and library info between them to show me better results. While I'm usually 100% against this kind of thing normally this is actually a decent use case. At least for me. Anyway, that wraps up this guide, if you are like me and spend a fair bit of time using the Xbox app and Game Pass, I suggest checking out our full article list about Game Pass here.