Do you plug in an iPhone or iPad to your computer and iTunes does not recognize the device? We have a simple solution to that problem: you need to switch your smartphone to recovery mode.
If nothing happens when you connect an iPhone or iPad to the computer, there is black screen and iTunes doesn't recognize the device, you need to switch it to recovery mode. This way you will be able to reclaim control over the device.
Of course, it has some drawbacks - after putting an iPhone or iPad into recovery mode, you will lose all your data. Therefore, before taking such a radical step you should definitely synch your settings and data to iCloud.
Then, connect the cable to the computer (but do not plug in your iPhone/iPad yet). Turn off the smartphone or tablet. Now, connect the device to the computer using the cable, simultaneously pushing the Home button and the turn on/off button.
Once the start screen appears on the iPhone's/iPad's display, you can stop pressing turn on/off button but do not release Home button yet.
Turn on iTunes on your computer and when this screen appears, release the Home button: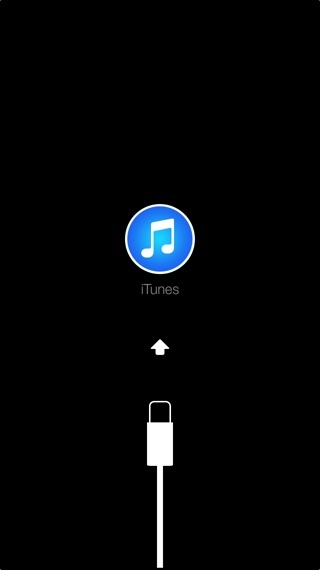 iTunes will automatically notify you that the iDevice is in recovery mode. Accept the messages and click "Restore iPhone". Device data will be removed and iOS will be restored to its clean state.

Then, connect to the Internet and wait until the latest safety copy from iCloud will be restored on your iPhone/iPad.