Many tried to create, but few have succeeded in reimagining the realm of recruitment. Imagine a recruitment app that revolutionizes the way employers connect with potential candidates, making the process seamless, efficient, and tailored to modern needs.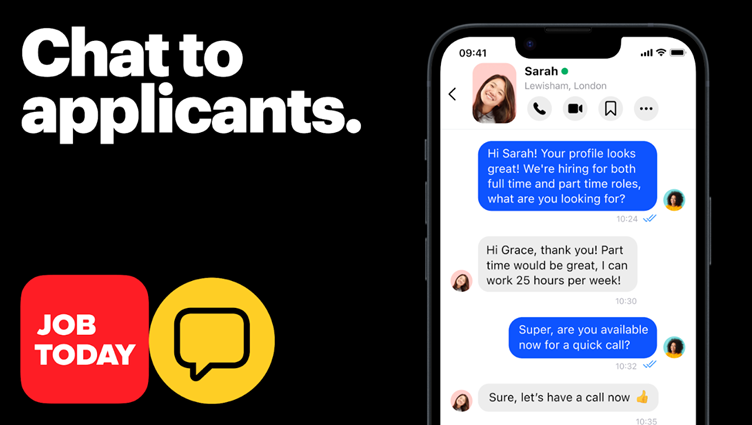 Today, we unveil the cutting-edge innovation that is reshaping the hiring landscape – the Job Today Recruitment App. As a platform dedicated to providing the latest tech insights, let us introduces you to this game-changing hiring app that is redefining the recruitment experience for employers.
A Tailored Approach to Hiring
At the heart of the Job Today Recruitment App's innovation lies its unwavering commitment to simplifying the recruitment journey for employers. Imagine a platform that leverages cutting-edge technology to enable you to connect with potential candidates based on proximity, ensuring a seamless and efficient process.
Say goodbye to the daunting task of sorting through a myriad of irrelevant applications. With the app's location-based job search feature, you can effortlessly target candidates in your vicinity, saving valuable time and resources.
Elevating Communication to New Heights
In an age defined by instant connectivity, the Job Today App takes communication between employers and candidates to a whole new level. Imagine being able to engage in real-time conversations through in-app chat and video calls, fostering a genuine and personal connection.
This feature not only expedites the hiring process but also empowers you to get to know potential candidates beyond the confines of a traditional resume. It's about forging connections that matter, ensuring you find the perfect fit for your team.
Profiles: Unveiling a Comprehensive Story
Resumes are being reinvented through the power of profiles on the Job Today App. Candidates can create comprehensive profiles that encompass their educational background, work history, and even profile picture.
This multidimensional approach provides you with a deeper understanding of candidates, enabling you to make well-informed decisions that go beyond a mere CV. It's a testament to the app's commitment to putting the spotlight on the full potential of each candidate.
Empowering Employers with Tailored Tools
Your journey with the Job Today job search app doesn't end with the traditional job search. This powerful job app offers a suite of tailored tools designed to elevate your hiring strategy.
The job alert feature keeps you ahead of the game by notifying you when candidates that align with your criteria become available. It's a proactive way to stay connected with the talent pool and seize opportunities as soon as they arise.
Seamless Efficiency in the Palm of Your Hand
In a world where mobility is paramount, the Job Today App stands as a testament to convenience. Its mobile-first approach empowers you to manage the entire recruitment process on the go.
From reviewing candidate profiles to conducting video interviews, you have the power to streamline your hiring efforts right from your fingertips. This not only saves time but also ensures that you secure the best talent swiftly and efficiently.
Pioneering the Future of Recruitment
The Job Today Recruitment App isn't merely a tool; it's a transformative force that is redefining how employers approach hiring. Its rapid expansion and recognition as a technology pioneer validate its game-changing impact on the industry.
As Downloadsource.net continues to be your beacon of tech insights, we invite you to explore the depths of the Job Today App, where innovation intersects with efficiency to shape the future of recruitment.