If you are a big Pokemon fan or just someone who likes to dabble in the Pokeverse sometimes, you're probably looking for a decent Pokedex app that has all the information you need in a single, easy to use, well-presented format. Thankfully, after what seems like forever, there is an absolute masterpiece of a Pokedex app now available (for free without any ads) on Android. How good is it? It leaves everything else (official and unofficial) for dead.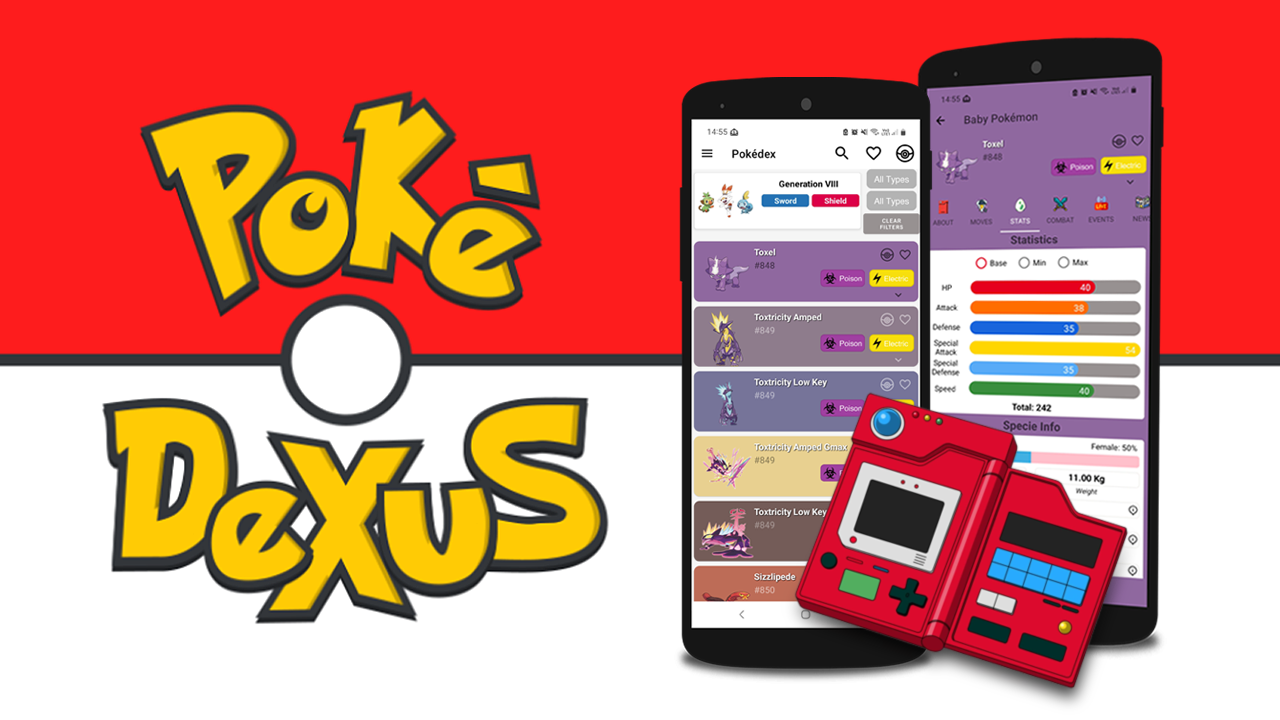 Related: How to Transfer Pokémon from Pokémon GO to Pokémon HOME.
The Pokemon universe is massive and has been going strong for well over twenty-five years. What originally started with 150 Pokemon has now grown to well over 898 Pokemon, though there are plenty more if you add in the regional forms and other variations. With so many Pokemon, regional variations, moves, regions, items, abilities, types, natures, etc it's also become even more complicated to find out the exact information you need to optimise your Pokemon adventure.
As a true Pokemon fan, you deserve a Pokedex app that has all the information you need in a single, easy-to-use, and well-presented format. And, my dear trainer, that's exactly what you'll get with Pokédexus. With over 898 Pokemon, regional variations, moves, regions, items, abilities, types, natures and more, the Pokemon universe can be overwhelming. But, with Pokédexus, you'll have all the information you need to optimize your Pokemon adventure, all in one clean and organized platform.
Pokédexus on Android is more than just a Pokedex as it contains an absolute ton of stuff and it's entirely free without any ads or garbage. Pokédexus provides information for every main series game ever released up to Let's Go Pikachu & Eevee and Sword & Shield (+Expansion Pass). Though new stuff is constantly being added. The best part about Pokédexus, apart from being free is that it is available offline you don't need an internet connection.
Download Pokedexus: Downloadsource
Note: At this stage of development Pokedexus progress won't save to your account (cloud saves). It saves progress in the app only. Updating won't cause issues with your save file but reinstallations and phone changes will cause you to lose progress. Just remember updating from the old Google Play Store version to the new APK version will reset your data. After that everything will be fine.
The Key Features of PokeDexus that make it better than everything else?
Bare with us! This list is massive! But massive in a good way! There's a lot of content!
A Pokédex to end all Pokédexes
With a whopping 898 Pokémon, including all their regional variations, Pokédexus has got you covered. Each Pokémon dex entry is accompanied by stunning images and animations and can be sorted and filtered by generation, type, attack, height, stats, habitats, and genders for every game version. Better yet, Gen 9 content is also in the works.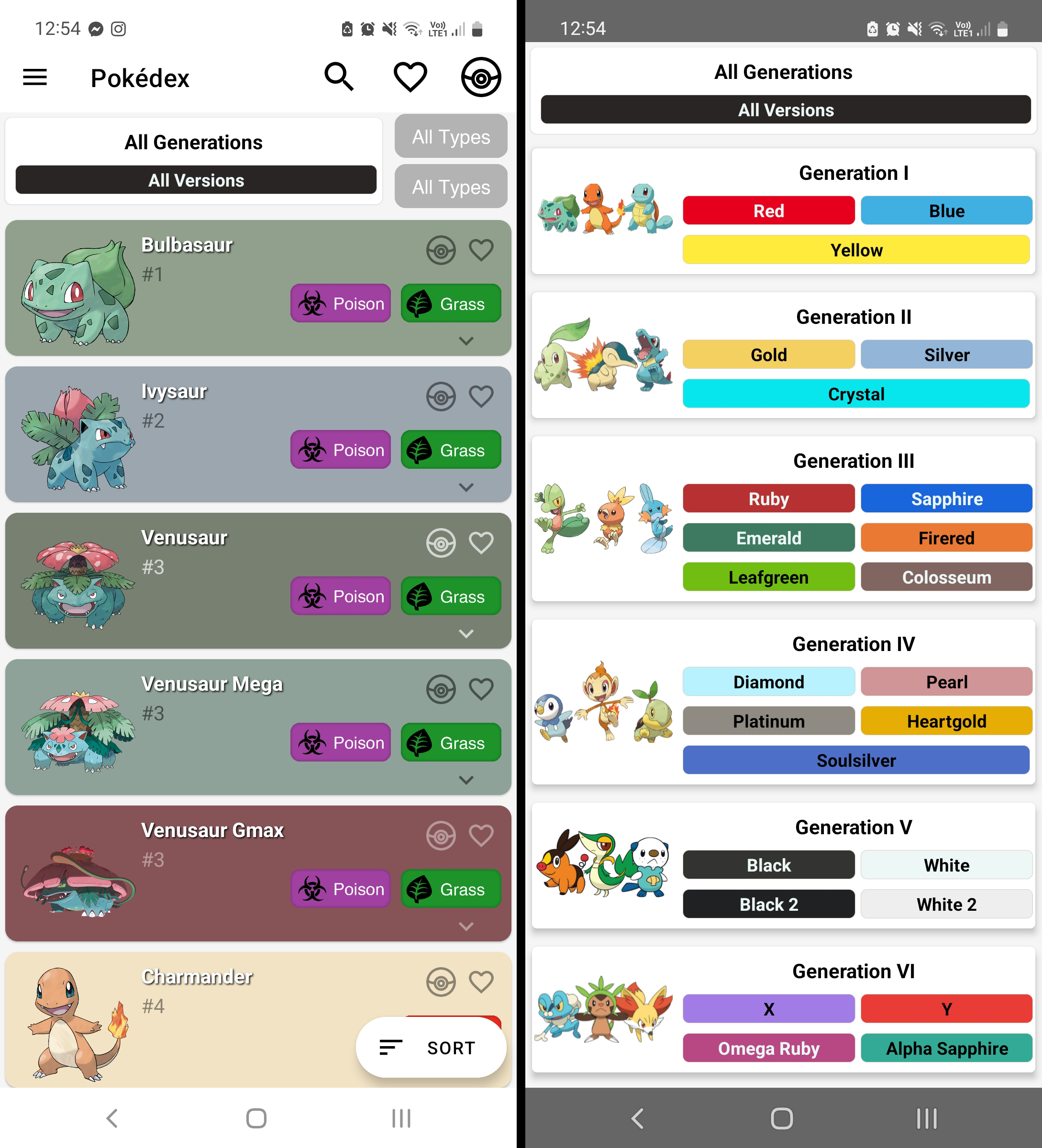 A Move Dex like no other
Now that there are over 800 Pokémon moves, you'll have all the information you need at your fingertips. Browse through detailed descriptions, and categories, learn methods, effects and more, all sortable and filterable for your convenience. It won't be long before we clear the 1000 mark! Who'd have thought?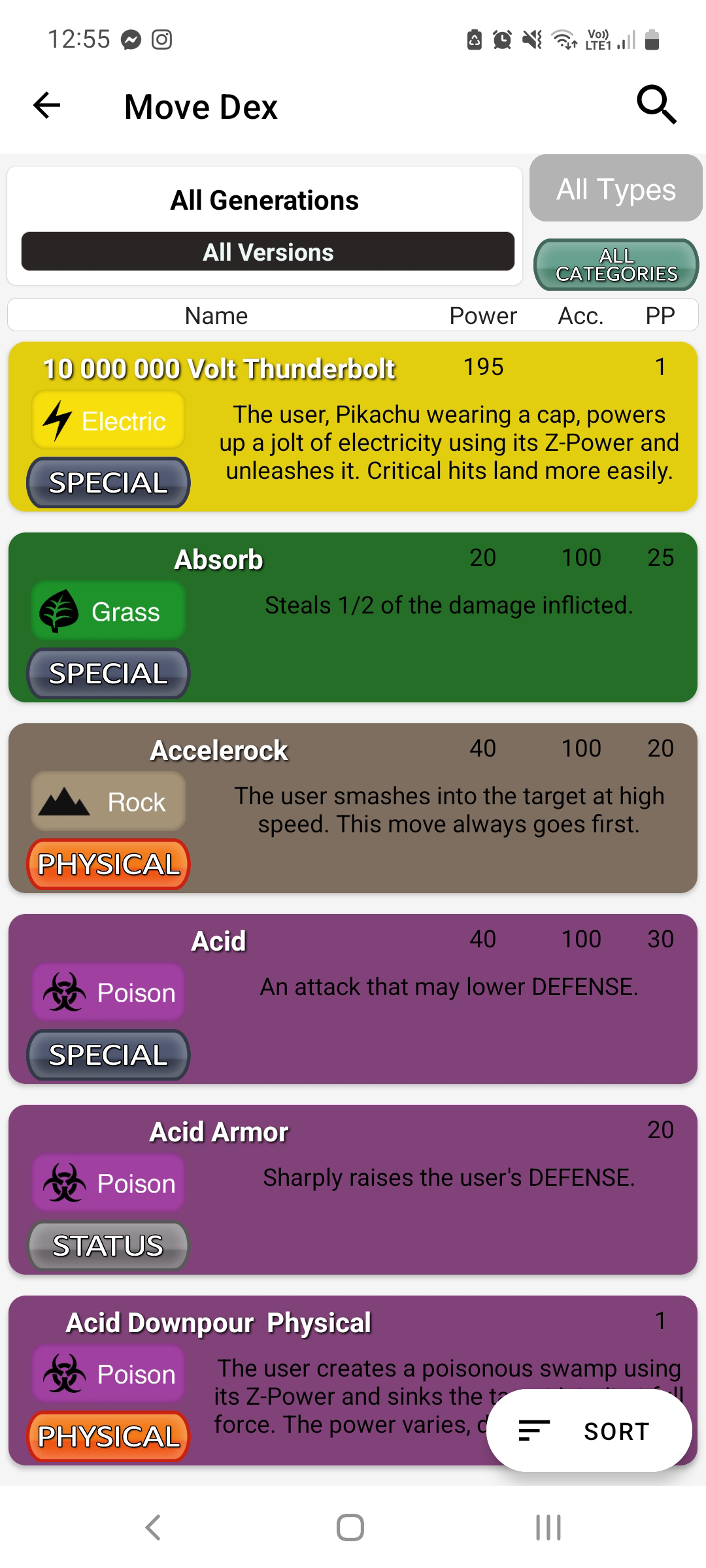 A full Region Dex: Discover the world of Pokémon
Explore each Pokemon region: Kanto, Johto, Hoenn, Sinnoh, Hisui, Unova, Kalos, Alola, Galar, and plenty more minor regions with ease. Find out which Pokémon can be found and caught in each area, by which method, at what levels and more!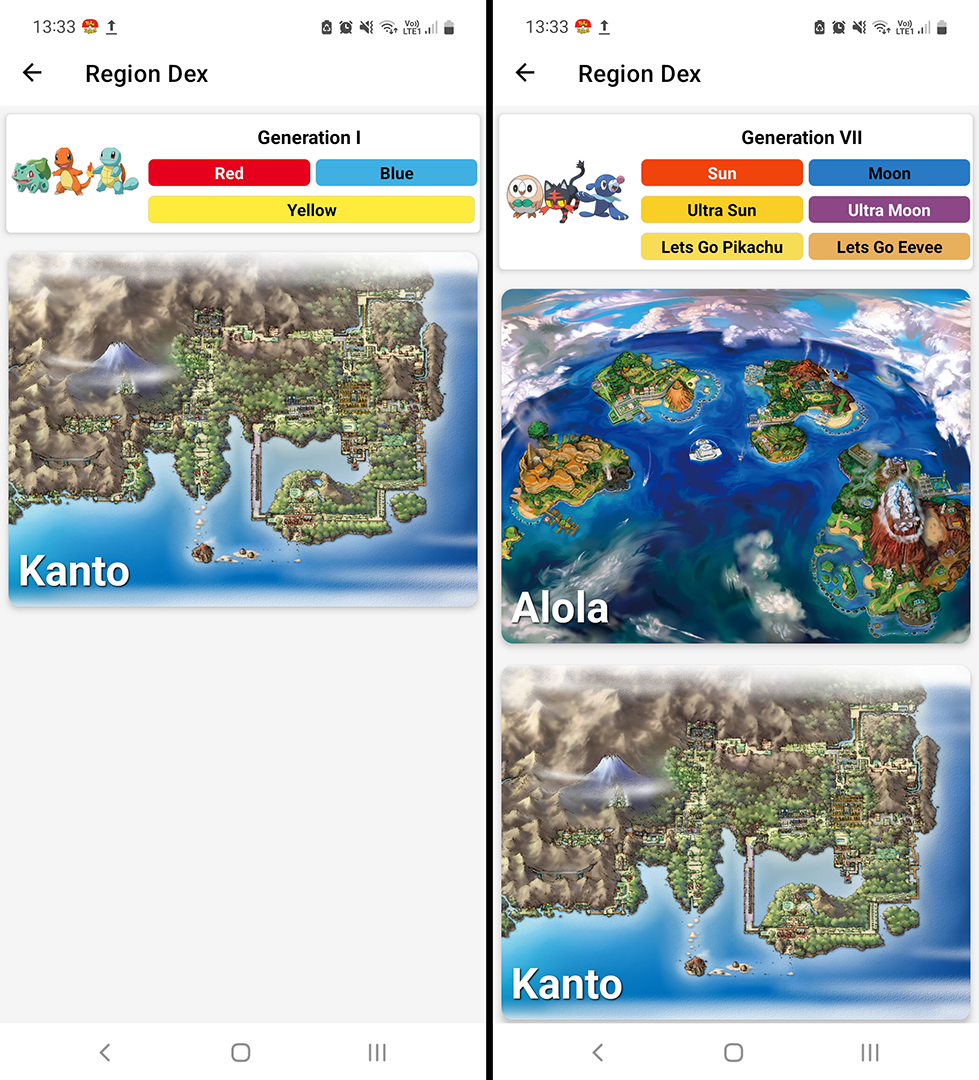 Item Dex: All the items you need
With over 950 items from the Pokémon series and over 50 categories, the Item Dex has got you covered. View item descriptions, learn their effects, and see which Poké can hold them! You'll know exactly how and when to use any item in the game and even know where to find them in a lot of circumstances.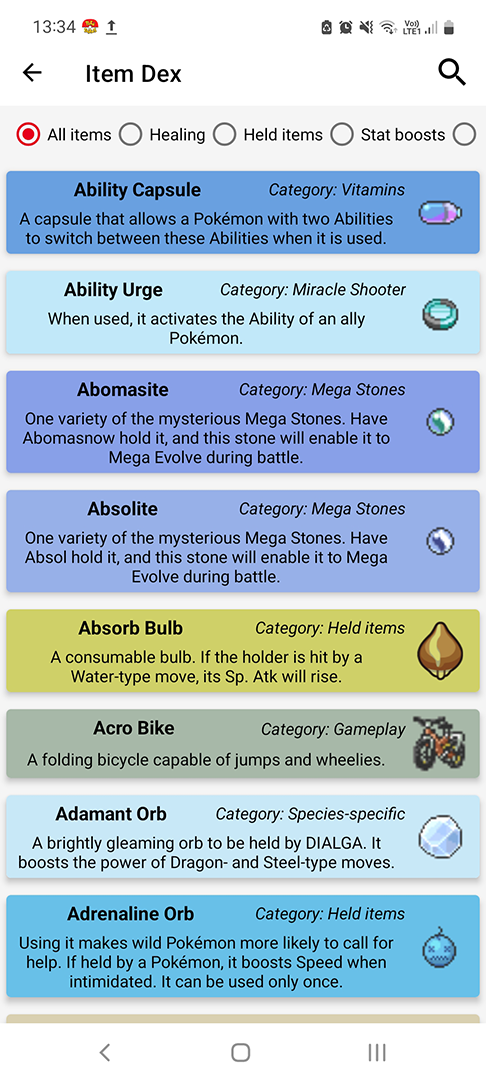 Ability Dex: Analyze and strategize
Explore over 250 abilities along with their descriptions and effects, and see which Pokémon has each of them. Perfect for strategizing your team! While some people tend to overlook abilities, they make a huge difference in battle outcomes and picking a Pokemon with the right abilities can make all the difference in battle!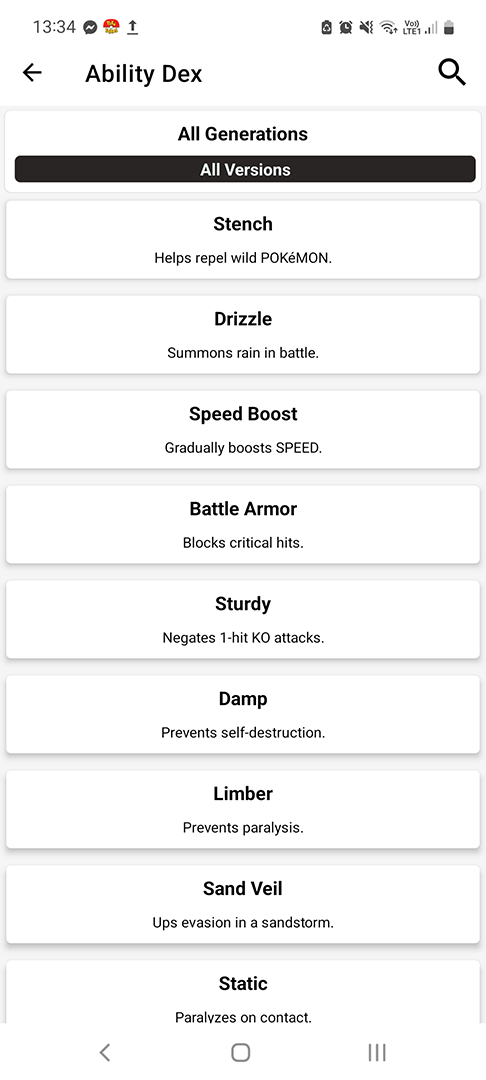 Type Dex: Know your enemies
Analyze the weaknesses and resistances of each Pokémon type. Choose the right Pokémon before trying to catch them and gain an advantage! You don't want to go into battle with the wrong Pokemon. However, it's not just about a Pokemons Primary type! You also need to remember to factor in subtypes and move types each pokemon has! This is where Pokedexus really shines!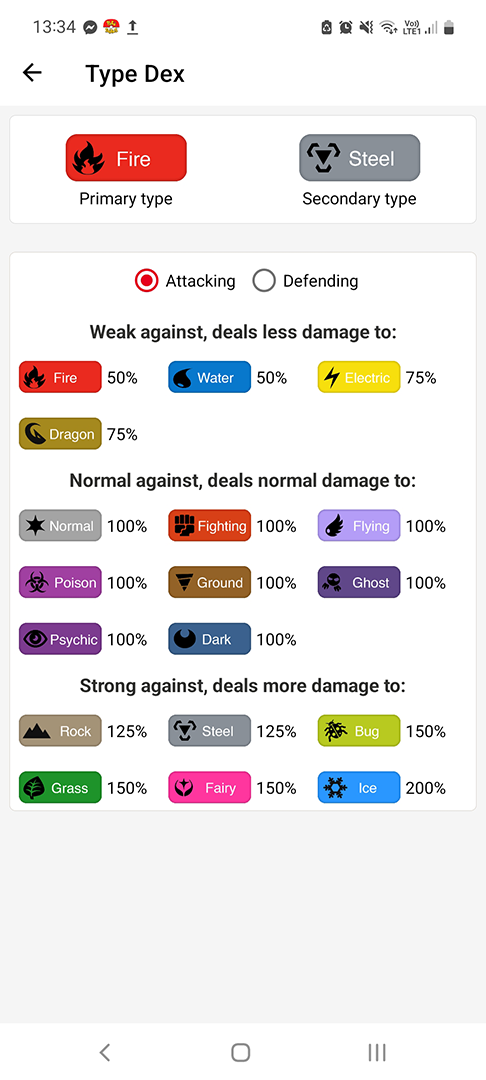 Nature Dex: Nurture your Pokémon
View all natures and how they affect your Pokémon. Here you will also be able to see which berries are recommended for each. If you aren't playing each Pokemon's nature type to your advantage you're going to be at a major disadvantage when you start PVP battles. Nature is slowly becoming a very important part of each Pokemon's statistics and can sometimes influence battle outcomes.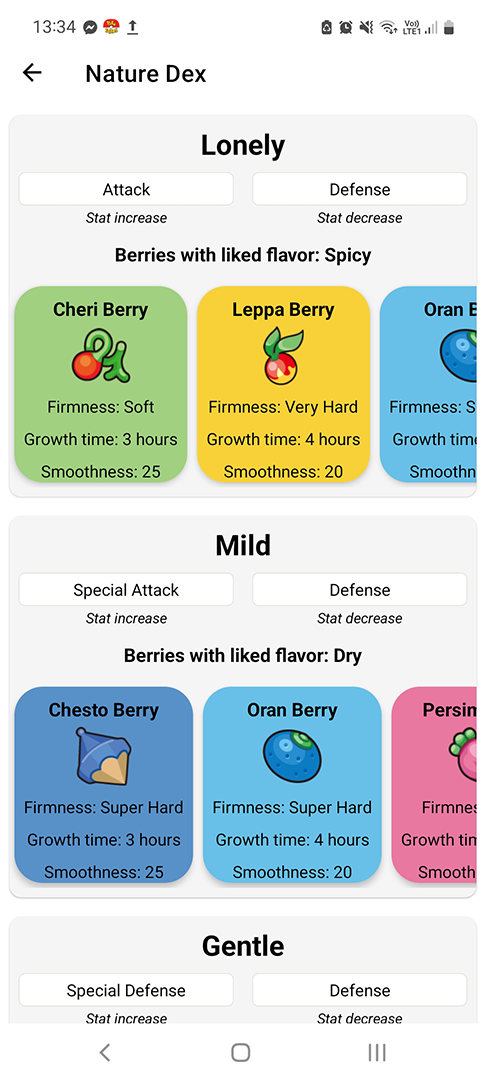 Edit Profile: Customize your trainer
Make your trainer stand out with a customized name, gender, and avatar. And when you catch a rare Pokémon, make it your follower! This has everything you've come to expect from a Pokemon character customisation system! Though there are bound to be plenty more additions coming.
Newsfeed: Stay up-to-date
Keep up with the latest news about trainers and Pokémon such as: A Pokémon was caught, a trainer reached a new level, a Quiz Battle has ended and much more! You can favourite news, meet new trainers, and inspect their profiles. There is always something interesting happening in-game and this is where you'll find information about it.
Live Events: Never a dull moment
Discover daily featured Pokémon and participate in live events happening every couple of hours! There's always something going on in Pokédexus. Don't forget that all in game events offer rewards and bonuses so it's in your best interest to participate in as many as you can.
Online Quiz Challenges: Battle other trainers
View sent, received and completed challenges against other trainers. Accept received challenges and see your and your opponent's answers! All are part of the Pokédexus mini-game. If you think you know a lot about Pokemon, this is the place to test your knowledge! Are you a Pokemon Master or just someone who likes to make a scene?
Catch Pokémon: Test your knowledge
Put your Pokémon knowledge to the test and try to catch Pokémon using your previously caught Pokémon's help! Provide correct answers from an endless pool of varying questions about the Pokémon universe. If you get the answers right, you'll have a chance to catch the Pokemon. Fail and that shiny rare find might just escape. Don't worry though! There's always next time.
Play Quiz Game: Sharpen your skills
Practice and sharpen your Pokémon capturing skills! Answer as many questions as possible correctly in a row before the time runs out. Break records, get rewards and climb the leaderboard! Just make sure you have some time up your sleeve! Some of these quizzes can go on for a long time! Remember, you are trying to break records!
Daily Quests: Never-ending adventure
Log in daily and complete quests while exploring Pokédexus! Gain experience and Pokéballs to catch new Pokémon! This is one of the quickest and easiest ways to gain pokeballs to continue to increase your Pokedex count. Without Pokeballs, you won't master the dex!
Trainer profile: Get to know other trainers
View other trainers' profiles, including their current level, Pokémon, news, and leaderboard rankings! Challenge trainers to quiz battles! Answer more questions than your opponent correctly before the timer runs out to win the challenge. Depending on when you're reading this, Friends lists are either here or just around the corner. This exciting new feature will open up an even bigger world of possibilities.
Pokédexus leaderboard: Help your favourite Pokémon climb the ranks
Help your favourite Pokémon climb the leaderboards and view the most popular and the rarest Pokémon! See which Pokémon are currently trending and which ones are the most sought-after by trainers all over the world. The last time I looked at this list I was very surprised at what was trending and what held the top spot.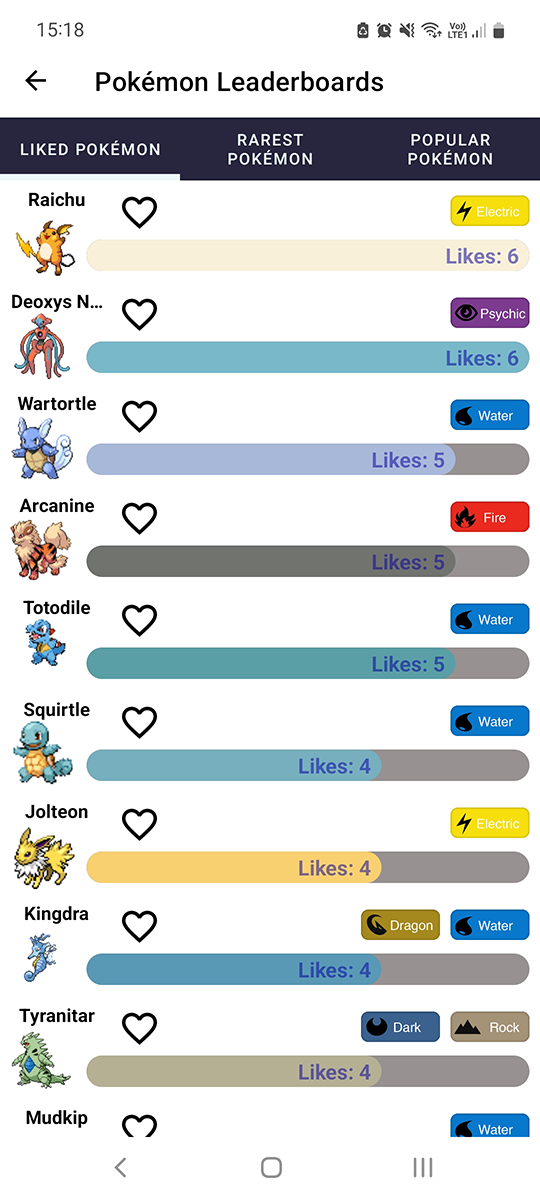 Trainer Leaderboard: Compete with the best
Compete on 5 different leaderboards and see where you rank among the top trainers. Track your progress and see how you stack up against the competition. Are you a Pokemon Master? Or just a wannabe trainer? Don't forget to check out all of the leaderboards.
How detailed is the Pokedexus Pokedex? Nothing compares to it! It's basically "The" Wiki.
If you are a true Pokemon fan, you need the best Pokedex app on your mobile device. The new Pokédexus app for Android is the ultimate choice, providing all the information you need in a clean, organized, and well-presented format. With over 898 Pokemon, regional variations, moves, regions, items, abilities, types, natures and more, this app has everything you need to optimize your Pokemon adventure.
Additionally, it's free, free of ads, and available offline, so you can catch 'em all anytime, anywhere. Download Pokédexus on Android today and experience the ultimate Pokedex app for Pokemon fans! Below is an example of what you can expect within the dexes. It's absolutely brilliant.