For quite a while Opera has been working on the Blink engine - the same one we can find in Chrome. With new base Opera has changed substantially and it has become much more lightweight. While some of the users don't like these modifications, otehrs really appreciate that refreshed, fast browser. Let us take a look at it and assess whether Opera 15 is worth a try.
The Norwegian browser used to bring a vast variety of different features and add-ons and it was, let's make it clear, appreciated by only a narrow group of its fans. "Old" Opera offered synchronization of tabs and settings, along with very detailed personalization, a built-in e-mail and discussion groups' client, and a plethora of other add-ons that were turning Opera into a really packed browser. When moving to the Blink engine the Norwegian browser left a lot of additional features behind... but is it really so bad?
Plain and lightweight
Ever since now Opera was overflowing with a dizzying array of features. The new Opera is extremely lightweight, with the most important features within the reach of your hand. Even simple things, such as the download bar and history browsing have become much more pleasurable and intuitive. The browser has become quite minimalistic and therefore pleasant to any user's eye.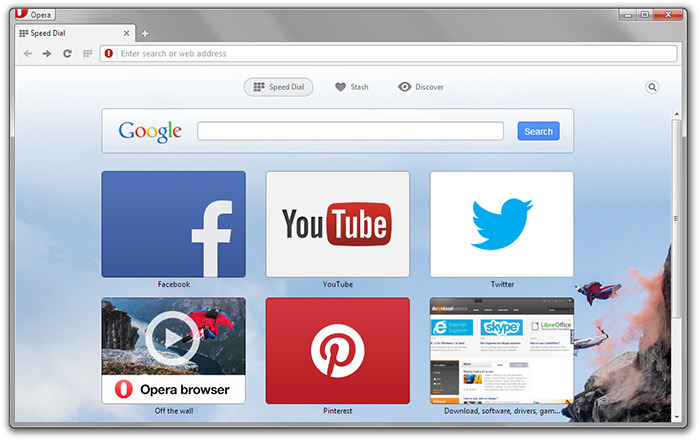 When you type keywords in the address bar Opera displays small icons on its bar that allow you to quickly switch between different search engines. The address bar therefore is not only addressed to Google fans, but you can also quickly look something up on Wikipedia, Bing, or Yahoo!. In other browsers you have to set a default search engine for all the time (or at least use an additional browsing field). In Opera this has become much easier.

It is by no means easy to create a richly featured yet minimalistic and aesthetically pleasant interface, but we have to admit that Opera's creators made a couple of really great decisions when going for the design. The new start screen (Speed Dial) allows to elegantly and quickly access your favourite websites, and the Clipboard allows to save interesting websites "for later" without bulking up on the number of bookmarks.
New website rendering engine
Opera is now based on Blink - the engine used by Chrome and, understandably, developed under Google's watchful eye. Although it resembles WebKit in a vast number of issues, a great deal of unnecessary elements has been removed to improve the engine's efficiency.
These are, however, things that have no real impact on an average user. Nevertheless, it is worth remembering that Blink is managed by Google, so the company from Mountain View has a bigger influence over its development. Therefore both Chrome and Google will from now on implement all the new technologies instantly and we no longer have to worry about cross-browser compatibility problems and faulty display of the websites in different browsers.
All the websites that carry HTML5 elements work great in the newest Opera, all without any problems. The same can be said about Google's services, such as online office suite and Gmail. Opera 15 scores very high in tests regarding HTML5 handling - it works better than Internet Explorer and Firefox.
Extensions and additional features
Ever since Opera shares its engine with Google Chrome users who decided to give a go to the Norwegian browser have gained instantly an access to a vast number of extensions. You can install Evernote, Pocket and social networking add-ons without any problems. Opera cannot offer anything exceptional when it comes to the extensions, but we can find all the most important and most often chosen add-ons without any problems, for example a password manages LastPass.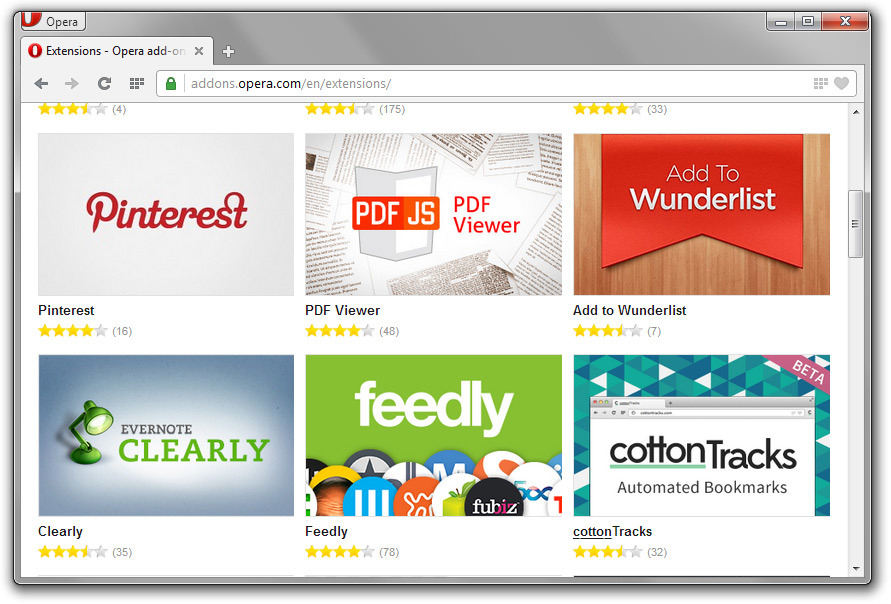 A couple of other useful features has been imported from Chrome, such as the function for researching the code of a website. It looks exactly the same as in case of Chrome, and Opera users can at any moment take a look at the HTML code of a website.
Even though Opera has been ripped off additional, unpopular features it still offers a variety of useful tools. Off-Road allows to remarkably increase the speed of loading the websites when you are using mobile Internet. The whole trick is based on compressing the websites via a proxy server that later sends to the user a lighter version of a website. This allows to significantly reduce the amount of transfer used monthly.
Conclusions
New Opera is certainly an interesting application that is worth giving a try. All things considered this is just a lighter version of Chrome that works quickly without lagging the system, bringing you the feeling of extreme lightweightness. This is just what Chrome used to be, to put it in other words. If you don't like what Google is doing to its browser and you are looking for a lighter alternative it would be difficult to find a better browser.
You can download this new version of Opera from our website for free - look it up in the Web browsers category.