The latest generation of smartphones and tablets, both Android and iOS, have exceptional inbuilt cameras, with quality comparable to a lot of point and shoot models. As good as the cameras are though, sometimes a picture just doesn't turn out how you envisioned it would. That's where filters come into play! We've compiled a list of 4 great free apps that will enhance your photos, no matter how good or bad they turned out.
Related: How to Search and Send GIFs From GHIPY All From Inside WhatsApp.
Photoshop is the benchmark for editing images, however, it takes a lot of time, practice and money to master. This is one of the reason filters and filter apps have become so popular and rightly so. Using filters can enhance your photos in seconds, with just a few taps. Most of the time the results are quite impressive. There are lots of different types of filters available, some filters adjust colour tones, black and whites, exposure, fading and image clarity. Others allow you to make your photo look more like a work of art or painting. Below, listed in no particular order are 4 of our best free picks in the Photo filters game.
1. Instagram
It probably seems silly to put Instagram on the top of the list, but in all honesty, Instagram does have an impressive range of filters, plus it allows you to customise just about every setting inside the basic filter, even having the option to add a tilt-shift effect.
A little tip if you would like to use Instagram filters for your photos but not post them online you can do the following.
Turn off your phone internet / Turn your phone into aeroplane mode.
Open Instagram and apply filters to your photo.
Submit your photo, it won't go online but your photos will save in your Instagram folder.
Now you can discard the post.
Download
2. Snapseed
Snapseed is Google's official Filter App and I must say it's pretty damn good at what it does and what it offers. Snapseed is fast, simple to use and offers a huge amount of customisation. It is also completely disconnected from any social media, so you are not obligated to post your image anywhere. Of cause, there is the option to share in the settings if you do wish to.
It has everything you need, a perspective fixing tool, brush tools, vignette effects, and even a tool to add text to your photos. Plus there are 13 different filters, each containing sub-filter options in the same way that Instagram does. If you are someone who likes to play around with the settings a little more than just drop a filter over the top, you will love the customisation that Snapseed has. Personally, I find it even better than using any of the Adobe Photoshop mobile apps.
Download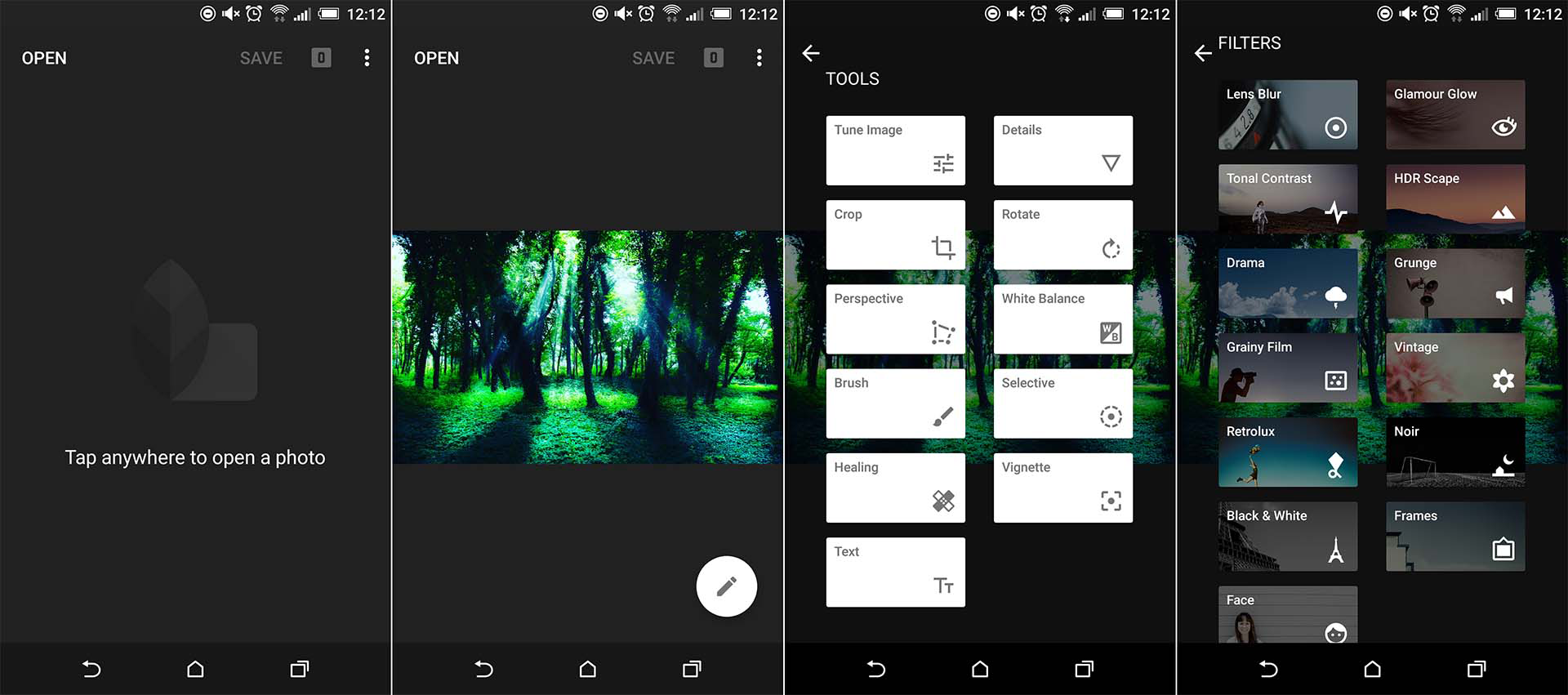 3. Pomelo - Absolute Filters
Pomelo is quite similar to Snapseed and possesses an equally odd name, I guess uniqueness does make searching on the flooded Google Play and iOS stores easier. Apart from having a strange name, Pomelo works quite similarly to both Instagram and Snapseed, allowing you to apply filters to images from your phone's gallery or directly from the camera, even before you have taken the picture. Once you have chosen a filter, you can then fine-tune the photo's contrast, brightness, temperature, sharpness and fade effects, as well as many others.
When you have finished applying filters and fine-tuning your photo, you can save it and/or share it with any of the usual platforms, as well as email and Google Drive. Pomelo has quite a nice interface and is a lot less complicated than Instagram, however, doesn't quite beat Google Snapseed in usability.
Download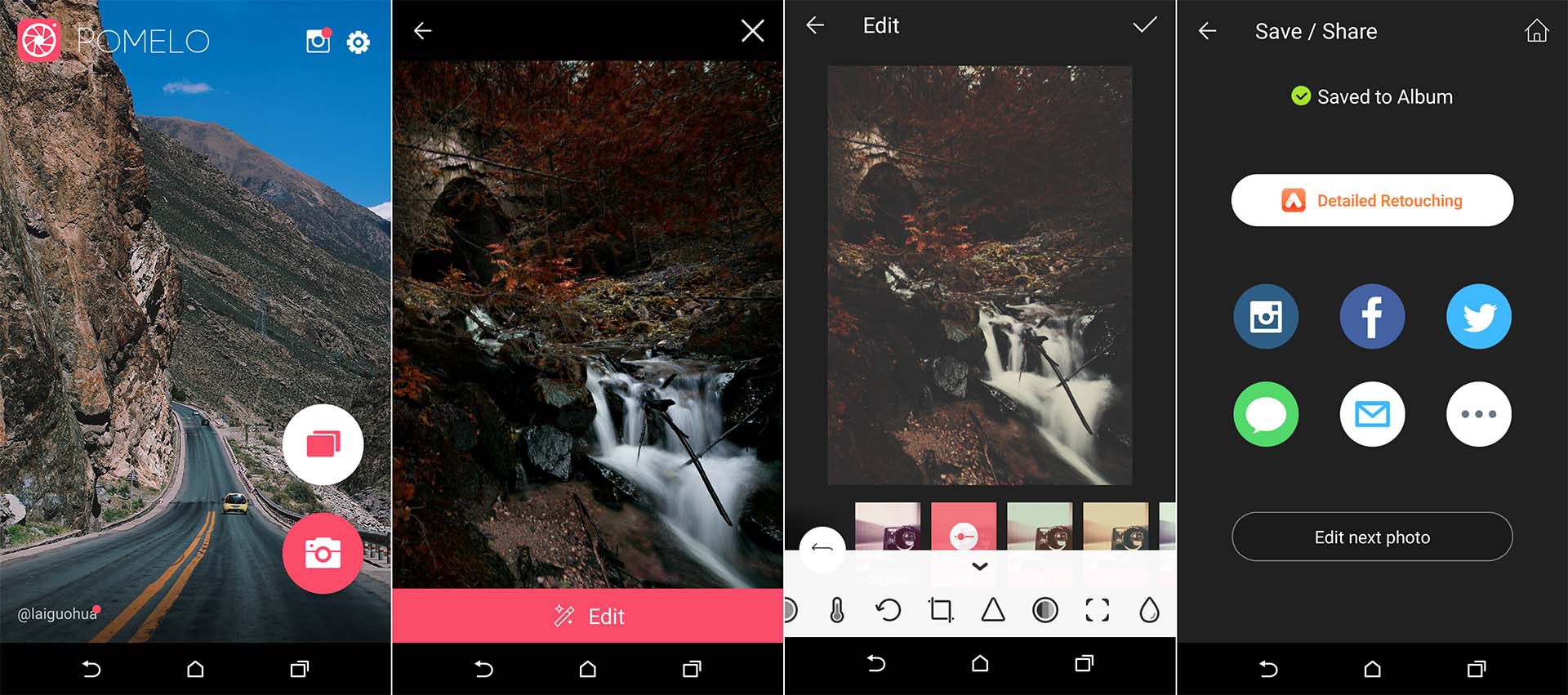 4. Prisma
Prisma is in a league of its own when it comes to filters, it offers a completely different take on filters altogether. There are 26 different filters currently available and they all vary dramatically. Rather than offering an assortment of colors, fades, contrasts and tilt shifts, Prisma offers you filters more in line with artwork styles, they range from converting images into old-style paintings to modern anime looking drawings. The best way to really see what Prisma can do is to try it yourself.
As well as being a Filter App, Prisma has built a small social network around itself, in a similar way that Instagram has. You can log in and set up an account, as well as follow other Prisma users from Prismas very own Feed. If you just want to use the filters function, you can do so and save your image to your phone gallery with a simple tap of the download button. The only downside is applying filters is a little bit slow but with the results of some of the images, you can understand why.
Download