If your Windows 10 system tray 'aka' Notification Area is becoming overrun with junk icons, there is a simple way to remove all of them without using any third-party tool. You can even remove the iconic Windows system clock if you don't like it.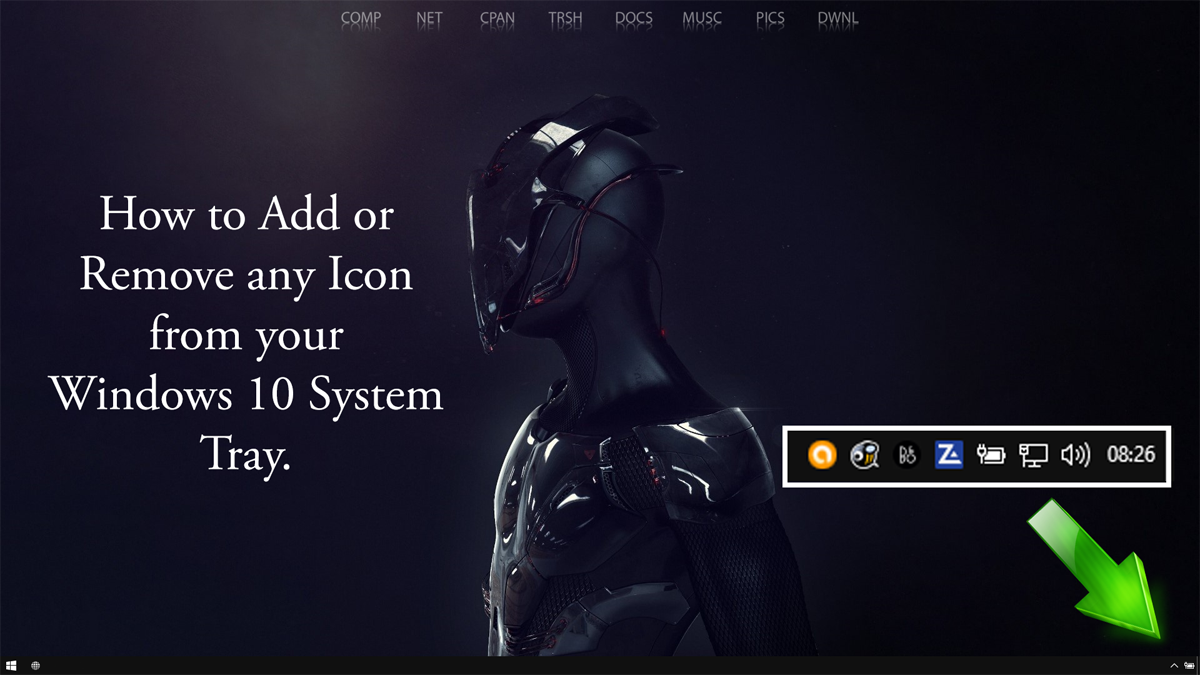 How to Add the Quick Launch Toolbar to Windows 10.

The little area in the bottom right-hand corner of your taskbar is home to many useful tools and shortcuts. By default, you will generally find sound and network settings, the trusty windows clock, as well as an assortment of new icons including the annoying notifications box and the Windows Defender icon. Thankfully, if you're a fan of minimalism and want to remove some of these icons, the process of doing so and customizing which icons show is super easy, although it can be a little tricky to find.
How Do You Customize the Icons Displayed On Your Windows 10 System Tray? (Notification Area)
To get to the place where you can change the icons displayed on the taskbar you will first have to open Settings from the start menu. Once you have Settings open, select Personalization, then click Taskbar at the bottom of the list. Next, scroll the center pane down somewhat until you will see an area called Notification Area. Here there are two links, start with the top one called Select which icons appear on the taskbar.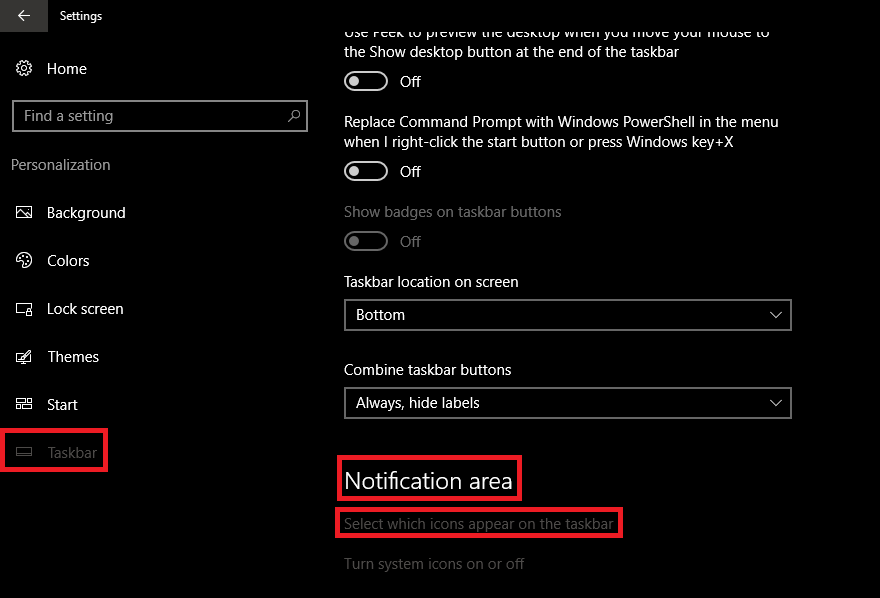 On this page, you can go crazy as the choice is all yours, feel free to remove them all from your taskbar. However, I personally recommend keeping the Volume icon to know if you have mute on or off. Simply because it's always good to know if the video you are about to play is going to blow you away or not, especially if it's NSFW…
Apart from the volume icon, the only other icon I recommend keeping is the Network icon which allows you to quickly check if your Internet connection/VPN has disconnected. Once you flip a toggle, the change will take place immediately and you won't need to save any changes.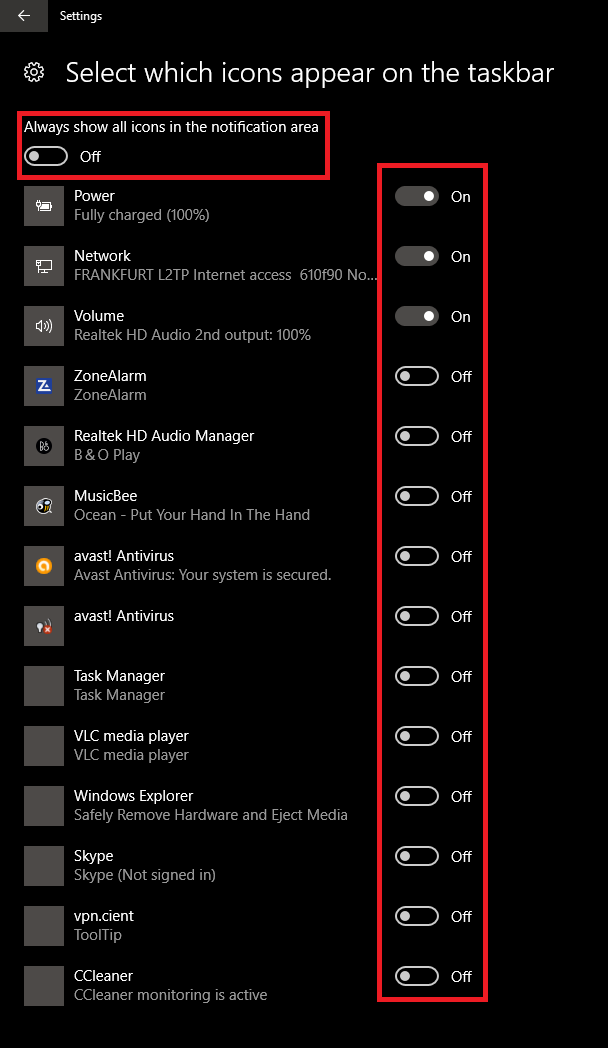 Note: If you want all the icons displayed on the taskbar, you can turn everything on with one button, just flip the toggle Always show all icons in the Notification area to On.
If you can't find all the icons you are looking for, you can remove system icons in a similar manner from a different area. Simply go back a screen, to the place that displays Notification Area, and select Turn systems icons on and off. On this page, you can remove icons like the System Clock using the toggle menu again. Once you have had a field day adding and removing taskbar icons, you can exit the screen without having to save any changes.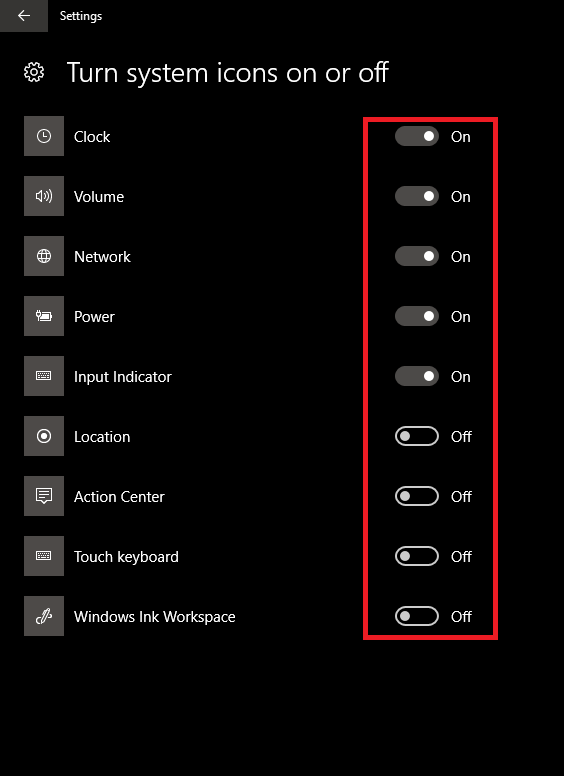 If you have other icons that aren't shown in either of the two Notification Area options, you will need to remove them manually. To do this right-click the icon in the system tray and check to see if it has a don't show in system tray option. Alternatively, with the program open, go into its Settings Menu/Preferences Menu and find the option show/display system tray icon and untick it.
While you are making some much-needed changes to the Windows 10 Taskbar make sure you check out the following guide which shows you how to center taskbar icons. How to Center Taskbar Icons on Windows 10.